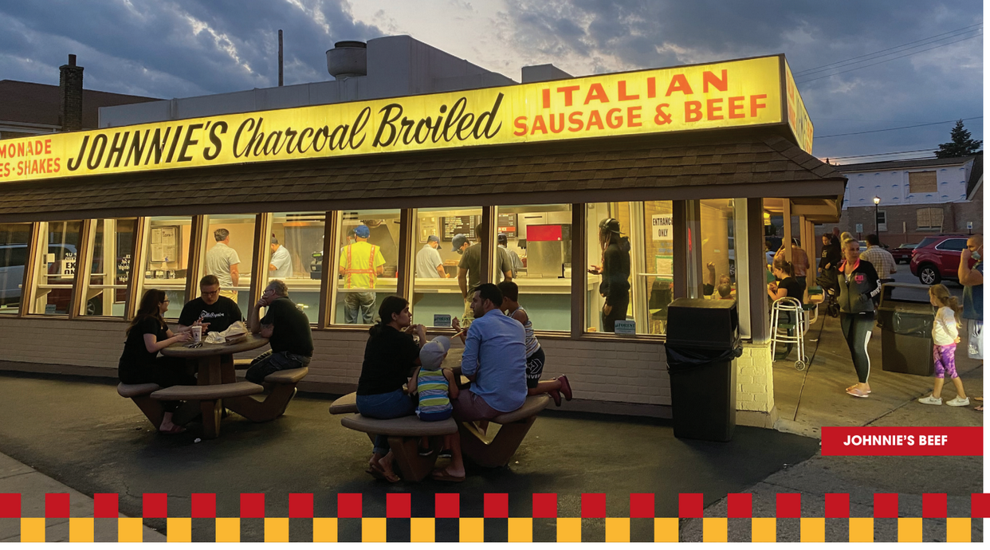 In summer, everything is different. Including the restaurants we favor. It's the season of hot dog stands, beef joints and beloved neighborhood places that serve food in red mesh baskets or in white paper bags, and offer counter service through little windows.
They often provide nothing more luxurious than aging picnic tables with yellow Vienna umbrellas and at least one flatly refuses to even stock, let alone offer, ketchup with a hot dog. (Take a bow, Gene & Jude's!)
These are places with old-fashioned prices; a $10 bill for a solo diner will cover the tab — and you may be required to pay in cash. They carry an old-fashioned vibe, be it because they've been around forever and see little reason to update their establishment, or they intentionally have fostered a retro vibe with assorted knickknacks and decorations.
The well-traveled late chef Anthony Bourdain celebrated hyper-local cuisine and off-the-beaten-path food stalls. If there were a Bourdain of say, Italy or Vietnam, who came to the western suburbs, we like to think these are the places he'd hype.
These iconic places serve up American street food, so to speak. We don't want to get too deep or political, but these places are for the people, of the people and by the people. Americans proudly say "give me your huddled masses." But what becomes of the huddled masses? Well, day after day, year after year at these eateries, the lines are long and people are united in a passion for the tastes of summer.
Johnnie's Beef, Elmwood Park
Beef joints are a dime a dozen in the Chicago area. What makes a place stand out and makes it a destination? The long lines here that go down the sidewalk form for a reason. Quality, baby. Chicago is the epicenter of Italian beef, and Johnnie's is the very center of the epicenter.
Food writers struggle to contextualize Johnnie's, to say how it differs from other beef sandwiches and rises above the crowd. It's the "textbook version of an Italian beef." It's the "gold standard." It's "the Italian beef favorite for most critics."
There is no reason to disparage the competition. Others do beef well. Do it excellently. But they are not Johnnie's. One customer, in his online rave, put it best: "Al who? What's a Portillo? You may think Italian beef is good wherever you can get it. I was naive like you once. Have a seat, child. It's time you knew the truth . . . Beef can be an art form here in Chicago." Yowza!
Such testimonies are common to Johnnie's. Being overrated and coasting on your laurels can be the true story of a once-great icon. No worries about Johnnie's. It's the real deal.
The Italian ice here, though not on the same level as the beef, is way above average. Ditto for the flavor-packed sausage. For Italian sausage fans, the conundrum is whether to enjoy a beef in its unadorned glory or to blend two powerful taste sensations. Decisions, decisions!
The lines move fast here. But they can be long and give you time to ponder. Ponder this truly delicious irony: our beloved Chicago-style Italian beef, a rich culinary experience, was born of poverty. The mighty Italian beef sandwich begins with a tough cut of meat, typically top sirloin or round. It's packed with spices and herbs and cut into paper-thin slices. The meat and method hearken back to thrift. The idea was to feed more people, to stretch the beef inexpensively. But oh so delectably. Necessity was Johnnie's mother.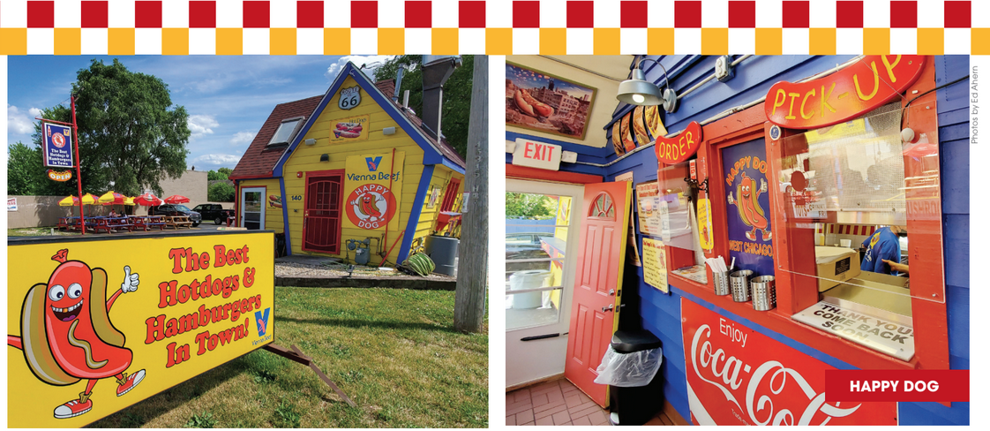 Happy Dog, West Chicago
West Chicago is west of Chicago. But it's a long haul from the city. Still, on this Saturday evening Benny Hernandez, who works nearby, has made the long trek from the city, considered a hot dog capital, to satisfy his cravings. "I love this place. I wanted them to try it," says Hernandez, motioning to his wife and her uncle at an outdoor picnic table. He's munching on a burger, and his wife and her uncle are tasting the Vienna dog.
The verdict? Mid-bite and not wanting to pause, they both give a hearty thumbs-up.
If you've driven down Roosevelt Road in West Chicago, you certainly noticed Happy Dog, housed in a tiny, yellow A-frame. It looks like a glorified dog house. "It's adorable," says Andrea Cortez, Benny's wife.
Inside are a few stools at a counter but no tables. Inside, too, is hot dog royalty — the building was expanded slightly but owner Carlos Faustino believes the original Portillo's hot dog stand from Villa Park was moved here long ago and is intact inside Happy Dog. "I've been told that by many, many people,"says Faustino, who pulls out his cell phone and shows images of the first Portillo's.
Faustino bought the business three years ago and has worked here since 2014. He operated another fast food place in town until the recession of 2008 closed his doors. He knows he needs to bring his A-game to the A-frame. "You need quality. There is so much competition," he says.
How good is it? "I eat here every day," says Faustino, grinning and grabbing a roll of his stomach. Patrons rave about the onion rings and typically opt either for the burger or hot dog. But the extensive menu also features a much-loved Maxwell Street Polish.
Happy Dog has been around for decades. It previously was known as Happy House. Everyone knows who the top dog is. "The only one I'm worried about is Portillo's. They get the cars," says Faustino. "We'll survive. People love us."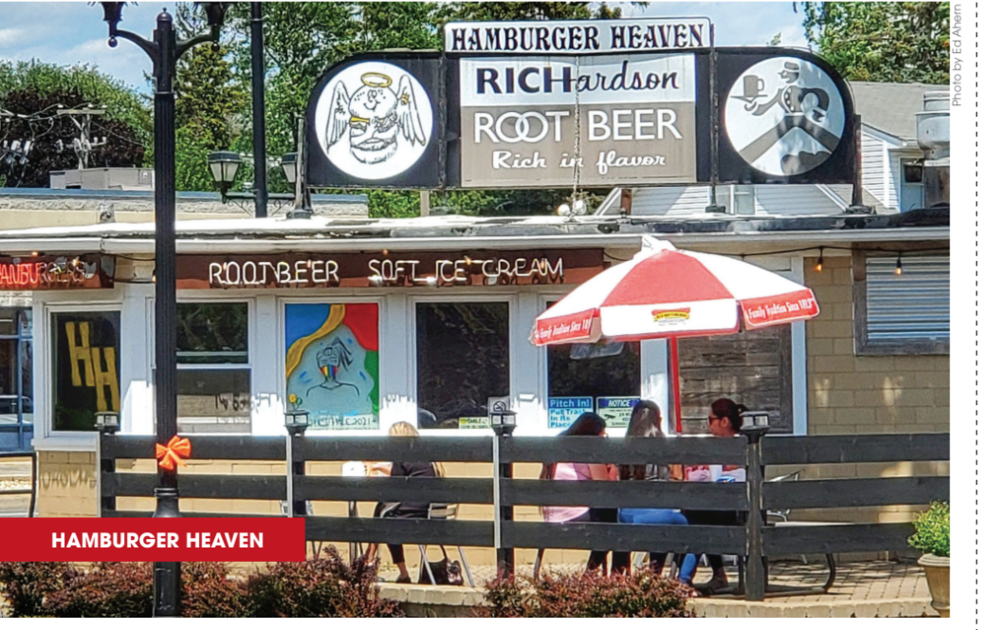 Hamburger Heaven, Elmhurst
Back in 1948 an inconspicuous ad in the Elmhurst Leader announced the grand opening of a new quick-serve restaurant ("fast food" was an unknown term then) featuring the "Double Decker Hamburger & Richardson's Draft Root Beer."
Why mess with success? You can still amble up to the counter of this unimposing white building at the busy corner of York and North, wait to hear your number called on the intercom and then wolf down a burger and beer. The cute logo topping the roof shows a hamburger with wings. There are no hamburgers in heaven, that's why we eat them here. That's not the motto of this eatery, but it could be. The burgers are old-fashionedly thin with that strong burger flavor hard to duplicate at home.
Try the Double Deck Hamburger, the original burger with a three-part sesame bun. Among the 18 burgers are also the No Bull, two 1/3 pound patties separated by a layer of fries; the York Street, a burger with chili, cheddar, bacon and onions; or the Larry with its onions, cheese sauce, pickles and buttery pretzel bun.
The thick shakes, crinkle-cut fries and creamy root beer nicely complement whatever burger suits your fancy.
Hamburger Heaven wins a lot of votes in diners' polls, and on weekend nights when the weather calls for shorts and sandals, it's hard to imagine a better destination when your stomach is growling.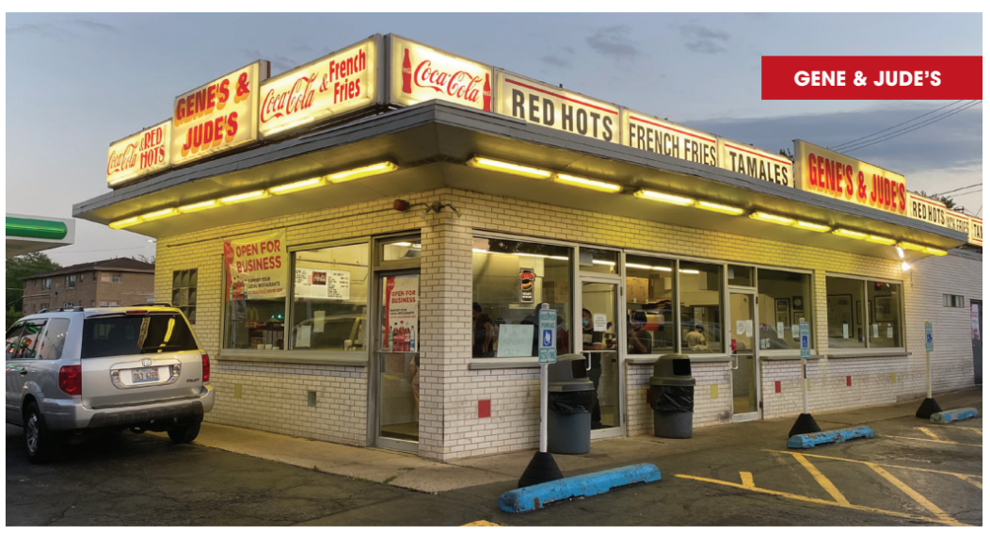 Gene & Jude's, River Grove
How do you begin to describe a world-famous hot dog mecca, a national landmark, the place Rachel Ray annointed in 2011 as the "best hot dog stand in America"? But old Rach was late to the party. This place has packed them in and drawn raves — locally at first, and then nationally — for decades.
Let's begin at the beginning. In 1945 Gene, an average guy, went to Wrigley Field on a scalding summer day. He ordered a hot dog, which was better than the Cubs. But not a whole lot better. And he felt the dog was missing something. Like fries. So he opened a little stand on Polk and Western.
Gene soon noticed that the other items he sold did not sell nearly as well as the dog and fries. So he whittled down his menu to a barebones dog and fries. And in 1950 he moved to the hinterlands, to River Grove, not far from the runways of O'Hare Airport. But the airport actually was not there yet, and the suburbs were just beginning to boom.
It was all so out of order. He opened a place soaked in nostalgia and its simple pleasures well before people would look back nostalgically on the 1950s. His story was kind of a hog dog version of Back to the Future.
Gene & Jude's iconic status perhaps can be best explained by its connection to Dick Portillo, who became a gazillionaire and household name by opening the namesake restaurant trafficking (pun intended — a Portillo's drive-through says all) in nostalgia.
Portillo was not a sad sack. He had too much drive (another intended pun) and initiative for that. But his hot dogs — well, that bag of red hots was a sad sack. They were limp, overcooked. His buns were dry and burnt. He knew what was wrong but was not sure how to fix it. So he drove to River Grove and carefully watched how they steamed their buns. He did this all on the sly. He admits even to sneaking into the storeroom to discover the relish used by Gene & Jude's.
The moral of the story is that a Gene & Jude's could have possibly been a Portillo's. Same for some of these other local icons.
But that kind of growth has its price. Portillo lingered for so long on his reconnaissance mission that he missed his son's football game and his first touchdown. It's not the onions on his grill that get his eyes misty. "Even now, when I think of that moment, tears come to my eyes," he has said.
But back to Gene & Jude's. If you're one of the few Chicagoans who has not been there, the menu has dogs, fries, drinks and tamales. That's it. And the last time someone ordered a tamale was 1987.
The dogs are Depression dogs, accompanied by peppers, mustard and onions. These are not the "walk through the garden" dogs with a host of toppings. No tomatoes. No pickles. No poppy-seed buns. The fries top the Vienna dog, which is boiled for an exact number of minutes. Every dog is the same. These are show dogs, the best of the breed. All so simple. All so right. Ketchup is banned. That's part of the shtick of Gene & Jude's.
The nearby McDonalds has little packets of ketchup and a sign that says "Ketchup packet for Gene & Jude's customers. 20 cents." Seriously.
How good is the dog? Does it live up to its billing? Is it really better than the competition? Those are all separate questions. One can be true and one not quite as true. Sophisticated New York-based magazine Insider dispatched two writers to Chicago not long ago to weigh in on the Chicago hot dog. They liked Portillo's and SuperDawg. But Gene & Jude's won them over as well. The writers, Erin Kommer and Herrrine Ko, recorded their as-we-bite impressions.
Erin: "So snappy. It feels very, like, comforting and familiar."
Herrine: "This I feel like is the true Midwest thing. Where it's like a meal is supposed to be like hearty, stick to your bones." There you have it.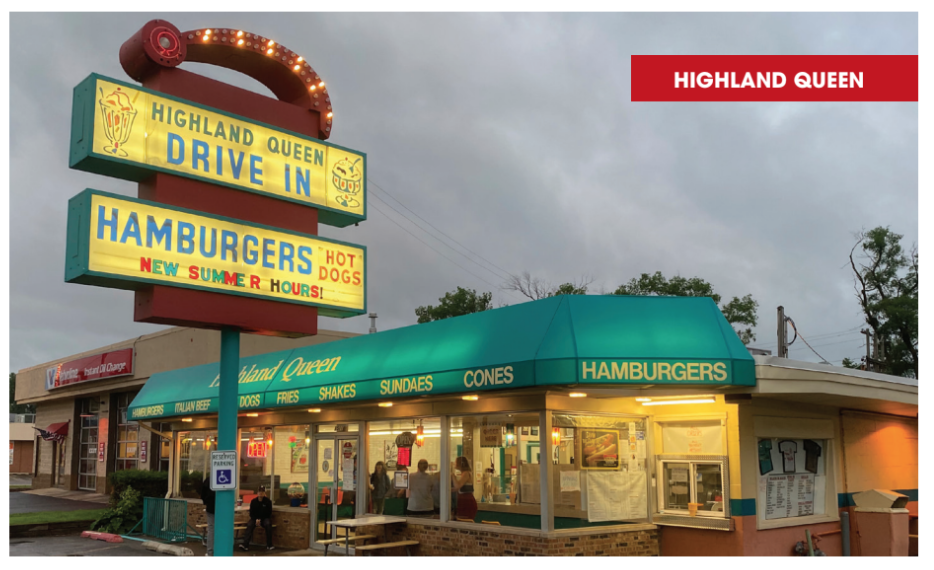 Highland Queen, La Grange
This popular ice-cream and fast-food restaurant has been a mainstay since 1954. It looks straight out of central casting with its large, bright neon sign, plate-glass windows, no-frill booths and even vending machine toys. Think of this iconic place as a localized Dairy Queen. It's a particular favorite of Little League teams, young parents with kids in tow and older parents, whose children have not been in tow for decades but indulge in the sweet nostalgia of an old-fashioned diner like this.
The star of the show is the soft-serve ice cream. There are enough flavors, cones and toppings that a patron conceivably could try a different combination every day for an entire season. There are too many to list but you can't go wrong with a crushed Oreo cone with brownies mixed in. Or maybe you'd like that with Butterfinger, cashews, coconut, Gummy Bears, Gummy Worms, Heath, Kit Kat, M&Ms, Nestle Crunch, peanuts, Peanut M&Ms, pecans, Reese's Pieces, Sour Gummies or sprinkles? Yeah, deciding is the hardest part.
Hawaii in a cup, the Dole Whip is the second signature item. It comes in pineapple or strawberry. Dilettantes get it mixed.
Since 1970 the Highland Queen was run by Ruth Leonchik, who was co-owner with her son. Raised in La Grange, she was straight out of Mayberry — beloved for her folksy ways and easy touch with kids. When she died in 2015 and a "for sale" sign went up, customers feared they'd see the last of the Queen. But a new owner who grew up in the area and came here as a child rescued it and took over in 2018.
Augustino's Rock and Roll Deli, Carol Stream and West Chicago
The name says it all. These diners are quasi-Hard Rock Cafes, full of vintage music memorabilia and pop culture paraphernalia. Customers enter the Carol Stream location through an 18-ft-tall jukebox replica. The fun is just starting. The interior walls and shelves are jammed with photos of Elvis, the Beatles and other rock stars, glass-encased guitars and concert ticket stubs, circular 45s lined up in a row, metal lunch boxes with the Peanuts gang, the Fonz and Richie Cunningham and Dukes of Hazzard characters, and, in the center of the dining room, a life-sized Marilyn complete with a wind-blown white dress.
Augustino's grew from a popular Italian grocery store in Carol Stream, opened in 1978 by Jerry "Augie" and Phyllis Morelli. Their hand-rolled meatballs and Italian beefs drew crowds. While serving in Korea, Augie booked musical acts for USO shows, played in a band and collected memorabilia. When they outgrew the deli and opened their first restaurant in the late 1980s in Carol Stream, the rock n' roll theme was a natural fit. Even the smallest details go back to Top 40. The place's secret oil dressing is referred to as Love Potion Number 9.
Son Jerry Morellli and his wife, Cathy, opened the West Chicago restaurant in 2004. Like the original, a full array of grilled entrees are offered. But the sub sandwiches, "big as your forearm," as the business likes to say, are what the deli built its reputation on and still remains the prime attraction.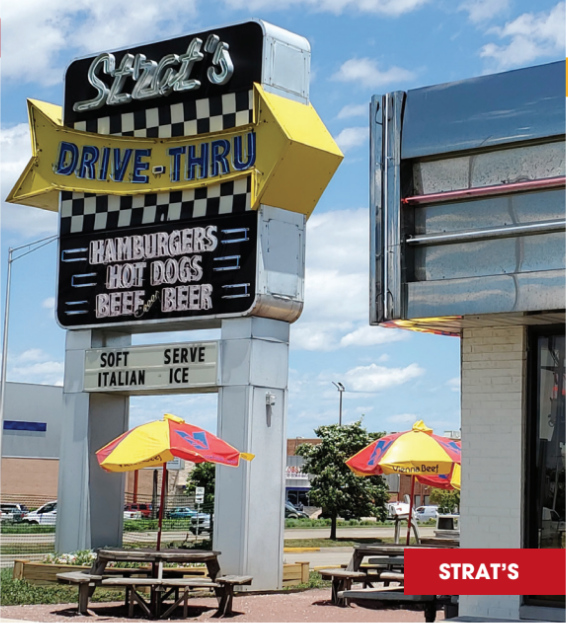 Strat's, Villa Park
There is no getting around it. The exterior has a definite, 50s vibe with its garish, retro sign and unabashed neon. But if you come here for the first time by yourself and your significant other at home asks how it was, you most likely will first mention the . . . well, one online reviewer, and he was not alone, referred to the "cluttered disaster." Look for a kitchen sink in the pile of whatnot. You won't find it. But you will find practically everything else. There is no rhyme or reason for the detritus of well-worn consumer goods lining the nooks, crannies and nearly every conceivable bare space here.
That said, the fat red vintage Coke machines are cool, as is the big No. 2 pencil dangling from the ceiling.
The food is far superior to the decor. Chicago Best featured the ribeye steak sandwich. The pastrami sandwich on rye is a winner. The double burger, a hot mess of catsup and mayo, is a guilty pleasure. And then there is the Duke Dog, topped with fries and a fair knockoff of a Gene & Jude's dog. We're not just saying that. The Vienna Beef Hot Dog Hall of Fame honored the Strat's dog back in 2008.
Just like at Gene & Jude's, don't dare to ask for ketchup on that dog.
Little Joe's, Countryside
There is fast food. Then there is family food. Anna Cumbo grew up in Italy, moving to Chicago when she was 14. She brought with her impeccable cooking skills. She and her husband, Angelo, opened this place, named after their son, in 1969. It's now run by their two daughters. It's a bit of a hole-in-the-wall, a hidden gem, a small, nondescript space off busy La Grange Road and tucked away on Plainfield Road. It's a local favorite with a passionate customer base.
What to order? Depends who you ask. Little Joe's does not have a signature item. Some love the flame-licked, slow-cooked Italian sausage. Others swear by the red hots, snappy and pungent. Or maybe the entree that draws the most praise is the homemade (of course!) beef, tender and succulent. The fries are top-notch.
Like other neighborhood places, customers appreciate being hailed by name and asked about their families. Fifty-plus years accrues those kinds of relationships. And on occasion you'll spy a gray-haired woman in the kitchen showing the ropes to one of her grandchildren. Shout out a hello to Anna.
Ace Drive-In, Joliet
Remember 1949, when the golden arches were but a gleam in the eye of Ray Kroc? That's when Ace opened. That may be before your time, but yesteryear is alive and well at Ace. Progress is great. But in the 1950s customers liked not moving their fannies and being served by friendly carhops, and they still like it today. Carhops here still take your order with a smile and smartly deliver it to your car. Ace is the place with the helpful carhops.
The barbeque beef sandwich stands out; the Chicago Best TV show touted it. But customers' favorite is the double steak cheeseburger. It held sway with 25 percent of the votes in an online poll the drive-in did a few years ago. No. 2 was the hoagie with 18 percent, followed by the poorboy with 16 percent, the barbeque beef with 14 percent, the pork tenderloin with 12 percent and the hot dog with only 8 percent.
Ace's signature menu item is its root beer, served in a frosty glass. Think A & W but appreciably better. You can be basic and order a mug or get a little fancy and opt for a black cow or root beer freeze. Or you can buy a gallon of root beer to take home. Some folks lug two or three gallons home.
Ace has had only three owners. The Pierson brothers, Tom and Rich, bought it in 1983. Once a week they host a cruise night. The classic cars add to the rich vibe of nostalgia.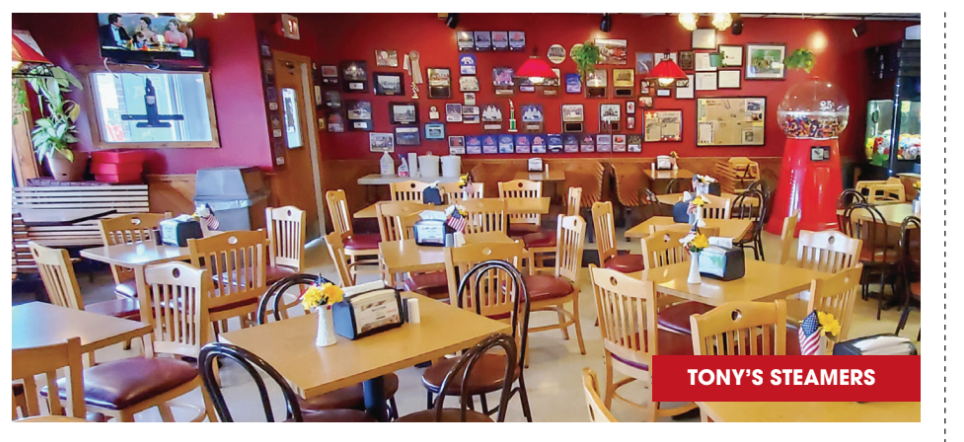 Tony's Steamers, Winfield
Tony's has a catchy slogan: the dogs are steamed and the burgers are square. It also has a loyal customer base. Located inside the Prairie Trail Center, it's been serving its Chicago-style dogs, as well as predictable staples such as burgers, subs and chicken sandwiches, since 1981.
The skinless Vienna beef dogs are comparable to those found at more celebrated hot dog establishments. The steaming succeeds in bringing out that distinctive hot dog-flavor Chicagoans know and love.
A dog's best friend, the fries here are wonderfully crispy — thin, long and addictive. If you're not in the mood for a dog, try the Gyro Plate. The holy trinity of Chicago fast food joints are dogs, Italian beef and gyros. Rare is the place that can ace more than one of the three. At Tony's, digging into the gyro, you might think you're at a Nick's. The meat is moist, tender and entirely agreeable. The Greek olives and feta cheese cubes nicely complement the dish.
Kudos to Tony's for its photos of youth sports team and certificates honoring the restaurant's contributions to the community. On any given night, Little Leaguers and other sports teams crowd the counter, a sign that Tony's may be steaming dogs for at least another generation or two.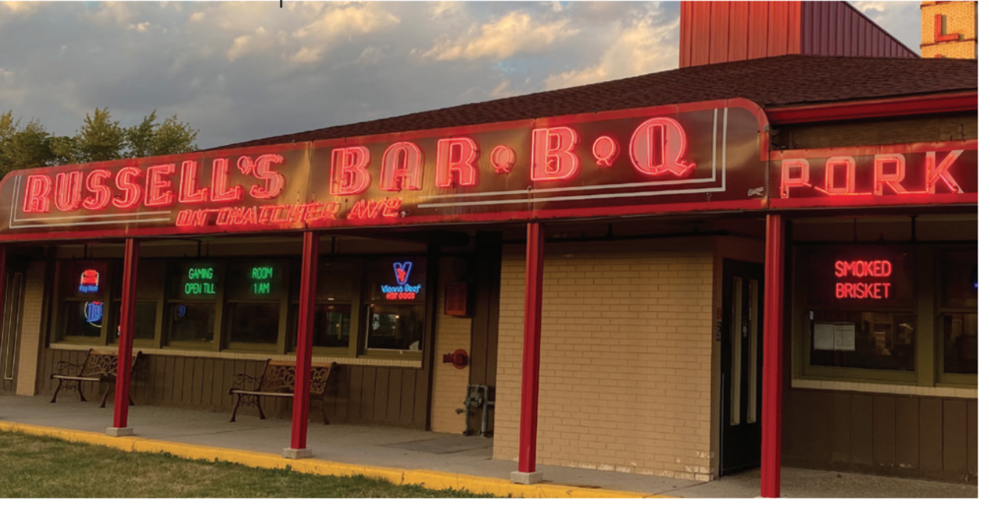 Russell's Barbecue, Elmwood Park & Countryside
Located less than a mile from the former Kiddieland amusement park, the original Russell's Barbecue on North Avenue in Elmwood Park was a popular dining stop after a day of rides and family fun. And it remains a local favorite for its classic barbecue beef and pork as well as burgers, salads, soups and soft ice cream. It also offers adult beverages like beer, wine, mai tais and margaritas.
The Elmwood Park building dates back to 1930 with its tall smokestack chimney and classic neon signs. Inside features an expansive dining area with wooden booths as well as a large glassed-in, indoor patio with tall windows lining one whole side of the restaurant.
The distinctive combination of traditional decor and all-American comfort food serves up a truly nostalgic step back in time.