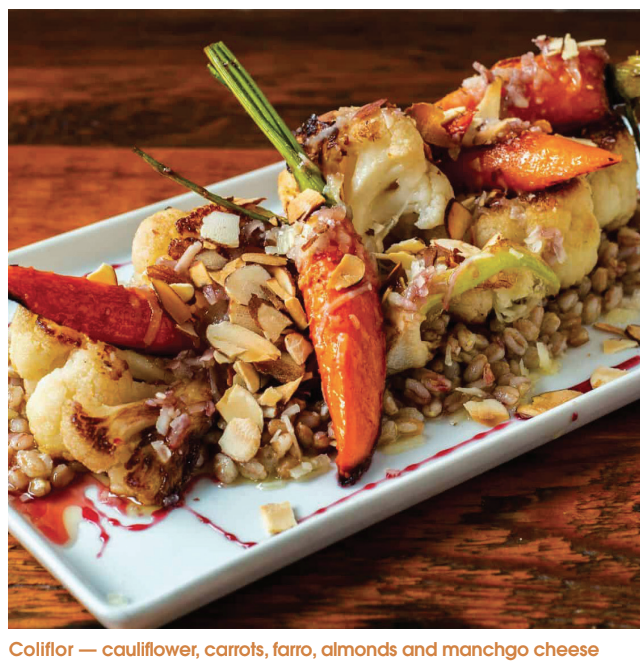 A staple in the Oak Park dining scene, Amerikas is a charming fusion bistro that encapsulates the melting pot concept of American culture and cuisine, serving up dishes that are true to the restaurant's Latin roots, while incorporating flavors from around the world. The result is a diverse menu with distinctly flavorful options.
Dishes at Amerikas are designed to be shared and while there are numerous selections from which to choose, the crab-cake with lumb crab, onions, poblano peppers, cilantro, papaya, cucumber relish and siracha aioli makes for a good starter. Additionally the hummus — chipotle flavored with queso fresco, sesame seeds and chapati tortilla — is easily sharable and far from your traditional hummus appetizer. The Peras salad is also a pleasant light starter with delicate complimentary flavors.
Though the Coliflor — cauliflower, carrots, farro, almonds, manchgo cheese with a hibiscus and arbol reduction — and the Chile Relleno are two of the most popular vegetarian items on the menu, the Calabaza is excellent as well. The wild mushroom risotto with chile de arbol truffle butter is served in a perfectly roasted acorn squash. The rich flavors of the squash and truffle butter, offset by the lighter flavor of the mushroom risotto, result in a perfect warm fall comfort food and a dish you'll be tempted to keep to yourself rather than share. With an emphasis on organic and locally grown ingredients, Amerikas offers meat and fish dishes and a selection of tacos in addition to the generous selection of vegetarian dishes. Meat options include Taquitos and Carne Asada, though it's the Barbacoa that is most highly recommended.
The Róbalo — wild striped bass served with farro, brussels sprouts, shallot and banana pepper salsa — is one of the most popular seafood selections along with the Pulpo — Spanish octopus served with fingerling potatoes, chorizo, Mexican onions, cherry tomatoes, garbanzos and a lemon vinaigrette. All the dishes are beautifully plated and will leave your mouth watering before you even have a chance to dig in.
Amerikas also offers a selection of desserts including staples like churros. The Dark and White Chocolate Mousse made distinctive by the maracuya or passion fruit and caramel sauce is one of several tempting options. A selection of beer, wine, mezcal, tequila and cocktails is also offered.
The restaurant makes the most of its limited space with a bar that spans the length of one side of the room and bench seating with tables on the opposite side. The cozy interior is brightened by a large, colorful mural and canvas paintings affixed throughout the restaurant. The dining area also features a variety of textures — from wood finishes and exposed brick to a copper bar top — that add to the overall aesthetic.
A vintage-looking street food cart serving tamales, churros and hot chocolate sits at the front of the restaurant. Amerikas also has a charming sidewalk patio with heat lamps that add to the inviting ambiance.
Amerikas is open for breakfast, lunch and dinner with happy hour Tuesday through Sunday from 3 to 5 p.m.
Reservations are recommended, though walk-ins are welcome.