Anything and everything: that about sums up the choices at Anyway's Pub, Restaurant & Banquets in Oakbrook Terrace, which boasts a thick menu and a broad range of offerings. 
It's an aptly-named eatery in other ways, too. "Anyways" is a quintessentially Chicago term, and this is a Chicago kind  of place. The décor pays homage to the Windy City, with murals of iconic places and framed artworks of Chicagoland sites and people.  
Celebrating its 25th anniversary at this location in 2020 — a second location in Bloomingdale opened in 2010 — Anyway's officially got its name from one of founder George Lamberis' favorite taverns in Greece, where his family spent many summers. 
The owner's vision of a west suburban neighborhood joint like those found in the city of Chicago, along with some of the charm of the tavern in Greece, is evident on any given day. During a recent visit, 20 seniors gathered at one table, in a semi-regular reunion. At a another table, a family was celebrating a young girl's birthday and when they sang "Happy Birthday", the rest of the patrons in the room chimed in. A few couples on dates were sharing a quiet dinner, while the sizable wraparound bar was lined with people watching basketball and hockey games on overhead monitors. 
The neighborhood vibe is matched by an eclectic menu that showcases some of the beloved tastes of Chicago. A "Chicago Stockyards" page, for example, features meaty favorites, including the eatery's signature baby back barbecue ribs and a variety of Certified Angus beef cuts ranging from seasoned sirloin to crockpot pot roast to grilled steak skewers. Burgers are big, both in size and in demand, and are served different ways. The Owners Burger — seasoned ground beef paired with melted Havarti cheese, baby greens, sliced tomatoes, grilled onions, mushrooms and dijoinaise sauce — is a solid choice. 
Chicago's famous tavern-style pizza is popular at Anyway's, with traditional toppings as well as an only-in-Chicago option of Cheesie Beef Pizza with shaved prime rib, hot giardiniera and a blend of Italian cheeses. Other neighborhood favorites are the deli and sub sandwiches, authentic Mexican street tacos and fajitas, and a range of pastas. Soups, which change daily, are made from scratch.
If you lean towards salads and vegetarian fare, the menu has options for you, too. The Lincoln Park Salad is colorful and crisp, with spring lettuce and sweet poppyseed vinaigrette tossed with Granny Smith apple slices, candied walnuts, red onions, sun-dried cherries and blue cheese crumbles. A club sandwich made with grilled marinated portabella is as hearty as any beef burger. 
Suffice it to say, there's something for every appetite at Anyway's, where you can cap off your meal with comfort-food desserts. The apple crisp is tasty, and the Colossal Cookie Bowl has become a signature sweet, with mounds of ice cream scooped over a fresh-baked chocolate chip cookie and topped with chocolate syrup, caramel and whipped cream.
As for drinks, beyond draft and bottled beers and a variety of wines, Anyway's mixes up unique martinis and margaritas, from a Cherry Bull martini made with cherry vodka, cranberry juice and Red Bull to a pomegranate margarita. Anyway's offers on-site banquet facilities and catering and now also has video poker and slots.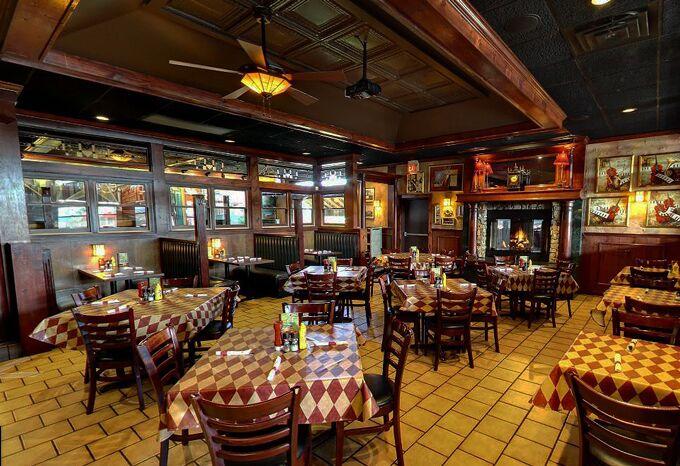 Contact: 5 East Roosevelt Rd., Oakbrook Terrace, 630-932-9323 and304 W. Army Trail Rd., Bloomingdale, 630-351-8870. www.anywayspub.com
Recommended Dishes: Crockpot pot roast, Burgers, Fresh-made soups
Cost: Appetizers: $7 – $12, Burgers: $9 – $12, Entrées: $12 – $19
Restaurant Hours: Mon – Thur, 11:30 a.m. – 10 p.m. Fri & Sat, 11:30 a.m.  – 10:30 p.m.  Sun, noon – 9  p.m. 
Pub Hours: Until 1 a.m. Sun – Thur and 2 a.m. Fri – Sat; bar menu until midnight