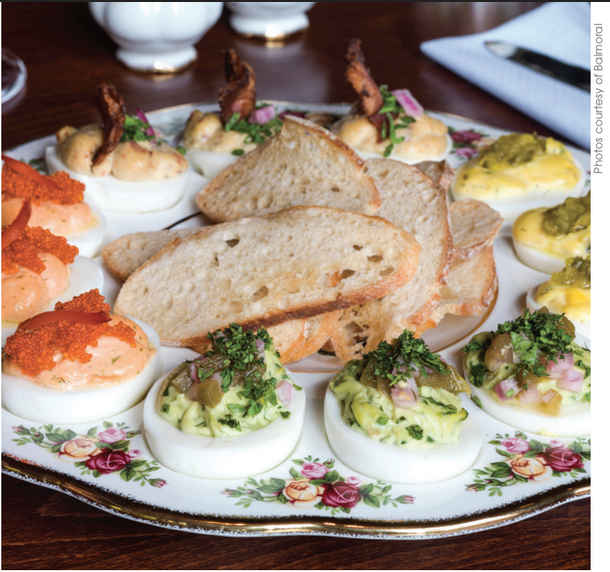 Authenticity is an increasingly rare attribute these days, but when you find it, oh what a difference it can make. Such is the case at Balmoral, a three-year-old restaurant in Campton Hills dedicated to providing an immersive and truly authentic Scottish dining experience, from its distinctive cuisine to its lovely setting and décor. Even its name, Balmoral, comes from Balmoral Castle near Aberdeen, Scotland.
The immersive experience starts as soon as you enter — Scottish music plays in the background; tables are set with tartan table runners and vintage china and crystal stem-ware; and dining areas are cozy and inviting, with wood paneling, soft golden light from lanterns, and charming Scottish décor.
New patrons receive a friendly greeting from their server and a suggestion to read owner Colin Smith's introduction, "Welcome to Scotland," on the first page of the menu. The message is friendly and personal, explaining the high standards of food preparation and sharing family traditions that laid the groundwork for Balmoral.
A native of Scotland, Smith was a chef and restaurant owner in England and Scotland for many years before coming to the States and has strong opinions regarding what constitutes authentic Scottish food. "Balmoral is the only true authentic traditional Scottish food in the United States," he claims matter-of-factly.
The appetizers ("starters") offer a wide variety of Scottish delights including deviled eggs made four different ways (see photo above), Ardrossan hot smoked Finnan haddock dip, and St. Andrew's avocado and asparagus bake (especially delicious).
There are also homemade soups served in tea cups or bowls including "Highlander's Cock-a-Leekie Soup" (leeks, onion, potatoes, herbs and slow braised chicken with a sweet prune), and "Yer Granny's Green Pea and Ham Soup."
The menu's more than 20 different entrées include traditional fare like shepherd's pie, fish and chips and beef Wellington, as well as more standard dishes like salmon, shrimp and ribeye steak, each with a Scottish twist from Executive Chef Joe Schroeder.
The descriptions of menu items add to the fun — many include interesting tidbits, from historical details to Smith's lighthearted comments. Regarding Musselburgh's Fish and Chips, he says, "I eat this weekly, reminds me of home."
Another favorite, the Ayrshires Braised Lamb Shank — described as a "dish for our Kings and Queens" — is braised with a few simple ingredients: carrots, onions and leeks, with wild herbs.
There are many desserts worth saving your appetite for as well, including "the Scot's favorite," a moist date cake with toffee sauce and whisky custard; a Raspberry Cream Cranachan; and a crunchy butter shortbread. The whole list is enticing, as are the accompanying pots of tea or coffee and individual cups of flavored coffee.
The bar experience also reflects Scottish tradition with a focus on the country's national drink — 10 different whisky flights are offered. There is also an impressive wine list and a wide range of cocktail options.
A pleasure from start to finish, it's hard not to come away from a dining experience at Balmoral without a new appreciation for Scottish cuisine, culture and hospitality.