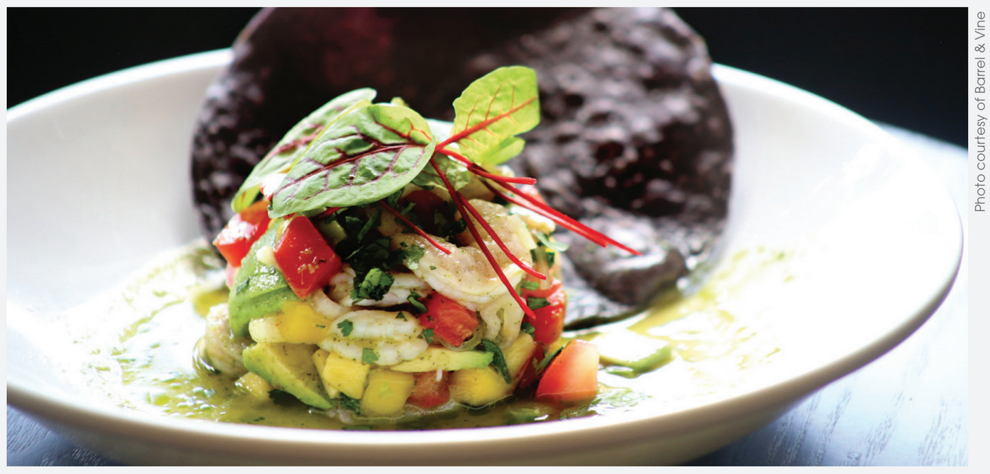 Traditional with a touch of modern describes more than just the ambiance at the recently opened Barrel & Vine in Lemont (206 Main St, 630 312-8687). The restaurant's contemporary takes on classic American fare elevates dishes to make them distinctively their own.
The eatery's decor features an open concept with exposed industrial ceilings and brick and natural wood throughout. The result is a warm, family-friendly atmosphere that can be transformed into a suitable date night destination, compliments of the ambient lighting.
The wide-ranging menu — with entrée prices ranging from $13 to $60 — features sharables, fresh seafood, steak, locally sourced salads and more. Popular items include the short rib, stuffed pork chop, ribeye steak sandwich and bruschetta.
Menu items can be easily paired with a craft cocktail, a local or global wine, or a whiskey.
Barrel & Vine offers private rooms, catering, a kid's menu, gluten-free menu items, carry-out and Sunday brunch.
The restaurant is open Monday through Thursday from 11 a.m. to 10 p.m., Friday and Saturday from 11 a.m. to midnight, and Sunday from 10 a.m. to 10 p.m.