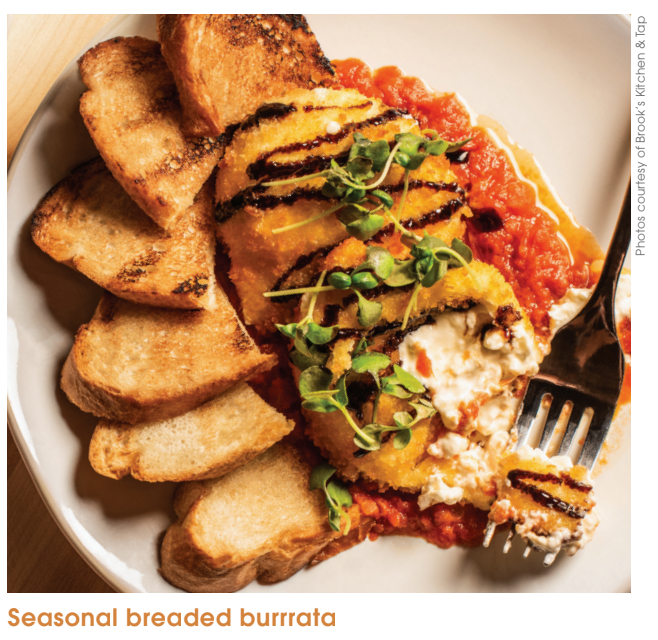 It's not easy to effectively pull off a fusion between upscale and down-home, but Brook's Kitchen & Tap in Oakbrook Terrace manages to do it well, both with its classy but welcoming vibe and a menu that ranges from comfort-food patty melts to Sunday dinner style beef tenderloin.
The distinctive combination resonates especially well now, following the extended stay-at-home period, as folks are looking forward to dining out again and savoring familiar foods with inventive twists.
Against a backdrop of soft grey walls, modern décor and lots of lighting, Brook's Kitchen & Tap is well suited for a family dinner, date night, meetup with friends or outing to watch a game on a big-screen TV at the bar. The warm welcome extends to the establishment's accommodations and amenities, including a heated tent during the recent colder months, ample patio seating on temperate days, private party rooms for special events, and regular specials like Taco Tuesdays and "Kids Eat Free" Sundays.
Back to the wide-ranging fare which includes appetizers, soups, salads, handhelds and entrées which changes by the season based on the availability of fresh ingredients. As winter begins to roll into spring, there are still rib-sticking options like baby back ribs, Wisconsin's Clock Shadow white cheddar cheese curds, grilled cheese and burgers. But there are also lighter farm-to-table dishes such as a smoked salmon salad, Baja fish tacos and Australian sea bass, among others.
Executive chef Mark Downing has a deft touch with the classics but also creates fresh takes on favorite foods, like Italian beef egg rolls that are a mash-up between Asian egg rolls and an Italian beef sandwich; gyro tacos made with gyros meat, feta cheese and tzatziki; and a Caesar salad tossed with crispy pork belly and a sunny egg.
The concept of cheese and crackers is elevated with an appetizer of grilled brie drizzled with apricot honey and creamy balsamic and served with toast. A generous portion of grilled chicken gets a bright kick prepared jerk-style and accompanied by roasted pineapple relish and lime-cilantro dipping sauce. The plant-based burger, topped with vegan cheese and balsamic glaze, stacks up well against its steak burger counterparts.
The tap part of Brook's Kitchen & Tap moniker reflects the balance of classic and current offerings evident in the restaurant's food menu. Hand-crafted cocktails, for example, include time-tested staples like smoked whiskey sours, old fashioneds, mules and margaritas along with house drinks such as the Prairie Runner, made with vodka, pamplemousse, grapefruit, lemon and pomegranate bitters; and the Filthy Cherry, a mix of smoky mezcal, tequila, Cointreau, lime, black cherry and orange peel.
The simple but solid wine list offers a range of well chosen options and beer offerings include old-school brews like Miller Lite, Budweiser and Schlitz along with craft beers from Bell's, Goose Island, Two Brothers and more.
Comfort food comes full circle at dessert, via bread pudding served with cardamom anglaise, a churro doughnut stack, and "blue bowl" sundaes, which include a Drumstick version made with vanilla gelato, bits of waffle cone, caramel sauces, dark chocolate sauce, peanuts and whipped cream.
Leave room for one of these, seriously.