James Jagoda, a 58-year-old attorney from Western Springs, belongs to a circle of friends he affectionately refers to as "cork dorks" and "wine geeks." Four or five times a year the dozen or so chums gather together, each toting one or two bottles of a carefully chosen special vintage. The wine buddies meet on a Tuesday at Adelle's Fine American Fare in Wheaton. They like the food, the ambience and the no-corkage fee. The $20 charge for each bottle is waived on Tuesdays. "That can add up in a hurry," says Jagoda.
The money saved is just part of the appeal of a restaurant with an ample wine cellar and an understanding of the wine drinking crowd. "The staff knows how to serve wine. They bring an ice bucket for white wine. They bring you two or three glasses. It's decent stem ware, not water glasses," Jagoda says admiringly.
Chicago is renowned for its BYOB — or bring your own bottle — scene, one of the most vibrant in the nation. The suburbs can't compete with the city on that score ­— some towns even ban it. But there are a number of lively restaurants with quality food that give customers the option of toting their own beer or wine. BYOW — bring your own wine — in particular is a common option both among finer dining establishments and more moderately priced venues. 
The Regulation Radar
There's something highly appealing about pairing a favorite dish with a favored high-octane beverage. Washing down a scrumptious meal with a weekend-friendly drink is a princely pleasure. Just ask Casey Garcia, a 30-year-old welder from Glendale Heights, in line for a mouth-watering brisket sandwich at Steamboat BBQ in Wheaton. "Soda is cool. Beer is better," says Garcia, toting a couple of cans of cold Budweisers in a plastic bag.
About a year ago Buzz Café in Oak Park became the first business in the large suburb to be granted a BYOB license. The art-centric coffee shop that serves food actually has operated as a BYOB since it opened 21 years ago. But in 2018 the village decided to regulate the practice.That's fairly emblematic of how BYOB in many suburbs operates — under the radar. It's there but not front and center. Or in some towns it's not there at all — expressly not allowed or so highly regulated or requiring such a burdensome level of liability insurance that no business has a license.
Elmhurst does not allow BYOB (as opposed to BYOW). La Grange's liquor code stipulates various conditions for a BYOB license, including a steep insurance liability threshold; no restaurants in town currently carry a BYOB license. In Bolingbrook, village officials have said though there are no local laws regarding BYOB it's considered banned because it's tantamount to drinking in public.
A Wine Lover's Paradise
Naperville is far from a dry town. It currently regulates 220 liquor licenses for stores, restaurants (42) and restaurants with bars (98). Last year the owners of Balboa's Cheesesteaks asked city officials to amend the law to create a BYOB license. The Naperville Liquor Commission considered the matter but ultimately declined to permit BYOB.
Even so, Naperville remains a wine drinker's paradise with a slew of restaurants offering BYOW. For a so-called corkage fee, typically $20 or $25 per bottle, customers can drink their own wine. The customer imbibes exactly what he or she wants and probably saves some serious coin, while the restaurant attracts loyal patrons and pads its bottom line, if less so than from selling from its own cellar.
Statewide, BYOBs are easy to find. The Illinois Restaurant Association has estimated 10 percent of its members are BYOB. Curiously, Chicago, notorious for its Kafkaesque regulations for home repairs and other official business, does not even regulate BYOBs. Apparently as a result, only Philadelphia is said to rival Chicago for the range and scope of BYOBs.
Fine Wines and Modest Options
Wheaton, which does not regulate BYOBs either, is a suburban hotspot for it. Adelle's is a popular, well-known restaurant but even a small strip mall venue such as Pa Lian, a quaint Burmese restaurant, packs in BYOB devotees. On a recent night, more than half of the tables brought their own liquor, says owner Tawk Zalian. 
He opened his place 18 months ago without BYOB. "After six months, I went with it. My customers demanded it," says Zalian, who was born in Burma (now known as Myanmar). "It's nice to enjoy your weekend with a couple of drinks."
Zalian does not sell alcohol, so, as he says, "I'm not losing money" by allowing carried-in drinks. Besides, who does not want to pick their own wine while dining on Seit Thar Ka Lar Pe Hinn (goat meat with a menagerie of spices) and Da Zun Sii-Pyan Hinn (shrimp with spices), as are a married couple from Winfield this night. Actually the beauty of BYOB for some people, like Luke and Kate (who did not want their last name used), is that combining food and wine in general is what matters, not the particular bottle of wine. "We love the food here. We're not that sophisticated (about wine)," says Luke. Adds Kate, "We really like red wine."
Wine snobs certainly aren't found at Steamboat BBQ either, located in the same strip mall off Geneva Road on the north end of Wheaton. Hearty slabs of pork and beef sizzle in the hickory-smoked oven. The pungent, alluring smell of cooked meat fills the air. Knives pound on cutting boards. Diners huddle over their plates and nearly all, at least this night, happily hoist blue Pepsi cups and quench their thirst with soda. Or, as one diner responds, "Beer? I've got root beer."
In the summer, however, when the patio tables outside are occupied, beer is a more common choice at Steamboat. Like Steamboat, suburban BYOBs — gratefully — are not dens of drinking, not excuses for a glassy-eyed dining experience. They're low-key, more button-down than rip-roaring. They're places where a dad can enjoy a cold one (just one if he's driving, of course) while the kids get fed. The BYOWs add a layer of comfort to a night out, easing the burden on the wallet or purse as well as making the occasion more special. Adelle's has a extensive wine cellar with more than 125 varieties. But that's a rain drop in the world ocean of wines. Jagoda alone has 300 bottles in his cellar. Customers often want to enjoy a particular vintage from a particular year, one unlikely to be found at a single local restaurant. 
"There are some oenophiles that may bring in a real expensive wine," says Debbie Williams, owner of Adelle's. "They can drink something special and not have to pay for it here. They don't have to worry so much about the cost. They can order something special off the menu."
BYOW is a neighborly policy,  adds Williams. "We're an independent proprietor business, part of the community. We're not a corporate place. Our heart is in the town and surrounding towns," she says. "Some places say you can bring in your own wine, but then they look at you like you have three eyeballs. We're welcoming about it." So welcoming in fact, that for the month of January, Adelle's is offering BYOB with no corkage fee on Tuesdays through Thursdays.
When Williams dines out and brings her own wine she makes sure she does not bring a wine that is sold at the restaurant, a cardinal sin. But as a restaurant owner she takes a different view. "If they want to do that here, they're welcome to," she says.

Addison | Subdragon 111
Nothing fancy shmancy but the Thai food will dance its way into your heart. (A dance studio lurks next door.) The dishes are assigned a heat rating from one to five. Don't be a fool and start with a five.
Batavia | Tusk Thai Cuisine
Fair prices and first-timers often proclaim, "Best Pad Thai I ever had." 
Berwyn | Autre Monde
It's both a neighborhood restaurant and a destination dining venue, hailed by critics. The Mediterranean focus showcases organic ingredients and includes exquisitely prepared octopus, pork and meatballs. $20 corkage fee.
Burr Ridge | Capri
This is sophisticated Italian dining in an elegant setting. It's hard to choose among a plethora of superb entrees but try the Chilean Sea Bass Alla Lemon, crispy on the exterior and lavishly buttery and tender inside. $25 corkage fee. 
Carol Stream | Rocco-Vino's Italian Restaurant
Good portions and great pasta in a nice, relaxed ambiance. $15 corkage fee.
Countryside | Cida Thai
No way a nondescript, strip-mall eatery can be this fabulous. But eating is believing. Highly recommended are the Crab Rangoon, the red curry and the massaman curry. At some Thai places the curry is too oily or is compromised by too much coconut milk. The curries here strike a good balance. 
Darien | Kao Gaeng
The name means "curry on rice," and the fare here, to its credit and to your inevitable delight, approximates the traditional fast food found 
on the streets of Thailand. 
Downers Grove | Parker's Restaurant & Bar
Recognized the last three years by Wine Spectator with its"Best of" award, Parkers' has taken its wine program to the next level in recent years, and now boasts more than $150,000 in inventory.  But those preferring a special wine from their own personal collection are welcome to bring it in and pay just a $20 corkage fee.
Elmhurst | Francesca's Amici
Top-notch Italian cuisine with ample portions and timeless flavors. $20 corkage fee.
Forest Park | Gaetano's
Reservations are usually needed: the food is that good. First-timers may want to opt for the multi-course tasting menu. The calamari is a must. $18 corking fee.
Geneva | Bangkok Restaurant
No frills, just basic spicy Thai food. A testament to its quality ­— lots of regulars dine here.
Geneva | Preservation
Hip and laid back, Preservation is celebrated for its creative dishes. A small dish that draws big praise is the bacon jam with arugula and bleu cheese. $25 corkage fee.
Glen Ellyn | Hokkai Sushi
This chic, contemporary restaurant offers the classic sushi menu with the standard rolls and fish. The portions are good, the prices reasonable and the sushi is comparable in quality to popular places in Chicago. Corkage fee is $5 for wine and a token $1 for beer.
Glen Ellyn | Reserve 22
Here's a deal: this American bistro at the Village Links Golf Course is offering a free BYOW during January. $15 is the normal corkage.
Itasca | Colombian's Taste
Excellent, authentic Colombian restaurant known for its empanadas, ultra fresh and bursting with flavor. This is the kind of hole-in-the-wall that deserves to be raved about by celebrity chefs like Guy Fieri.
La Grange | La Buona Vita
Gourmet Italian food. The Eggplant Parmesan is memorable. $20 corkage fee.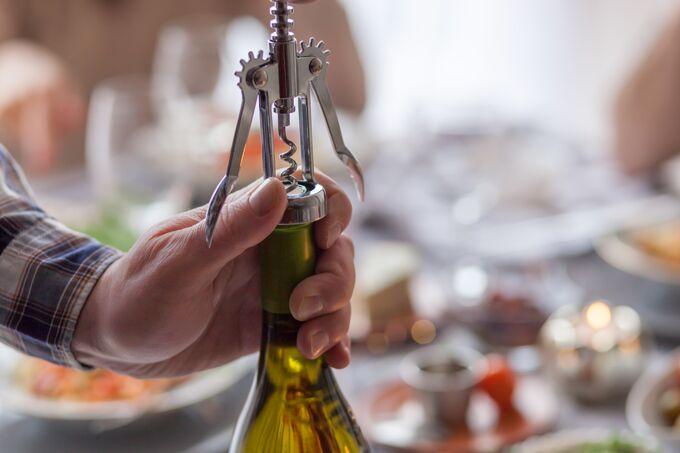 Naperville | Fontina's Italian Kitchen
Very casual and typically described as "a hidden gem" or "a lot better than it looks." Try the Bruschetta Chicken Sandwich, a breaded chicken cutlet nestled inside a fresh Italian loaf of bread. The hot and cold Italian subs also pack a punch. $5 corkage fee.
Naperville | Mapo Restaurant
A very good sign: people of Chinese background flock here, where spicy and complex Sichuan and Hunan fare is served in a simple, modern café setting. $15 corkage fee.
Naperville | Paris Bistro
Stylish and upscale, this bistro is Parisian in intent and achievement. $20 corkage fee.
Naperville | VAI's Italian- Inspired Kitchen + Bar
Lively but still warm and comfortable, VAI's offers wood-fired pizzas,Italian sharing plates and much more. The vodka pasta is special, and the lobster in the lobster shrimp rigatoni is soft, tender and utterly addictive.
Naperville | White Chocolate Grill
Contemporary American fare. The Famous Chicken Salad is not famous but ought to be. $20 corkage fee.
North Aurora  | Turf Room
The American eclectic menu changes seasonally but the dishes are consistently first-rate. Try the jambalaya, sea bass and short ribs or opt for the pizza and flatbreads. $20 corkage fee.
Oak Brook | Antico Posto
After working up an appetite shopping at Oak Brook mall, relax and dine at this surprisingly rustic spot. It's known for its gnocchi, so delight in the Gnocchi Bolognese, made not with potatoes but with ricotta cheese. It's borderline criminal if you leave without ordering the raspberry gelato. $20 corkage fee.
Oak Park | Buzz Café
Come here for a poetry slam or live music while munching on the Organic Chicken Salad or the Brie and Apple Burger while sipping the wine or beer you carry in. The recent travails of Buzz Café are an apt reminder that while BYOB is a savings boon for patrons it costs a pretty penny or two for businesses. When Oak Park decided to regulate BYOBs it set the license fee at $500. The added costs of mandated alcohol training and fingerprinting of managers set her back more than $1,000, says owner Laura Maychruk. "We've had no issues," says Maychruk, taking issue with the decision to regulate. "It's just a way to collect a tax." Recently, the village reduced the BYOB licensing fee to $100.
Oak Park | Grape Leaves
This tiny neighborhood spot makes the average hole-in-the-wall look as expansive as the Taj Mahal. The food belies the surroundings. The chicken shawarma, the falafel and the hummus all are exceptional — and moderately priced.
Rosemont | Carlucci
Modern Italian fine-dining restaurant in a beautiful setting.  Wine lovers come forth: no corkage fee on Saturday and with a meal a glass of house wine is a shiny penny on Sunday.
St. Charles | Chamber Red Chinese Bistro
The bistro specializes in Chinese cuisine with a modern twist. Especially popular are the orange chicken, the pot stickers, the tofu and the garlic eggplant.
St. Charles | E & S Fish Company
The nearest ocean is 1,000 miles away, but the fish here is fresh and superb. Longtime customers swear by the oysters, tuna sushi rolls, fish tacos and pasta with shrimp.
Westmont | Katy's Dumplings
Named after the owner's wife, Katy's has a nice homemade touch with its outstanding handmade noodles and dumplings, the origins of which can be traced back generations to a small village in northern China. Particularly flavorful are the crab rangoons and the sesame chicken. 
Wheaton | Adelle's Fine American Fare
The American-French bistro offers splendid, flavor-packed dishes such as tempura-batter blue gill with lemon aioli and Thai lobster spring rolls. And through January, it is offering no corkage fees on Tuesdays, Wednesdays and Thursdays.
Wheaton | Luong-Loi
From the way-cool industrial-chic décor to the egg drop soup topped with fried garlic to the pure-tasting pho, this Vietnamese gem clicks on all cylinders.  It also offers Chinese food. The Kung Pao Chicken never disappoints.
Wheaton | Pa Lian Burmese Restaurant
Tea leaf salad is a national dish of Myanmar: "fantastically delicious," raves the Hungry Hound. It's a mixture of shredded cabbage, tomatoes, lentils, yellow beans, toasted peanuts and sesame, seasoned with oil and lime. Overall, the food is close  to Thai, Indian and Chinese but all its own.
Wheaton | Simply Thai
The best of both worlds, Simply Tahi does not sacrifice flavor for heat. The spring rolls are heavenly as is the Pad See Ewe. 
Wheaton | Sogno Ristorante
Traditional modern southern Italian cuisine highlighted by its fresh seafood. $20 corkage fee.
Wheaton |Steamboat BBQ
The hickory-smoked beef brisket, pulled pork and ribs attract serious barbecue fans. "This is high-end barbecue. It compares to other places I've been around the country," says regular Casey Garcia. Newbies should consider a combination dinner, choosing from among pulled pork, rib tips, catfish and shrimp.