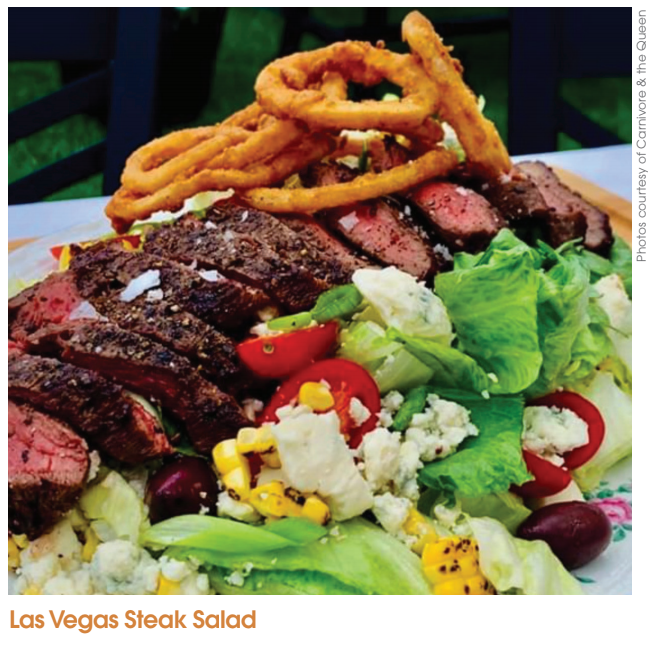 It's not set back in the woods and it doesn't offer a view of a small inland lake. Then again, Carnivore and the Queen is far from your typical supper club. Think west suburban instead of Up North and fare that fuses supper club favorites and inventive ingredients and presentations.
Yes, there are some subtle nods to the Northwoods in the décor at this Downers Grove restaurant, with artworks of trees and deer and verdant plant walls adorning the space. The overall vibe, though, is one of comfortable elegance, whether you're sitting at an intimate corner table for two in a peacock blue living room-style chair or in a leather sofa seat under a modern sunburst light fixture.
That comfortable elegance is mirrored in the menu. Start with reimagined supper club staples like a colorful relish tray with updated, sumptuous versions of pimento dip and roasted beets, along with deviled eggs and beer cheese dip. Add in another starter, such as a deconstructed BLT with whiskey-glazed bacon pieces, lettuce, microgreens, marinated tomatoes and house-made bread crisps. On chilly days, the family-recipe shrimp and crab bisque will warm you right up.
Likewise, the roster of entrées includes prime rib and walleye specials that you might find north of the state line with an updated look and taste. The Carnivore and the Queen version of prime rib comes with a zesty lemon horseradish sauce, while the walleye is battered using a craft brew IPA.
If you have a thing for fried chicken, you'll want to make a trek on a Sunday, when that dish is featured. A variety of meat, poultry and seafood dishes round out the menu, which also includes a five course signature supper for $37 with a seasonal ceviche, relish tray, wedge salad, roast chicken and key lime pie.
The combination of familiar and elevated cuisine is evident right down to the presentation, with food artfully presented on vintage china. In fact, as part of its effort to locally source products, the restaurant is open to donations of family china sets that may be gathering dust in storage boxes.
During times when dine-in eating is restricted, owners and chefs Chris Matus (the Carnivore) and Kelli Lodico (the Queen) have pivoted to a robust carry-out business, offering ready-to-go family meal deals and party packs of relish trays, firecracker shrimp and dips. Examples of family meals include comfort food favorites like Backyard BBQ roast chicken and alfredo pasta.
The Carnivore and the Queen is also known for its batched cocktails, from different versions of the classic old fashioned to manhattans and a cherry sweet tart martini, among others. Cocktail kits are available for to-go orders as well.
As endings go, the Carnivore's Key Lime pie is fit for both a king and a queen, with a hint of ginger and a whole lot of flavor. A flourless chocolate torte is another memorable way to finish up a satisfying meal.
In addition to its dinner and brunch menus, the restaurant currently has a grocery service, through which patrons can order cuts of meat, jam and biscuits, house-made dressings, sauces and more. Its brunch service will resume when restaurant restrictions ease.