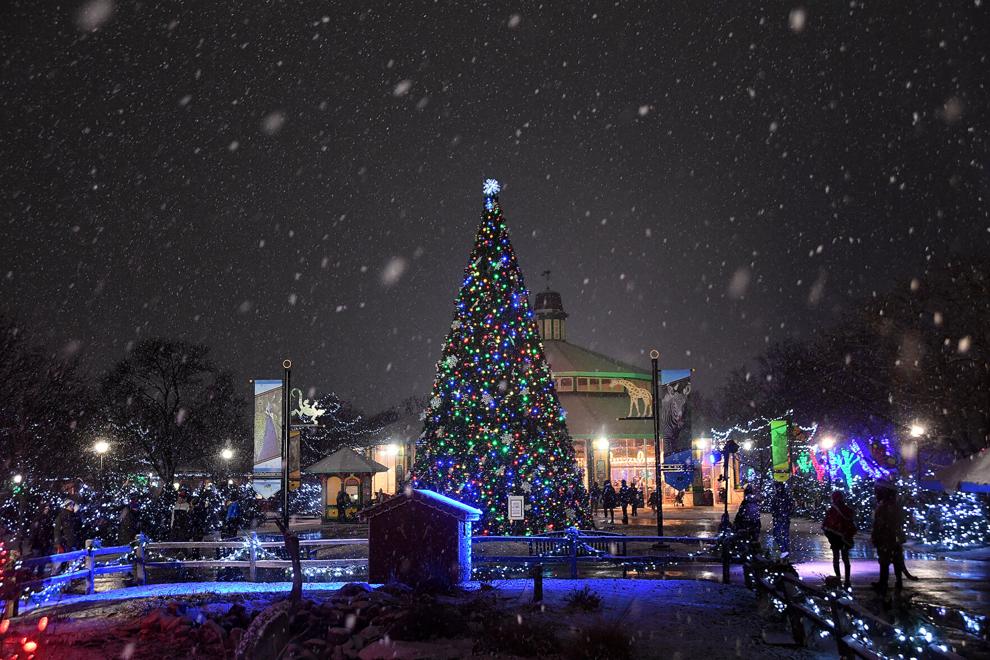 For most of us, the holidays are wrapped in nostalgia — filled with special activities and outings that shine bright in our memories, including visits to Santa, seasonal treats, picking out and trimming a tree, and driving through colorful light displays. Though 2020 may have seen some events canceled or changed, many are back this year. Here are some both tried-and-true and brand new activities to add to your seasonal schedule this year:
Go for the Glow
There's nothing quite like an array of colorful lights to chase away the darkness of a wintry evening. There's no shortage of light displays across the suburbs. Check with your city government or park district to see whether they hold any holiday lights-related activities. St. Charles, for example, holds an annual "Electric Christmas" lighted parade, and the park district publishes an annual Holiday Lights tour guide of participating local homes and businesses, available as a pdf or a Google Maps version. If you want to get out and stretch your legs, seek out a walking tour, like Oak Brook Park District's Winter Lights at Central Park, which welcomes guests to stroll the decoratively lit path every evening Nov. 25 through Jan. 9.
For something more traditional, check out the Lehnertz Avenue Christmas display in Aurora, which celebrates its 70th year this season. Neighborhood residents display parts of the Christmas story with lights, sounds and all the Biblical figures; you'll find the Peanuts characters and Charlie Brown on nearby Lehnertz Circle. You might even head over to North Aurora to take in the Holiday Lights at Mooseheart, featuring a drive through with more than 80 lighted displays.
Venture a little further afield to find a larger light show. If you want to view both lights and animals, visit Brookfield Zoo during its annual Holiday Magic event. Want to commune with lighted trees? Grab a ticket for the Morton Arboretum's Illumination, an interactive spectacle of color, light and sound that's been dazzling visitors since 2013.
If you're looking for maximum wattage, head to Rosemont's Impact Field for the AMAZE Light Festival starting Nov. 19. The event features millions of holiday lights, spread across seven themed illuminated worlds, plus plenty of other fun activities for the whole family.
Say Hey to Santa (and Friends)
Checking in with Santa Claus is a must-do for many young children and their parents, and there is no shortage of opportunities to do so in the western suburbs, including Santa houses, shopping mall set-ups, special meals and more.
You'll find Santa breakfasts in nearly every town, many held by local park districts or restaurants. In St. Charles, families can see the man in red in the uniquely festive setting of the Club Arcada Speakeasy & Restaurant, located in the 1926 Arcada Theater Building. The Arcada is hosting Santa Breakfasts on Dec. 11 and 19.
Join Santa's better half at the Tea Party with Mrs. Claus event on Dec. 19 at the Bartlett Hills Golf Club. Kids can have a picture taken with Mrs. Claus by the fireplace, enjoy a holiday buffet with a tea and hot cocoa station, and decorate holiday cookies. Several seatings are available.
Perhaps you'd prefer a meet and greet with take-home eats. The St. Charles Park District is holding its second annual Santa's Dinner Dash. You can pre-order a family dinner that includes two freshly baked pizzas, specialty sugar cookies and coloring books with crayon sets. There's also an option to add salad and additional pizzas and cookies. Drive through at your scheduled time to pick up dinner and visit Santa.
If you'd like to hang with another well-known Christmas character, visit Whoville on Dec. 18 at Grinchmas, held by the Carol Stream Park District at Coyote Crossing Mini Golf in West Chicago, where you can collect treats and play games as you follow along a Dr. Seuss-inspired trail before meeting up with both Santa Claus and the Grinch.
Pick a Perfect Pine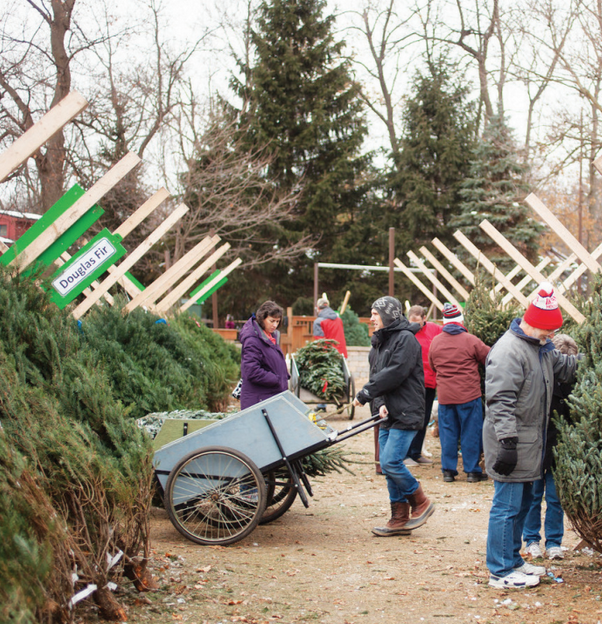 For many families, taking a trek to select the ideal Christmas tree is an annual escapade. This year, the growing season brought heat and drought to the Chicagoland area, so if you are looking to choose and cut down your own tree, note that there will be a limited supply of trees taller than 7 feet and plan accordingly. The weather did not affect trees grown in Wisconsin and Michigan, so if you're shopping for a precut tree shipped from up north, you'll find more choices.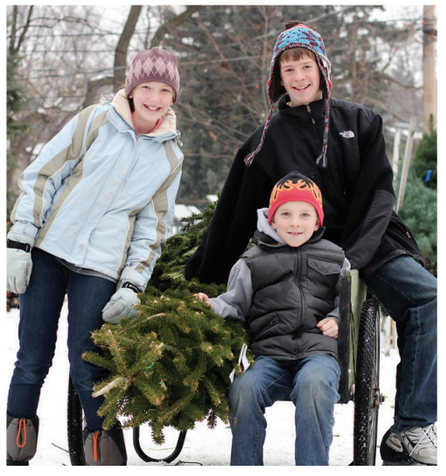 You can pick up a saw and head to the fields at Abbey Farms in Aurora, which has been providing families with tree-selecting experiences since 1949. Abbey
Farms also offers a large inventory of fresh-cut trees from a Michigan tree farm as well as pre-made wreaths and garlands. The farm's emporium is open for shopping as well as apple cider donuts, hot chocolate and other treats, plus visits with Santa.
Lee's Trees in Lily Lake is another scenic spot where you can cut your own tree or choose from among the precut trees harvested weekly from their two Wisconsin farms. Lee's allows customers to visit early, starting Nov. 6, to preselect, tag and hold their tree and then return later in the season to cut it down. While you're there, you can pick up handcrafted wreaths, swags, centerpieces, roping and more.
Spring Bluff Nursery in Sugar Grove, which offers precut trees (their cut-your-own trees are on hiatus for a few more growing seasons) handmade roping and wreaths, will open for the season the day after Thanksgiving. Visitors can take a hayride around the nursery, purchase a handmade wreath decorated with dried flowers and berries gathered on the farm, and warm up by the fire with hot cocoa. Items are only available while supplies last, so plan to visit early in the season.
Combine a few traditions with a visit to Cosley Zoo in Wheaton, where you can purchase a tree, wreaths, greens and garlands as well as check out the animals and animal-themed light displays at the Festival of Lights and Tree Sale which runs from Nov. 26 through Dec. 30 For an additional fee, you can make crafts in Santa's Craft Corner on Saturdays starting Nov. 27.

Take in a Holiday Show
A great family outing is to take in one of the several holiday-themed theatrical productions, the most notable of which are the Dickens classic "A Christmas Carol" and the magical tale of young Clara in "The Nutcracker." To see old Scrooge come face to face with his ghosts, head downtown to the Goodman Theatre, with shows running from Nov. 20 through Dec. 31. There are several big city offerings of The Nutcracker including the Joffrey Ballet's production at the Lyric Opera House. But there are also numerous options closer to home, including The Naperville Nutcracker on Dec. 17 to 19 at Pfeiffer Hall at North Central College in Naperville. Salt Creek Ballet's production Nov. 27 & 28 at Hinsdale Central High School in Hinsdale and then again Dec. 18 & 19 at the McAninch Arts Center at College of DuPage in Glen Ellyn.
Other performances include Von Heidecke's Chicago Festival Ballet's Nutcracker Nov. 28 at the Rialto Square Theatre in Joliet; Dance Ensemble's production Dec. 3 - 5 and 10 - 12 at the Al Larson Prairie Center for the Arts in Schaumburg; M3 Dance's show at the Hemmens Cultural Center in Elgin; and Ballet Légere's production Dec. 4 & 5 at Dominican University Performing Arts Center in River Forest.
Other popular holiday shows include A Charlie Brown Christmas Live where you can accompany Charlie Brown, Snoopy, Lucy, Linus, and the rest of the Peanuts characters in their journey to uncover the true meaning of Christmas Nov. 23, at the Rialto Square Theatre in Joliet; the Christmas Schooner, Overshadowed Productions' heart-warming show about the first Christmas tree ship and the family that risked their lives to fill Chicago with the Christmas spirit, which runs Nov. 26 to Dec. 17 in Medinah; and Holiday Inn, a show based on the classic film that follows a retired song-and-dance man's efforts to bring entertainment to his small Connecticut town, which runs from Nov. 19 through Jan. 9 at Drury Lane in Oakbrook Terrace.
Make Merry at the Movies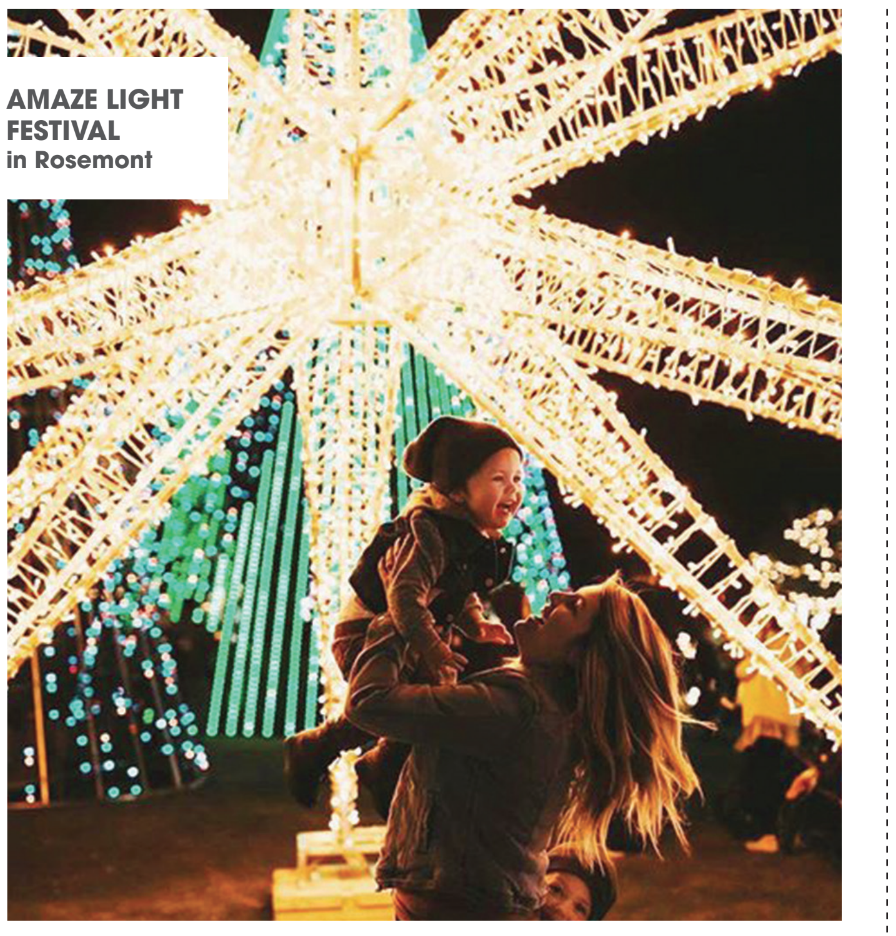 While you might enjoy watching your favorite holiday classics at home, you can also take advantage of the opportunity to see beloved films on the big screen again. Classic Cinemas, which has locations throughout the western suburbs, including the historic Tivoli Theater in Downers Grove, will be offering a selection of holiday films this year. The Christmas at the Tivoli event will be held Dec. 2 through 8 and will feature a range of holiday favorites; the other theaters will offer showings of "It's a Wonderful Life" and "White Christmas." Sing Christmas carols along with the organist before the 7 p.m. shows.
The historic Rialto Square Theatre in Joliet will show "It's a Wonderful Life," "The Polar Express" and the original "Miracle on 34th Street" on select dates in December.
If you don't mind heading to downtown Chicago, you'll have a chance to participate in the 38th Annual Music Box Christmas Sing-a-Long and Double Feature. From Dec. 10 through Dec. 23, families can croon along to the timeless lyrics of Irving Berlin classics in "White Christmas" and cheer for George Bailey in "It's a Wonderful Life." Audiences will be greeted by Santa, who, accompanied by Music Box organist Dennis Scott, will lead everyone in traditional Christmas carols, with lyrics projected onto the screen.
Gather Goodies
Special holiday treats, whether home-baked or store-bought, bring festive flavor to the season. You'll find plenty to sample at a cookie walk, like the annual Sweets & Treats Walk in downtown Naperville on Sunday December 5. Attendees will receive a commemorative tin to fill with custom-made prewrapped holiday cookies, treats and sweets while touring participating shops and restaurants. An annual Cookie Walk will also be part of Oak Park's Winterfest celebration on Dec. 4 — the purchase of a souvenir tin allows you to collect more than 25 individually wrapped cookies at participating businesses. The village of Oswego will be having a similar event on the same day.
Consider taking time during the season to unwind and enjoy an afternoon tea or high tea at a local tea room, such as Suzette's Crêperie in Wheaton, the Pinecone Cottage Tea House in Downers Grove or the Calla Lily Tea Room in Aurora. You'll need to make reservations in advance. Suzette's offers a special Christmas Tea and Pinecone Cottage has menus that change monthly to suit the season. If you have little ones, the Calla Lily offers a Little Princess Tea for those 10 and under, and they can choose hot cocoa or lemonade in lieu of tea to accompany their treats.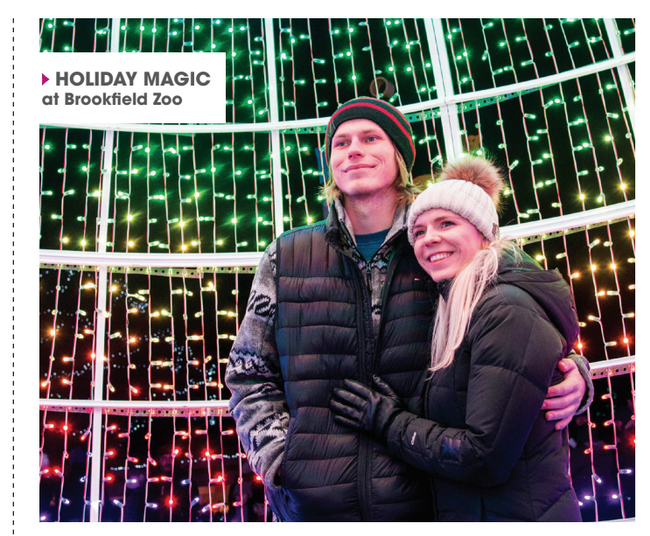 Stock up on holiday goodies or treat yourself at your favorite local chocolate shop, such as Graham's Fine Chocolates, which has locations in Geneva and Wheaton. If you visit the Geneva location, you can watch candy makers at work through the picture windows. During the Geneva Christmas Walk, on the evening of December 3, Graham's will hold their traditional Candy Cane Pull. The freshly made treats are not for sale but are handed out to those watching as a token of appreciation. Head down the street to the All Chocolate Kitchen for more delectable treats at the shop owned by renowned pastry chef Alain Roby, whose amazing spun-sugar and sculpted chocolate creations are also on display. Other sweet stops in the Geneva downtown area include Kilwins Chocolates and Ice Cream, Cookie Dough Bliss, and the HEY SUGAR bakery and café, to name a few.
Experience Natural Wonders
Take time to celebrate in nature this year. Go ice skating at an outdoor rink, head to your favorite sledding hill or meander along a snowy path. Check your local park or forest preserve district to see what's available and get registration information.
Kids will enjoy an evening spent tromping through the woods and prairie on the Flashlight Candy Cane Hike on Dec. 17 at Hickory Knolls Discovery Center in St. Charles. Solve a puzzle along the path to receive a goody bag and then head indoors for a warm drink and a DIY craft.
Those looking for an activity for grown-ups only (21 and up), might consider heading out to Primrose Farm in St. Charles for their Winter Stargazing event on December 3. Spend the evening observing and learning about constellations and winter stars while sipping mulled wine by a blazing bonfire. Enjoy a tour of the farmyard, decorated for the holidays, to cap off your night.
If you're a morning person, welcome winter as you hike to the top of Mount Hoy in the Blackwell Forest Preserve in Warrenville to see the sunrise and look for early morning wildlife on the Winter Solstice Sunrise Hike on Dec. 21 from 6:30 to 8 a.m.
Enjoy DIY Delights
Want to make your own holiday decor but need a little guidance? Sign up for an in-person or virtual workshop, to get instruction on how to make everything from festive paintings to ornaments, greenery and more. Events like these generally require advance registration.
Several suburban nurseries and greenhouses host workshops. The Growing Place in Aurora is offering a virtual Porch Pot workshop on Nov. 23 and a virtual Wreath workshop on Nov. 30. Sign up on the website and then stop by the garden center to pick up your supply kit.
Other businesses offer opportunities for hands-on holiday fun. In Oak Park, for example, Cherishable Moments Event Group will be hosting a workshop on creating a beautiful Thanksgiving table on November 20; participants will make and take home a centerpiece. The group also has a holiday wreath workshop scheduled for Nov. 27 and a "Grinchmas" tree arrangement on Dec. 11.
Another option for creating a holiday table arrangement would be to take in the Holiday Floral Design seminar Thursday, Dec. 16 in the greenhouse at Cantigny in Wheaton. Participants will use a variety of conifer greens along with fresh flowers in their designs.
There are plenty of programs out there for kids, too, like the Handmade Holidays event on Dec. 11 and 12 at Lyman Woods in Downers Grove, where children ages 5 to 10 can spend an hour and a half crafting nature-inspired gifts for up to six people. They will leave with their packages wrapped and ready for giving. It's a drop-off program, so parents can head out for some shopping of their own while the kids are occupied.
Also in Lyman Woods is a Holiday Animal Party on Dec. 18 where kids make different kinds of bird feeders and suet to take home or leave for the Lyman Woods critters.