Holiday excess is in the rear-view mirror, and you have your sights set on a healthful 2020! Whether you already make fitness a priority and are looking to change up your routine or you're just getting started, the western suburbs offer plenty of options for all levels that provide benefits that go beyond simply boosting your heart rate and building muscle. 
Finding Your Niche
With so many different types of fitness businesses, gyms and studios, it can be difficult to decide where to start. Meghan Dunphy, a physical therapist and yoga instructor who teaches at Ahimsa and Yoga Loft studios in Oak Park and Local Yoga in Forest Park, offers the following advice: "The single most important thing is to find something you enjoy. Our bodies crave movement. Even for those with a sedentary lifestyle, there are ways to find movement that is fun. It could be as simple as a daily power walk with a friend. Once you find what's fun for you, the rest will fall in place. And if you are doing something you enjoy, you are more likely to stick with it in the long run."
Yoga offers many styles and levels of classes, and Dunphy strongly believes that there is a class for everyone. Though she teaches the faster-paced Vinyasa, she says beginners might do best with Hatha yoga, which moves more slowly, allowing time to learn different poses. When it comes to trying yoga or any other type of exercise, she recommends joining a studio and taking advantage of new-student specials that allow you to try a variety of classes to find what is most appealing to you, and what suits your fitness level and physical condition. 
Mind-Body Benefits
With its meditative aspect and focus on breathing, yoga is one form of exercise that enhances the mind-body connection. "It gives people a chance to exercise, strengthen, stretch and work on balance, but there is also time for reflection, relaxation and quiet meditation," says Dunphy.
Martial arts also offer benefits beyond physical exercise, says Bill Thompson, owner of Strive Martial Arts, which has locations in Naperville, Willowbrook and Glen Ellyn. Thompson believes that martial arts provide a particularly well-rounded approach to fitness because it promotes strength, coordination and flexibility as well as discipline and mental acuity. Like yoga, it fosters relaxation as you focus on form rather than the stresses of the day. Other benefits include the self-defense aspect and learning to carry your body with more confidence. "The self-discipline that develops applies to many areas of your life," explains Thompson.
Strive offers training in Jiu Jitsu, Hapkido and Tae Kwon Do. Thompson says the latter has the widest appeal, due to its structured plan and consistent forms, and is a good place for beginners to start. Progression and working toward tangible goals keeps martial arts fun. Everyone starts at the same spot, but mastery of each level brings something new. "You are always moving forward, and progress equals happiness," says Thompson. "Some people are comfortable doing the same workout every day, but whatever we do repetitively does not make us stronger."
Value in Variety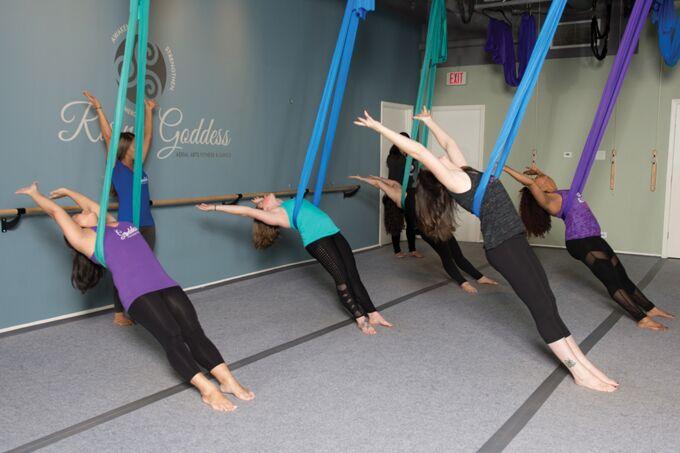 Small-group personal training and group fitness classes can also help you incorporate variety into your workouts. Stephany Esmay, co-owner of PraxisFit in Batavia, which specializes in small-group training, believes that women, in particular, enjoy participating in an instructor-led, community-based workout because, unlike a traditional gym membership, it offers them variety and a program for improvement. "Our typical customer is 35 – 55 and they want to feel better, look better and move better — they are not looking to max out a deadlift," she observes. "It's a different workout every week, and people start seeing results."
Most small-group training can accommodate a variety of fitness levels, as the instructors will modify the lesson plan for individual participants. While group members work out at the same time, they might all be doing something a little different. 
Orangetheory Fitness, which has more than 20 Chicago-area locations, also provides a group workout that is accessible to anyone. "It's great for those who are training for an Ironman as well as those just starting their fitness journey," says Allison Servin, a sales associate for the Downers Grove-Westmont location.
Orangetheory is a fitness franchise that provides members with a coached, technology-tracked hour-long workout. "It's a total body workout featuring interval training and we utilize heart-rate monitor technology so you can keep tabs on how you are doing throughout the class," Servin says.
The workout utilizes treadmills, rowers and floor equipment in a trainer-led workout that changes daily but always incorporates endurance, strength and power. "You can come in every day of the week and never get the same workout twice," says Servin.
Group exercise classes are an opportunity to change things up. Barre, Pilates and a "jump" class in which members utilize trampolines are among PraxisFit's offerings. One popular class is called "Kitchen Sink" because it includes "anything and everything" — ropes, cardio, sledge hammers, tire flipping and more. 
"It changes all the time and you never know what you'll be doing or what apparatus you'll be working with," Esmay says. Coming soon will be a bodyweight workout and the introduction of odd objects, such as stones, maces and kegs, as workout equipment. 
You can also add variety by trying a form of fitness that gets you off the ground. Rising Goddess Fitness in Westmont focuses on aerial fitness, which incorporates apparatus such as fabric hammocks and poles that participants use to move their bodies through the air. Along with the novelty of learning what some liken to "circus tricks" come the added benefits of toning and strengthening core muscles. "You see progression fairly quickly as you gain strength and flexibility in your movement. And you don't feel like you are working out — it's a lot more fun than running on a treadmill," says co-owner Laurial Hides.
The studio also offers a range of other dance-related classes, including a barre workout, ground-based hoop, and various forms of cardio dance, including BollyX (Bollywood inspired) and Werq (hip-hop), among others. 
Finding New Challenges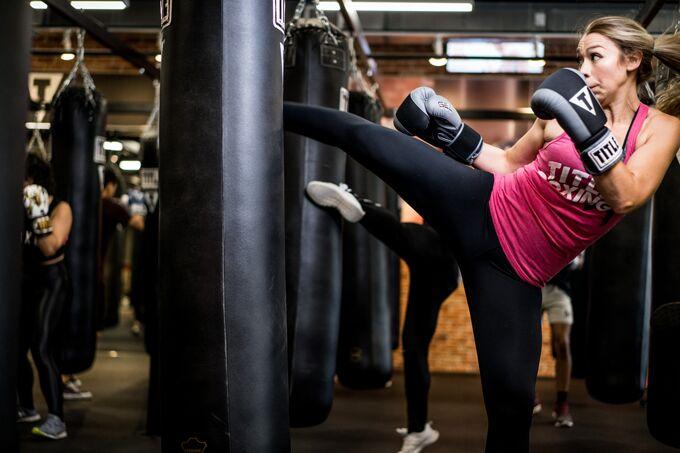 Combat sports like boxing and kickboxing have long been popular in the fitness world. Both offer a full-body workout with a side of empowerment. Kickboxing engages your core as you kick, in addition to throwing punches and jabs, and there is a bit more choreography to it than the typical boxing class. Boxing classes include high-intensity interval training inspired by a boxer's workout. I Love Kickboxing has multiple locations in the western suburbs, including Oswego, Woodridge and Bloomingdale, among others. 
Title Boxing Club, with locations in Elmhurst, Schaumburg and Naperville, also offers both boxing and kickboxing workouts. "We have boxers as young as six and as old as 86," says Director of Operations Monica Mooney, adding that classes can be tailored to any level of fitness and designed to work within busy schedules. 
The most popular option is a 45-minute traditional boxing class, recommended for first-timers. "The class is challenging, but we encourage everyone to go at their own pace." Trainers coach and motivate guests along the way so that beginners get the same level of intensity but with less complex combinations. "It's great for new and experienced boxers," says Mooney.
Boxing workouts help people focus on overall health, stress relief and weight loss. "The workout is between you and a 100 lb heavy bag, led by a coach who is passionate about helping each member attain their individual fitness goals."
A Sense of Community
The size of small-group training sessions or classes at PraxisFit fosters relationships between group members, which is another aspect of their appeal. "Our gym is very much a community of people all trying to do the same thing, and people are looking for community," Esmay says. 
"Community is my favorite thing about yoga," Dunphy says. "Every time I move to a new city or area, I find my yoga community first. In yoga, you're surrounded by people who are invested in health and wellness, who are working on themselves inside and out, and I find that really inspiring."
Thompson at Strive says the same applies to martial arts: "The camaraderie gets you going and motivates you more than walking alone on a treadmill," he says.
At Title Boxing, partnering with other guests helps cultivate teamwork — and friendship. Partner rounds are often incorporated into the class, which encourages members to meet new people and to give and receive encouragement throughout the round. "Putting the sport and style of boxing into a group fitness setting is so unique," says Mooney. "We encourage our members to talk to each other as well as our Title team so we can learn and grow from each other." Title also hosts events at local businesses to grow the community outside of the club.  
Another way to find community in fitness is to involve the whole family. Many fitness-related businesses offer training or classes geared for grade school, middle school and high school students along with their offerings for adults. Some might be geared to student athletes, while others appeal to those of all fitness levels. "Regardless of what you do, you need to have fitness and health for day-to-day living," says Esmay.
Martial arts are an example of an activity that is great for the entire family; in fact, adults are often drawn to it due to their child's involvement, says Thompson.
Rising Goddess has a strong community aspect as well — with about seven to nine participants in each aerial class, group members have a chance to get to know each other while working out. In addition, the studio also hosts social events for students. "We call it 'Vibe with Your Tribe'," says Hides, noting the events might include a rock-climbing excursion or an in-studio gathering.
Hides says most Rising Goddess students are women, though they do offer some co-ed and children's classes as well. Though some beginners might feel intimidated, she insists aerial fitness is accessible to people of all sizes, shapes, ages and experience levels. "People are quite nervous to try aerial, but everyone can do it. You don't have to have a dance background. We are an open and inclusive community that aims to help you connect with yourself, build confidence and help you feel strong and powerful."
Taking steps toward feeling connected, confident, strong and powerful while doing something you enjoy seems like a resolution worth making — and one that offers the best chance of becoming an integral part of your everyday lifestyle.
Other Creative Fitness Options
Multi-Element Workout
If you can't pick just one type of workout, consider Spenga, which combines 20-minute segments of spin, strength and yoga into one hour-long workout. You start on a stationary bike, move to high-intensity interval training, and then finish with an invigorating yoga session. There are multiple Spenga locations in the suburbs including Geneva, Downers Grove and Oak Park.
HIIT
The acronym for high-intensity interval training, this type of workout is popping up everywhere, from park district classes to group fitness. It features short intervals of extremely high-intensity exercise
that engages your large muscle groups and is extremely effective and efficient. Australian-based franchise F45 is fairly new to the Chicago-area market, but several studios have opened in the west suburbs, with more in the works. It's a functional 45-minute workout that mixes circuit and HIIT-style workouts geared toward everyday movement. 
Animal or Primal Flow
These workouts combine ground-based movement, such as rolling, rocking, crawling, lunging, etc. taken from various bodyweight training disciplines. The focus is on fluid natural body movement and no equipment is required. Many gyms are beginning to introduce classes featuring this type of workout.