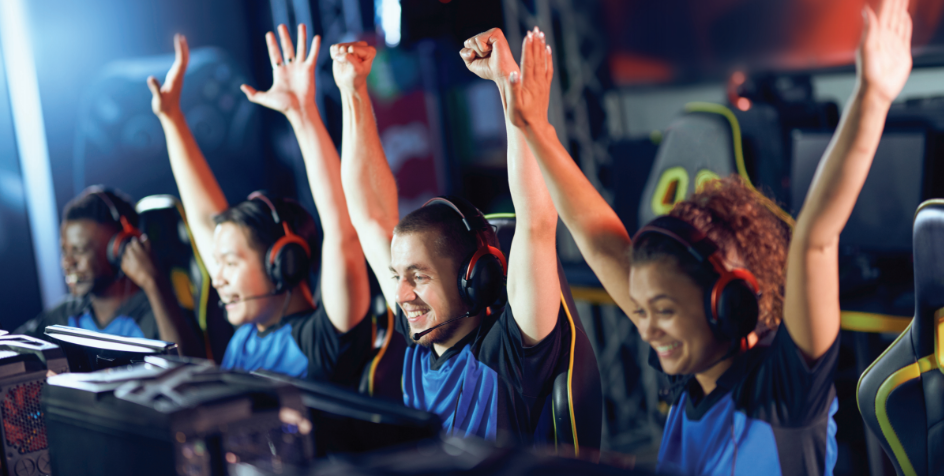 Opening a new business is a challenge in the best of times, but especially during a pandemic — all the more so when the business is a new concept in an emerging market. But that's exactly what Catherine Sarrett did with her son, Joseph Moseley.
After nearly two years of planning, in late January the mother-son team opened the doors of Scrims Esports Gaming Center at 2000 Ogden Ave in Lisle.
Esports is the culmination of the evolution of online video gaming. What started out 50 years ago as arcade games like Pac Man and Space Invaders has morphed into highly sophisticated games like League of Legends, Fortnite and Minecraft. Sarrett and Moseley have built out the Scrims Center's 6,000-sq-ft space for a maximum of 100 gaming stations, each with a computer specially equipped for the demands of online gaming, a high speed fiber optic internet connection, and with specially designed esports chairs.
There is a spacious main room with high ceilings designed for 75 game stations, two side rooms for special events with capacity for an additional 25, a console station for Xbox and Playstation games, and a recently added Oculus VR station to experiment with 3D game experiences.
In compliance with business restrictions due to COVID, they are currently using 50 socially distanced gaming stations separated by plexiglass dividers, and a recently installed HVAC system has an air purification component.
Moseley has been an esports enthusiast since before high school, most recently competing on the University of Miami club esports team, so Sarrett had been following the growth of esports for years. When looking to start a business in the esports industry, Sarrett was able to leverage her 25 years of experience consulting with developers of sports and entertainment venues to determine that the western suburbs were ready for a dedicated gaming center.
So far, it has been a win-win for both mother and son. "To start my career in the business side of esports is a great opportunity for me," says Moseley. "I have been participating in and watching esports for many years and to operate an esports facility is exciting."
"I have really enjoyed working with him," says Sarrett. "We don't always agree, but we are pretty good at listening to each other. As a working mom for many years, I always felt that the worst part was being away from my family. It is much easier to put in those long hours when your family is right there with you."
Although online games can be played between individuals, the more popular play is with teams, and most of the 65 games available at Scrims are designed for team competition. Because of the popularity of online gaming in youth culture, there is a growing demand among students for esports teams at area high schools.
Naperville North started its program in 2018 and currently has 50 players including seven females on eight teams and has already won state and regional titles. Most other high schools in the western suburbs are in the early stages of launching their esports programs. York High School in Elmhurst started team competition just last fall, and even though that was during the pandemic, club sponsor Joshua Green already sees great potential. "As the program here grows and our players become accustomed to the level of competition," says Green, "we are confident that our York students will be among those receiving scholarship opportunities."
Teams are also forming at park districts, and within church groups and other community organizations. By its nature a relatively sedentary activity, esports may not seem to fit with perceptions that park districts are all about physical activities and exercise. But Sameera Luthman of the Naperville Park District is quick to point out that, "As a community recreation provider, it is our goal to provide a wide variety of opportunities to enjoy recreation and leisure time — that means something different for everyone. Not everyone is athletic and some kids and adults don't enjoy playing traditional sports."
The Scrims Esports Center is fast becoming a haven for those who need the computing power for games they don't have at home, for kids who want to meet up for some gaming with friends, and for families who want to try gaming as a shared activity. It is also popular for teams that don't have access to their school and community center computers after hours; for tournaments where multiple teams from one school or club can gain the synergy of competing in the same space; for those new to esports wanting to accelerate their learning curve; for businesses and organizations looking for team-bonding opportunities; and, of course, for parties. And since people gathering together have a compelling interest in food, Scrims has a café serving pizza and snacks, coffee and soft drinks along with a specially curated selection of wine and beer, and an expanded catering menu for groups.
Since Esports is still evolving as a cultural influence, it is not yet on the radar of most people in the western suburbs. But Sarrett says, "People seem to really like the Scrims concept and are always telling us what a great idea it is. We get lots of positive feedback from all ages, which is really nice. I am not sure what they like most, but we hear many people say that they are very happy that something like Scrims has opened so close to home."
And for the uninitiated wondering about the name Scrims, the term scrim is short for scrimmage, and in the online gaming world, a scrim means an online practice match against several other teams or players. Now that you know some of the lingo, Sarrett extends an open invitation to come out and have a scrim at Scrims.