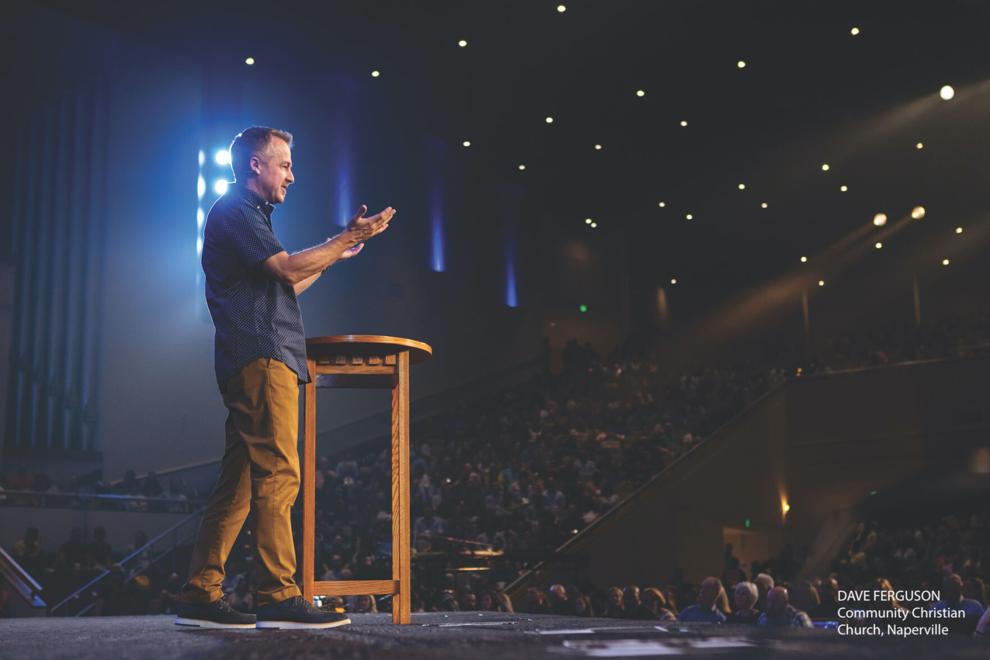 It's the most wonderful time of the year. Well, the year is 2020, not exactly a cup of good cheer. So we asked some local religious leaders how to approach the holidays to find solace, comfort and happiness amid hard times for too many. They don't have magic wands to make problems go away. But they do offer valuable counsel in dealing with distress and holding onto the magic of the season.
DAN MEYER, SENIOR PASTOR, CHRIST CHURCH, OAK BROOK
• These are difficult times: the pandemic, protests against racism, a divisive election. People feel worn down and pessimistic. What can you say from a faith perspective to give people hope?
The Bible calls us to remember that God often does his most significant work when life looks bleakest. It was in the wilderness of the Exodus that God forged a new character in his people. It was in the darkness of the cross that God opened the way of forgiveness for all people. We can't minimize the pain and loss of this time, but neither should we conclude that all is lost. Just because it is cloudy does not mean the sun has ceased to exist or that it will not break through in time.
Sometimes it is only when we lose our faith in the usual secular securities — our health, social fabric, or government — that we put our trust again in God and find the power to become the agents of faith, hope and love that our world desperately needs.
• It's often said that rarely has our nation been so divided. People are angry and dismayed when family, friends, neighbors and coworkers don't agree with them on issues and elected officials. What do you say to people who feel this huge divide politically and don't see common ground?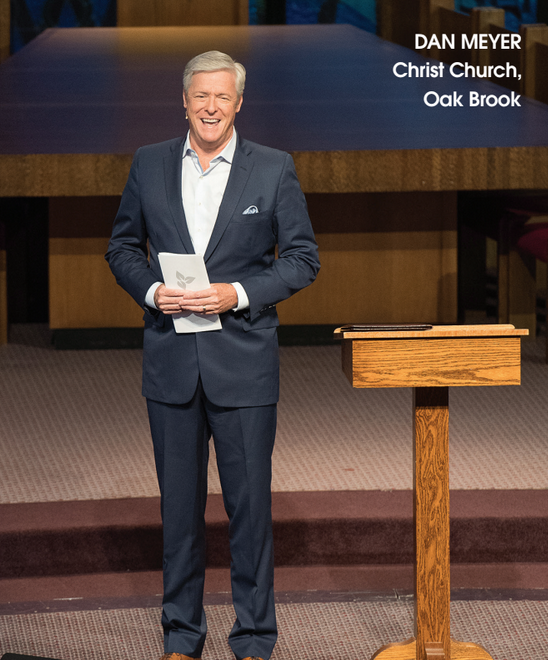 My friend, Terrance Campbell, uses the acronym, "PLEA," to suggest a helpful approach during these divided times. First, we ought to Pray for greater humility in all of our relationships. Secondly, we can endeavor to Learn more about the personal experiences that have given rise to the convictions that people on the "other side" hold. Thirdly, we might work harder to Engage with people outside our cohort and not just judge them from a distance.
Finally, we can acknowledge that most of us do share many moral values. We all want to see a society where more people flourish. We simply disagree on the best methods for achieving that end.
• Do you recommend any spiritual practices or books to help people find inner peace?
Spiritual guides have long commended "disciplines of detachment" as essential to finding peace. Practices like fasting, silence or solitude separate us from the gluttony, noise or distractions that otherwise consume us. All of us would likely benefit from detaching ourselves from the red and blue channels and spending more time walking out in the natural world where the rhythms and miracles of life are new every morning. This might be one of the pathways to greater peace.
• So what are our obligations as people of faith as citizens and members of a community in terms of making the world a better place? What do we owe our neighbor as people of faith?
The call of Christ is to "be a neighbor" to those around us. "Neighboring" fundamentally involves moving toward others with positive regard, a desire to discover their hurts and hopes and a willingness to sacrifice or share something that can improve life for them. In a society that has increasingly become about cocooning or bunkering, this toward-others movement is one of the most important contributions that people of faith can make.
• Many people do not practice a faith or identify as agnostic or atheist. What can you say to them about the value of spirituality and practicing a faith in difficult times?
I might encourage them to Google "Pascal's Wager" and reflect on why one of the most brilliant mathematicians in history came to think that it was worth exploring faith further. At the end of the day, all of us need to find some renewable resource with which to handle the challenges of these difficult days. It would be a shame if the ultimate source of faith, hope, and love was only a prayer away and we missed it.
• You are a spiritual leader. How do you handle what you preach and teach when you know your congregants many have widely divergent political views?
We're now in the midst of a sermon series called "12:21 – Wisdom in Conflicted Times" (available at media.christchurch.us.) We think it's our job to try to articulate what the values of God's Kingdom have to say about how we might live more creatively amidst our human empires. The Kingdom of God is more purple than it is red or blue. Most of us in the suburbs are relatively affluent.
Most of us are white and grew up, with some exceptions of course, in a culture dominated by whites. Given that, as people of faith, what ought we know or do or reflect on in how we think about society and its challenges and problems?
I've come to believe that the difference between flourishing and poverty boils down to the number of "resourceful relationships" one has had. As someone who grew up white and affluent, I had a staggering number of resourceful people in my life. They modeled emotional intelligence for me, provided me with basic stability, saw that I was enriched by access to good education and experiences, protected me from harm, got me out of trouble when I fell into it, and networked me to other resourceful relationships.
I think this is really what is meant by the term "white privilege." It doesn't mean that you didn't face difficulties or work hard. It just means that you likely had a lot more resourceful relationships than many kids in the inner city. As people of faith, we have been blessed with the "ultimate relationship" — with someone who is not just a resource but the source. It seems to me that we ought to be the first ones who work hard to help more people in our society find more resourceful relationships.
FATHER THOMAS PAUL, IMMACULATE CONCEPTION CATHOLIC CHURCH, ELMHURST
• In these difficult times when people feel wrung out, what advice do you have?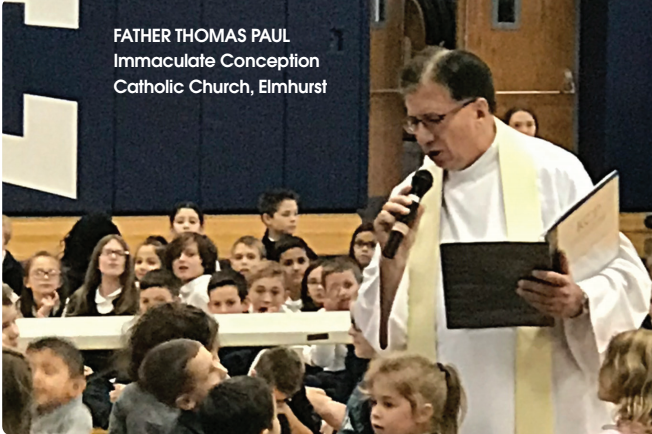 I don't think everyone feels wrung out. It can be how you choose to look at things. You can look through the lens of hope and faith. You don't feel so burdened then. We're called to endure these times. The gift of Christmas is what it signifies. Christ comes into the world. Christ is in the world. We can draw strength from the meaning of Christmas.
• What do you say to people who feel a political divide?
Politics change all the time. But we know some things don't change. We are all created by God. We're loved by God. None of that will ever change. We may not agree on things with everybody. But Jesus said to love your neighbor. It is hard to love people you don't agree with. But we need to show care and respect for each other. Christ came to build a kingdom of heaven. That's based on love and respect for each other.
• What spiritual practices do you recommend?
Each day try to quiet yourself. Take five or 10 minutes alone and try to relax. Think about the goodness of God. Reflect on His goodness. Consider that God is eternal. Go to the inner self and focus on the eternal and what lasts. Fill your heart and soul with God's love.
• Given our advantages, how should we reflect on society and its problems?
We should try not to be focused on ourselves but with one another. We need to share our gifts with our neighbor, whoever they are. Don't keep your blessings to yourself but share them. I like to remember a rhyme I learned long ago: "What color is God's skin? It's black, brown, yellow, red and white. Every man is the same in the good Lord's sight." We're all brothers and sisters, part of one family. Look at how Jesus responded to others and follow his example.
DAVE FERGUSON, LEAD PASTOR, COMMUNITY CHRISTIAN CHURCH, NAPERVILLE
• In these difficult times when people feel worn down, what advice do you have?
Where fear sees a crisis, faith sees opportunity. I try to encourage my church and other faith leaders with that truth.
Yes, we are all going through a very hard time. Yes, there is much to mourn: death, loss and disappointment. All of that is absolutely true. However, as people of faith, we have to remember what is also true of us: "For God hath not given us the spirit of fear; but of power, and of love, and of a sound mind" (II Timothy 1:7).
The opportunity in the middle of all the fear is not to exert our rights, but to serve others in need. We have neighbors and friends who are afraid of dying, afraid of prejudice and afraid of their own struggles with mental health. There are more opportunities than ever before to love people and make a lasting difference in the lives of individuals and our communities. Don't focus on the crisis, but allow the crisis to help you focus on the opportunity to serve and love others.
This crisis is a moment in time we will all remember for the rest of our lives. The most important question is: "What will you be remembered for during this time?" There are more opportunities to love and serve our neighbors than ever before. Let's be remembered for that.
• What do you say to people who feel a political divide?
For people of faith, our identity is not Republican, Democrat or Independent. Our primary identity is that we are children of God and followers of Jesus. That is something that we all have in common. And Jesus said, "I pray that they may all be one" (John 17:21). If we understand that is who we are, we can put aside secondary differences and unite around that common identity and mission.
On the other hand, if we put our faith and confidence in a political candidate, we will be disappointed. Trump will let us down. Biden will let us down. Jesus will not let us down.
We are all children of God. What we have in common is way more important than what makes us different. We should all find our identity and put our faith in what was true before this election and will be true after the election, and here it is: we are children of God and followers of Jesus.
• What can you say to people who are atheists or agnostic?
If you wish you could believe in a God, but just can't seem to get the faith or find the evidence for a faith, I have a challenge for you. Ready? For the next 30 days pray this prayer, "God if you are real, make yourself real to me." I have challenged thousands of people with this prayer, and over and over again I have heard from people that God showed up in their lives in ways that were totally unexpected and unexplainable outside of God. You have nothing to lose and everything to gain. Just pray this way and see if God does not show up.
JEFF FRAZIER, LEAD PASTOR, CHAPELSTREET CHURCH, GENEVA
• In these difficult times when people feel worn down, what advice do you have?
Everyone is looking for hope: looking to the federal government, looking to the CDC, looking to local and state officials, looking almost anywhere to find some kind of assurance that things are going to be okay. But for many people, hope is increasingly in short supply in our society.
From a Christian perspective, "hope" is not a vague wish that things will somehow all work out. Rather, it is the assurance that God holds all things together, even and especially when it does not look like it. So I want to point people to Jesus. He is our hope!
• What do you say to people who feel a political divide?
This ties back to the question, "Where is our hope anchored?" If our hope is in
political platforms, policies, or worse, personalities, then when people disagree with us or oppose our views, we feel as if they are not just disagreeing with us,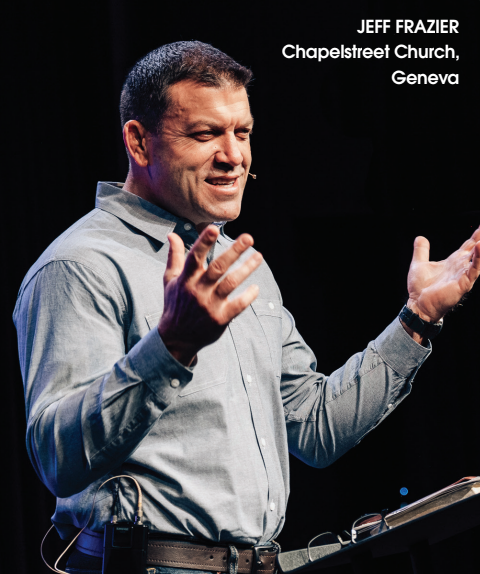 but attacking our source of hope. As Christians, our identity is in Christ and we are citizens of his kingdom first. Of course, we should exercise our civic duties as citizens of America: vote our conscience, work for the common good, and love our neighbors. But our identity and hope is not threatened by those who differ politically.
Those who view this election as the most critical moment in history, or feel as if everything rides on their side winning, have likely lost sight of the fact that God's purpose and work in the world are not dependent on who is in the White House. This is not to say that elections don't have consequences or that we shouldn't care at all about who wins. But the God we worship and serve is so much bigger than this present moment in American politics.
• What spiritual practices do you recommend?
First, prayer! 2 Timothy 2:1-4 reads, "First of all, then, I urge that supplications, prayers, intercessions, and thanksgivings be made for all people, for kings and all who are in high positions, that we may lead a peaceful and quiet life, godly and dignified in every way."
Second, Scripture reading, especially the Psalms. Third, service. Getting outside of ourselves, serving those in need, and building relationships across socioeconomic and racial lines are really crucial practices for us all.
• What do we owe our neighbors as people of faith?
Two passages from the Bible define our answer to this question: "But seek the welfare of the city where I have sent you into exile, and pray to the Lord on its behalf, for in its welfare you will find your welfare" (Jeremiah 29:7).
"And He said to him, 'You shall love the Lord your God with all your heart and with all your soul and with all your mind. This is the great and first commandment. And a second is like it: you shall love your neighbor as yourself. On these two commandments depend all the law and the prophets" (Matthew 22:37-40).
We want our neighbors, whether Christian or not, to be glad that we are in the community. We want to make an impact in our neighborhoods and communities that will bless all people, not just our own church members.
• What can you say to people who are atheists or agnostic?
While I do think that "practicing faith" can have positive effects on an individual's life, the fundamental thing I would say is consider the person and message of Jesus! Christianity is not just another religion to practice or philosophy to follow "if it works for you." It is the offer of a life-altering relationship with your Creator, made possible through the sacrificial death of Jesus Christ.
• Given our advantages, how should we reflect on society and its problems?
A good friend of mine, who is a missionary in Africa, once told me that living in the affluence and freedom of the West should not make us feel guilty, but it should make us feel responsible. The Bible clearly and consistently teaches that those in positions of power and privilege should use that power and privilege for the benefit of those without power and privilege. In fact, this is precisely what Jesus did.
Philippians 2:4-7 reads: "Let each of you look not only to his own interests, but also to the interests of others. Have this mind among yourselves, which is yours in Christ Jesus, who, though he was in the form of God, did not count equality with God a thing to be grasped, but emptied Himself, by taking the form of a servant."
RICKY KAMEL, ASSOCIATE RABBI, CONGREGATION ETZ CHAIM, LOMBARD
• In these difficult times when people feel worn down, what advice do you have?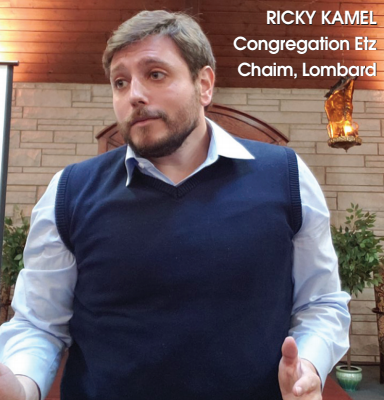 I think one of the most important things to help people in this time is to listen. Hear the issues that people have. Learn about how discrimination affects many in our communities and help fight to solve it. I understand these are difficult times, but apathy will never make things better. In Judaism we learn we are not required to finish repairing the world, but we cannot desist from it. We must always do what we can, and that first step is to listen. However, the more people who act on this, the easier it becomes.
• What do you say to people who feel a political divide?
Staying in relationships with people who believe differently than ourselves can be a very difficult thing. However, divisiveness begets divisiveness. There are always areas where common interest can be found. When that common interest is found two things happen. One, there is an issue that has a better chance of being solved because more people are willing to help solve it. Two, the act of doing that brings more people together, and we can see each other more as people. However, for this to happen an inclusive space where all are welcome is needed.
• What spiritual practices do you recommend?
The best spiritual practice I have is the day of Shabbat, the day of rest. As I said before, apathy can be a poison to progress and the betterment of our communities. We all must work to make things better. However, efficiency requires a break. So, whatever day it is, I recommend a day of rest a week to recharge. This must be the case not just for ourselves, but for anyone in our communities.
• What do we owe our neighbors as people of faith?
We owe our neighbor empathy. In Judaism, one of the most important commandments is "Love your neighbor as you would yourself" (Lev. 19:18). To do this, we must be able to listen. It is important to know the word which is used for neighbor in Hebrew implies that a neighbor is not just because of their vicinity geographically, but because we are all people made in God's image. This is why I usually translate that verse, "act lovingly for your neighbor, whoever they may be, for they are just like you."
• What can you say to people who are atheists or agnostic?
Ways to understand the world have always been varied. There is no reason for me to assert my way is correct. However, being part of an institution, religious or otherwise, is a great way to build community, practice that empathy and move toward bettering our communities together.
• How do you preach when congregants may have widely divergent views?
There is a lot of variation in the teachings in Judaism. However, one thing which is never in doubt is the need to understand one another and work toward a better future. This is a commandment given many times, as we are required to feed the hungry, clothe the naked and house the homeless. This means better access to the necessities (food, clothing, housing and education) that are needed for anyone to reach their full potential. This cannot just be direct action, but a look into systemic issues which limit the potential of others. Racism, sexism, homophobia, religious bigotry and many other society ills prevent flourishing. This is doubly bad when someone has limited access to the needs to reach happiness and we, as a society, are unable to benefit from their intellect and skill. I understand people may have divergent views, but I will always teach that.
• As people of faith, given our advantages, how should we reflect on society and its problems?
My question to this question is, "What do you mean by people of faith?" For me that faith is trust,which is an understanding of the Hebrew word usually translated as faith, Emunah. However, that trust is meaningless without action. Sometimes faith that everything will work out is just apathy again. So as a person of faith and action, it is important to recognize privilege. We all work hard for things which we have, but there are many who may have to work much harder or are just outright denied. We have to look in places where we take up space and see who is not represented. The best way to do that is to trust others and act to share power so everyone can be represented and we can hear from all in our communities. We can trust that everyone in this world was created in God's image, and we can act to make it so no one in our communities is oppressed.
FATHER JAMES SCHWAB, ST. MARY GOSTYN CATHOLIC CHURCH, DOWNERS GROVE
• In these difficult times when people feel worn down, what advice do you have?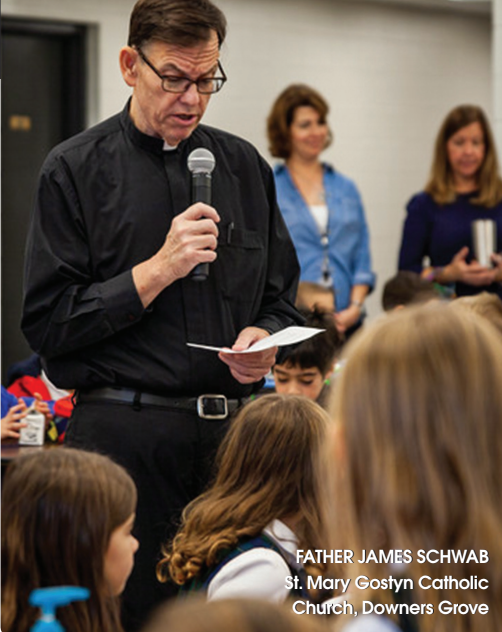 Although these times are difficult, there is much to be hope-filled about too. As people of faith, we recognize that we can still act with courage and conviction. We can still be beacons of light and hope to others. We can share goodness and kindness, spread compassion and optimism. As Christians, we believe light will ultimately triumph over darkness, and from this we can then act in a way reflective of this optimism and kindness. In addition, we also recognize where there are trials and adversity, God's grace abounds all the more. So we, as Christians, hold onto the promise of hope, while sharing optimism and courage for the common good.
• What do you say to people who feel a political divide?
Listen. We spend so much time trying to put our own agenda or ideas forward that we, in general, fail to hear what the other person is saying. By listening, people may come to find out that they're really not that far off, that the divide isn't as wide as it seems. Listening allows for bridges to span the divide, for growth to begin, rather than just tearing down. It's easier to destroy than to build, and we seem to be taking the route of destroying others rather than working to build. The effort to build begins with listening.
• What spiritual practices do you recommend?
Two parishioners recently co-authored a book: "The Caregiver's Companion, A Christ-Centered Journal to Nourish Your Soul" (Kelsey-Davis/Johnson, Ave Maria Press, 2020). Obviously geared to family caregivers, but as I am continually reminded, whether it's in confession, visiting the assisted living facilities or casually talking with parishioners, there are many in our community who are caregivers. "The Caregiver's Companion" is a way to prayerfully reflect on, and find hope and meaning in,times of transition and change as we encounter Christ. Aren't we all experiencing change during this pandemic?
One spiritual practice I would recommend is simply to prayerfully read the daily readings. The Church, in its wisdom and liturgical cycles, gives us daily readings for Mass. Did you know that if you did that, in over a three-year period you would almost read the entire Bible? Daily Scripture readings ground prayer, offering reflection and direction, inspiration and hope.
• Given our advantages, how should we reflect on society and its problems?
It's important to recognize we are all created in the image and likeness of God. We are all equally, completely loved by our Creator. Observing our brothers and sisters through this lens invites a shift that allows us to relate in a more life-giving manner.
Additionally, everything we have is a gift, everything. There is nothing we have that is ours – our wealth, influence, job, home, etc. — all is gift. And when we come at it from that perspective, there is a greater sense of gratitude, which in turn reflects how we respond to the challenges and concerns in our society.