Kitchen appliances continue to improve, via both technological innovations and increasingly stylish design, making them both attractive and highly functional components of the heart of the home. 
"Almost across all vendors, I'm seeing some of the nicest products I've seen throughout my years in the business — from features to looks and style," says Phil Hannon, vice president at Abt Electronics in Glenview, who notes that customers are responding by upgrading multiple products at a time, which often kicks off a larger remodeling project. 
Here are a few appliance trends to take note of if you're considering making improvements to your kitchen. 
Hide in Plain Sight
As sleek and clean kitchen styling continues to be in favor, along with open shelving, drawer-style microwaves and other appliances that fit nicely into the base cabinetry on a kitchen island or perimeter cabinets are gaining traction. "Microwave drawers in islands are becoming popular because it's a cleaner look," says Hannon.
Such under-counter appliances are also conveniently located at hip level, making them easily accessible for both adults and children (they are equipped with safety locks for very young kids). In addition to a main refrigerator/freezer unit, many kitchens now also include separate beverage centers, from specialty wine chillers to refrigerator drawers that can be stocked with grab-and-go drinks for the kids.
Big Chill
When it comes to refrigeration, counter-depth units have become favored over those that extend into the kitchen because of their seamless, built-in look, and four-door products seem to be among the most popular, says Hannon. And, there are some products with five doors on the market — two French doors on top, a refrigerated drawer and two freezer drawers on the bottom. Column refrigeration, which pairs a refrigeration unit with a separate freezer unit, is also becoming a strong choice because it allows for easy customization.
Refrigerators are being incorporated throughout the house. "Think outside of the kitchen when it comes to refrigeration," says Gasiorowski. "You can include one in the bedroom, bathroom, man cave or mudroom — and you can make the unit blend in so you can't even tell where it is." Other appliances are moving beyond the kitchen as well — whether it's a warming drawer in the bathroom to keep towels toasty or a coffee/breakfast center in the master suite.
While custom panels to integrate refrigerators and other appliances with cabinetry continue to be popular, some homeowners are using color to lend a pop to their kitchen palette. Others like the sleek commercial look of stainless steel or even a black stainless option that has been introduced by some manufacturers.
Color Show
"A lot of brands are starting to introduce vibrant finishes," says Abt's Stachurski, "especially on ranges and hoods." Brands like Bertazzoni, BlueStar and Dacor offer options ranging from warm hues, like yellow, orange and red, to cool blue, violet and green.
"Stainless steel is still the most popular, but we're seeing more custom colors and black and brass trim accents on handles and burner controls," adds Stachurski, who notes that white appliances with brass accents are also coming into vogue.
Though color is hot for ranges, many of Abt's customers prefer the overlay or cabinet panels for other appliances, including dishwashers and refrigerators. These can be paired with colored or metal handles and knobs for those who want a touch of color.
Eco Friendly
In line with other aspects of home design, appliances continue to become more energy efficient, but for those who are especially concerned with going green, there are certain selections that are more efficient than others, beyond seeking Energy Star-rated units. For example, induction cooktops use less energy than both standard electric and gas burners. "They are fast, energy efficient, easy to clean and the sleek black glass fits with a modern aesthetic," says Gasiorowski.
Stachurski concurs, noting that consumers are sometimes combining old and new cooking methods by choosing units that can do both. "Some are doing a gas cooktop with two induction burners for more flexibility," he says.Features such as glass windows on refrigerator doors, as an example, might also be seen as eco-friendly because they allow you to peek inside without opening the unit and allowing cool air to escape.
Clean-up Squad
Though some homeowners select dishwasher drawers to keep things tidy, the size and cleaning power of a traditional dishwasher still appeals to most. Innovations in dishwashers include more thorough drying and ability to accommodate various sizes of dishes and kitchenware. To complement their refrigeration and cooking lines, Sub-Zero recently introduced a new dishwasher line, Cove, after years of development. "It has the most flexibility inside of any dishwasher on the market," says Gasiorowski, noting that tines and racks can accommodate items such as large pans and cookie sheets and the appliance offers dozens of wash options. 
Beyond dishes, other areas of the kitchen, including floors, need a little help keeping clean, which is why toe-kick vacuums, which are built into the base of a cabinet, are becoming sought after. "It's a great item — picks up your crumbs in a flash," says Ted Kawczynski, president of The Kitchen Master in Naperville. 
At-Home Gourmet 
Many manufacturers offer specialty appliances or add-ons that allow you to recreate a restaurant-style experience in your home kitchen. For example, Wolf offers a built-in coffee unit that can be paired with a heated drawer to keep cups warm. The machine grinds the coffee fresh for each serving, and you can personalize the flavor settings to create your favorite drinks, cutting down on your trips to the coffee shop.
Another trend gaining fans is sous-vide cooking, which involves cooking vacuum-sealed food in a temperature-regulated water bath. Many restaurants use this method to prepare foods such as steaks, which are seared on the grill before serving. For home cooks, several companies offer built-in vacuum sealer units that seal food for sous-vide cooking in a steam oven or steamer modular unit. The units also are used to preserve freshness and longevity of foods. And some favorite countertop appliances are also being integrated into larger appliances. For example, air fryer units that are part of the range are coming onto the market. "You'll have the ability to air fry as a setting on your oven," says Hannon.
Tech Savvy
Smart appliances continue to advance and become more user-friendly as consumers become more comfortable with connectivity. "Each year, technological integration into our daily lives becomes bigger and bigger," says Kawczynski. In 2020 we expect to see technology make a major push into the kitchen appliance scene as well."
Some refrigerators feature a camera system that allows you to peek inside while you are at the grocery store, and smart dishwashers can automatically replenish detergent or rinse aids when the supply is low. Whirlpool has a range with the ability to scan the barcode on a product and set the oven controls accordingly and Bosch offers a Wi-Fi enabled coffee maker with a touch-screen interface. For some appliances, diagnostics or troubleshooting can also be accomplished by running a phone app. "All these things can make life a little easier," says Hannon.
Great Outdoors
Though the Chicago area doesn't have a particularly long grilling season, many suburban residents aim to make the most of the warmer months, which is why outdoor kitchens continue to be popular. 
Appliance manufacturers offer units that can withstand the temperature fluctuations of our seasons and allow outdoor cooks to experience the same level of convenience as they have in their indoor kitchen, from warming drawers, refrigerators, storage, ventilation, dishwashers and more. Some folks include specialty units, such as outdoor pizza ovens, to accommodate their culinary preferences. 
"Storage is always the first thing that accompanies a grill, and our other most common requests are pull-out trash cans, sinks and refrigerators," says Mark Speer, landscape architect for King's Landscape Design, which designs and installs outdoor kitchens.
Colors Carry the Day for Small Appliances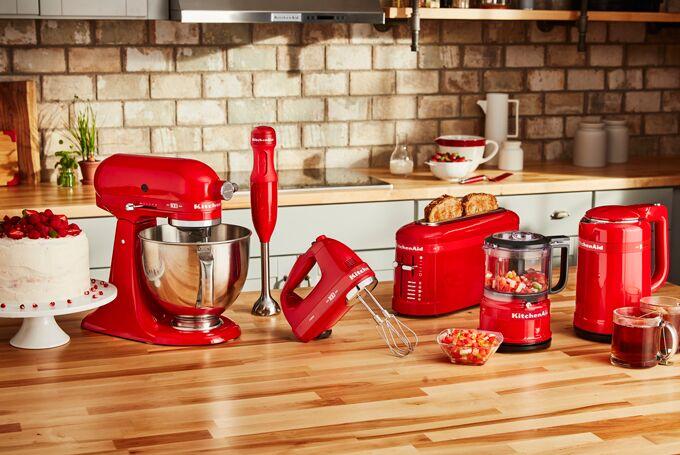 Countertop appliances, including toasters, mixers, coffee makers and more, are now more colorful than ever. Moving beyond staid shades like white and black, small kitchen essentials are currently available in a veritable rainbow of hues, finishes and even some patterns. These items stand out against the neutral palettes of grays and whites that grace many of today's kitchens.
For example, last year for KitchenAid's 100th anniversary, the company introduced a limited-edition line of bright red items. The "Queen of Hearts Collection" included six types of products: a stand mixer, hand blender, food chopper, hand mixer, kettle and two-slice toaster. 
The company's iconic stand mixer, which has always featured colors inspired by the home decor and fashion trends of the day, can also be updated with new ceramic bowls featuring a variety of patterns, colors and finishes, including a confetti design and a textured fish-scale effect.
Speaking of stand mixers, designers Dolce & Gabbana partnered with the Italian housewares company Smeg to create a line of brightly colored mixers, juicers, toasters, coffee machines, teapots, blenders and more that are covered in prints featuring floral and fruit motifs. The high-end pieces are available through Williams Sonoma and Neiman Marcus. 
Warmer metallic finishes are also becoming popular, as evidenced by introductions of products sporting copper and bronze. Black & Decker's popular Helix hand mixers, which already come in several colorful options, are slated to soon be available in copper and bronze, and Cuisinart plans to offer coffee makers and food processors in copper as well.
In addition to the color story, specialty appliances that make cooking and food and beverage preparation easier are continuing to grow in popularity. Machines that combine multiple features are popular, like the Instant Pot Ace, a blender that has a built-in heater that lets you blend and cook food at the same time, or the Crock-Pot Express Multi-Cooker, which allows for pressure cooking and slow cooking, among other functions.
Countertop ovens that can cook food quickly are another example, such as Panasonic's FlashXpress Toaster Oven, which uses a double infrared heating system.