The kitchen is the hardest-working room in the house, so it stands to reason that giving it a makeover can have a positive impact on daily living. From dramatic changes, such as a reconfigured layout and new cabinetry to subtle, yet essential, updates to lighting and hardware, a thoughtfully remodeled kitchen is both visually appealing and highly functional. Some of the continuing trends in kitchen design include a mix of cabinetry finishes, contemporary styling, quartz countertops, glass tile, floating shelves, distinctive range hoods and unique ceiling treatments.
Read on to learn how four homeowners updated the hearts of their homes, working with designers to make selections that suit their unique tastes and lifestyles.
Renewed Vision: The Hinsdale Home of Bruce & Beth George, by Charles Vincent George Architects of Naperville
What They Wanted
Though he spends his days making the building and remodeling dreams of other area homeowners come true, Bruce George, president of Charles Vincent George Architects, hadn't updated his own kitchen in two decades. While the maple cabinetry and arched detailing were on trend when the kitchen was first designed, Bruce and his wife, Beth, were ready for a change. "It had been out of date for several years, and all the appliances were starting to fail," he says. "It was the right time." A lighter, brighter palette was in order, as well as improved access to the eating area and the addition of modern elements that suited the coastal, shingle-style home.
How They Achieved It
Because of Bruce's expertise in kitchen design, he had plenty of inspiration to draw upon. "All those great ideas I've worked in for clients — it's nice to be able to do some of that for myself," he says.
The most drastic alterations to the space were removing a wall that impeded access to the eating area and swapping the placement of the stove and the sink. A custom zinc range hood, which Bruce patterned after examples seen in 1800s English homes, and two smaller windows fill the space where an arched window used to be. The new farmhouse-style sink is now situated in a peninsula open to the eating area. "Opening the wall was Beth's idea, and it really brings light into the room," says Bruce.
Because the former wall was load-bearing, a support beam was needed. To make it a design feature, they clad it in a stained wood that echoes the slat-wood treatment added to a wall and to the coffered ceiling in the eating area. The area with the slat-wall treatment used to accommodate a freestanding baker's rack, but now includes built-in cabinetry with floating shelves overhead.
Bruce collaborated with Stephanie Frees of Plain and Posh Cabinets in Clarendon Hills to design the cabinet layout and select hardware and accessories. Vista Cabinets in Lemont created the custom white-painted cabinets, which have a Shaker-like simplicity, with a bit more detailing. The end of the peninsula is adorned with a cross-buck design to make it a focal point, as it is located opposite the main living area.
Another update that fell in line with the crisp styling of the cabinetry was removing many of the arched doorways in the space. One thing the couple did not change is the flooring — both because it is heated and because they still really like the casual, natural look of the slate tiles.
Even though he completes projects like this all the time, the impact of his own kitchen makeover still amazes Bruce.  "Just transforming one central space really modernized the look and feel of the home," he says. "There is much more light bouncing around the room and it's a brighter space than before."
Thoroughly Modern: The Aurora Home of Bob & Laura Nagy, by The Kitchen Master of Naperville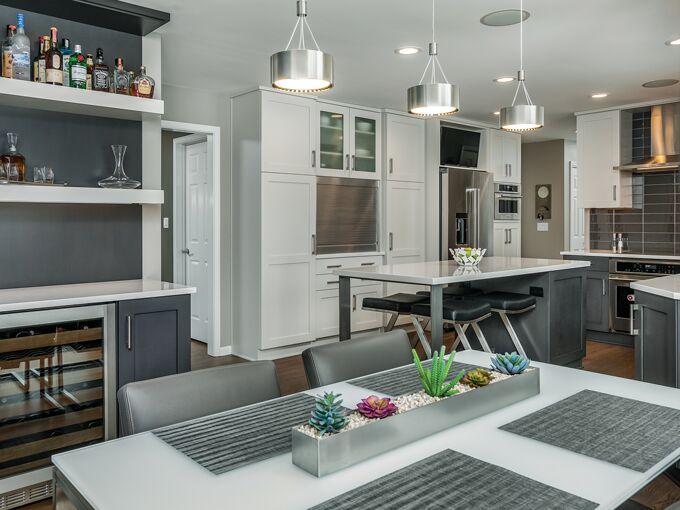 What They Wanted
Bob and Laura Nagy were happy with the kitchen selections they made when they originally built their Aurora home, but after 25 years, the room was ready for an update. Though they wanted a more modern look with personalized elements, such
as a television for watching sports and a beverage center for morning coffee, they also wanted to approach the project with an eye toward the future. "Our children are now grown and have moved out, so we know we will be potentially looking to sell and move to a smaller space with ground-floor living," Bob says. "We wanted our kitchen to be consistent with what people are looking for in today's market."
How They Achieved It
With the help of Adam Hartig, a senior designer at The Kitchen Master, the Nagys were able to create a space that they can enjoy today, while feeling confident it will appeal to future home buyers. The couple had worked with Hartig on another project and knew he would be able to deliver exactly what they wanted.
One challenge was fitting new features into the room's existing footprint. "We put a lot in this little space — we wanted to utilize every inch," says Hartig.
The couple also sought to give the room a modern aesthetic. Hartig accomplished this by selecting perimeter cabinetry that pairs off-white upper cabinets with lower cabinets sporting a painted and glazed gray finish. The two are connected by a glass-tile backsplash. An induction cooktop continues the smooth, sleek feel, as do the stainless–steel range hood and coordinating light fixtures and cabinet hardware.
The striking center island, which replaced a smaller structure, features a floating quartz countertop suspended between a cabinet on one end and a custom-made stainless steel support on the other. "It gives the area a seamless look," says Hartig.
Another feature that helps to keep the space clutter-free is an aluminum appliance garage door concealing a beverage station. Storage drawers below, panty cabinets on either side and proximity to the refrigerator keep everything needed for brewing a perfect cup of coffee or tea close at hand.
The area formerly inhabited by an underutilized planning desk now hosts a bar area that includes a wine refrigerator and storage. White floating shelves provide open display for decanters and bottles and a glass-fronted cabinet offers easy access to drinkware.
The location of the bar keeps guests out of the work triangle, which has proven especially useful when entertaining. "Every time we have a party, we end up congregating in the kitchen," Bob observes. "Adam managed to design the space so it never feels crowded."
Though he loves the overall look of the new kitchen, Bob says he also appreciates the small details, like the improved lighting and the hidden placement of electrical outlets and light switches (integrated into bars that fit beneath the upper cabinets). "These little things," he says, "make the whole kitchen seem so much cleaner."
Fresh Outlook: The Glen Ellyn Kitchen of Dave & Susan Reedy, by 
Drury Design of Glen Ellyn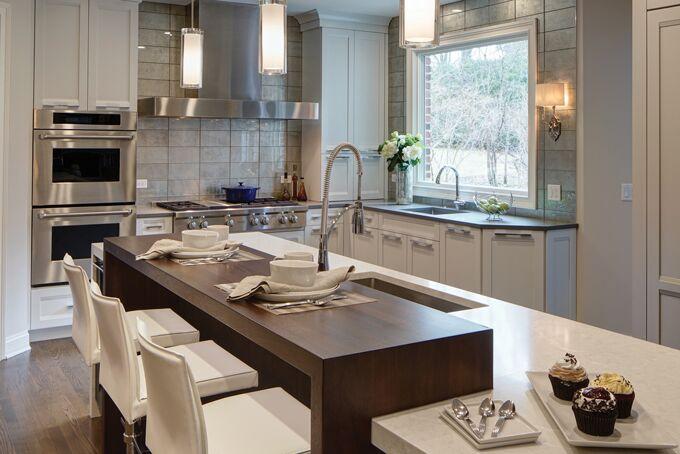 What They Wanted
For Dave and Susan Reedy of Glen Ellyn, it was time to turn over a new leaf and bid farewell to their kitchen's dark and dated cabinetry and inconvenient layout. The couple sought a brighter space with better traffic flow and a fresh new transitional design. They also wanted to bring the outdoors in by including a larger window to take advantage of the backyard view.
How They Achieved It
"The previous kitchen had an eating area that was totally separated from the kitchen — to get to it, you had to walk through the family room," says designer Gail Drury, owner of Drury Design, who worked with the couple. Drury turned a former pass-through into a doorway to improve access between the two rooms and situated the refrigerator/freezer, which had previously been in an awkward location, to the right of the opening, where it could easily be reached from both spaces.
Replacing a tiny above-sink window with a large picture window allowed for an unimpeded view of the backyard and provided the room with a much-needed source of natural light. That, along with the reflective nature of the new glass-tile backsplash and improved lighting via pendants, sconces, can lights and in- and under-cabinet lighting, helped to give the kitchen the brighter feel Susan had wanted. "Who would have thought that lighting would make the biggest
difference?" Susan marvels. "It's something I never thought much about before."
The new cabinetry, a combination of white- and gray painted pieces and custom-stained rift-cut oak, also made a dramatic difference in the feel of the room. Drury designed a tall storage cabinet to work with a jog in the wall. The lighted glass-fronted cabinet holds all of the daily cooking and dishware essentials and features rails that hold and display utensils and pots and pans. "I have some beautiful pans, and I love how the light shines on them. Plus, it's super-functional," Susan says.
One of the revamped room's most striking features is the large multi-tiered island, which is constructed of oak and quartz and boasts a cleanly elegant waterfall edge. The raised wood snack bar helps to create a slight visual barrier to the workspace on the other side, which houses a steam oven, a warming drawer and the main sink. "It breaks up the island so it doesn't look so massive and blocks the sink view in a creative way," Drury says.
Susan says she appreciates Drury's thoughtful design and couldn't be happier with how her new kitchen looks and functions. "It's hard to pick what I like best — it's easier to use and there are so many pretty elements.
Wide Open Spaces: The Kitchen of Colleen & Kevin Keegstra,by 
River Oak Cabinetry & Design of Plainfield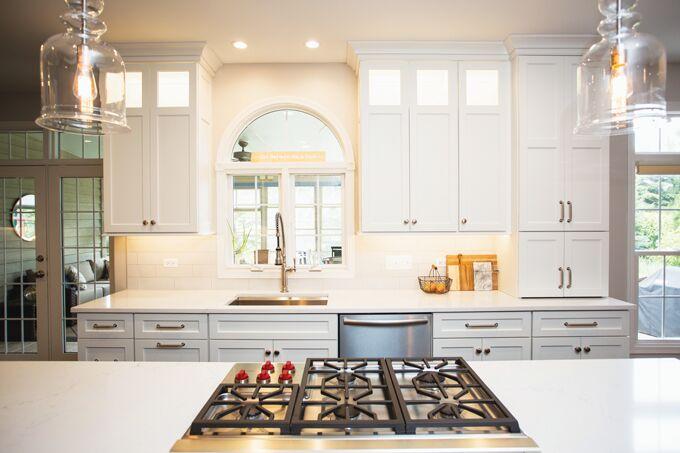 What They Wanted
With a wall separating it from the dining room, the Naperville kitchen of Colleen Johnston and Kevin Keegstra felt hemmed in. The white traditional-style cabinetry and well-worn appliances were also due for an update. The couple sought a more-functional, open-concept space with a modern farmhouse flair.
How They Achieved It
While they had considered a half-wall and peninsula configuration, working with Jennifer McClure, a designer for River Oak Custom Cabinetry & Design, the couple decided to remove the entire wall and enlarge the island to open the retooled kitchen to a casual dining area. "I thought it would be more functional and aesthetically pleasing," McClure explains.
In the dining area, a custom-made table that can expand to seat 12 solved a problem the couple and their three children previously faced when entertaining friends and family. "We used to have to separate everyone into different rooms to eat, and this allows us all to be together," Colleen says.
The new cabinetry blends white perimeter cabinets with a graphite-colored island. Cabinets in the beverage center also feature the same gray finish. Upper cabinets were extended to the ceiling and topped with crown moldings to visually elongate the space and provide supplemental storage. Under-cabinet lighting and interior lighting at the top of the cabinets beside the sink further brightens the space.
One of the room's unique aspects is the beverage area that wraps around two corners and includes a beverage fridge on one end and closed storage on the other. Open wood shelving tops white ceramic subway tile, offering an interplay of colors and textures that break up the cabinetry and provides a spot for display. "We make coffee and smoothies there, and having that area for beverages has freed up space in the regular refrigerator for food," Colleen notes.
The coordinating island features a built-in cooktop and a conversational seating arrangement, plus it includes a handy feature perfect for a busy family — enclosed shelves, one for each family member, complete with USB ports and outlets for charging electronic devices.
Quartz tile and brushed nickel hardware contribute to the room's fresh contemporary look, as does the newly refinished hardwood floor, which now sports a darker stain. "The room now has a more modern farmhouse feel," McClure observes.
"I love, love, love this kitchen. It's a dream," says Colleen, who admires both its appearance and function — the undermount stainless steel sink with built-in accessories is one of her favorite features. "It just makes our whole house seem more open and airy."