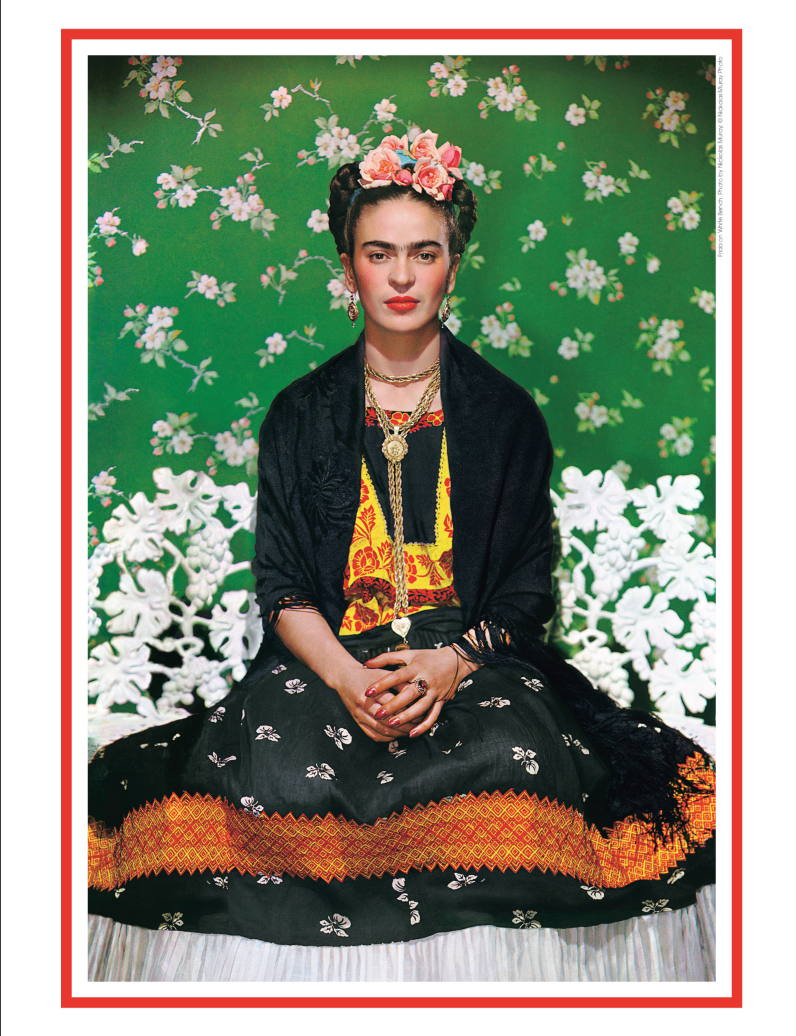 In 1925, Frida Kahlo, an 18-year- old premedical student in Mexico, was riding home from school when her bus collided with a trolley. Her injuries were gruesome. The streetcar's iron handrail entered her hip and exited through her pelvis. Already hobbled by polio, she was bedridden for months.
To pass the time while recovering at home, she began painting. She could not sit up, so she used a lap easel. Her mother hung a mirror over the canopy of her bed, and she did self-portraits.
The accident altered the trajectory of her life. Kahlo became a world-famous artist and personality who today is mentioned in the same breath with Dali, Picasso and Warhol. Her art was distinctive, personal and profound, but so too was her sense of fashion, her politics and her cultural engagement as a feminist, a Mexican, a political radical and a symbol and champion of misfits and sufferers.
Exhibits of her art in major cities here and abroad draw large crowds and big headlines. Fridamania erupts as interest soars and lines grow long. A major coup for a local institution, the College of DuPage is hosting in June the largest collection of Kahlo's art to be displayed in the Chicago area in more than 40 years. Not unlike the attention that surrounded the King Tut exhibit in Chicago years ago, the Frida display is garnering big-time buzz.

The exhibit includes 26 oil paintings and sketches. The same art attracted large crowds in Milan, Budapest and Moscow. That Glen Ellyn and the College of DuPage are on that circuit is a feat in itself. Yet the college's exhibit is much more than a gallery of paintings and drawings. The show includes 100 photos, a multimedia timeline explaining her life and art, re-creations of key artifacts of her life such as her bed, her iconic dresses, the orthopedic corsets she wore as a result of her injuries, a lavish garden with flowers found in her own garden and her art, and a children's area.
Four years in the making and postponed for a year because of the pandemic, the show is a three dimensional, multi-faceted immersion into the extraordinary life and complex times of a woman who met suffering head on and transcended both the fragility of life and entrenched social barriers.
"I have incredible respect for her as a woman and incredible respect for her as an artist for what she had to overcome," says Justin Witte, the director of the college's Cleve Carney Museum of Art and exhibition curator. "She didn't shy away from her physical disability. She established her career on her own terms. She showed incredible strength. She did all this when opportunities for women were limited."
The last time a Kahlo exhibit of this magnitude occurred in Chicago was 1978 at the Museum of Contemporary Art.
"Who knows when the next opportunity will be," says Witte. "This is a once-in-a-lifetime opportunity to learn about one of the most captivating personalities of the 20th century. Whether you love her art or not, her story is so captivating. It's not just her paintings. She's a larger-than-life figure."
Riveting Recreations
Walt Whitman rhapsodizes that he "contained multitudes," suggesting he personified America in his complexity or at least that he was a fully realized person. Kahlo is equally a universal poet of life, exemplified both through her self-focused paintings and drawings and in the artistry of her life. "There are so many rabbit holes you can go down with her," says Diana Martinez, director of the McAninch Arts Center (MAC) at the college and organizer of the Frida exhibit. "There is the artistic side, the cultural side, the physical challenges she faced. She's such a fascinating person."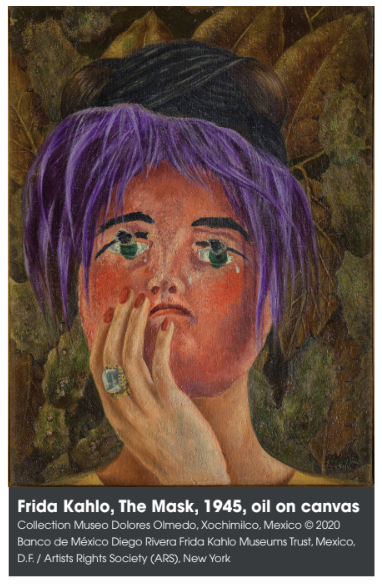 The paintings and drawings are the show's centerpiece. Kahlo was not prolific. The 19 oil paintings represent more than a tenth of her known works. "It's astounding to have all these paintings here in one place," says Witte.
The timeline and the other parts of the exhibit provide context to her life and work. A Frida aficionado will revel in the depth and breadth of the art, but a Frida newcomer won't feel lost. "We assumed people don't know about her or what they know may be incorrect," says Witte. "You will be able to understand how she developed as an artist and what was happening in Mexico then. You get a full sense of her time and who she was."
A highlight of the display is Kahlo's bed. Her bed was not only the place where she decided to be an artist but it was where she worked and greeted visitors as she recovered from various surgeries. She battled illness and grappled with pain throughout her life. To get it right, Witte traveled to Kahlo's home in Mexico and measured her bed as well as took photos. Recreating the bed, Chicago artist Daniel Sullivan used solid Honduran mahogany, true to the original, and crafted the unique mirror that allowed Kahlo to paint self-portraits while bedridden. He says his goal was to "capture the soul of this iconic piece of furniture as Kahlo's most intimate place of reflection and solace."
In reimagining the orthotic braces Kahlo was forced to wear, artist Betsy Odom used the same materials and techniques applied in her original braces. Like many Frida fans, Odom, too, says she was moved by the artist's perseverance despite disability. Diagnosed with multiple sclerosis three years ago, Odom says doing the work was "cathartic" for her.
Replicas of five iconic dresses worn by Kahlo also are displayed. Kimberly Morris, the college's costume design coordinator, created the dresses by studying historic photos, accounting for Frida's height in crafting mock-ups, using embroidery software to recreate the designs and using a 3D printer to create heads for the Frida-like mannequins.
"Frida blended elements of her heritage with modern garments and made herself into one of her works of art," says Morris. "She didn't follow fashion trends, but instead was proud of her Mexican heritage and the traditional dresses of the Tehuana."
Her choice of colors, fabrics, jewelry and flowers produced "a look that is distinctly Frida," says Morris. "I hope visitors will take away a sense that they too can do what makes them happy, embrace their heritage and express it regardless of trends."
Also part of the exhibit are a collection of paintings done by artists with disabilities who cherish a connection with Kahlo. The Tres Fridas Project was the brainchild of two artists paralyzed by a spinal cord injury. They've substituted people with disabilities for the subjects of paintings that otherwise re-create a Kahlo painting.
Outside is the work of artists with green thumbs: a Kahlo-inspired garden created by the Ball Horticultural Company of West Chicago. The MAC's south patio and the museum entrance features 150 pots of flowers and plants. The displays draw from three Frida sources: her lifelong home La Casa Azul ("The Blue House") in Mexico City, flowers indigenous to Mexico, and flowers in her art.
Among the flowers are Alocasia Dark Star, Dahlia City Lights Red, Zinnia Zahara Sunset, Marigold Bonanza Gold, Lantana Lucky Sunrise Rose and Ipomoea Spotlight Black Heart. In a case of life imitating art, horticulturalists credit Kahlo's art for increasing the popularity of some of these flowers. A painting in the exhibit is "Portrait of Luther Burbank," depicting the pioneering American botanist and horticulturist holding a philodendron.
In a children's area is a 10-minute animated video based on the book "Getting to Know the World's Greatest Artists: Frida Kahlo," by Mike Venezia. A doll house model of Kahlo's home is a second major attraction for children.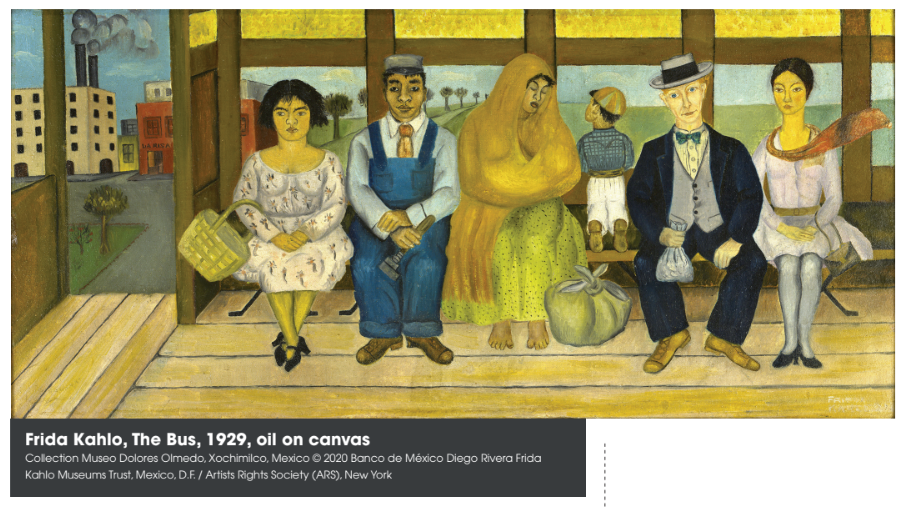 Terrible Fragility
How do you capture who Kahlo was and what her art means?
Many people know of Kahlo from "Frida," the 2002 biopic starring Salma Hayek. The film cast her in a dubious light as a depressed, disabled painter who pined pitifully for the acclaimed muralist Diego Rivera, her unfaithful husband. Far more positively, and historically accurate, is the film's depiction of her sole one-woman art show. Too sick to attend, she has her bed lifted into a truck, which carries her to the gallery.
Hayek herself disputed any downtrodden depiction of Kahlo. She told journalists that Kahlo represents to her "the courage to be unique, the courage to be different. She lived her life exactly as she wanted and never apologized." Even in her last years, when the pain was severe, Kahlo mustered the willpower to look her best. Photos show stunning nails. "Look now she decorates herself. I'm sorry — that's not a victim/martyr kind of a character," Hayek said.
It's telling that the largest private collector of Kahlo is Madonna, who relishes Kahlo's role as a fearless pioneer of female liberation. Though the song has no connection to the artist, a music video by Madonna in 2019 included a photo of Frida on the wall of a room where Madonna is seated at a typewriter. The year before, on Kahlo's birthday, Madonna posted a photo montage of "The Two Fridas" painting that showed the singer and the artist holding hands with their hearts connected. Another image posted was of Madonna's daughter dressed as Frida.
Kahlo continues to inspire artists to the present day. In her 2021 bestseller "Between Two Kingdoms," author Suleika Jaouad details her harrowing recovery from cancer. She received the devastating diagnosis a few weeks shy of her 23rd birthday and chronicled the illness in her "Life, Interrupted" column for the New York Times. As she fought cancer her mother gave her a copy of "The Diary of Frida Kahlo."
Kahlo's difficult journey empowered Jaouad as a cancer patient and as a writer. Suffering led to art and healing. "Her story ignited something inside me," she writes in her memoir. "Could these masterpieces (of Kahlo) ever have been painted by someone who was well? I wondered. Could they have been created by someone who hadn't been forced to confront the terrible fragility of the human body? I wasn't sure."
Powerful Art
Critics say Kahlo's art highlights themes of identity, gender, class, race, politics, colonialism, sexuality and death. Admirers salute her for rising above her time and place and personifying female empowerment, courage and Mexican pride.
Kahlo was both cerebral and a fashionista. She is celebrated for her head-turning clothes, her flowing skirts and colorful headdresses, as well as for her splashy jewelry. She deliberately defined who she was by how she presented herself, even if that strayed from the reality. Though her father was a Jewish immigrant from Europe and she was born near Mexico City, she wore the traditional costumes of women from the Tehuantepec Isthmus, where legend said women ruled.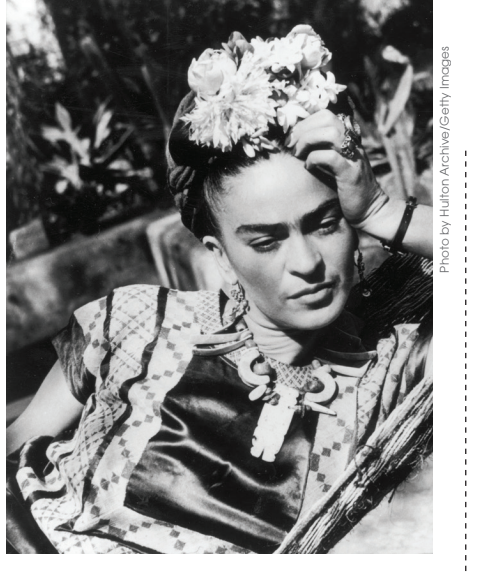 She rose above herself, ironically while portraying herself. "I paint myself because I am so often alone. I am my own muse. I am the subject I know best. The subject I want to know better," she said.
It's a sweet irony of art that focusing so diligently on an individual reveals the universal. "In her story, you can see your own story, or part of it," says Witte. "We see similarities with our own lives."
She came of age in post-revolutionary Mexico where European standards, artistic and otherwise, were losing hold. "Until then, the standards were the beautiful portraits painted in Europe," says Martinez. "Art started changing in Mexico. She took real pride in that."
Kahlo's paintings are often described as magical realism. Bits and pieces, sometimes whole shards, of the fantastic and unreal vie for primacy in her depictions of the commonplace and mundane. It's as if two worlds collide, and the juxtaposition presents a higher reality.
Visitors to the exhibit inevitably will favor one painting over another and find deep meaning in one while being mystified and stumped by another. The painting that both Witte and Martinez find especially evocative and appealing is "Self Portrait with Small Monkey." Each element is symbolic, and the painting can be approached that way.
The pre-Columbian statue symbolizes her heritage and perhaps the ethnic pride of Rivera's work. The dog, which accompanies the dead to the afterlife, is a symbol of mortality. The monkey stands for the richness and vitality of art, dance and life. The sum effect of the symbols suggests "the past, history, her life, death, existence, all tied together," says Witte.
Another powerful piece is "The Mask," showing Kahlo wearing a carnival mask (see page 32). But the real action lies behind the mask, says Witte. "We sense the real Frida is behind the mask. We're not looking at her. She's looking at us. She resists our expectations. It's a crying mask, and we're expecting to see sadness. But there is joy. It just sort of bends time — a chance to see the story of Frida for herself."
Kahlo is not easily pigeon-holed, not caught in a trap she can't escape from. She suffered greatly, and the pain, physical and otherwise, can't be dismissed as a trifle or temporary malady. Yet there is more to Frida's story than her pains and predicaments.
"There's always two Fridas," says Witte. "There's what you expect to see and the real Frida. There is a bravery behind the sad mask. She is protecting herself."
A second favorite painting of Martinez is "The Broken Column." In the self- portrait, Kahlo is in a steel corset that holds her body together. Tears run down her face as nails pierce her skin. The largest nail stabs her in the heart. "You can really see the pain she suffered," says Martinez.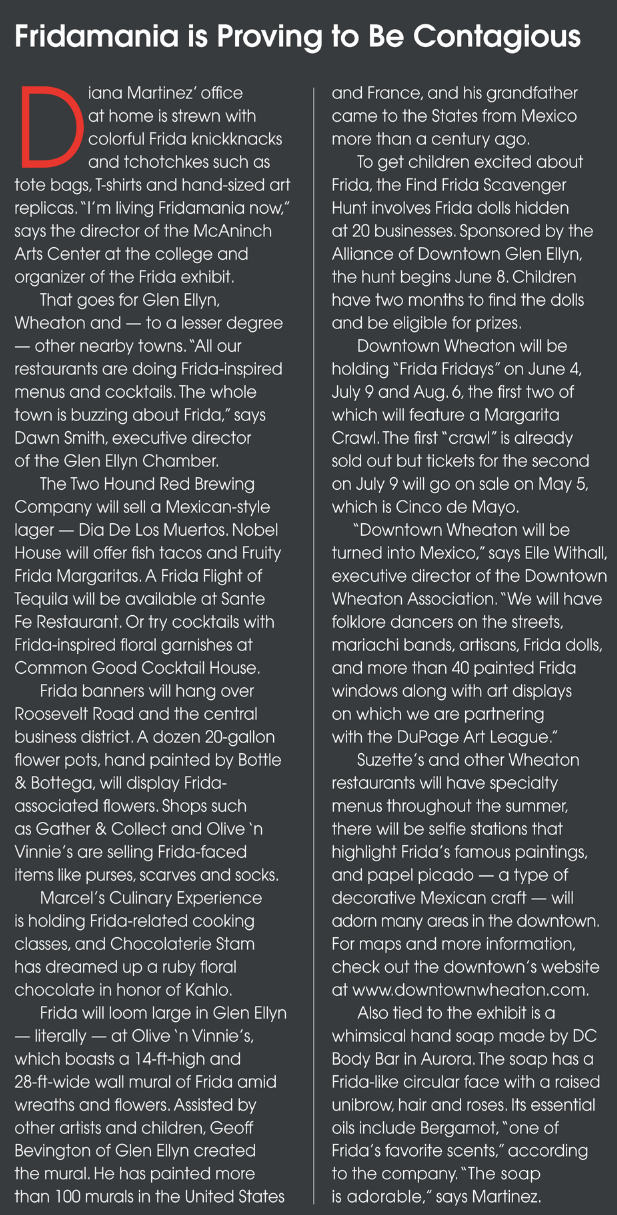 A Coup for the College
The exhibit is part of the college's mission to "promote the arts and culture for the community, to promote economic development. This fits right in," says College of DuPage President Brian Caputo. "We serve students. But we also serve the community."
The college was able to stage the show thanks to longtime major donor Alan Peterson of Glen Ellyn, who died at age 90 in 2020. A partner at Arthur Andersen before establishing his own consulting business, Peterson was a friend of Carlos Phillips Olmedo, son of Dolores Olmedo and the director of the Dolores Olmedo Museum in Mexico. A prominent Mexican businesswoman, Olmedo was a friend of Frida and her famous husband and appeared in some of his paintings.
The fee for the art was $450,000 and the cost to transport it another $82,000, Additionally, the Cleve Carney Museum of Art underwent a $3 million expansion for the show. The space increased by 30 percent. The college also had to be sure to protect the art, valued at $113 million.
"There is security, inside and outside, lighting and humidity controls we needed," says Martinez.
But it's well worth it, says Martinez, as the MAC anticipates its biggest exhibit ever with an attendance topping 100,000. It had sold more than 25,000 tickets as of press time. The economic impact of the show could reach $12 million, says Martinez.
"This will put the MAC on the map," she adds, as the improved, expanded gallery will lead to other big-time shows. "This is not a one-and-done deal. We expect to do other world-class art exhibits," says Caputo.
In October, for example, the MAC will host a show dedicated to Tony Fitzpatrick, a Lombard native and former College of DuPage student. He's known for his multimedia collages, printmaking, paintings, and drawings, inspired by Chicago street culture. "He says this will be his last museum show," says Martinez.
Relevant Once More
The pandemic delayed the show but also made it more timely. "I think everyone is so isolated," says Martinez. "That relates to her life. She suffered from isolation."
Yet her story is of the moment. Society finally is seriously grappling with the barriers and issues she faced. "She is very relevant today," says Witte. "Culturally, we are still coming to terms with equality and people of color. She had the strength to push back against that, against what a woman should be and should look like."
Life moves so fast, and 2021 seems so far removed from Frida's era. What can an artist from those days possibly speak to us here and now? Plenty, say Frida fans.
"She had to break down barriers way back then. She did all this in the 1920s and 30s," says Martinez. "She is a very good role model. She didn't let anything stop her. She didn't let anything get in her way."