To set foot in Galena is akin to taking a step back in time. Cozily tucked within the northwestern nook of Illinois' rolling hills, visitors to the quaint locale can not only walk in the footsteps of former presidents such as Abraham Lincoln and former Galena resident Ulysses S. Grant, they can also take in historic surroundings boasting architectural gems in brick-and-mortar storefronts, Victorian mansions, theaters, churches and places to stay. All of this historic charm is set against a beautiful natural backdrop. While glaciers flattened large portions of the Midwest during the Ice Age, the distinctive hilly terrain of the Upper Mississippi River Valley — known as the Driftless Area — was left virtually untouched.
In recent years, the area's natural beauty, historic allure and outdoor recreational offerings have been supplemented by a range of popular amenities including high-end restaurants, award-winning wineries, craft breweries,  and a plethora of arts and cultural offerings. 
A hop, skip and a jump through vast farmlands for those traveling from Chicago's western suburbs, it's an idyllic weekend getaway year-round, clueing visitors into why TripAdvisor listed Galena among its Top 10 "Charming Small Towns."
THE STORY OF GALENA
Galena's allure resides in its rich history, which remains ever-present. Though home to just shy of approximately 3,500 residents today, Galena once boasted a population of approximately 14,000 during the mid- to late-1800s.
In addition to lead-mining— which drew Galena's early settlers to the area in hopes of unearthing great wealth — the city's rapid growth can be attributed, in part, to the Galena River, or Fever River, as it is also known. The once-fledgling shipping channel was touted as the busiest port between St. Louis and St. Paul.
During that time, Galena also became a beacon for the country's political leaders, with Lincoln and Stephen A. Douglas holding court from the balcony of the DeSoto House Hotel. In 1860, Galena's most celebrated resident, Grant, relocated to the city to work in his father's leather goods shop. It would remain a significant location for the 18th President of the United States, where he became a Civil War general, owned two homes and awaited word on his bid for the presidency at the residence of U.S. Secretary of State Elihu B. Washburne.
With the decline of lead-mining, as well as the development of the Illinois Central Railroad, which all but shuttered the steamboat industry, Galena's population saw a decline. However, in the 1980s, Galena initiated a tourist campaign, and boarded-up historic buildings began to see a second life, becoming home to a wealth of antique shops, with  Fodor's Travel recognizing it among the 10 best antiquing locations in the country. The town and surrounding region has remained among Illinois' top visitor attractions ever since.
"HELLUVA HALF MILE"  FOR THE SHOPAHOLIC
To get acquainted with the city, take a stroll down Galena's historic Main Street. The curved road, dubbed "Helluva Half Mile," includes Galena's Historic District, which encompasses 75% of the city and is on the U.S. National Register of Historic Places. Recognized as one of "America's Greatest Main Streets" by Travel + Leisure magazine, it is lined with pristinely preserved red brick buildings that date back to Galena's heyday as a booming 1880s mining destination for lead, for which Galena is named.
No trip along Main Street is complete without conquering the Green Street steps — 150 leading upward to Prospect Street. Featured in the film "Field of Dreams" — its ballpark located in nearby Dyersville, Iowa, marks its 30th anniversary this year — and with lampposts to light the way, the trip up is worth the extra Fitbit steps. It boasts quite a view of Galena's cityscape from the top.
You can also head over to Grant Park for a scenic view across the Galena River, courtesy of the Galena Pedestrian Bridge that leads to the 8.8-mile Galena River Trail.
A deeper exploration into the heart of downtown Galena will yield Main Street's eclectic array of shops for which it is well known, from gift boutiques to clothing and accessories, home décor, antiques, fine art, gourmet kitchen goods and even an herbal hemp location called Botanicanna, which opened in May.
For the quirkiest of treasures, look no further than Poopsie's, one of the first shops that welcomes visitors as they begin their trek down Main Street. The novelty store features out-of-the-ordinary knick-knacks and furniture, as well as gag gifts, art, jewelry, toys, games and more.
In search of a little inspiration for your humble abode? Pay a visit to Wooden Wonderland, an operating sawmill where you can shop handcrafted furniture and collectibles, as well as pick your own blueberries. Vignettes Home also offers an array of decorative items, from handmade floral arrangements and custom wreaths to lamps, clocks, candles, furniture, fixtures and more. For the finishing touch, peruse Galena Candle & Bath Company, where you can mix your own wax aromas.
If antiquing is your pleasure, Peace of the Past carries a selection of rare-edition books, pottery, American folk art, furniture, lamps, sporting items and more. Gustafson & Grey carries some of the best to be found in vintage fine jewelry. Galena Antique Mall and Tin-Pan Alley Antique Mall feature multiple dealers offering collectibles such as jewelry, furniture and vintage toys. And Red's Iron Yard & Wholesale Barn features handmade home and garden décor, life-size die cast animals, wooden wagon wheels, buggies, and more.
For foodies, load up on gourmet cheese, sausage, wine, beer and coffee at Galena River Wine & Cheese. And no trip is complete without a stop at the Grateful Gourmet, which features creative kitchenware and a selection of food items to kick your homemade meals up a notch.
If you're planning a girlfriend getaway, Main Street also has plenty of boutiques offering trendy apparel, shoes and jewelry.
FOR THE HISTORY BUFF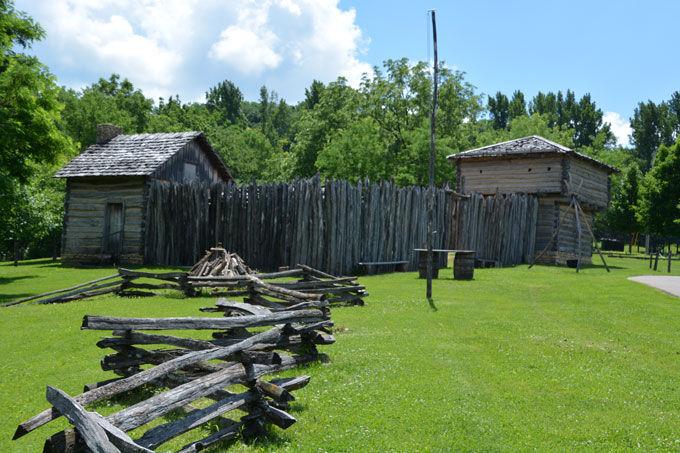 For those with a penchant for early American history, Main Street's shops provide plenty to admire. But to really open Galena's history book, the home that Grant occupied prior to the Civil War, located on High Street, is a must-see. A second home, located on Bouthillier Street, was presented to the Grant family upon his return to the area in 1865. This home serves as a state historic site and is open for public tours. 
Yet another landmark is the John Dowling House, located just off Main Street. Built in 1826, it stands as Galena's oldest building. The limestone structure is open daily for tours, complete with a display of 19th century artifacts.
For those with a thirst for more history, the Galena Jo Daviess County Historical Society & Museum will quench your curiosity, with exhibits including Thomas Nast's original "Peace in Union" oil painting.
For an experience off the beaten path, you might also consider Amelia's Galena Ghost Tours. The bus excursions host dinner theater, haunted pub crawls and vineyard tours, while attendees hear Galena's ghostly tales. Document the experience with "old tyme photos" at the establishment's shop.
Galena Trolley Tours, conveniently located on Main Street, also offers narrated history and architecture tours.
FOR THE OUTDOOR ENTHUSIAST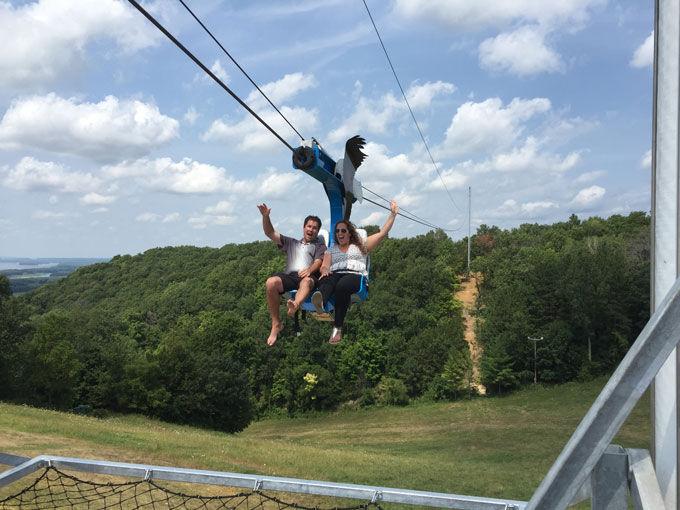 Complimenting the area's history are its natural surroundings. And taking full advantage of the area's steep hill-and-valley inclines is Chestnut Mountain Resort.
When the snow flies, the resort boasts 220 acres of downhill ski terrain spread among 19 trails, with a vertical drop of 475 feet. In warmer seasons, take the lift to the top of the resort to gaze out over the Mississippi River. Visitors can also enjoy the Alpine Slide, a 2,050-foot tailored sled track, or take in the scenery via the Soaring Eagle Zipline, Segway tours, or a river cruise. The resort also offers bike rentals, miniature golf and disc golf.
More traditional golfers will want to take in a round at Eagle Ridge Resort & Spa, which boasts three 18-hole courses including The General, ranked among the top courses in Illinois, plus a 9-hole course. Other popular golf venues include the Galena Golf Club, an 18-hole layout located on U.S. 20, and nearby L'il General, the perfect place to bring the family for a round of miniature golf. 
For those wanting to get up-close-and-personal with nature, Fever River Outfitters, located a stone's throw from the Galena River, offers everything you need to take advantage of aquatic fun, from canoes and kayaks to paddle-boards and more. Guided tours are available, in addition to water sport gear. 
To take in aerial views, thrill-seekers will want to check out Long Hollow Canopy Tours. The two-and-a-half-hour guided experience launches with a UTV ride through the trees to a course of six ziplines, reaching speeds of up to 40 miles per hour and heights of 75 feet. Visitors can also walk across a 140-ft sky bridge and opt for quick jumps and rappels.
Another option is Galena on the Fly, which offers one-hour hot air balloon tours from Eagle Ridge Resort & Spa, high above Galena and Jo Daviess County. 
Hikers, bikers and bird-watchers will want to add the Valley of Eden Bird Sanctuary to their list, featuring 409-acres of preserve and six miles of trail. Check out Casper Bluff Land & Water Reserve, with its 85 acres of Native American archeology and scenic Mississippi River bluffs. Or visit Buehler Preserve, accessible by hiking or biking from downtown Galena. Pack the fishing pole, as angling is also permitted here.
For those who prefer to travel by horseback, the Silkrug Stable offers 60- to 75-minute horse-drawn buggy tours through farmland, while the Shenandoah Riding Center at Eagle Ridge Resort & Spa takes beginners and seasoned equestrians on rides through scenic trails, with sleigh rides during the winter.
If a scenic drive through the countryside is all you need, Galena Jeep Rentals will hook you up. Consider a trip up Devil's Ladder Road, off U.S. 20, between Galena Territory and downtown Galena. It's known by locals for its steep inclines and winding roads.
FOR THE FOODIE
Award-winning culinary offerings, from hearty Midwestern cuisines to Italian, Greek, German, French, Irish, Mexican, Chinese and even Japanese fare, can tempt the palate during your visit.
A scrumptious breakfast spot is Otto's Place, serving everything from quiche to eggs Benedict, French toast, omelets, sweets and specialty cocktails.
For a bite to eat later in the day, Fried Green Tomatoes is not to be missed. Located on Galena's Main Street, the acclaimed restaurant is regarded for its namesake appetizer and its extensive wine selection that has garnered rave reviews. 
At Vinny Vanucchi's, situated above Main Street, patrons will feel as if they have been dropped in the middle of an Italian piazza. During the warmer seasons, dine al fresco on the patio. Indoors, take in the rich aromas that flow through the establishment, along with the ambiance of an authentic Italian village. 
A location frequented by tourists but also where you can eat like a local is the Log Cabin Steakhouse. A family establishment since 1937, the steakhouse with Greek flair welcomes patrons as family and on any given night is bustling with regulars who make a spectacle by ordering the flaming saganaki. The same family also operates Gobbie's Sports Pub & Eatery. It's a great place for casual fare, complete with a beer garden and a plenty of big screens to catch the big game.
Other options include One Eleven Main, featuring an array of Midwestern-inspired cuisines; Fritz and Frites, which includes French and German fare; and Little Tokyo, a Japanese steakhouse with inventive sushi creations.
For those in need of an energy boost, or simply a hot beverage to sip while they stroll, hit up Kaladis .925 Coffee Bar for assorted gourmet coffees, teas and gelato. Or, create your own custom brew or try one of thousands of flavor combinations at Mean Bean Coffee Roasters.
The American Old Fashioned Ice Cream Parlor is another must. Browse the 1846 shop's original cabinetry, while enjoying everything from a root beer float to candy, hot dogs and more.
Speaking of root beer, add Root Beer Revelry to your list. The old-fashioned shop serves the beverage on tap, in bottles and over a variety of gourmet floats including orange cream, key lime or black cherry.
FOR THE LIBATION LOVER
In the heart of an agricultural community, it should be no surprise that an abundance of wine, craft brews and other spirits to sip and sample can be found, made right in Galena.
Galena Cellars Vineyard & Winery features award-winning options at two locations. True wine aficionados will likely want to take in the full experience with a trip to its vineyard, where tours are available, along with a tasting room and an outdoor deck. Or, make the most of your stay, and book a night in its guest suite.
Downtown Galena, visitors can sample Galena Cellars' wine in a historic 1840s granary building that also hosts a tasting room and gift shop, as well as a shaded patio. 
To get the most out of the wineries the area has to offer, a variety of festivals pay homage to the fruit of the local vines. At Galena Cellars' Fall Harvest and Art Festival on Sept. 28, patrons can compete for grape-stomping honors. The 35th annual Nouveau Weekend will take place on Nov. 22 and 23. And next spring the 13th annual Galena Wine Lovers' Weekend is planned for March 27-28.
For a quick sip and shopping break, Jamie's Wine Studio, The Grape Escape, or the Massbach Ridge Winery Tasting Room feature an assortment of wines both local and from around the world.
If craft brews are more your speed, plan to stop at the Galena Brewing Co. Located on Main Street, the establishment features an assortment of local ales, IPAs, stouts and seasonal concoctions, as well as food and live music on weekends.
Rated No. 1 by TripAdvisor.com, Blaum Bros. Distilling Co. is another popular stop. The family-owned operation produces whiskey, vodka and gin year-round.
FOR THE ART COLLECTOR
Galena boasts a vibrant artistic community, with potters, painters and craftspeople creating original work right before visitors' eyes.
Hello Galena! features jewelry, pottery, stained glass, paintings, photography, wood materials and more and offers both live demonstrations and classes. And the Hello Galena Emporium, located in the Old Market House Square, features pieces created by local artisans. An arts festival takes place at the site annually, planned this year for Aug. 10-11. It will feature woodwork, jewelry, pottery, baskets and more from local and regional vendors, as well as live music, food and beverages.
Outside the Lines Art Gallery offers pieces created by both local and regional artists. Pinder Pottery features hand-thrown stoneware, with daily demonstrations and classes. Stonehouse Pottery & Gallery offers functional and decorative pottery, tiles and figurative bronzes, with area artists' work both sold and on display.
For a truly one-of-a-kind artistic experience, watch the sparks fly at The Old Blacksmith Shop. The authentic 1897 location — with a historian on site — is filled with tools and equipment from its past, and its gift shop is well stocked with items forged in the still-operating establishment.
In addition to the many shop and display galleries that are home to the work of local and regional artisans, art lovers will want to check out the Galena Center for the Arts, which hosts work by contemporary local and regional artists,as well as specialty exhibits. 
For the young and young at heart, P.T. Murphy's magic show is located in an intimate studio, just off Main Street. Co-creator of Chicago's long-running, "The Magic Cabaret," TripAdvisor has hailed Murphy's attraction as one of Galena's top spots.
Galena Festival of the Performing Arts, held in historic Turner Hall and Grant Park, will take place July 10-14. Each performance is free to attend and features top local, regional, national and international talent performing everything from chamber music to classical, jazz, Broadway and more. n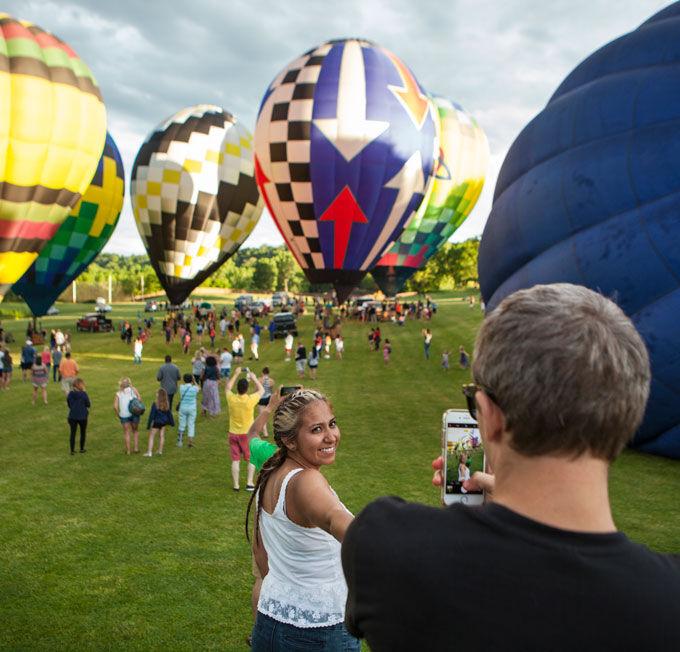 Where to Stay
Resorts
• Chestnut Mountain Resort – In addition to a wealth of activities including hiking, biking and Segway tours, the location features 100 rooms, as well as several dining options. 
• Eagle Ridge Resort & Spa – The 6,800-acre Galena Territory location includes 80 inn rooms and more than 200 homes and villas. In addition to golf, those staying can enjoy 
an indoor swimming pool and Stonedrift Spa. www.eagleridge.com
• LeFevre Inn & Resort – The site boasts eight rooms, one suite and two cottages, as well as a floating gazebo, an outdoor pool, a firepit and a trail system that connects with the Galena Hiking/Biking Trail. www.lefevreinn.com
Hotels
• DeSoto House Hotel – The historic hub is located in the heart of downtown Galena. It boasts 55 Victorian guest rooms and three dining options, as well as various shops. 
• The Irish Cottage Boutique Hotel – The location is a tribute to Irish craftsmanship. It includes Frank O'Dowd's Irish Pub & Grill, which features Irish food, drink and live entertainment; the Galena Day Spa; and 75 guest rooms and suites. www.theirishcottageboutiquehotel.comB&Bs, Guest Homes and Inns
• Aldrich Guest House – Walk the floors once trod upon by Lincoln and Grant. Or, stroll through the gardens, relax in the screened porch and unwind in the parlor. www.aldrichguesthouse.com
• Belle Aire Mansion Guest House – One of Galena's oldest homes dating back to 1836, visitors can enjoy in-room fireplaces and whirlpools. www.belleairemansion.com
• Belvidere Mansion and Gardens – Built in 1857 and often referred to as the "Downton Abbey of Galena," it's widely regarded as one of the finest homes in the area. www.belvederemansionandgardens.com
• Farmers Guest House & Annie's Cottage – A short walk from downtown Galena and one of the top 10 B&Bs in the U.S. according to bedandbreakfast.com.
• Galena Cellars Vineyard – Never leave wine country by staying in a one-bedroom suite or two-bedroom house overlooking the vineyard. www.galenacellars.com
• Galena Territory – Larger groups can book private vacation homes and condos, including access to the Galena Territory Association Owners' Club pools, gym and business center. www.thegalenaterritory.com
• Galena Log Cabin Getaway – Authentic log cabins and a working farm are located among wooded acres, wetlands ,a creek and nature trails. www.galenalogcabins.com
• Goldmoor Inn – Including decadent dining and spa services, you can't beat the view overlooking the Mississippi River. The site also includes Aaron's Cottages & Cabins, featuring dining, spa services and gardens. www.goldmoor.com
• Inn at Irish Hollow – Set on a 500-acre working farm, visitors can stay in a variety of private cottages and guest rooms. www.irishhollow.com
• Jail Hill Inn – Voted No. 1 on TripAdvisor.com, the 135-year-old, four-story building which served as the county jail for nearly a century offers sweeping views from stately windows and sitting areas with ornate gas fireplaces. www.jailhillgalena.com
• Lamberson Guest House – Overlooking downtown Galena from Prospect Street, guests can enjoy a candle-lit three-course breakfast, 24-hour cookies and treats, and 
a wine and cheese reception each evening. www.lambersonguesthouse.com
• Pine Hollow Inn – For a secluded getaway, this tranquil retreat offers two suites with a fireplace, vaulted ceilings, skylights and a private country bath. www.pinehollowinn.net
Galena has an abundance of B&Bs and inns. Above is just a sampling of several of the most popular and distinctive. For a more extensive list, check out the online version of this article at www.westsuburbanliving.net