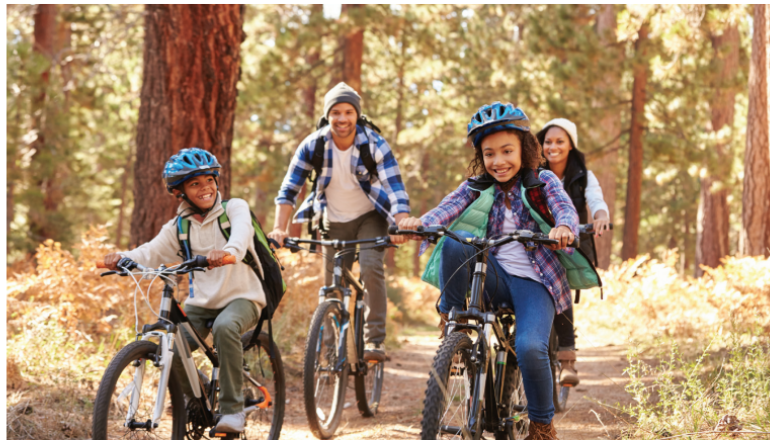 A quarter century ago my wife and I bought a handsome Cape Cod in La Grange Park. We liked the home, the block and the neighborhood. We liked something else. Turns out that winding through the Forest Preserve at the end of our block was a leg of the unheralded, but great, Salt Creek Trail.
Location, location, location, indeed.
Some hardcore bike riders meticulously log the miles they ride. I don't. But I estimate I've rode the scenic 12.65-mile trail more than 2,000 times since we moved in.
I also ride the Illinois Prairie Path, the Fox River Trail, the Centennial Trail and other nearby bike paths. If you like to ride, the west suburban area is a biker's paradise. Spread out the Illinois Official Bike Map, the Chicago/Northeastern Illinois version (available free at many bike shops). Crisscrossing our towns are a series of bike paths, often connected to each other. These are honest-to-goodness trails, removed from traffic, winding through woods or meadows, and paved over or consisting of crushed limestone. For most of us, a bike trail is just minutes away, often if reached even by bike.
Knowing my affinity for biking, friends and families who live out of town will proudly direct me to their local bike trails when I visit. While the gesture is appreciated, the trails elsewhere don't measure up. Our staid, ostensibly boring suburbs are in one sense recreational superstars.
Bike aficionados agree. The Active Transportation Alliance promotes biking in the Chicago area and often focuses on the city. But its director, recently asked on a WBEZ radio show about her favorite riding spots, cited two: the Salt Creek Trail and the Illinois Prairie Path.
Why bike? It helps me to stay fit, to enjoy the serenity, beauty and changeability of nature and to pedal away anxiety. Frankly, it's also a spiritual exercise, a portal to a broader awareness. Paradoxically, biking is both a dimunation and enlargement of self. You find yourself by losing yourself — all on a bike.
Along the same lines, biking induces spontaneous gratitude. Pedaling through hushed woods is a surefire way to feel great about being alive and healthy.
Others cherish biking for different reasons. John Kennedy wrote, "Nothing compares to the simple pleasure of riding a bike." The writer H.G. Wells, who envisioned a war of the worlds and other future cataclysms, commented: "When I see an adult on a bicycle, I do not despair for the future of the human race."
So here are the best local bike paths. There is not enough space to cover them all. For a comprehensive list, get the aforementioned map or access maps and apps through the website of the Active Transportation Alliance. Happy trails!
SALT CREEK TRAIL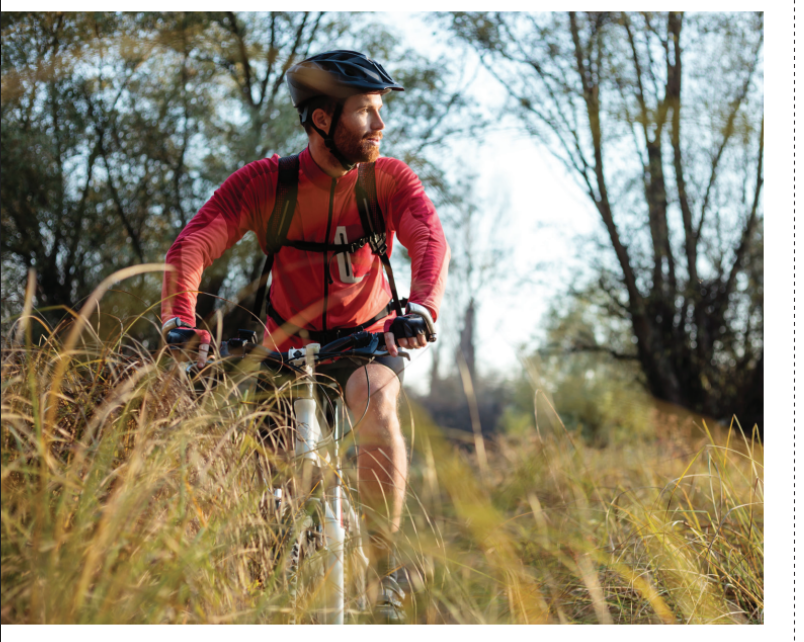 The paved asphalt trail begins near Brookfield Zoo off 31st Street and ends in Bemis Woods near Ogden Avenue in Western Springs. Its six legs generally parallel Salt Creek. You cross five busy streets, only one with a traffic light (La Grange Road) and another one with flashing warning lights a biker can activate (31st Street). But drivers, increasingly aware of the path, slow down and even completely stop to let bikers cross.
This is a fun, zippy trail with few long boring straightaways and lots of curves and small inclines that give a ride pep and thrill, depending on how fast you want to go. The fifth leg (heading east to west) in particular has the steepest hill and tight corners that pump up the adrenaline. The last leg (heading back east from the west) is basically one downhill rush with twists and turns that provide a nice slingshot effect for a fast rider.
The trees are so thick in some stretches or so gracefully line the path that at times it's easy to forget you are in suburbia and not in some medieval forest. Other parts of the path run by the quiet backyards of homes, and those stretches are agreeable as well. On this path, nature and civilization coexist and coalesce.
The trail has a neighborly vibe to it — owing both to the reliably friendly presence of other users and to the residents of homes on the path. On the third leg a sturdy metallic sign, placed on a footpath, reads "FREE AIR. For Our Bike Trail Friends." A few years ago, on a scorching day, a homeowner affixed a running hose to a pipe for passing riders.
Deer are abundant here. Accustomed to humans, they often do not budge as you speed past them inches away. In the summer the lovely fawns, trailing their mothers, take your breath away. Not long ago I spotted an impossibly tiny fawn, obviously new to the world as it wobbled behind its mom.
Less than a decade ago a second sixth leg was added north of the old one, giving riders the option to pass the Forest Preserve golf course, ride under the tollway and spill out into a side street of Oak Brook. The bike path (now called the Salt Creek Greenway) continues up York Road and winds all the way to Busse Woods near Schaumburg.
A note of caution: biking can be dangerous, even for the most experienced riders. Dogs, children and other bikers move unpredictably. Call out "left" or "passing" when riding past someone on their left. Wear a helmet. Do not ride faster than experience or conditions allow.
But even riding safely is no guarantee of being safe. A friend who is a longtime biker hit a pavement buckle on the Salt Creek Trail a few years ago. He ended up in the hospital and though he eventually recovered, he had some lasting damage. After the accident, authorities marked the buckle with a slash of red paint but took months to actually smooth it.
Like the other paths, Salt Creek has ample parking along its route, in this case in the Forest Preserve parking lots adjoining nearly every leg of the trail.
Trail Break: The trails' east endpoint includes —oh, my — lions, tigers and bears at Brookfield Zoo. On the west also is an animal attraction: the seasonal Go Ape Zipline and Adventure Park in Bemis Woods in Western Springs with its thrilling treetop rope courses.
For a treat, head south on 17th Avenue (Maple Avenue) four blocks to Maple Avenue Creamery (inside Bill's Place) in La Grange Park and, according to a local ice cream guru (my son, Kevin) be sure to try the turtle sundae.
SALT CREEK GREENWAY
Technically, the trail that begins in Brookfield and ends in Busse Woods is a single trail. (Even more technically, at least on maps, this bike path begins in Lyons. But good luck avoiding heavy traffic in following the "path" and getting from Lyons to Brookfield.) For a shorter scenic ride, do the 12.65-mile loop. For a more challenging adventure, take the northern sixth leg, ride the path parallel to York Road toward Elmhurst and then try to navigate the 20 remaining miles or so to Busse Woods.
The path takes you through Oak Brook, Villa Park, Elmhurst, Addison, Itasca, Wood Dale and then Elk Grove Village. You ride through woods, parks, and, occasionally, neighborhoods. The signage is good but not great. First-timers may have to backtrack once or twice when they at last realize they've lost the trail. But part of the fun of this route is figuring out the right way to go.
Early on, you negotiate expressway-like Roosevelt Road and its 55 mph-hour speed by riding underneath it. Likewise, not much later you shrug your shoulders at the rumble of cars above you on St. Charles Road and North Avenue.
Bypassing busy roads on a bike via tunnels and bridges always is a kernel of delight. Others may be battling traffic, ensnared by jobs and pressing duties, but you are free, in the open air and headed as far as your legs can take you.
The trail has its share of visual delights: well-maintained, grassy parks, high-end homes and scruffier houses albeit often with a scrappy, back-of-the-woods demeanor. You view an interesting panorama of lifestyles and economic levels.
The trail does include a few forlorn stretches with ugly rusted power towers looming above. Here the wind will be noticeably either for or against you. Grit your way against it and revel in the sudden surge of energy with it. Once in Busse, the trail returns to smooth asphalt and breaks off in various permutations. Try hard to mentally record a landmark at forks in the road, so that when you make your way back you go the right way and don't add too many more miles.
Trail Break: At York Road in Oak Brook, leave the trail and ride a few blocks south to York Tavern, Du Page County's oldest restaurant, for a burger and brew. In Elmhurst, veer east of the trail and enjoy a coffee break at the charming Elijah's Specialty Coffee & Tea. A popular indie shop since 2007, it offers a cozy atmosphere and first-rate espresso drinks.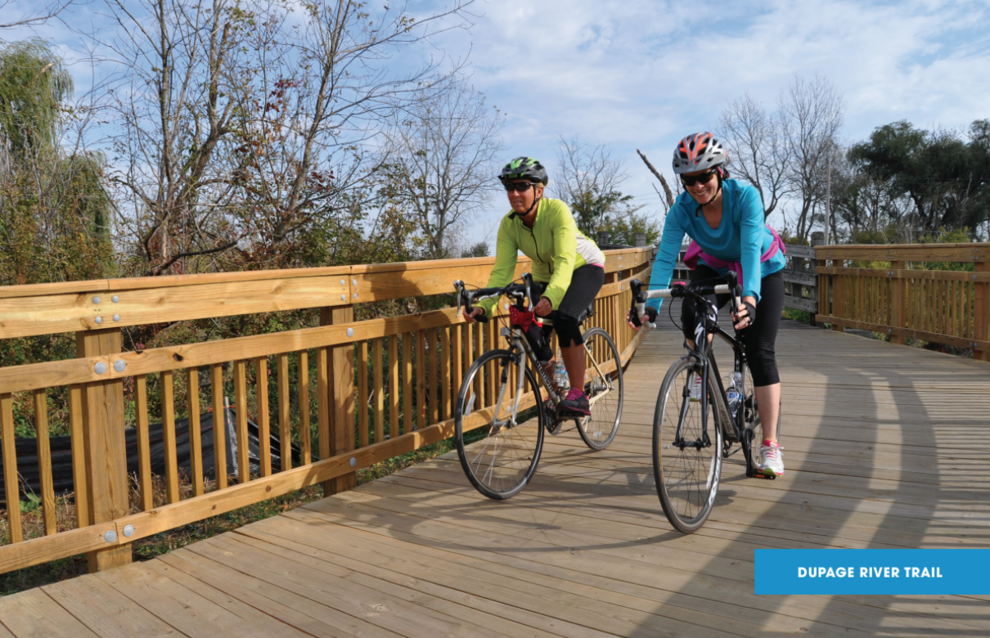 ILLINOIS PRAIRIE PATH
The granddaddy of them all, this trail is one of the nation's first rail-to-trails (some say first)conversion. The brief but compelling history: naturalist May Theilgaard Watts worked for the Morton Arboretum in Lisle. She wrote books such as the popular "Reading the Landscape" and penned the Nature Afoot column for the Chicago Tribune. When the opening of the Eisenhower Expressway in the 1950s doomed the Chicago Aurora and Elgin Railroad, she foresaw more trouble--and opportunity. The Tribune published her letter warning that "bulldozers are drooling." She argued for converting the railroad corridor into a footpath. The path was officially dedicated in 1971.
Today, especially on warm, sunny days, the 58-mile path that begins in Maywood hosts legions of outdoor enthusiasts such as bikers, runners, walkers and moms with strollers. Last spring, in the midst of the pandemic, a cloudless Saturday brought out huge crowds. Restaurants, bars and sports fields were shut down. Probably never more so, the Prairie Path was the place to be.
Its crushed limestone is surprisingly swift, and, 10 feet wide at many points, you don't need to be on the same high alert required on narrow trails. Do watch for cars. Especially in Lombard and Villa Park, the street crossings are numerous.
Until you hit Wheaton, the Prairie Path is a venture through suburbia, not an escape from it. Homes, businesses and downtowns are to your immediate left and right. Normally we see our towns only through car windows. This trail takes you right up the spine of where we live and shop. You see places in a different way. The quaintness of our hometowns jumps out at you. When you emerge from a corridor of trees, enter downtown Glen Ellyn and pedal past the Glen Art Theatre and its old-time marquee, for example, it's as if you stumbled upon Bedford Falls (from "It's a Wonderful Life").
The trail is a welcome reminder that cars, however convenient and time-saving, are hardly necessary to get from Point A to Point B, even in the suburbs and even in relatively quick fashion. From my house, I can take the Salt Creek Trail to Westchester, ride a bit through that town into Hillside, where I pick up the Prairie Path. I'm in Wheaton in less than an hour, a trip that takes a good 40 minutes by car.
Wheaton is decision time. You can proceed north toward Elgin and eventually make your way there by hooking up with the Fox River Trail. Or you can turn south to reach Aurora and also rendezvous with the Fox River Trail. Either way you enter nature more and more and leave suburbia behind. It's a neat trick — a few miles in the saddle and it's as if you are transported to an earlier, more rural version of the western suburbs. It's not unusual to see horseback riders out here and experience the underappreciated recreational opportunities of suburbia.
You could write a book on the attractions adjacent to these trails or a few blocks away. To note just a few: fronting the trail in Villa Park is the former Ovaltine factory, now Ovaltine Court, an attractive apartment complex. People say I have an overactive imagination, but riding by I can still smell the distinctive canned chocolatey aroma.
A few pedals away from the apartments is the Villa Park Historical Museum, once a railroad facility and then an appliance store. The museum features relics from the chocolate factory as well as artifacts from local Sears Catalog homes.
For flora and fauna, heading north out of Wheaton, savor the Lincoln Marsh Natural Area, 150 acres of wilderness that are seemingly so un-Illinoisan. An observation platform allows for views of colorful Canada geese, mallards and bufflehead ducks. A wooden boardwalk provides for an easy walk through the dense marsh.
It's wise to take breaks periodically on long rides. It's wiser to plan them around the numerous trailside attractions. (Find them online or in books such as "Hiking and Biking in DuPage County, Illinois" and "Rails Trails: Illinois, Indiana & Ohio.")
Trail Break: Kimmer's Ice Cream in Wheaton is a cult favorite. The dense, creamy imaginative concoctions are made nice and slow in the back of the shop. Or take a longer break and catch a matinee at the Glen Ellyn Art Theatre or at least slow down to admire its delightful, old-fashioned marquee.
CENTENNIAL TRAIL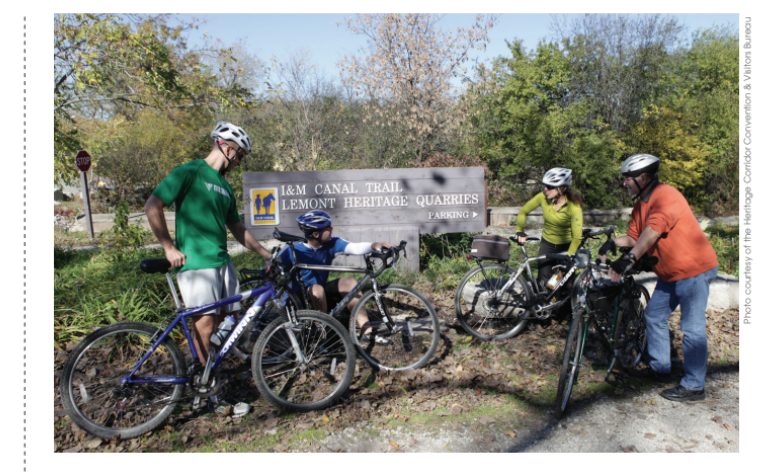 This relatively little-known and little-used gem begins in Willow Springs right off Archer Avenue and ends 13 glorious miles later in Lemont. What's so glorious about this paved path? What sets it apart is the utter lack of cross streets. You don't have to stop once for traffic. So buckle on the helmet and let it rip, at the pace of your choosing.
The great advantage of a no-stop ride is assessing fitness and challenging yourself to keep pace-with yourself. During the pandemic, when the YMCA was closed, I carefully timed each 13-mile jaunt.
A bit isolated and offering fewer entry points than most trails, the Centennial Trail is a haven mostly for riders. You see relatively few runners, dog walkers or parents with children on bikes. That makes it a relatively safer travel for bikers, of course.
Reliably free of broken glass and plastic soda bottles, unlike some trails, the path slices between the Des Plaines River and the I & M Canal. The former is wide and lazy, and the latter is rectangular and concise. You can easily outpace the long, hefty barges that ply the canal's placid waters.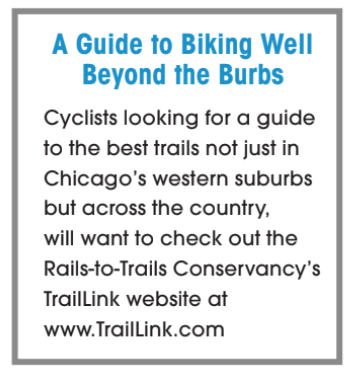 The topography varies nicely as you ride toward Lemont. Two miles into the ride on the left are a series of graceful hills that sport thousands of bright flowers seasonally. The Waterfall Glen area features an intricate man-made waterfall. After a forested area, dark and cool, you pass a bustling mulch yard with leviathan industrial machines transforming piles of tree trunks and stumps into a yard and garden resource. To your left, sitting serenely above the trees, are the peaks of the homes, churches and schools of Lemont.
In truth, the path does cross a little-used road at this point so exercise caution. Then it's past the Lemont Shipyard (yes, that's what it's called and there are ships) and Schneider's Passage, the last three miles.
Technically, the trail continues and eventually, if you know your way and can tolerate some rough ground and street riding, you can hook up with the I&M Canal Trail. In fact, some maps and books identify the Centennial Trail as part of the I&M Trail. That brings up the general disclaimer of rider beware: trails, or at least parts of them, can carry different names depending on the reference source.
A final asset of the Centennial Trail: most trails are not conducive to wildlife sightings. A high volume of users tends to drive away animals. On a recent ride on the Centennial, I passed a good-sized turtle ambling across the path, a snake curled up in the sun in the middle of the path and a skittish deer that saw me and galloped ahead of me on the trail for a quarter mile before stunningly veering sharply right and leaping over a two-foot concrete barrier. I also was privileged to watch a heron casually mosey across lilly pads in the lime-green pond that abuts the end of the trail.
Last year I saw on the path, by far the largest I've ever seen, a mammoth turtle, a fellow I estimated to be at least 100 years old. I stopped and watched as grandpa chugged along toward the old man river.
Trail Break: Double your pleasure: before the ride pedal a block or two to Ashbary Coffee House on Archer Avenue and pair a Hawaiian blend java with a "coma brownie"--a chocolate-chunk brownie decadently topped with frosting, Hershey kisses and chocolate chips. After the ride, near the coffee shop, down a stein or two at the adventurous Imperial Oak Brewing. Among the many tempting craft brews is the Udderly Black, a beguiling blend of roasted malts with a rich chocolate edge.
FOX RIVER TRAIL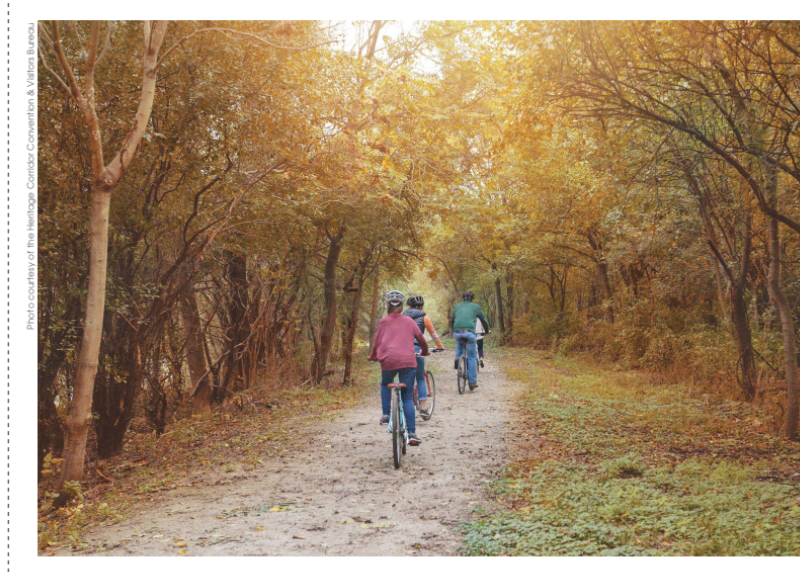 If the Illinois Prairie Path is the grande dame of trails, this is the rich uncle. The towns that dot the trail such as Batavia, Geneva, St. Charles, and, then further north, West Dundee and Carpentersville, possess a timeless charm, a sense of being removed and different from other suburbs. The Fox River Trail has that same feel, as if it were not constructed but always there and connected intimately with the past.
The trail starts in Oswego, but I like to begin close to I-88 in Aurora. You can park just east of Route 31 off Illinois Street at the trail lot on the river and across the street from the Prisco Community Center. Head north and you'll soon delight in viewing the river from the water's edge, crossing innumerable picturesque bridges, riding through the pleasant downtowns with their cute, locally owned and treasured restaurants and bars, coffee shops and ice cream parlors. These are worlds unto their own. Build enough time into your ride to stop for a burger or a treat.
Part of the trail's appeal is that it provides an open window to the river culture of this area. The homes that sit on the rise above the trail boast all sorts of boardwalks, piers, wharfs, improvised lookout points and nameless contraptions, as well as assorted gazebos, treehouses, fire pits, barbecue accoutrements and playground equipment. If you can buy it or build it and it enhances river life, you can spot it here. We humans are an inventive species. Backyard decorations are seasonal as well. One home in the Batavia/Geneva area annually displays a startling melange of tree-hung witches and ghouls in the fall. The leaves are far from the only attraction.
The trail is chock-full of historical and architectural sights. Just north of Batavia is the 68-ft-tall Fabyan Windmill, an authentic, working Dutch windmill dating from the 1850s. Near Elgin is Pratt's Castle, built in 1937 by medieval history buff Harold Pratt in imitation of the castles he saw along the Rhine River while he served in World War I.
Doing the trail would take weeks if you stopped at all the historical spots, but two more are especially noteworthy. Langum Park in St. Charles has a historical marker for Camp Kane, the training grounds for cavalry regiments of the Army of the Potomac. Clad in blue, the soldiers fought valiantly at Gettysburg, Manassas and Vicksburg.
The Jon J. Duerr Forest Preserve (formerly called the Blackhawk Forest Preserve) in South Elgin honors warriors further back in time. The burial spot for two soldiers who fought in the Blackhawk Indian War of 1832 is here.
If hungry, make a whistle stop at Dukes Blues n BBQ in East Dundee, a funky railroad-car eatery that adjoins the trail. If the sight of it doesn't lure you to hit the brakes, the smell of deep-South barbecue will.
It's 32 miles from Aurora to Algonquin, where the trail looks the same but takes on a new name: the Prairie Trail. Take that north for 26 miles and say hello to our Wisconsin neighbors. The trail is easier to follow the further north you go.
In the southern end, especially from Batavia to Elgin, the trail can meander on both sides of the river, require you to follow signs through streets, or leave you guessing about where to once again pick up the trail. It's easy for first- and even second-timers to get a bit lost. But passersby are quick to direct you back to the river path. Near South Elgin once, stuck on a back road that dead-ended to a clump of remote homes, I was led back to the trail through a path in the woods by a helpful young guy on a motorbike.
Trail Break: A no-brainer: head to Graham's Fine Chocolates & Ice Cream in Geneva for world-class desserts. The attractive screened porch will let you indulge your taste buds and rest your weary bones in style.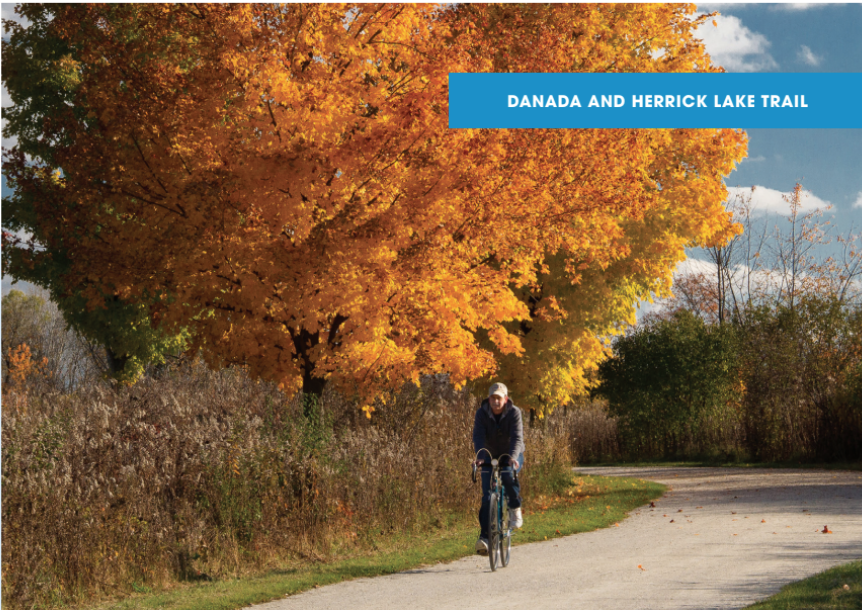 DES PLAINES RIVER TRAIL
Accessible at Fullerton Woods in River Grove, this mostly obscure 56-mile trail somehow has stayed off the grid. It quietly winds its way along the snaky Des Plaines through dense suburbs and underneath and across some of our busiest roads. But it draws few riders, and most compilation stories on local trails either ignore it or give it scant attention.
It's low profile likely is owing to its lack of identity, or, more accurately, multiple identities. In Cook County, especially toward its beginning (which officially is in River Forest near Thatcher Woods), the dirt path is narrow and filled with protruding roots, making it a rough go for a road bike. The trail here also floods after heavy rains, and sometimes, not-so-heavy rains.
In Lake County, the dirt and gravel gives way to asphalt or crushed stone. The trail is wider, smoother and overall more hospitable to biking.
A useful trick is to drive north on 294, exit and find a legal parking spot close to the trail. You can bike north and explore a surprisingly bucolic landscape hidden away amid busy suburbs or peel south and ride in a quasi-subterranean corridor where cars and homes seem to lurk above you.
Trail Break: Leave the trail, pedal hard for only a few seconds and practically coast to the world-famous Gene & Jude's in River Grove. The hot dog stand is pretty much a national landmark. It's a little bit on the grubby side, too — perfect for a bike rider.
THE ILLINOIS AND MICHIGAN CANAL
Want to get away? You don't need an airline to do so. Make your way to Joliet and on your bike make a beeline through a string of historic small towns in Illinois, a region not far in distance from Chicago but far removed from the hustle and bustle of city life. The I&M Canal spans 60 miles from Joliet to LaSalle. First in historical interest is the canal itself, built by hardy immigrants in 1848 to promote commerce between Chicago and the Mississippi River.
Along the canal are a plethora of locks, tollhouses and restored buildings, hearkening back to the canal's heyday before the iron horse made it an anachronism. Also on or near the route are Starved Rock State Park, Washington Square in Ottawa where Lincoln debated Douglas, and the Dresden Mule Barn, a rest stop for the animals that pulled canal boats until steam power came into use (and you think biking is tiring!)
The trail is rugged in spots and, for nearly its entire span, lonely and little-used. That makes it an outlier when lumped together with the other trails listed here. On this trail, you could just as easily be biking across the country. You're mostly on your own, a single moving speck amid a vast landscape of fields or woods. If you want to be alone with your thoughts, this is the ideal trail.
On the other hand, people in and near small towns instinctively reach out to others. Survival in isolation requires solidarity. Once on this trail I approached a church in the country and in the distance I saw a person stride toward it. The collared priest stopped, met my gaze and, as I knew he would, waved heartily to me, a two-wheeled pilgrim in search of the kind of peace offered on a bike trail.
Trail Break: If you make it as far as Ottawa, splurge at the upscale brewpub The Lone Buffalo, part of the Tangled Roots Brewing Company. It offers hoppy IPAs, darker stouts and porters, and crisp, lighter beer. It's home of "Farm to Foam" beer, made exclusively from hops and barley grown on their farm in town.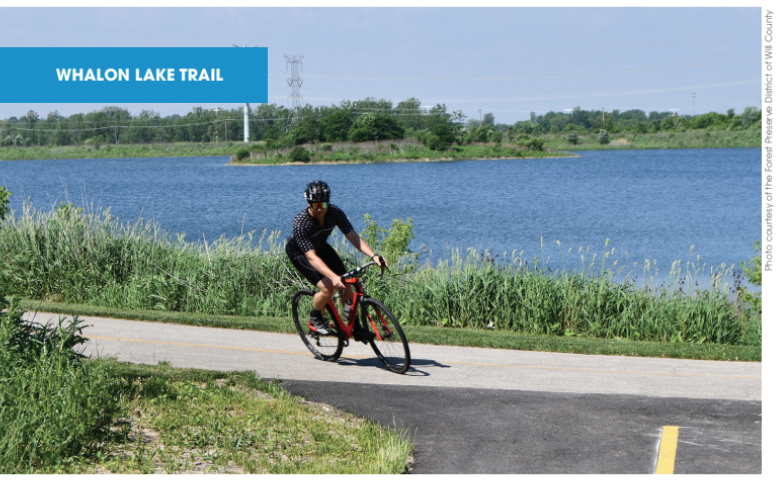 Not a Serious Biker but Still Like to Get Out and Ride? Try These Shorter Trails
For a shorter, less challenging ride, you can always do a portion of the trails listed in the main article and simply turn around at any point. Or try one of the many shorter local trails that often loop around and offer colorful flora and fauna.
• The 887-acre Herrick Lake Forest Preserve in Wheaton features the wonderful 8-mile Herrick Lake Trail. Nature abounds here with 470 different types of plants including 150-year-old oaks and 254 types of wildlife including deer, coyotes, raccoons, woodchucks, northern orioles, wood thrushes and various frogs and toads.
•The 1,829-acre Springbrook Prairie Forest Preserve in Naperville offers 7 miles of trails,most in a loop and most literally right through a peaceful prairie. The preserve is a remarkable birder's paradise, home to meadowlarks,dickcissels, grasshopper sparrows,woodcocks, bobolinks,northern harriers,short-eared owls and Henslow's sparrows.
• Woodridge offers more than 21 miles of off-road,asphalt-paved paths including the Veterans Memorial Trail, which ends in Romeoville.
• The 2,503-acre Waterfall Glen Forest Preserve in Darien, which includes a 9-mile loop trail,is one of the "most ecologically impressive parcels of open space in the Forest Preserve District of DuPage County, if not northern Illinois," according to the Forest Preserve. Cycle past the ever-flowing Rocky Glen waterfall as well as the impressive Sawmill Creek bluff.
• Fullersburg and Graue Mill Loop Trail is a 3.3 mile loop trail of gravel and asphalt near Oak Brook. The quaint Graue Mill, of course, is the main attraction.
• Located in the Ned Brown Forest Preserve near Elk Grove Village, the popular Busse Woods Trail, a 7.75-mile paved loop, showcases one of the most diverse forest preserves. One of the most-used natural areas in Illinois, the site includes ancient upland forests, one of the largest fishing and boating waters in Cook County and even an elk pasture.
• The Poplar Creek Trail is a 9.5-mile paved loop around Poplar Creek Forest Preserve near Hoffman Estates.The trail does cross some busy intersections (fortunately, with traffic signals), but the Shoe Factory Road Woods area on the west and the Bode Lake area on the south are unusually pretty for a suburban trail.
• The Algonquin Road Trail is a 7.5-mile circle into the Paul Douglas Forest Preserve in Hoffman Estates as well as a stretch on the Harper College Campus.
• One of the few,if not the only, place to ride a bike close to scientists unlocking the secrets of the universe is the Fermilab National Accelerator Laboratory Area Trail,a 8-mile loop trail located near Batavia
• A 2-mile multi-purpose trail winds through the scenic Aurora West Forest Preserve,715 bountiful acres of wetlands, woodlands and prairie.
• Traversing Sugar Grove and Aurora, the Virgil L. Gilman Trail encompasses quiet forests and prairie lands as well as bustling neighborhoods in just 11 miles. The rail-trail is built along the routes of two former railroads. Birders will spot woodpeckers, cardinal and blue jays along the path.
• A paved 3.7-mile segment of the DuPage River Trail is located in the Forest Preserve District of Will County's Whalon Lake, a popular preserve that features an 80-acre lake.The flat,paved trail travels through prairie and wetland before it connects by boardwalk to an existing bridge over the DuPage River and leads south to Hidden Lakes Historic Trout Farm in Bolingbrook.
• A 7.6-mile crushed limestone section of the I&M Canal Trail stretches from the Forest Preserve District's Joliet Iron Works Historic Site in downtown Joliet to 135th Street in Romeoville where path users can explore Isle a la Cache Museum,which focuses on the French fur trade era.
• The Lake Renwick Bikeway is a 3.35-mile paved path that travels through the Forest Preserve District of Will County's Lake Renwick preservation system, which is home to a variety of plant species. Trail travelers are also likely to see a wide variety of bird species including the great blue heron and great egret that make their home in the nearby Lake Renwick Heron Rookery Nature Preserve.