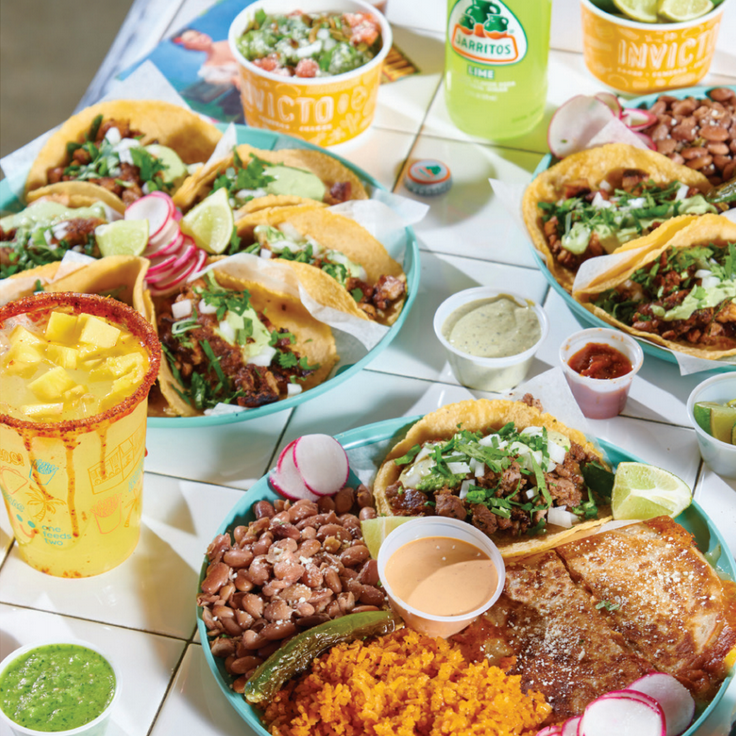 The food and ambiance at Invicto is exactly that, unbeaten, as it translates to English. The authentic taqueria-style dining experience offered by the Naperville restaurant will transport you to the southern coast of California if not all the way to the streets of Mexico.
And that is exactly where you will feel you have landed after walking inside — at a colorful Mexican street-food vendor, where the food is served on silver metal trays with garnishes of lime and radish slices. The concrete floors, the large tiled wall sink, the folding tables and chairs all add to the bright and cheery atmosphere.
The menu has an extensive selection of burritos, bowls and street style tacos, served on your choice of corn or flour tortillas and a tempting array of sides. The Aguacate Fritos, or Crispy Avocado tacos, are particularly delicious.
Another Invicto specialty is the tacos vampiros or vampire taco, a traditional Mexican antojitos ("little cravings") which refers to snacks typically prepared by vendors at small traditional markets. Invicto's take on the Mexican street food features a tortilla cooked till crunchy, then layered with cheese, slightly crisped around the edges with a melted core, then topped with salsa, onion, cilantro, guacamole sauce and your selection of crispy avocado, corn, mushrooms, shrimp or a selection of meats. The dish resembles a tostada but on a grilled- to-order tortilla, it explodes with flavor.
Invicto also offers a selection of Mulas, comprised of two soft tortillas with melted cheese and your selection of meat or one of the vegetarian options sandwiched in the middle.
Three choices of complimentary salsa are also offered with your food, the hottest of which is not for the faint of heart. The menu also features an assortment of beverages ranging from margaritas to Mexican sodas and a variety of Aquas Frescas, or flavored waters. As tempting as the food options are, you'll want to factor dessert into your selection. The variety of churro shakes are hard to pass up.
The-all Spanish menu generously provides English reference points so you know what you're ordering. The friendly and efficient staff is also happy to help in your menu selection, however, it wouldn't hurt to brush up on your Spanish before visiting. Albeit you can't go wrong in your choosing.
Vibrant décor and upbeat Latin music complete the distinctively "south of the border" ambiance. The casual counter order eatery offers a fast dining experience or take-out, if you're short on time. But the welcoming, relaxed vibe will likely make you want to stick around to unwind and enjoy your food and a cerveza under the globe string lights that hang from the ceiling.
In addition to the lively interior and tasty food, you will also feel good knowing that your meal served a charitable cause. At Invicto, when you buy a meal they provide a school meal to a child living in poverty through their partnership with One Feeds Two USA, a charity brought to the US from Europe by Invicto co-founders David Sloan and Franklin Wiener. The two are also the founders of Venture Kitchen, a creator and accelerator of early stage hospitality and food brands of which Invicto is included. Other dining concepts that are part of the group are Naansense and Blackwood BBQ.