DINE ALONG THE MAIN DRAG
Make your way through the hub and heart of the village in downtown La Grange, referred to by locals as "DTLG." Meander the stretch of La Grange Road leading up to and past the railroad tracks and the east-west side streets that intersect that thoroughfare, an area that's home to a wide variety of destination businesses, especially restaurants.
Name your craving . . . and you can pretty much find what you have a taste for in DTLG. Italian? It's all "bueno" at places like GP Italiano, Lucca's Pizzeria and Ristorante and Aurelio's Pizza.
Indian? . . . Discover new spicy and mild favorites at the popular Kama Bistro.
Mexican? . . . Order up authentic traditional dishes and some innovative takes on that cuisine at spots such as Santiago's, Casa Margarita, or a bit further south on La Grange Road, Brothers Mexican Grill. Or check out the hand-sized savory pies stuffed with various fillings at Empanadus.
Burgers? . . . Order them how you like them at MAK's House La Grange or Monk's Burgers and More, which is also known for its broad and welcoming bar and 12 big screen TVs.
See why . . . the Benchmark Burger at Palmer Place and Biergarten won a Chicago Gourmet prize a few years ago and, while you're there, have some fun figuring out which of the 100-plus draft beers, ciders and seltzers to sip, either inside or outside on the sprawling patio.
More of a dog person? . . . Get a Chicago dog or another of many varieties on the menu at The Hot Dog and Burger Company that serves up a slew of craft sodas, too.

Speaking of beer . . . brew up some fun at Milk Money Brewing, the only craft brewery in town, which also features an eclectic menu that includes a popular fried chicken dish.
Share your knowledge . . . along with a plate of food and some drinks at Barrel House Social, which attracts crowds to its weekly trivia nights.
Watch a mixologist . . . whip up a craft cocktail to go along with your steak or other meal at Steak + Vine.
Follow your nose . . . to Q-BBQ, which cooks meats low and slow to produce the tantalizing and unmistakable aroma of barbecue.
Go on a virtual culinary adventure . . . at Marco's Kitchen, whether on a regular night or as part of the chef's regular theme dinners.
If you're more in a ramen mood . . . get bowled over at Aodake Ramen or Forbidden Noodles.
If sushi is your thing . . . choose from a couple of great options — the popular Sushi Ukai and WOOW Sushi.
Explore other eateries . . . that specialize in Asian fare, such as Thipi Thai or Shang Noodle, which carries traditional Chinese menu items like General Tso chicken and walnut shrimp along with unique offerings such as sour pickle fish casserole.
Kick off your day . . . in La Grange with breakfast at one of the village's restaurants specializing in morning fare, like Blueberry Hill or the recently-opened La Grange Café across from the train station.
Grab an early smoothie . . . or smoothie bowl at Owl and Lark or expand your coffee horizons with a cardamom chai at Wheely's Coffee Lounge.
For a different type of caffeine buzz . . . stop by Wonderful Matcha for a wide range of hot and cold teas and other specialty drinks, as well as loose leaf teas and tea-making tools and accessories.
Make weekend brunch plans . . . at the eco-friendly Prasino — which means "green" in Greek and which also offers a diverse lunch and dinner menu.
Add some color to your day . . . with a purple-hued sparkly butterfly lemonade at Blackberry Market, which serves up a variety of breakfast foods and baked goods for breakfast in addition to salads and sandwiches for lunch.
Dine al fresco . . . at the many La Grange restaurants that offer outdoor seating along the sidewalk or on side or rear patios.
Elevate the outdoor dining experience . . . literally — at rooftop spaces. Savor your meal with a view at Fourteensixteen's rooftop seating area or on the top floor of The Elm restaurant, which also includes private rooms for special events.
Don't forget . . . the area north of the railroad tracks, where you can discover other places to nosh, like the Grapevine Mediterranean restaurant that has been a fixture since the mid-1990s.
Find your sweet spot . . . in this part of town, too, at Nothing Bundt Cakes or the recently-opened Crumbl Cookies.
For other tasty treats . . . check out the Balkan Bakery, Chad's Cheesecake, and CrumbCrusher & Lulu's, known for its dietary and allergy-friendly cake options.
Or head south . . . on La Grange Road to find other bites at locally-famous joints such as Tavern on La Grange and The Original Pancake House, among others.
Top off your meal . . . or maybe just come for a cold treat at one of the many ice cream and yogurt places that dot the downtown landscape in La Grange.
Swirl and top your own creations . . . at Forever Yogurt or Red Mango, or load up your ice cream with candies, cookie and other goodies at Cold Stone Creamery.
Taste ice cream churned in-house . . . at Tate's Old Fashioned Ice Cream Shop, which has become almost as well known for its owner Maria's friendliness as its homespun flavors.
Give in to your sweet tooth . . . at one of the confectionery stores in the village, including the Chicagoland staple Fannie Mae, Rocky Mountain Chocolate Factory and the locally-owned Lilett' Candies, each of which feature rows and rows of chocolates and other delights.

DO MORE IN DTLG
Sure, La Grange is known as restaurant row, thanks to it's wide range of dining establishments, but there's certainly more to do than dine in DTLG.
Catch a show . . . at the historic La Grange Theatre, recently acquired and renovated by Downers Grove-based Classic Cinemas. Take note of the building's original Art Deco-era architectural details, then enjoy the new heated reclining seats.
Support independent merchants . . . and shop for goods for yourself, others or your surroundings at charming stores and boutiques in downtown La Grange.
Hit your stride . . . at Peak Running with personally-fitted shoes and other athletic gear.
Get in the game . . . at Fair Game, which specializes in all kinds of tabletop games, from puzzles, to cards to boardgames.
Pick up a classic comic book . . . at Blerds Underground, named for its two self-described "black nerd" owners, whose goal is to make the comics industry more inclusive and accessible.
Entertain the little ones . . . at Waterlemon, a modern play cafe for children 5 and younger, with a gift shop, coffee bar and party venue.
Indulge yourself . . . with a find at Whisper Me Home, specializing in new, vintage and repurposed gifts and home goods.
Discover something darling . . . at, well, The Darling Shop, featuring an array of women's fashions and accessories.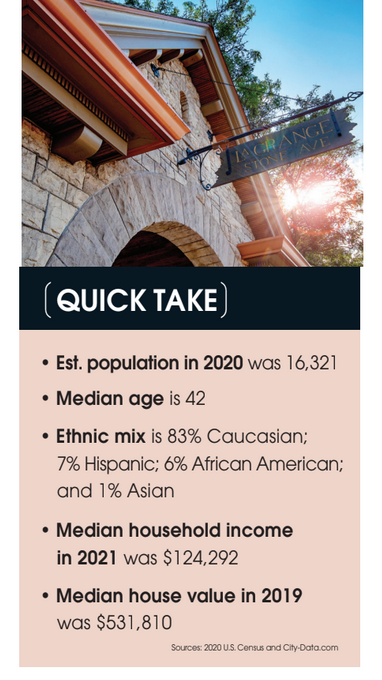 Put your best foot forward . . . at shoe, clothing and accessories boutique, JAYNE.
Add a touch of elegance . . . to your wardrobe with custom jewelry from Linnea Jewelers, which also offers repair services.
Expand your cooking prowess . . . with some high quality olive oil and balsamic vinegar products at Olivaceto.
Make your pet's day . . . with a treat or toy from Urban Mutt.
Tackle those weekend warrior projects . . . at Hortons of La Grange, with its downstairs Ace Hardware store and the upstairs Hortons Home Lighting and home goods store.
For flooring and carpet needs . . . head to DeSitter Flooring, a third-generation, family-owned business that has been a part of La Grange for more than 70 years.
Set aside some serious browsing time . . . at the multi-room Jackson Square Antique Mall, a multi-vendor marketplace offering a wide range of vintage items including furniture, jewelry and artwork.
Find great vintage clothing . . . while helping promote fashion sustainability, by shopping at popular resale shops Closest Closet and The Hope Chest.
Relax, refresh and restore . . . at the Primal Oceans Salt Cave — where you can detox in a salt cave or pamper yourself with other kinds of treatments — or at Luxxe Honor, which offers natural skincare, an "aroma bar" and wellness classes.
Take a Thursday morning stroll . . . around the La Grange Farmer's Market, which runs from May through October. See what the farmers have harvested in the past week and pick up other fun finds from local vendors, artisans and bakers.

JOIN THE CROWD
The Farmers Market is just one of the many events that La Grange hosts throughout the year.
Hightail it over . . . to the annual Pet Parade on June 3, a beloved community tradition since 1947. Check out the wide range of pets — many dressed up in costumes — and wave to members of the dozens of local organizations that march in the parade. Noteworthy Grand Marshals of the parade have included Luci Baines Johnson, daughter of President Lyndon Johnson in 1964, and Susan Dey and Danny Bonaduce of "The Partridge Family" in 1971.
After the parade . . . enjoy the annual La Grange Carnival, this year running from June 2-4.
Bookend your summer . . . with another popular festival, Endless Summerfest, which runs from Aug. 4-6 and features carnival rides, food, beer and live music.
Take in and maybe take home . . . artwork from one of the town's several art-themed events, from the newer Snack and Stroll "art and dining adventure" on June 24, to the multi-block La Grange Craft Fair on July 15 and 16, and the West End Arts Festival on Sept. 9 and 10. And throughout the summer, enjoy a relaxing respite on one of the 30 hand-painted "friendship benches" designed by local artists.
Stock up and save . . . at the annual La Grange Sidewalk Sale, slated for Aug. 25 and 26.
As the weather cools . . . save the dates for DTLG events like the Skeleton Scavenger Hunt and Skeletober in October, and the La Grange Holiday Walk on Saturday, Dec. 2.
GO WEST
A few blocks away from main downtown, see how the West End of
La Grange has become its own destination. Browse the racks . . . at locally-owned stores like Vintage Charm, Little Charm, Four Sons Mercantile and Jack's West End, all of which feature distinctive merchandise and friendly proprietors.
Grab a bite to eat . . . at the locally-owned and run Milkstop Café, named for the milk run trains that used to run through La Grange back in the day. Or for just a quick sandwich, check out the adjacent and recently-opened Milkstop West Side.
Go old school for Italian . . . at Antonino's Ristorante, with its charming façade and a menu chock full of Italian favorites and specials.
EXERCISE YOUR BODY AND MIND
La Grange may not have the extensive bike paths as other western suburbs and it may be smaller in size at 2.5 square miles, but there are plenty of ways to get moving in this town.
See how The Local Workout . . . lives up to its name through personal training and group classes.
Belly up to the barre . . . at Form Barre + Fitness that combines yoga, Pilates and ballet. Stretch your limits at Club Pilates. Or make strides in your fitness goals at Orangetheory or another aptly-named spot, Get in Shape for Women.
Sign up for the La Grange Rocks 5K . . . on June 9 and enjoy live music while you run the route.
Walk around the track . . . make the equipment rounds or shoot some hoops at the Park District of La Grange's Recreation Center, which also has an indoor children's playground.
Or get the kids outside . . . at one of the outdoor playgrounds at the 10 or so parks in La Grange, including the expansive Sedgwick Park.
Sharpen your mind and other skills . . . at the La Grange Public Library, where you can find helpful information on whatever topic or hobby you might want to pursue.
Throw it back . . . at the La Grange Area Historical Society, housed in a stately historic home at La Grange Road and 47th Street. In addition to browsing the many collections, join other history buffs at a June 23 picnic on the grounds with live music by the group Pink Raspberry.
Brush up on your painting skills . . . while sipping a favorite wine at Bottle & Bottega, which also offers candle-making workshops.
Take your artistic effort a step further . . . and enroll in a class at the La Grange Art League, which is home to a gallery for local artists as well.