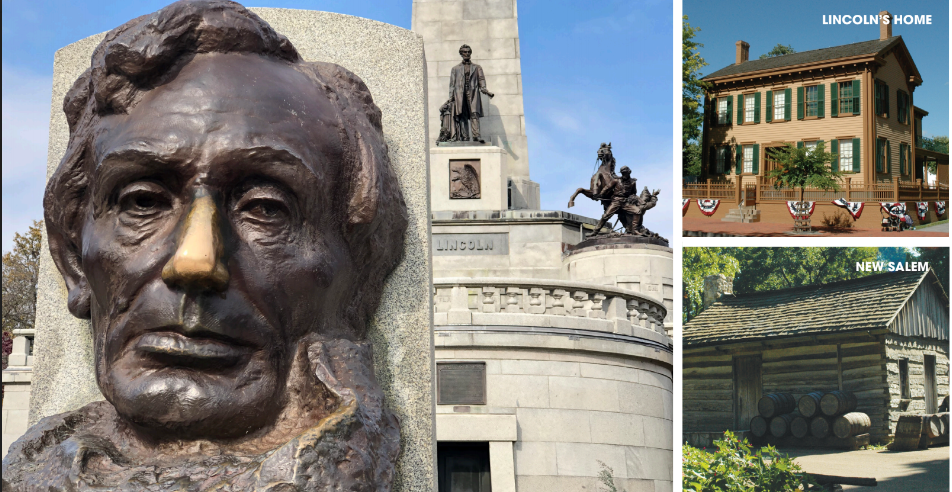 Those looking for a change of scenery this summer need look no further for inspiration than the inscription on the license plate of their cars — Land of Lincoln. Yes, Illinois is unabashedly the land of good ol' Abe, our nation's 16th president.
And where does one start to find Lincoln? The easy answer is Springfield, home to the largest concentration of Lincoln sites in the state and within a short drive of several others. Better yet, since Springfield is situated squarely in the middle of the state — as a proper state capital should be for easy access — it is a relatively short three hour drive down I-55 from the western suburbs.
That makes Springfield an ideal destination for folks looking to test the waters of taking a family road trip as the nation gradually awakens from its pandemic-imposed travel slumber.
Presidential Library and Museum
For those making the trek to Springfield, the first stop should be the Abraham Lincoln Presidential Museum, one of the most engaging presidential museums in the country. Sitting just one block off the historic central downtown, this museum is more Disneyland than dusty museum. Artifacts are scarce, replaced with excellent dramatic interpretations of Lincoln's life and times. Kids love it, and it's craftsmanship of storytelling will engage even the most jaded adult.
The museum is divided in half: to your left you can enter through an authentic log cabin and discover Lincoln's life before his presidency. On the right, you can enter a replica of the White House, and concern yourself with the challenges of his presidency. The harrowing emotions of a slave auction are balanced with an awkward moment of a young Lincoln courting his future wife Mary Todd. All these entangled experiences broaden your understanding of the creation of this complex figure who would lead our nation through our most trying time. Plus, there are enough realistic wax figures to make Madame Tussaud blush.
One of the highlights is a video wall showing the Civil War in four and a half minutes, which should be made available to every high school history class. You will find yourself entranced by the visual interpretation of the battles, while a tally of the fatalities increases to sobering levels. The final scene of the museum is a somber recreation of the presidents funeral in the halls of Illinois government where he began his career only a few short years before.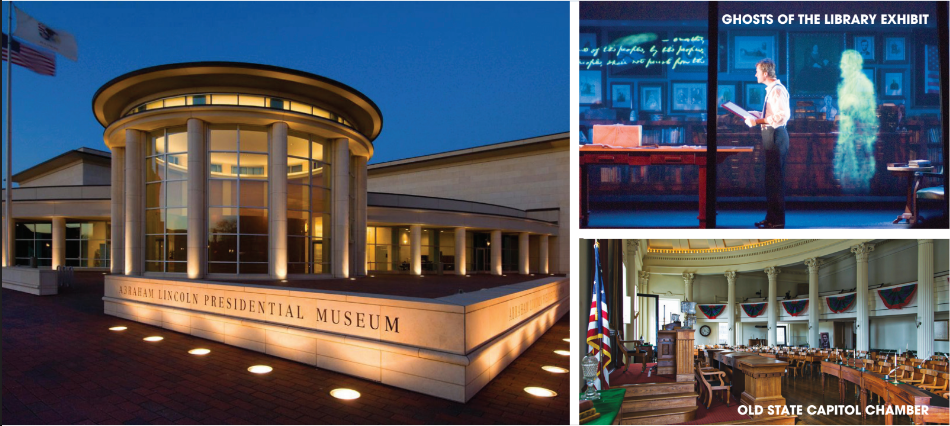 Between the galleries are two theatrical productions. Plop into your comfy chair in the Union Theater, and learn about the man in a multi-media show entitled "Lincoln's Eyes." Warning: they shoot cannons right when you'll be ready to drift off for a short nap. The second show, "Ghosts of the Library," interprets the nearby research library with jaw-dropping special effects, and will leave you with an urgent need to spread the gospel about the wonders of academic research. And yes, you will believe you saw an actual ghost.
But don't despair if you want to see sepia-toned artifacts from Lincoln's time. In a dignified, darkened "Treasures Gallery," you may encounter the iconic stove-pipe hat and other authentic items. Due to fragility, items are rotated into the display, so you never know exactly what you'll see — the iconic hat, the Gettysburg address, or even a bloodied glove from the Ford's Theater. The lack of quantity is balanced by outstanding quality.
When your head is full of newly-learned Lincoln facts — and still questioning how they made that ghost appear in the theater — the cavernous gift shop is available to sell you anything from historic novels to silly bobble-heads. Do they sell Lincoln Logs? You'll have to find that out for yourself.
A quirky aspect of the museum is that it contains replicas of historic spaces that exist within a few blocks of the museum. So with your newly acquired interest in archives and stove-pipe hats, you can move through the rest of your Springfield adventure fully up to speed on Lincoln history.
The Lincoln Home
Next stop would be the Lincoln Home, part of the National Park Service. The home sits within walking distance of the museum, ensconced in a neighborhood of restored homes helping set the scene of Lincoln's time in the city. It's easy to envision Lincoln coming back today, strolling the street, and saying "this looks so much nicer than it did in 1850!"
Nearby is the Visitors Center, with National Park Service rangers providing interpretation of the site. While the house has been closed during COVID, the Lincoln home's exterior and the surrounding neighborhood offer a wonderful scenic backdrop for a nice summer stroll.
Getting hungry? Downtown has a number of local favorites. Just west of the Lincoln home is Obed & Issac's, one of Springfield's favorite restaurant/coffee shop/brew-pubs. The complex spans an entire block and encompasses two historic homes, and a brick garage for brewing. For those still wary of indoor dining, the complex has extensive outdoor seating. Impromptu bocci ball tournaments are known to spring up as well.
After lunch, make your way back to downtown and tour the Old State Capitol. This building was the state capitol during Lincoln's time, and went through a painstaking restoration in the 1960s. It was dismantled stone by stone, moved five miles north of town, then reassembled back on the original spot with a modern parking garage and offices newly built below ground.
If you're paying close attention, you will recognize the main legislative room as the place where Lincoln laid in state — as seen interpreted earlier in the day at the museum — before he was taken to Oak Ridge Cemetery. The building is currently undergoing maintenance, so be sure to check for hours. If you have extra time, you can make a quick tour of the restored Lincoln's Law office on the southeast corner of the adjoining plaza.
The State Capitol
No trip to Springfield would be complete without a visit to the new state capitol building. Though built between 1868 and 1888, well after Abe's time in Springfield, the interior is worth a look, with bronze statues, colorful marble and plenty of gilded details. Be sure to ask about the spelling error in the stained glass state seal at the top of the dome!
The House and Senate halls are accessible from the viewing gallery, and you can watch state government in action. As an aside, this site was used as a substitute location for the Capitol in Washington in the movie Legally Blond 2.
A few miles northwest of downtown is Oak Ridge Cemetery, home of Lincoln's Tomb. This stately structure holds Lincoln and his family members in dignified and silent repose. Go inside and see the tomb where his body resides today.
Back outside, be sure to rub the nose of the Abe sculpture for good luck. Not unlike throwing a coin in the Trevi Fountain in Rome, rubbing the nose is a requirement for all visitors, and an iconic photo spot.
If you want to take a break from Lincoln, schedule a tour of Frank Lloyd Wright's Dana Thomas House. The house has many features that were radical for its 1904 construction — barrel vaulted ceilings, extensive use of art glass and electric lighting.
New Salem
Nearby, Lincoln's New Salem sits comfortably in a wooded riverside clearing about 20 miles northwest of Springfield near the small town of Petersburg. This reconstructed village of log cabins is where Lincoln first established himself in Illinois. His attempt at being a merchant failed, but this community helped establish his values and perspectives. The crude cabins, shops, and schoolhouse were a stark contrast to the metropolitan delights of Springfield, which enticed Lincoln just down the nearby Sangamon River. A visitor's center and costumed interpreters make New Salem an engaging half-day experience, and make you question the early settlers choice of wool as their preferred clothing material.
But Springfield is not all log cabins and Lincoln hats — there are modern delights as well. Sitting like a retail beacon on the southern part of town is Scheels, which is a sportsman's paradise. This emporium is full of curiosities, including a walk-thru saltwater fish tank, digital games, Instagram backdrops, and robotic talking presidents — all surrounding an atrium with an indoor ferris wheel.
Washington Park lies on the near west side with highlights including a rose garden, small in-door winter garden, and the towering 12-story Thomas Rees Memorial Carillon featuring 67 bronze bells that provide concerts on select summer evenings.
Got more time? Other local sites of note include the child-oriented Kidzeum of Health and Science, Illinois State Museum, Illinois State Military Museum, and the Lincoln Depot.