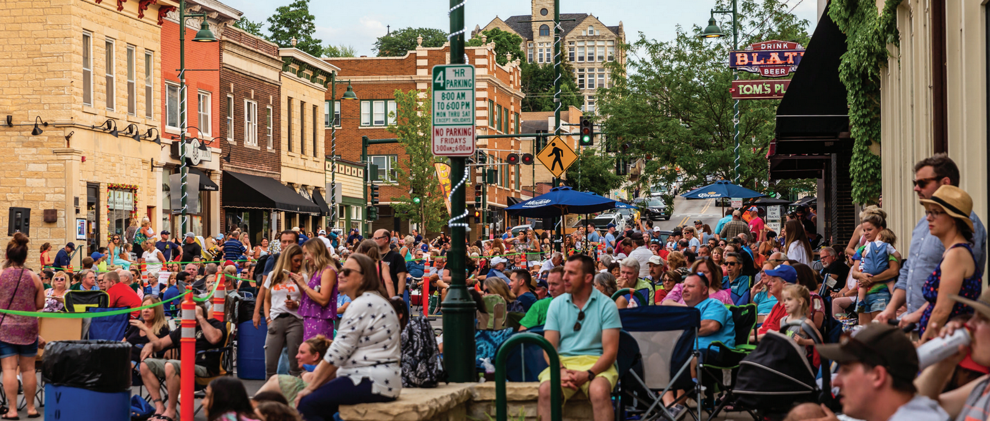 Pass through Lemont and you might think you're in another part of the country. Some might envision themselves along a main drag in a western town, while others could find similarities with a New England village. However it's viewed, Lemont is decidedly distinctive because of its rolling hills, arching bridges, 19th-century storefronts, native limestone facades and sky-piercing steeples jutting out from historic churches.
One could certainly fill up a postcard detailing the sights and attractions in this southwestern suburb that's considered one of the oldest towns in Illinois and is now home to more than 17,600 residents.
PICTURE-PERFECT SCENERY
Take in the view from higher ground as you descend into Lemont. Wind and
weave your way to the main downtown district (more on that later) and through open areas that remain rather unspoiled.
Check out a breathtaking vista . . . at the Waterfall Glen Scenic Overlook above the Heritage Quarries inside the Waterfall Glen Forest Preserve. Get a mini-history lesson while you're there by reading the signage detailing the glacial formation of the hills and waterways.
Pack a picnic lunch . . . for an outing to the Heritage Quarries Recreation Area, a spot that's also popular for biking and running. Bring along bait and tackle if you want to try your hand at fishing the quarry waters. Make sure your phone is charged or your camera's batteries are ready when you encounter a scenic waterfall on the east side of the site.
Channel your inner explorer . . . and discover the Illinois and Michigan (I&M) Canal. Stroll along the trail by the historic canal that was originally dug to connect New York to Chicago to the Mississippi River and, ultimately, to the Gulf of Mexico. Want to ride but didn't bring your bike? Rent one at a station along the trail. For another vantage point, kayak the canal waters.
Follow the I&M Canal Trail . . . or one of the other trails that connect to the 26-mile Cal-Sag Trail stretching from Archer Avenue in the Lemont area to the Burnham Greenway near the Illinois-Indiana border.
Add some adventure . . . to your exploration of Lemont with a trip to The Forge: Lemont Quarries, the largest aerial adventure park in the country, featuring more than two miles of ziplines, 300 high ropes elements, and 90-ft climbing walls. You don't have to be a seasoned adventurer — The Forge offers beginner elements as well as intermediate and advanced ropes courses and ziplines.
Other recreational offerings include laser tag, archery battle tag, axe throwing BMX and mountain bike riding, and kayaking and canoeing.
Looking for something more low key? Stretch out at sunrise and sunset yoga classes held on the lawn or unwind at the onsite café.
The Forge also hosts a variety of special events including live concerts throughout the summer, a Food Truck Festival on July 2, and Forge Fest July 16 with live entertainment, food and more.
EMBARK ON A SIGHTSEEING TOUR
Does that gold-tinged stone on many commercial and civic buildings in Lemont look familiar? Look up close and you'll see that it's the same dolomite limestone used to construct the Water Tower and Holy Name Cathedral in Chicago and the Illinois capitol in Springfield.
Learn more . . . about the local history of dolomite limestone and the important role that Lemont played in the construction of landmarks around the state with a visit to the Old Stone Church, aptly named because the stone-clad building is the oldest church structure in town and home to the Lemont Area Historical Society.
Browse other collections and artifacts while you're there and sign up for one of the society's tours, including a walking tour of downtown Lemont, a visit to the Heritage Quarries, and a guided tour of the museum's building and grounds.
Continue your architectural tour . . . of Lemont at the iconic Greater Hindu Temple of Greater Chicago, set upon a hill on Lemont Road. Take advantage of the meditative space and sign up for a yoga class at the temple, which holds several religious services each week.
Browse the gift shop . . . which carries religious artifacts and decorations along with an array of sarees, and look into the calendar of events that lists cultural festivals offered during the year.
Explore another . . . architecturally-significant hillside structure in Lemont, the cathedral at SS. Cyril and St. Methodius built by Polish immigrants and known for its stained glass and ornate detailing, as well as its elegant exterior.
Pique your interest . . . in science and history with a tour or a public lecture at Argonne National Laboratory, a science and engineering hub that began as part of the Manhattan Project during the Second World War and continues to develop new breakthroughs. After a COVID-related hiatus, public tours are set to resume this summer.
HISTORIC DOWNTOWN LEMONT
Listed on the National Register of Historic Places, Lemont has an abundance of distinctive buildings which you can learn more about via the many plaques and signage that dot the downtown area.
As you traverse the central business district, note the many artistic elements that are woven into spaces here, from mosaics to murals. The colorful pieces are a part of public art displays made possible by the city's art and culture commission.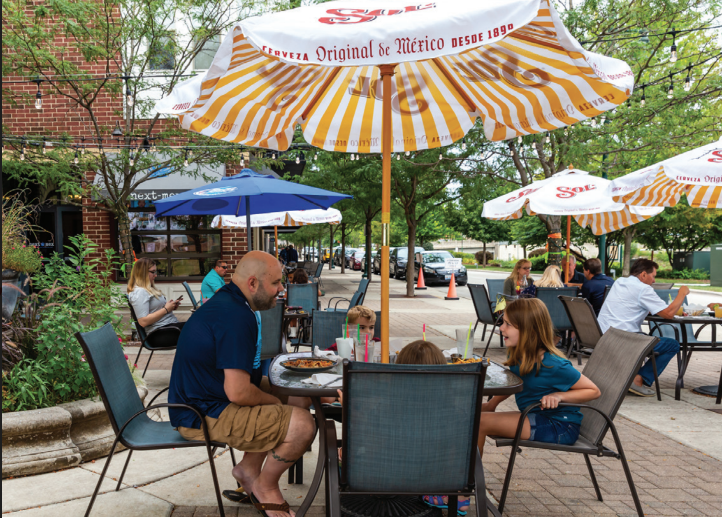 Bring your appetite . . . to downtown Lemont, because you'll need it when walking past the fragrant aromas emanating from La Dolce Vita, housed in a circa-1871 building and serving up an array of Italian dishes; or local fave Gelsosomo's Pizzeria & Pub; or the wood-fired ovens at Wooden Paddle Pizza.
Peruse the menu . . . for crafted drinks and fare at Barrel & Vine, which offers stick-to-your-rib choices like Portabella Napoleon and short rib Bolognese, along with handhelds and a variety of fresh salads.
Get a taste of the south . . . at Corner Stone Tavern. Though the name of the place is Lemont-esque, the dishes that complement the roster of beers, whiskeys and other adult libations are inspired by southern cuisine, like loaded potato cracklings, fried green tomato sandwiches, and hot chicken dinners.
If you have a hankering . . . for pulled pork or want to try a flight of mac and cheese, order up at Digs on Canal, which also pours a house-recipe sangria with a percentage of that drink's sales going to support breast cancer research.
Whisk yourself and friends away . . . to a cantina, courtesy of the Next Mex restaurant that creates inventive takes on Mexican and Tex-Mex fare and carries a wide variety of tequila, mescal and whiskey offerings.
Get your Irish up . . . with a pint of Guinness, a forkful of bangers and mash, or other food and drink items proffered by the folks at Hughie McClafferty's.
Top it all off . . . or cool down with a scoop of ice cream at the Creamery, a hallmark of the southwestern burbs, or order a cold brew at the mobile café run by small batch roaster Sandhill Coffee.
If you're a beer lover . . . sip one of the many varieties at the well-known Pollyanna Brewery and Taproom that draws aficionados and locals alike. The original Pollyanna — there are now three locations — also hosts live music and food trucks during the temperate months.
Pull up a barstool . . . at other bars and pubs in downtown Lemont that reflect its homey, small-town vibe, like Nick's Tavern, which cooks up a mean Nickburger, as well as the watering holes Canal Street Pub, Tom's Place and Petersen's Main Inn.
Swill a martini . . . or linger over a glass of vino at One Eleven Wine & Martini Parlour. Groove with drinks and live music at Bottles Lemont or do a wine tasting at BTB Wines.
Venture out . . . to other parts of Lemont to discover eateries including 3 Corners Grill & Tap and Rustic Knead as well as Rosebud, Hamilton's Pub, Heroes West and Kitaro.
And be on the lookout . . . for several new dining options — Capri Restaurant, Matt's Barbecue and Pollyana Social — slated to open in coming months.
YEAR-ROUND SPECIAL EVENTS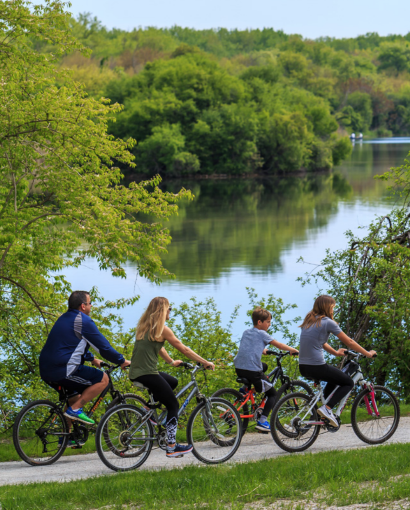 After a two-year lull, jump back into the thick of downtown Lemont's many special events, like Lemont Legends Cruise Nights and Sunset Soiree concerts, held every week during the summer.
Celebrate Independence Day . . . at the July 3 extravaganza in Centennial Park, where you can hang out in the food or beer area, take the kids to activities and entertainment spots, watch a band on stage and enjoy the fireworks show at dusk.
During Labor Day weekend . . . take in the annual Keepataw Day Parade on Sunday, Sept. 4th. Dating back to 1951, the event provides a reminder of the village's native American past and a celebration of its rich history of community involvement.
Scare up a good time . . . at the annual Lemontster Days in October, a perennially popular event featuring a month's worth of Halloween fun. In the past, Lemontster Days have included a haunted house, hayrides, costume contests, parades for people and pets, a "Witches Walk" with wine and spirits for women, a ghost walking tour of downtown Lemont and, of course, trick or treating for kids.
Ring in the holiday season . . . with special tree lighting and shopping events held in November and December. And while January may be quiet in other towns, not here — an annual Ice Fest draws people out of their homes and Lighting Up Lemont continues through February.
GET THE GOODS
While you're downtown, check out the wide range of shops including Mabel's Market, featuring farmhouse, cottage and vintage goods as well as locally-made items.
Entertain and educate the little ones . . . at Three Stories Books, an indie bookstore with books for kids as well as storytime and other activities for children and families. It also offers periodic special events like Mommy and Me yoga classes.
Find your happy place . . . at 1 Happy Girl Boutique, where you can find clothes, accents and more with a free-spirited, boho kind of aesthetic.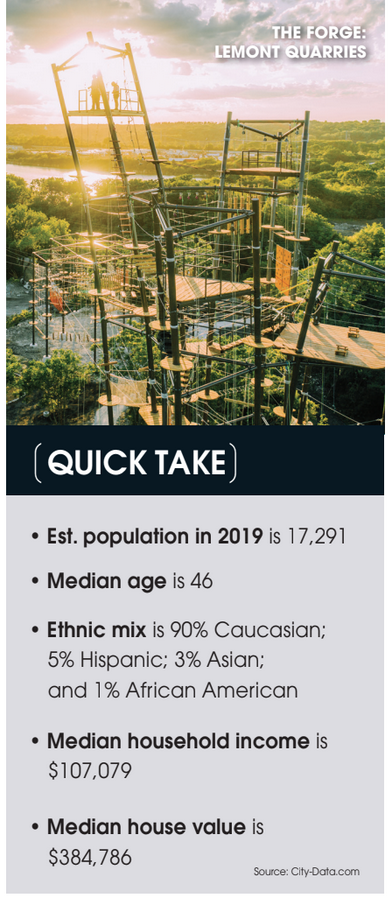 Grab garb . . . for your next outing at Jilley's Boutique, known for its distinctive women's clothing and accessories. Or get a custom Lemont-logoed t-shirt or other screen-printed apparel at Eich's Sports
Add to your collection . . . whether you have a penchant for vintage finds (Smokey Row Antique Shop), classic vinyl (B-Side Records), or trains, models or crafts (Oakridge Hobbies and Toys), there is a shop to meet your needs.
Stock up on supplies . . . for your hobbies and pastimes at the needlecraft shop Inspired Needle, or the design studio That Girl + Company, the latter of which also opens up its space for special events. Other event venues in town include 223 Main and The Bridge Lemont banquet hall.
PUT AN ARTISTIC STAMP ON IT
Appreciate art — and maybe take some home, too — during a visit to the Lemont Center for the Arts, which includes a gallery and a gift shop. Keep tabs on the center's event calendar to read about upcoming exhibits.
Broaden your global horizons . . . at the Lithuanian Museum of Art, housed at the Lithuanian World Center, the hub for more than 40 Lithuanian organizations in Lemont.
MOVE ALONG
Now that the greens are getting lush, make a tee time at the Pete Dye-designed Ruffled Feathers Golf Club, featuring 114 bunkers, a variety of water hazards, and beautiful native wetlands.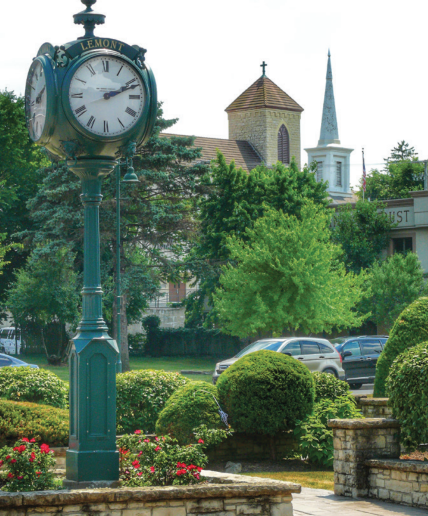 Or head over to . . . nearby Cog Hill Golf and Country Club, featuring four 18-hole courses including the famed Dubsdread, which has been the site of several professional golf tournaments over the years.
Burn off some steam . . . (and some calories) at a park, field or program run by the Lemont Park District, which manages more than 22 sites in town, from wide open spaces, to a sprawling fitness facility and the Centennial Outdoor Aquatic Center.
Finally . . . given the fact that there's so much to do and see in Lemont, make it a staycation and book a room at the Inn at Smokey Row, a B&B in the middle of the downtown area.