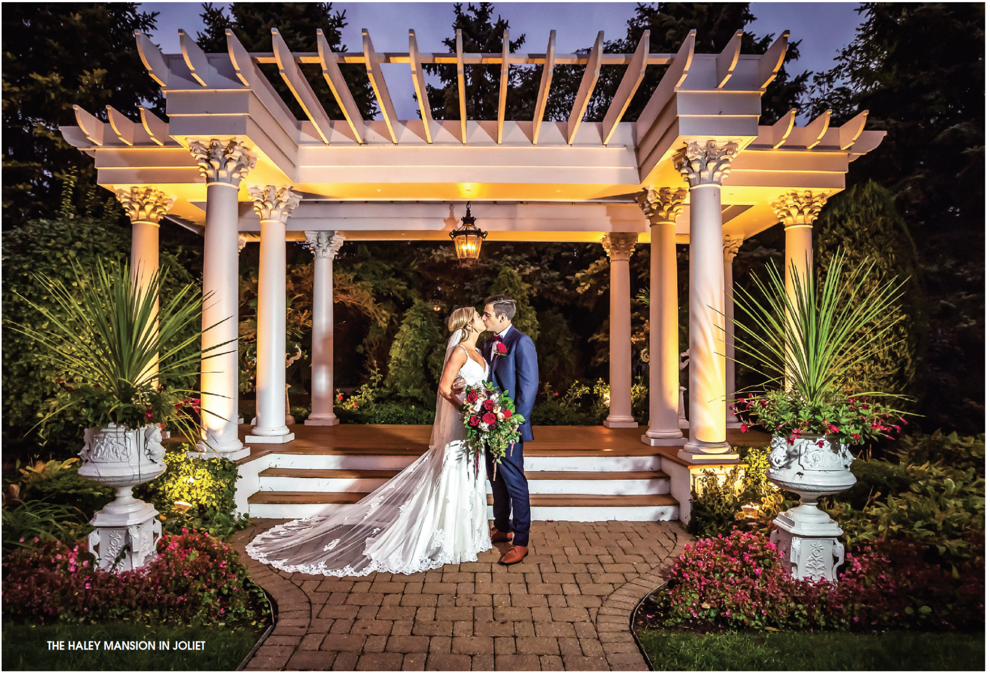 Flexibility has been a much needed attribute for betrothed couples the past year, as the pandemic played havoc with the best laid of wedding plans. The biggest adjustment, of course, has been in the reduced number of guests that can attend due to state imposed limits on group gatherings. While some weddings have been postponed, most have gone on as scheduled, albeit with significant adjustments.
Such was the case for a wedding reception last September at the Herrington Inn in Geneva. Originally planned for 100 people (when guidelines only allowed 50), Deanne Mitchell, the Herrington's longtime director of catering, suggested splitting the invitees into two groups and holding receptions on consecutive nights so everyone could still attend. The couple loved the idea, everything went smoothly, and as an added bonus, the bride got to wear her gorgeous dress twice.
For another wedding slated for December, when heightened pandemic restrictions were in place, Mitchell suggested moving the wedding to summer and doing "Christmas in July," in part to accommodate decorations which had already been purchased with a holiday theme.
"We know this pandemic is an 'act of God,'" says Mitchell, "so we work with all of our brides and grooms for whatever they need to make them feel more comfortable and at ease."
The many complications resulting from the pandemic made the choice of venues all the more important. Fortunately, the western suburbs are home to a wide selection of award-winning wedding venues, from elegant ballrooms to former mansions, lavish gardens and waterside settings. Just as importantly, behind the scenes are committed staff committed to creating a memorable, once-in-a-lifetime experience.
Following are a sampling of some of the top wedding and reception venues in the west suburban area.
The Herrington Inn & Spa in Geneva
Featuring the comfortable luxury, elegance and charm of a waterfront European inn, the Herrington Inn & Spa offers a dream ambiance for your wedding.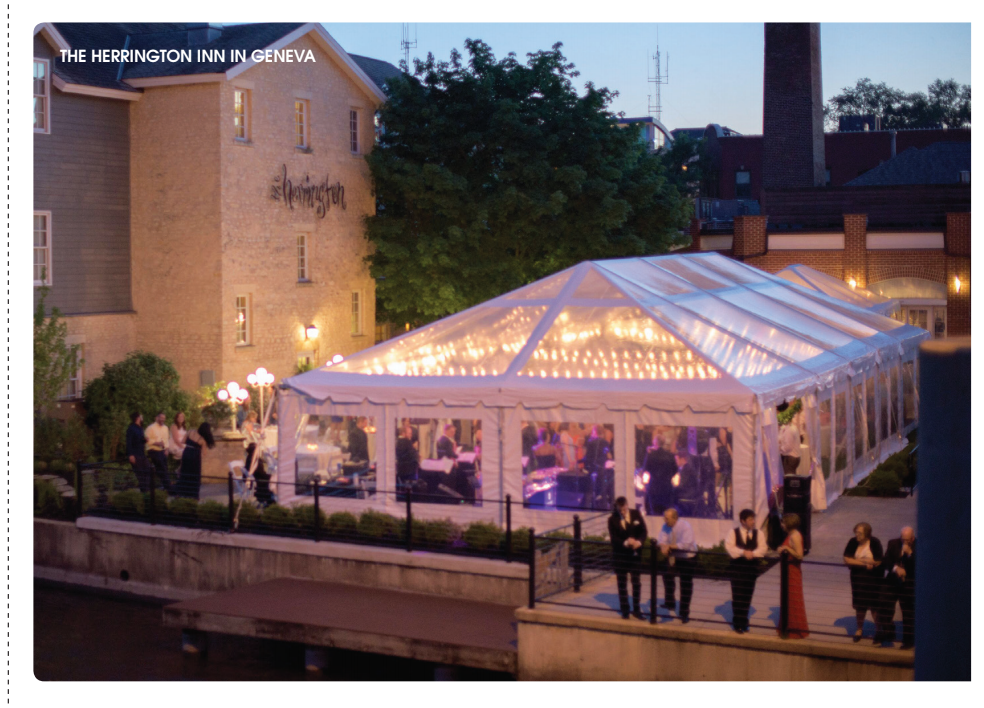 Nestled on the Fox River in Geneva and featuring 60 elegantly appointed rooms and suites, the Herrington is a AAA Four Diamond luxury hotel. It features a distinctive banquet space with plenty of character, including a wall of windowed doors overlooking the Fox River and the Plaza Patio with a pond, a pristine outdoor courtyard with lush greenery, ideal for elegant wedding ceremonies and receptions. All is orchestrated by Deanne Mitchell, our wedding planner celebrating 20 years! One wedding at a time . . . elegant white- glove parade-style service . . . beautiful plates designed by Chef Gillespie . . . plus, your wedding night in a beautiful room with a romantic canopy bed.
herringtoninn.com 630 208-7433
DoubleTree by Hilton Lisle Naperville in Lisle
Bring as many as 400 loved ones together for your once-in-a-lifetime celebration. Weddings have been the specialty at this hotel for more than 35 years. Staff wedding professionals handle every detail to ensure the wedding exceeds all expectations.
From the elegant ballrooms to the chef's award-winning culinary creations, the DoubleTree by Hilton Lisle Naperville awaits the opportunity to create a unique wedding vision. Choose from three chic ballrooms, including the Regency Ballroom with more than 5,200 square feet of versatile space. Crystal chandeliers and double entrance doors add elegant touches to the well-designed spaces. The services provided to wedding parties are exceptional and produce memories for everyone to cherish.
Couples may collaborate with our executive chef to customize any menu to meet preferences or dietary needs. Expect a variety of options made with quality, fresh ingredients. Couples may also choose from a vast assortment of wedding cakes or create their own design.
lislenaperville.doubletreebyhilton.com 630 245-7627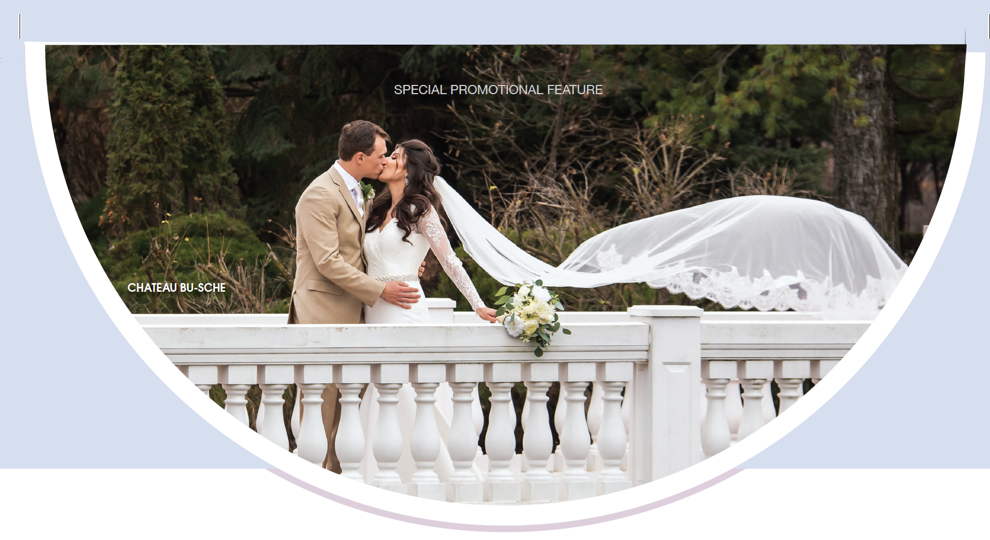 Chateau Bu-Sché
Entering the foyer at Chateau Bu-Sché, guests marvel at the magnificent lighting, the stunning ceramic flooring, the massive fireplace and the impressive two-and-a-half-story ceiling.
Accommodating up to 350 guests for wedding ceremonies and receptions, the romantic atriums in the magnificent Crystalane Room and glamorous Tamerlane Room feature silk drapes, white marble floors, beautiful crystal chandeliers, oversized windows and a glass wall that opens fully for an outdoor ceremony by the Arbor.
Outside, lush gardens, a beautifully landscaped creek walk with benches, flowering roses and the Creekside Gazebo — which can seat up to 200 guests — are the perfect setting for an unforgettable experience.
Dramatic food presentations delight the senses at Chateau Bu-Sché. Remarkable cuisine, gorgeous sweet tables and delectable hors d'oeuvres are the signature of a truly unique reception site. And the tuxedoed staff provide professional service in the timeless classic style.
Experienced event coordinators are happy to assist in answering any questions or concerns or in setting up an appointment to view the many available amenities available at Chateau Bu-Sché.
chateaubusche.com 708 371-6400
The Haley Mansion
The Haley Mansion offers a truly elegant location for wedding ceremonies and receptions. The castle-like, 1890s-era mansion provides a distinctive, upscale atmosphere, highlighted by the lavish conservatory and ballroom, which can accommodate up to 350 guests for plated service.
The reception hall is decorated with elegant crystal chandeliers, stunning marble floors, stately columns, starry-sky accent lighting and sheer billowing fabric lining, while boasting scenic and panoramic views into the beautiful lush gardens.
Guests will dine at oversized tables with gold chiavari chairs and gorgeous ivory damask table linens with matching napkins. Dinner is served on classic china with 14k gold and platinum accents and oversized glass stemware. The professional staff dressed in black-tie will provide butler-passed cocktail service to all guests.
Memories of a lifetime follow as guests enjoy the ballroom, veranda, porches and the lovely landscaping and grounds.
thehaleymansion.com 815 726-6800
Harry Caray's Italian Steakhouse at the Westin Hotel in Lombard
Harry Caray's combines one of the largest, most elegant event venues with legendary, award-winning cuisine and impeccable service. A team of experienced wedding planners assists with every aspect of the wedding reception — from
menu selection to linens, flowers and beyond. The facility accommodates 350 guests for plated events or the space can be divided for smaller gatherings. Floor-to-ceiling windows open onto an expansive terrace overlooking a beautiful pond and fountain.
Harry Caray's can also help families connect with a variety of trusted vendors for audio visual equipment, flowers, linens, entertainment and any other needs.
The staff is pleased to help couples book major sports celebrities to participate in wedding events.
harrycarays.com 630 953-3400
Hotel Arista in Naperville
The Arista bride likes to write her own wedding story. The hotel's expert planners will help create a dream wedding, with all of the personal touches individual couples demand.
There are a number of unique spaces and a Grand Ballroom that accommodates up to 300 guests, full-service catering and customized wedding packages that may include bridal party services at Arista Spa & Salon, rehearsal dinners at Che Figata, and post-wedding brunches at Zorba. Plus, Hotel Arista offers a complimentary honeymoon suite for the wedding night, complete with chilled champagne and chocolate-covered strawberries.
hotelarista.com 630 579-4100
Drury Lane in Oakbrook Terrace
The best day of your life begins with Drury Lane . . . and ends with dancing the night away under soaring ceilings and Swarovski crystal chandeliers.
Whether you are planning an intimate celebration or a reception for over 500 guests, Drury Lane Events guarantees your big day will be truly unforgettable. Our customizable wedding packages include a five-course meal, four hours of open bar, a complimentary wedding night suite, and more.
Our Events Specialists will be at your service the entire night, ensuring your celebration goes off without a hitch and giving you the stunning, stress-free wedding of your dreams.
drurylane.com 630 530-8300
CityGate Grille in Naperville
CityGate Grille's Terrace Room offers an indoor-outdoor wedding experience for up to 180 guests. Its paved-brick patio is strung with ambient Edison lights and features a fire pit. Inside, with floor-to-ceiling windows, the Terrace Room overlooks natural foliage and a pond, ideal for ceremonies, cocktail receptions and wedding-day photographs.
CityGate Grille's experienced wedding planners will guide you through selections to create your personalized package.
Located on the CityGate campus with Hotel Arista, your planner can arrange overnight packages for you, the wedding party and guests.
Additional spaces are ideal for rehearsal dinners and brunches.
citygategrille.com/weddings 630 579-7823
Cantigny in Wheaton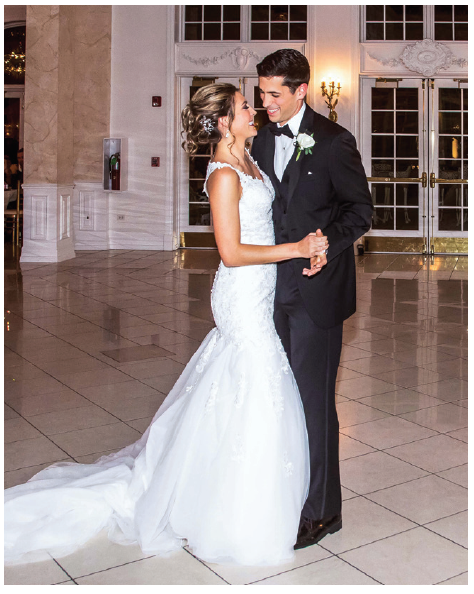 The 500-acre estate includes beautiful botanical displays, brick pathways and tranquil water features — an idyllic setting for your special day.
Cantigny's exquisite gardens provide a natural sanctuary for outdoor ceremonies. For receptions, choose from three distinctive venues: Le Jardin at Cantigny Park, the Red Oak Room at Cantigny Golf, and the popular new Woodside Pavilion, a premium tented space adjacent to the links.
Whether it's creating the perfect menu or finalizing decor, Cantigny's professional staff will help create your ideal, worry-free wedding day.
Incentives are available for Friday and Sunday events.
cantigny.org 630 260-8145
Arrowhead Golf Club in Wheaton
A highly sought-after wedding venue, Arrowhead Golf Club offers a charming stone and brick clubhouse set on beautifully landscaped grounds with a manicured golf course, a lake, flowing fountains and lush fairways.
The picturesque site offers spaces for both indoor and outdoor ceremonies and receptions.
The magnificent ballroom accommodates up to 275 guests or can be divided into three smaller areas for more intimate receptions.
The romantic stone veranda overlooks the fairways and is perfect for cocktail hour. After the main reception meal, guests can dance the night away on the spacious wooden dance floor.
arrowheadgolfclub.org 630 653-5802
Elements at Water Street in Hotel Indigo in Naperville
Conveniently located along the popular Riverwalk in downtown Naperville, Elements at Water Street offers custom menu planning, wedding coordination, premium full-service bar and personalized tastings.
This stunning ballroom boasts an organic, contemporary space with a signature wood ribbon ceiling and offers a separate pre-reception area for cocktails and hors d'oeuvres. The ballroom comfortably seats 250 guests. Local art, rustic wood tones and antique touches immerse guests in the history of the Naperville Riverwalk neighborhood, which makes a perfect backdrop for bridal photos.
The venue's premier wedding package delivers preferred Hotel Indigo room rates for guests, plus package pricing for the Century Memorial Chapel at Naper Settlement, a perfect location for wedding ceremonies.
elementsnaperville.com 630 717-2800
Riverside Receptions in Geneva
A stunning view is what usually captures the hearts of our wedding couples as they can see themselves playing a part in this fairytale setting.
From the European courtyard, with its overflowing flower boxes and perennial gardens, to the riverfront terrace where cocktails can be enjoyed on the newly remodeled patio, they feel as if they just stepped out of the pages of a romance novel.
The cozy limestone and brick house, with fireplaces and floor to ceiling windows, sets the perfect backdrop for a variety of distinguished tastes. Whether looking for rustic, formal mansion, warehouse, or farm, our brides feel it checks all the boxes!
Nestled in the charming historic city of Geneva, your guests will make this a destination wedding, close to home.
riversidereceptions.com 630 262-8371
St. Andrews Golf & Country Club in West Chicago
Brides may start their day in one of Chicagoland's largest bridal suites, equipped with both make-up and hair bars, as well as a mirrored viewing platform and a large sitting area. For those choosing an on-site ceremony, take a stroll out to the exquisite, lakeside ceremony site with mature shade trees, ornamental grasses and perennials, and seating for up to 375 guests. Or stay inside where a luxe draping and twinkling curtain light background is also available. After the ceremony, family and friends make their way to one of three banquet rooms than can accommodate 25 to 375 wedding guests.
The St. Andrews Room with its large, covered private outdoor patio, offers a picturesque view of the St. Andrews course and adjacent flower gardens. This room seats up to 275 guests by itself or up to 375 by opening up into the Trophy Room.
The Trophy Room can seat up to 100 guests and features hard wood floors and a cozy stone fireplace. It may also be used in combination with the 19th Hole for cocktails and dancing.
standrewsgc.com 630 231-3100 ext. 115
Chef By Request
When it comes to weddings, there is absolutely no margin for error. Chef By Request is ready to create an atmosphere of unforgettable elegance.
Exquisite cuisine, first-class presentation and impeccable service are the essential ingredients that the catering expert combines to exceed the highest of expectations.
Chef By Request has orchestrated countless upscale events in myriad off-premise locations, from Frank Lloyd Wright churches to the chapel and grounds of Naper Settlement.
chefbyrequest.com 630 493-4300
Start planning Your DreamWedding in Naperville
Did you recently get engaged and want to start planning your big day in Naperville? We know planning a wedding can be stressful, but with the complimentary assistance of the Naperville Convention and Visitors Bureau (NCVB), wedding planning can be done with complete ease.
Whether you're looking for the perfect venue or a room block for your guests to stay overnight, the staff at the NCVB is more than willing to help.With 17 hotels and numerous traditional and nontraditional venues in Naperville, you'll be provided with a beautiful backdrop for your special day. The NCVB will also provide guests staying at a Naperville hotel with welcome bags.
Call 630 305-7701 or head to VisitNaperville.com to learn more about our complimentary services.