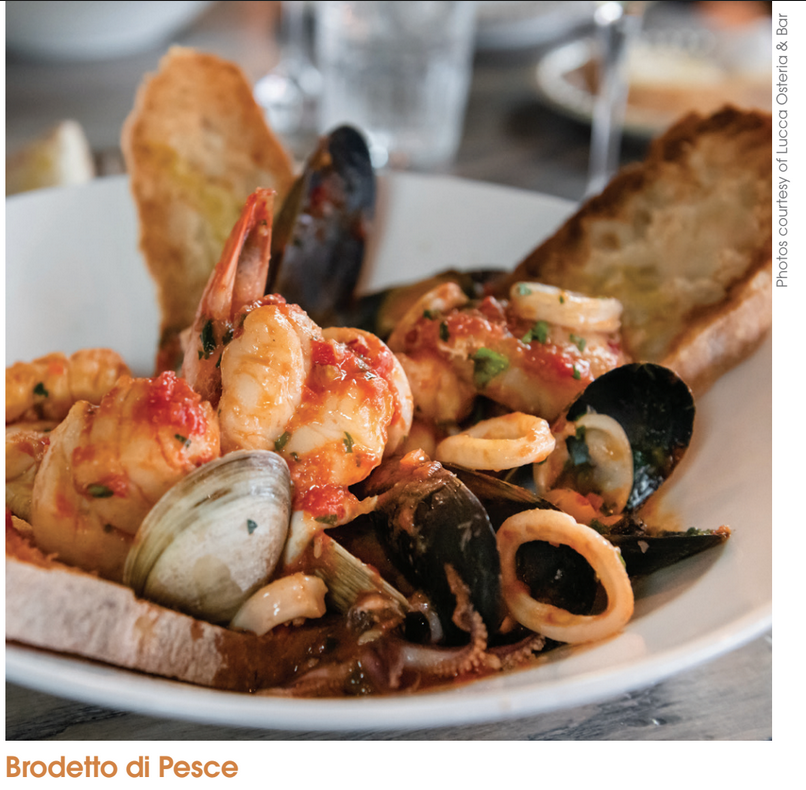 Named after the Italian Province and city of Lucca in the Tuscan region of Italy, Lucca Osteria & Bar is a tribute to the culture and traditional Italian cuisine found there.
On a recent mid-week visit, the delightful space was buzzing with diners. The open and spacious floor plan, floor-to-ceiling windows and clear glass, globe pendant lighting contributes to the restaurant's light-filled contemporary, yet cozy ambiance.
The vision and creation of veteran restaurateurs Steven Hartenstein and Chef Claudio Ulivieri, Lucca's menu and concept are inspired by Chef Claudio's hometown of Altopascio, where Mediterranean cuisine and a focus on simplicity is a staple. The light, fresh flavors of the menu items will leave you feeling full and satisfied but not overly satiated as Italian food often can.
Upon being seated, warm bread is delivered to the table along with olive oil and grated parmesan. If bread is your guilty pleasure and you want an excuse to further indulge, you might consider ordering La Scarpetta, a spread made of roasted garlic, olive oil, roasted chili peppers and parmesan cheese as an appetizer. The bold flavor from the roasted garlic and chili peppers complements the rustic, oven-fresh bread wonderfully.
The soups and salads feature an array of seasonal ingredients. The Barbe Rosse salad is particularly good. Featuring an assortment of golden and red roasted honey beets, it is as enticing to the eyes as it is to the palate. Even diners who aren't fond of the earthy taste of beets will appreciate the assortment of light, fresh flavors the salad exudes.
The seafood and meat options include a selection of salmon, tuna, Mediterranean sea bass, steak — including a 24 oz. bone-in prime ribeye — Cornish hen, chicken and veal. The risotto with scallops, a special, is also a delicious option.
The menu offers numerous pastas, including spaghetti neri (squid ink spaghetti), a dish originating from Naples, Italy. The selection of pastas includes herb cheese ravioli served with wild mushrooms, parmesan and crispy sage in a brown butter sauce, as well as rigatoni served with seasonal roasted vegetables, blanketed in a roasted garlic sun-dried tomato pesto. The fresh ingredients of both are reminiscent of the season. The fettuccine is delicious and gaining a reputation as a preferred menu item. Served tableside from a large wheel of parmigiano cheese, diners need only glance from table to table to see its popularity.
It would be remiss not to mention the pizzas, as this is after all an Italian restaurant. Diners have a selection of three pizzas to choose from — al prosciutto, la margherita and la salsiccia.
With a certified sommelier and experienced mixologist on staff, the drink menu offers a curated list of classic Italian cocktails and an approachable wine list that pairs well with the seasonal menu. While the entire dessert menu is tempting — including traditional Italian favorites like tiramisu and cannoli —the chocolate lava cake is hard to pass up.
Located across from the Oakbrook Center at 1415 22nd St. in Oak Brook (630 866-7234), Lucca is open for dinner Tuesday through Saturday with plans to expand hours to include lunch and Sunday brunch in months to come.