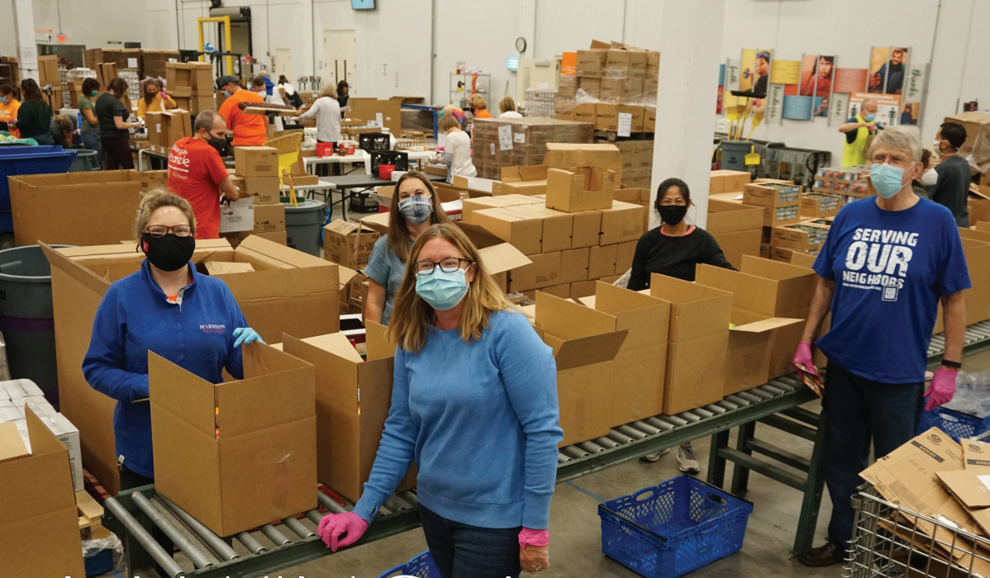 There's no question the ongoing pandemic has had an impact on all of our lives, but those working in local nonprofit organizations have been tasked with meeting increased demand, finding new ways to deliver services, and seeking alternatives to traditional fundraising, all while staying true to their missions.
Here's a look at how several organizations throughout the western suburbs are rising to the occasion and some ways you might consider giving of your time, talents or treasure to benefit these or other groups and individuals in your community.
Northern Illinois Food Bank
The Northern Illinois Food Bank helps nourish people in 13 counties through four service centers, including one in Geneva, that supply food to a network of some 900 food pantries, soup kitchens, shelters, youth and senior centers and more.
"This has been an unprecedented year for us," says Elizabeth Gartman, communications manager for the organization. "COVID-19 has dramatically increased the needs of families in our communities. We distributed 80 million meals last fiscal year (July 2019 - June 2020), with 30 million of those meals during our pandemic response from March to June alone."
Gartman says that many people using food pantries have never done so before, noting that many are finding themselves in need of help for the first time. She expects that trend to continue during the holidays, throughout 2021 and perhaps into 2022.
Since the beginning of the pandemic, NIFB programs and partner agencies have shifted to a drive-through model of distributing food, holding many pop-up markets and doubling the number of mobile pantries.
The coronavirus Food Assistance Program/Farmers to Families Food Boxes has provided the food bank with fresh produce, protein, dairy and milk since mid-May, and that program is expected to extend through December.
Volunteer support has been strong, but Gartman says there is a continuing need for help, especially at pop-up distributions. Visit www.solvehungertoday.org/volunteer to sign up for a shift.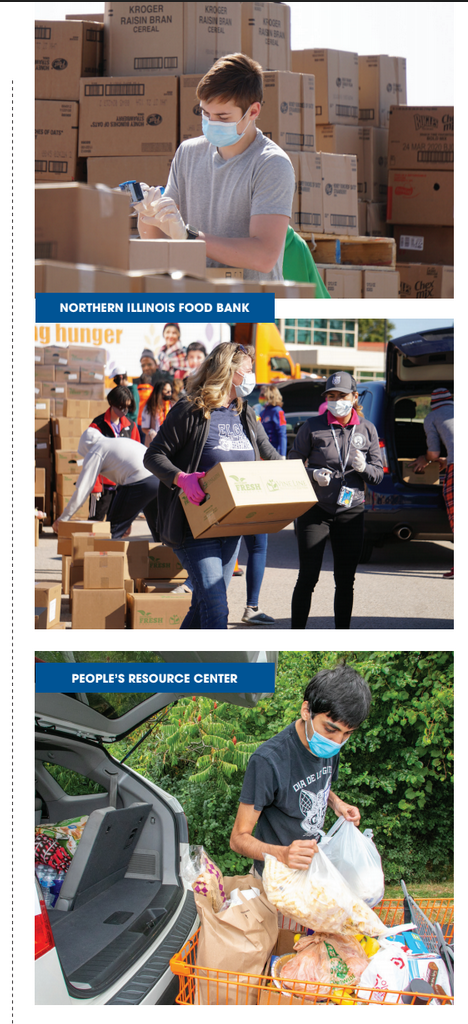 Donations are needed as well, and Gartman notes that every $1 donated helps provide $8 worth of groceries, with 97 percent of resources going directly toward food programs.
People's Resource Center
Since 1975, People's Resource Center in Wheaton has helped area residents with food, clothing and emergency rent assistance as well as connecting them with other resources, from education and tutoring to job-search skills. Michelle Clegg, director of development, reports that while COVID-19 has prompted an increased demand for services, the volunteers and staff have been able to meet the need through modified services, including on-site, no-contact emergency food and financial assistance.
"It's been challenging to adapt to modified services, and it's been hard to work at a distance, but the team has stepped up, because we all know the community needs the services we provide," Clegg says.
Some things have been adapted in light of current challenges. For example, the annual Share the Spirit program that allows community members in need to shop for free holiday gifts for their families will now serve 700 families in a safe no-contact way.
While some programs were initially put on hold, online and virtual programs in art, adult literacy and jobs are being added each week. Volunteers, financial contributions, donations of items for Share the Spirit and new winter gear for men, women and children are among the organization's current needs. To get involved or learn more, visit the People's Resource Center website.
CHIP IN Batavia
Started in 2013 by two mothers who wanted to support low-income and housing insecure students and their families in the Batavia School District, CHIP IN, which operates within the Batavia Foundation for Educational Excellence, works with a variety of community groups and individuals to meet student needs.
Joanne Spitz, a co-chair and liaison for the high school, says the organization has done everything from providing clothing and school supplies and paying for athletic and activity fees to providing furnishings, emergency funds for rent and utilities, and transportation for students and their families.
The need has been particularly great this year, says Spitz. "In a normal year, we might be asked to help with two or three rent or utility payments, but this year, we are already up to 35." The group has managed to raise funds through the community via word of mouth and Spitz reports that thus far they have never had to turn away a request for help, often working with other service groups to provide assistance to those in need.
They do keep gift cards for gas, grocery stores and stores such as Goodwill, Target, Walmart and Plato's Closet on hand for distribution as needed during the holidays and beyond and welcome donations of these. The most up-to-date information about CHIP IN can be found on the group's Facebook page at www.facebook.com/chipinbatavia/.
Hinsdale Humane Society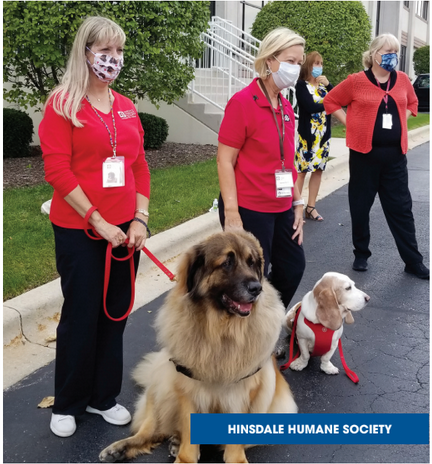 News reports have highlighted the fact that pet adoptions have been on the rise during the COVID-19 pandemic, and Hinsdale Humane Society has definitely seen that first hand.
"At the start of the pandemic through this summer, we had difficulty even having enough animals available for people to adopt," says Robin Carroll, marketing and public relations director for the organization. Finding new resources in other states where adoptions are not as popular helped satisfy demand and find new homes for animals that may not have found one otherwise.
In addition to adoptions, the humane society offers The Millstein Vaccination Program, low cost clinics and pet food banks, which have been helping hundreds of individuals get affordable basic pet care during this difficult time.
To meet the demand for low-cost pet care, the humane society has augmented its regular twice-monthly clinics with a few off-site clinics to serve communities in need.
Though the demand for services is high, the humane society has been operating on a leaner budget. "Without our big fundraising events, we have been challenged to keep pace. While our adoption numbers are amazing, our adoption fees barely cover the cost of medical care, food, cleaning, etc. required to keep the animals safe, comfortable and happy while they're with us," Carroll relates.
There are several ways to help out. One is the Sponsor an Animal program, through which you can sponsor any animal in the name of an animal-lover — donors receive a custom certificate featuring a picture of the animal. You can also purchase a Humane Heroes membership for yourself or a loved one, or you can shop the online store for animal welfare fashion and accessory items. Information about all these programs are available on the website.
Pillars Community Health
www.pillarscommunityhealth.org
Pillars Community Health in La Grange is preparing to celebrate 100 years in January, and their mission continues to be just as essential today as in 1921.
"COVID-19 has revealed a need for our services more than ever," says Jackie Gibson, vice president of marketing and business development. The organization provides medical and dental services along with mental health and social services to clients, either free of charge or on a sliding fee scale.
The pandemic has prompted a greater need for services and, in some cases, changes in the way they are provided. For example, many behavioral health and substance abuse services have pivoted to virtual visits with providers, though in-person visits are available, if needed. Domestic and sexual violence services continue, including providing shelter, medical care, court and medical advocates and a 24-hour hotline.
Pillars Community Health also opened three COVID testing sites — in Burr Ridge, Burbank and La Grange — and is preparing for a shift to indoor testing in the winter months.
Gibson anticipates increased demand for mental health services in the coming months. "Isolation, depression and anxiety will be a reality for many this holiday season," she observes, noting that services promoting wellness and coping strategies will be especially important during this time.
Though some funding sources have remained steady, the inability to hold events like their annual fundraising ball has had an impact. Gibson says the Pillars Community Health philanthropy team is continually coming up with new ideas, including virtual trivia nights, and is planning a large virtual event to coincide with its centennial celebration. Those wishing to volunteer, donate or attend a virtual event can visit the website or call 708-PILLARS (708 745-5277).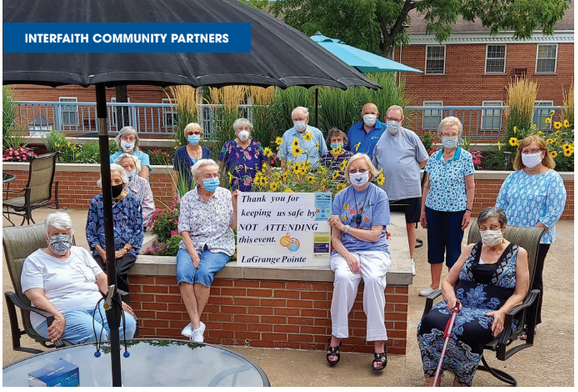 Interfaith Community Partners
www.interfaithcommunitypartners.org
Seniors are the focus of Interfaith Community Partners in La Grange. The nonprofit provides transportation and other services for older adults in the Chicagoland area to help them retain their independence. The organization got its start in 2000 with seven founding churches that wanted to make sure older adults were not isolated at home.
Since loss of mobility is a big reason for isolation, the organization focused on providing accompanied rides to medical appointments as well as places such as the grocery store, hairdresser, bank and church. With the advent of the pandemic, the group has had to scale back or change some of those services for the health and safety of both their clients and volunteers, many of whom are older as well. They are currently providing rides to medical appointments but other transportation services are on hold.
Rather than take clients to the grocery store, volunteers are shopping and delivering groceries. Janet Garreau, executive director, says other outreach programs include sending cards, phone check-ins, and even helping folks get a Christmas tree or other holiday decor.
"Our mission is really to maximize the independence and well-being of older adults by keeping them connected in the community," she says. Those interested in volunteering or making a financial contribution to Interfaith Community Partners can visit its website or call 708 354-9328.
Wellness House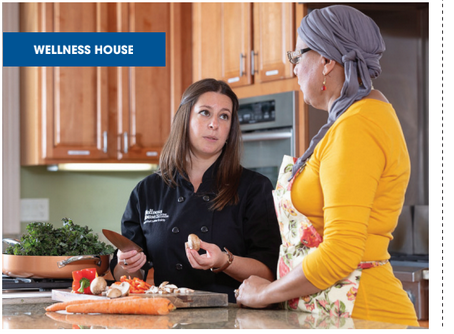 Celebrating its 30th anniversary, Wellness house has served more than 42,700 people diagnosed with cancer and their caregivers and family members since opening its doors in 1990. All programs are delivered by licensed and/or credentialed professionals who have years of experience working with cancer patients and their families.
Amidst COVID-19, coping with cancer has become more challenging, stressful, and isolating which has made receiving support even more critical. To assure uninterrupted support, all programs were moved online within a 36-hour period. This has allowed participants to choose from 475 programs a month including yoga, meditation, support groups, nutrition, exercise and family programming, all from the comfort of home. The online offerings have generated more than 31,000 visits while providing greater accessibility by eliminating transportation issues.
"We expect an increased need for support particularly as the pandemic continues and social isolation increases," says Debra Kwiatt, marketing communications manager at Wellness House. "It's so important to stay ahead of psychological and physical needs as the pandemic continues. People who participate in support groups or receive other types of support feel an increased sense of community and well-being."
The best way to help Wellness House this holiday season and beyond is to make a monetary donation so all services can continue to be provided at no cost to recipients. To make a contribution, go to Wellnesshouse.org or call 630 323-5150.
DuPagePads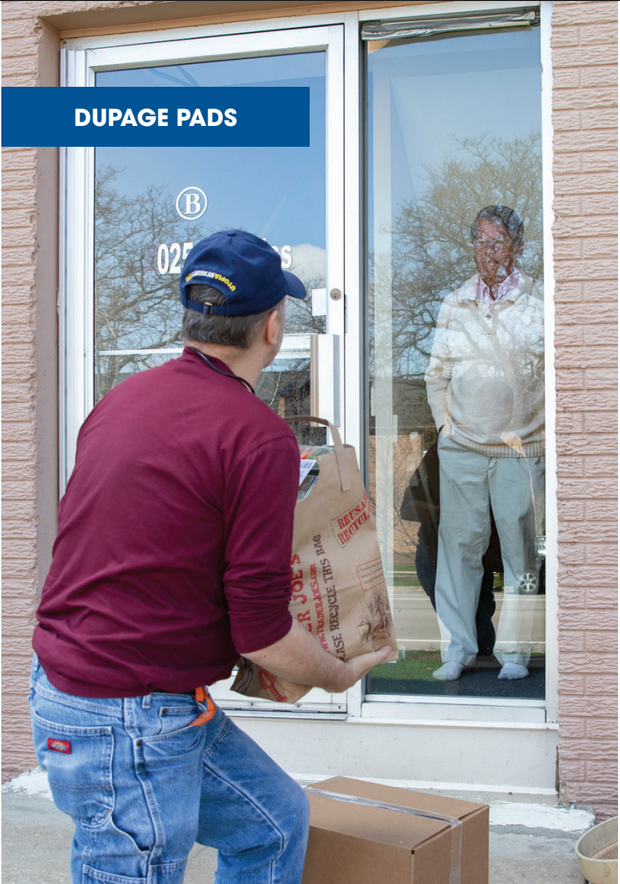 DuPagePads has seen a significant increase in demand for services due to the pandemic, says Chad Pedigo, vice president of development. "The need has been huge but so has the hearts and support of the community. So many congregations of different faiths, businesses, and individuals/families have come forward with contributions, support, and opportunities to help change our clients circumstances and lead to stability."
DuPage PADS' Interim Overnight Housing Program offers families and individuals facing hopelessness housing in a safe environment. Thirty sites throughout DuPage County provide shelter 365 nights a year on a seasonal basis with support from congregational and community volunteers. But in mid-March, DuPagePads was forced to temporarily close Interim Housing in group settings at congregation sites, leaving no place for overnight shelter support for its clients.
In response, DuPagePads adapted a hotel model and committed operational funding while seeking donations support to use hotel rooms for immediate shelter. This has evolved into the current Emergency Housing program that includes 115 hotel rooms, weekly food and supply donation drop-offs, and continued case management ultimately leading to housing stability.
Individual giving of non-perishable food items, supplies, and funds to support the Emergency Housing program have been essential since the arrival of COVID-19 in March. Needed items are updated weekly at www.dupagepads.org.
360 Youth Services
With an emphasis on helping youth in DuPage and Kane counties by providing counseling, housing and substance abuse prevention, 360 Youth Services aims to help area children, teens and young adults navigate life's challenges.
The Naperville nonprofit has seen increased demand across all service areas during the pandemic, from counseling to housing, says Judie Caribeaux, chief operating officer. More people, she says, are seeking out counseling during this challenging time as they realize that you don't need a diagnosable condition to see a therapist for help processing life events.
The organization also provides housing and case management for homeless youth ages 12-24, and has seen demand outpacing space available in emergency shelter programs. "The pandemic has hit young people hard — many are involved with restaurant and retail work and were first to lose their jobs," Caribeaux observes.
While some programs still operate as they always have, the pandemic has shifted others to a new method of delivery, including the Operation Snowball program, which is typically school-based. Promoting Operation Snowball via social media has generated an increase in participation in a new online format.
"The program talks about healthy lifestyle choices and mental health, and in a world right now with so much negativity, there is a real hunger for being supported and connected, even virtually," Caribeaux says.
During the holiday season, 360 Youth Services welcomes donations to support ongoing programming or gift cards for the youth served by the organization. Volunteers are also needed. To get involved, visit the website or contact Corporate and Community Giving Manager Sarah Tesch at stesch@360youthservices.org.
Bridge Communities
Bridge Communities in Glen Ellyn provides transitional housing for homeless families as well as mentoring and other support services. Lisa Doyle, marketing and communications manager for Bridge, says the number of families entering the program has remained steady, but the needs are greater.
"It's not the number of families that has made this year different — it's really the deepening of the services and pivots we've made so that we can meet the needs of the families," she explains.
For example, by May, pandemic- related layoffs had affected 43 percent of the families in the program, so Bridge Communities ramped up their remote job-readiness workshops, helped with navigating the unemployment process and connected clients to continuing education. As of late October, the unemployment rate for families has dropped to 6 percent.
The needs of children in the program have also changed — with 100 percent learning remotely, virtual support groups, meet-ups and parenting workshops have been implemented, as well as daycare assistance, workspaces for remote learning and more.
Until the moratorium on evictions in DuPage County ends, the organization anticipates numbers to remain steady, but Doyle expects a backlog of evictions will eventually result in additional requests for help. While donors and program partners have continued to provide support, Bridge Communities has seen an increase of about $100,000 in extra expenses since the pandemic began.
Those wanting to help provide Bridge families with consistent, stable housing and wraparound services can make a financial gift via the website. They also welcome donations of gift cards for Wal-Mart and Target, grocery stores, gasoline gift cards, or donations of cleaning supplies or personal care products.
The Ernest Hemingway Foundation of Oak Park
Though it doesn't provide services to those in need, per se, The Ernest Hemingway Foundation of Oak Park is among the many arts and cultural institutions — including museums and theatres — that are struggling to stay afloat during the pandemic.
Keith Strom, executive director of the foundation, says revenue, which is mainly generated by visitors to the Hemingway Birthplace Museum, is down by 80 percent. The famed author spent the first six years of his life in the lovingly restored Victorian residence, which is now hovering on the brink of closure.
Strom says the foundation has had to get creative, trying to raise funds via virtual tours and concerts and by offering a unique membership benefit — the opportunity to make the home your remote workspace for a day.
"There are plenty of causes out there that need help, and they are all worthy, but we believe we should be in the mix," Strom says. "The arts bring richness to life, and we want to ensure there is something to come back to (after the pandemic)."
Donors can contribute to the foundation's GoFundMe page via www.savehemingway.com.