Perennial plants may be a little less showy than their annual counterparts, but they have staying power. So while they cost a bit more than annuals, think of perennials as an investment in the future. Plants known as herbaceous perennials, which die back to the ground after the growing season but grow again the next, will give your garden fancy foliage and flower power for years to come. Even better, as they grow over the years, you can divide your perennial plants to fill in bare spots or to share with friends and neighbors.
Consider the Seasons
Most flowering perennials have a specific bloom time, whether in spring, summer or fall. When laying out your garden, select perennials that will bloom at different times throughout the season.
"The jewels of the garden are your perennials," says Joel Barczak, owner of Blumen Gardens in Sycamore. "Perennial season starts in April and keeps going through October and November." Even if the perennials you choose have shorter bloom times, the foliage can be a show stopper as well. Barczak suggests that you look for perennials that offer lasting value, which he measures in terms of the foliage, color, long bloom time, persistent elements of the plant, and most of all, "reliability."
A select group of perennials are known as repeat bloomers, but you can't always count on how often they will re-bloom. Daylilies can be particularly finicky, even those that claim to keep blooming non-stop.
"What people want is something that looks good all the time and requires no maintenance," says Barczak. While the hope that nature will tame itself is likely false, certain plants do require less care than others. He prefers to select perennials based on plant evaluations done by Richard Hawke at the Chicago Botanic Garden.
"We try to get as many of the four- and five-star plants as we can," says Barczak. Among the many perennials he recommends for sunny spots are catmint (nepeta) for long blooms and pollinators, yarrows for cut flowers, winecups for their magenta flowers, and perennial salvia.
For shade, Barczak suggests dwarf astilbe, native ginger, lily turf (liriope), hosta, and pachysandra. He suggests that you keep the flower shape in mind when designing beds. "Be aware of flat, spike and ball-like flowers and intermix them," he explains. Barczak also sees growing interest in using perennials in containers.
How to Pick a Perennial
Perennials are expected to last at least three years and many last much longer, so they usually cost more than annual flowers. A good number of local independent garden centers grow their own perennials, rather than bring them in from afar, which means the plants are acclimated to our environment. When visiting a local garden center, ask if the perennials are grown locally.
At The Growing Place in Aurora, perennial manager Joannie Rocchi, who has been working at the garden center for 27 years, describes her perennials almost as if they were family members. After sharing a long list of varieties from coreopsis to peonies, she recalls fondly, "We must not forget coral bells." Otherwise known as heuchera, some 45 varieties of coral bells are available this year, with flashy foliage colors that range from lime green to bright red, such as the Fire Alarm version.
Rocchi points out that the hardiest perennials receive the designation Growing Place Choice "because they are very strong performers year after year and stay attractive with a lot less maintenance." If the options seem overwhelming, she suggests strolling through the 26 learning gardens to see how the perennials look in the ground.
How to Plant a Perennial
One rule of a green thumb: plan first and then plant. "It's challenging for folks to take the extra time to plan their garden," says Heather Prince, nursery manager for Wannemaker's Home and Garden in Downers Grove. She suggests looking through books and magazines and determining what flower colors you like and don't like before making your plant selections. Then make sure you are choosing a perennial to plant that you are certain will do well in your yard's conditions.
"It's right plant, right place," she says. "Perennials may get a bad rap because folks put them in the wrong spot." Each plant has different needs for sun or shade, wet or dry soil, so it's important to read the plant labels. She advises that you take a shovel to the spot you have in mind to check out the soil conditions before planting. "Don't be afraid to ask for help," she says. "Folks who work at independent garden centers are crazy about gardening."
At the Planter's Palette in Winfield, Maria Dvorak, retail manager, agrees. "Knowing what your site has to offer is important for choosing perennials for success." For example, she says that a shady area under a tree is going to be a tough spot for most perennials to thrive. She recommends checking out the soil and amending your flower beds accordingly, with such soil helpers as mushroom compost and Purple Cow Organics fertilizer.
"May to June is a great time to plant," Dvorak says. The Planter's Palette and other garden centers offer free guides for planting. One mistake she often sees is planting too deep. The crown of the plant should be above ground to "give it a chance to grow."
Among her preferred perennials are bleeding heart for spring, ornamental grasses like miscanthus for structure, perennial hibiscus for its dinner-plate-sized flowers for summer, and sedums for fall. She also sees old-fashioned favorites like bellflowers making a comeback, as gardeners recall their grandmothers' gardens.
Although we tend to think of a singular growing season, the growing conditions of spring, summer and fall are wildly different. Thankfully, perennial plants offer a range of visual interest throughout the growing season, as flowers and foliage change with the climate.
"For me, I find that I plant things for seasonality," Prince shares. "I'm excited by seeing something new every day."
Planting for Bloom Times
At Darwin Perennials, Karl Batschke, global product development manager, is behind the breeding of perennials designed to meet market demands. "The consumers are saying, 'We love this idea that you plant something in the ground that stays for several years, but we want a perennial that gives us the color and show of an annual plant,'" he says. As a result, Darwin Perennials is breeding to "extend the flowering window while still preserving the quality of the plant in the landscape," Batschke explains.
Most of Darwin Perennials' new product development is grown in Elburn and West Chicago, where the parent organization Ball Horticultural Company is headquartered.
For long bloom times and strong foliage, Batschke recommends their new UpTick coreopsis with multi-colored petals, which bloom from June through October, and coleus and coral bells. Other long-blooming perennials include Mountain Frost dianthus in pinks and white, the Sombrero series of echinacea in hot hues, and Sunstruck heliopsis with its bright yellow, daisy-like flowers. For an autumn star of the garden, he favors the willowleaf sunflower. He notes that many perennial varieties can take the frost, while most annual plants will wilt as soon as cold weather hits.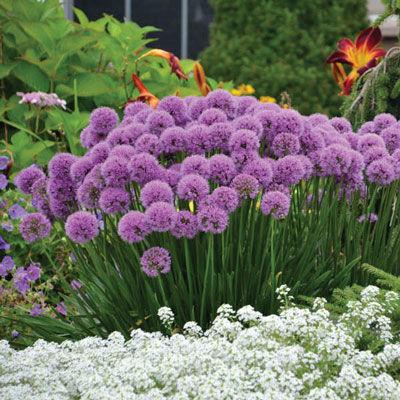 And the Winner Is . . .
The Perennial Plant of the Year for 2018 is a dolled up member of the onion family — none other than 'Millenium' allium, and yes, they spell that name with one n. Unlike spring-blooming alliums, this one puts on its show in mid-summer. According to the Perennial Plant Association, headquartered in Oakbrook Terrace, whose members vote on the annual winner, "This cultivar is the result of a multigenerational breeding program … selected for late flowering with masses of rose-purple blooms, uniform habit with neat shiny green foliage that remains attractive season long, and for its drought-resistant constitution." It's also a butterfly magnet, as is last year's winner, a bright orange milkweed that goes by the name of asclepias tuberosa, or butterfly weed. 
With so many homeowners interested in feeding bees, butterflies and other pollinators, it's no wonder that the prizes went to perennials that pollinators and gardeners alike find irresistible.
Bloom Times 
Karl Batschke of Darwin Perennials kindly provided a list of bloom times for perennial plants so that you can plant to ensure a succession of color from early spring to late fall.
April/May 
Allysum Golden Spring
Iberis Snowsation
Phlox Drummons Pink
Dianthus Mountain Frost series
Salvia: Lyrical series, Marvel series, May Night
June
Achillea New Vintage series
Coreopsis: UpTick series and Little Bird
Echinacea Sombrero series
Heliopsis Sunstruck
Monarda Balmy series
Nepeta Junior Walker
Veronica Moody Blues series
July
Perovskia Crazy Blue
Helenium Salud series
Phlox: Ka-Pow series and Laura
Agastache: Rosie Posy
Rudbeckia: Goldsturm
August
Anemone Pretty Lady
Sedum Autumn Joy
Caryopteris Grand Bleu
September
Helianthus Autumn Gold
Source: Darwin Perennials
Help Is At Hand
Visit our area garden centers for knowledgeable plant advice or ask our public garden and university pros for help. You may want to stroll through a few gardens to see how the many different perennials on show grow in the great outdoors before deciding what will work best for your yard.
Chicago Botanic Garden, Glencoe
Get Growing Weekend:
May 18 – 20, 10 a.m. – 4 p.m.
Learn from the experts at talks and demonstrations and shop the gardener's marketplace and specialty plant sale with hundreds of plants from nurseries and botanical institutions across the country. The featured speaker at 1 p.m. on Friday is Jeff Ross, farmstead educator and artisan chef at the luxury resort Blackberry Farm in Tennessee.
The garden staff conducts plant breeding and plant evaluations and introduces their favorites to the public through the Chicagoland Grows program. You can find extensive plant research and plant profiles online.
Plant Information Service
plantinfo@chicagobotanic.org, 847 835-0972
University of Illinois Extension
Online information includes "Gardening with Perennials" and "Stepping Stones to Perennial Garden Design."
Ask a Master Gardener
Kane County 630 584-6166
DuPage County 630 955-1123
Kendall County 630 553-5823
Morton Arboretum, Lisle
Daylily Society Show
July 15, 10 a.m. –  4 p.m.
This is an opportunity to marvel at the different colors of more than 150 varieties of daylilies and get advice from Chicago Daylily Society members. Daylily varieties also available for purchase.
Check out the Tree and Plant Advice and Horticulture Care sections for tips.
Plant Clinic
630 719-2424
Wannemaker's Home and Garden, Downers Grove
Perennial Gardening Seminar
June 2, 10 a.m.
Learn how to have bloom from spring until fall, how to choose the best plants for your garden and how to care for them.