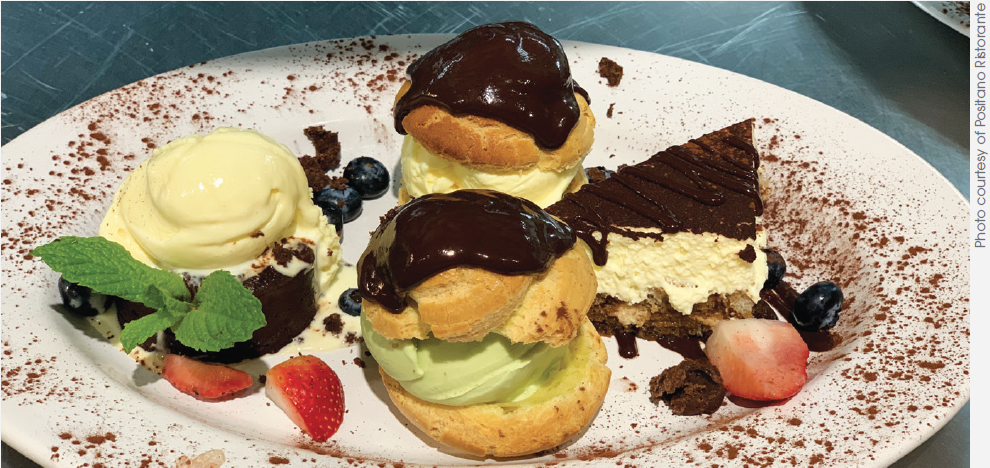 Named after the cliff-side village on southern Italy's Amalfi Coast, Positano serves up authentic Italian cuisine that will take your taste buds on a tour of the coastal region.
Located at 17W460 22nd St. in Oakbrook Terrace (630 601-1177), the restaurant's crisp white table cloths and 1920s and 1930s pictures on the walls are reminiscent of old world Italy and are emblematic of the elegant yet casual atmosphere.
The carefully curated menu features favorites like Vitello Diavolo, roasted veal with tomatoes, chiles, capers and black olives in a spicy tomato sauce served with a side of linguini pasta. Other popular dishes include the Filetto Vesuvio, a 10-oz filet sautéed with garlic, olive oil, peas and spices in a white wine sauce served with roasted potatoes; and Rigatoni Baragiano, rigatoni with veal and filet tips, wild mushrooms, garlic, shallots, parmigiano and a tomato veal sauce topped with mozzarella. Entrées range from $14 to $39.
The restaurant seats 140 inside and 30 outside and also features a 15 person bar with TVs and further seating at high top tables.
Gluten-free options and carryout and delivery are offered. Current hours are Tuesday and Wednesday, 4 to 10 p.m.; Thursday through Saturday, 4 to 11 p.m.; and Sunday, 3 to 9 p.m.