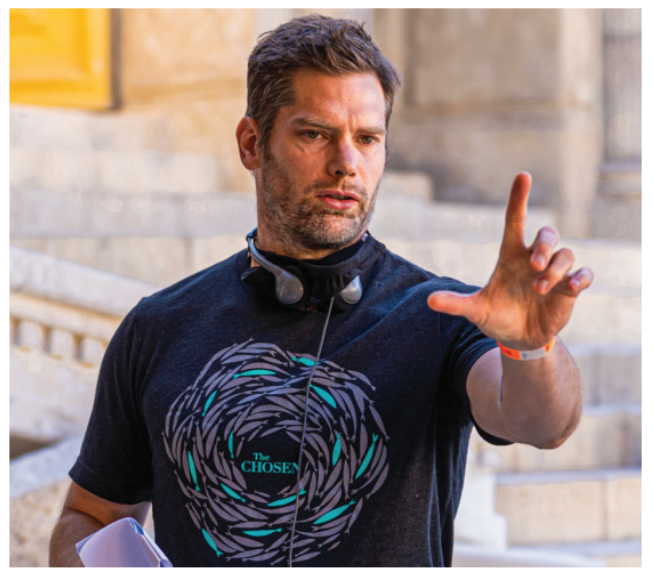 FOR DALLAS JENKINS, telling stories comes naturally. It's literally in his DNA, as his father Jerry is the co-author of the popular LeftBehind series of religious novels. Dallas, however, prefers a different medium — film. And now after a series of improbable events, including raising a record $10 million-plus through crowdfunding, the 45-year-old Elgin resident is in the midst of transforming what he considers the greatest story of all time — the Biblical story of Jesus — into a multi-season series. The Chosen is currently in the midst of the second season of what Jenkins hopes will be a seven-year run. It's been a challenging and exhausting ride, he acknowledges, but "the impact the show is having makes every second worth it."
You were a Bible major at University of Northwestern St. Paul in Minnesota. What were your plans when you graduated and when and how did you get interested in film?
DJ: Bible was just one of my two majors, the other was in media. When I graduated I worked for a small film company that was turning my Dad's Left Behind books Into a movie. I started out as a production assistant and worked there almost four years.
You dad is Jerry Jenkins, co-author of the very successful Left Behind series of religious novels, who also wrote many other books. What influence did he have on your career path?
DJ: Growing up with an author as a father certainly exercised my storytelling muscles. He was also a big movie buff and is responsible for getting me into movies.
At age 25, you started a production company with your dad, Jenkins Entertainment, and released the faith-based film Hometown Legend. How did that come about and what was it like putting together a film at such a young age?
DJ: When the Left Behind movie was about to be made, my dad and I knew the movie wouldn't quite be what we were hoping for, so we started our own company. We soon realized that in the independent film world, there were a lot of people talking about making movies, but not many actually making them. So we figured we could set ourselves apart and learn a ton if we just made a film. I guess I was too young to know any better, but Hometown Legend got picked up by Warner Brothers and was distributed around the world.
You came to Chicago to work at Harvest Bible Chapel in Elgin with the hope of making movies through its Vertical film ministry. That took awhile to happen but eventually one of the short films you produced, The Ride, resulted in an unusual partnership that allowed you to produce the movie, The Resurrection of Gavin Stone. Tell us a little about your partners on the film and how that unfolded.
DJ: The Ride was done for Harvest Bible Chapel's Christmas Eve service, and it ended up getting in the hands of Jason Blum, one of the most powerful producers in Hollywood. Long story short, his company, along with the WWE (yes, the wrestling company), and Harvest ended up collaborating to make The Resurrection of Gavin Stone.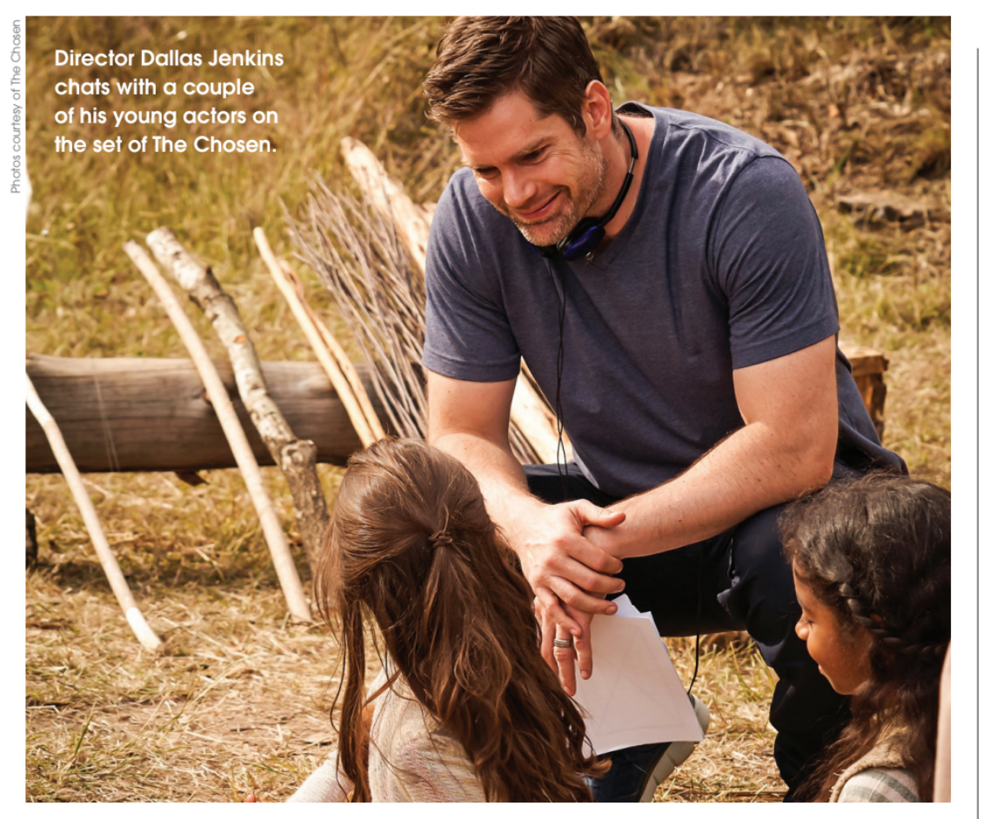 Much of Gavin Stone was shot in the western suburbs. What were some of the key locations and did you use local folks as actors or extras?
DJ: It was filmed primarily at Harvest in Elgin, but we did film some key scenes in Geneva. We used a few locals as some actors, and certainly all our extras were locals, but the majority of the cast came from Los Angeles and Chicago.
Unfortunately, the Resurrection of Gavin Stone did not do well at the box office. How did that affect you personally and impact your career prospects?
DJ: The day the movie failed at the box office was the lowest moment of my career. In two hours, I went from being a director with a very bright future to a director with no future, because the companies involved in Gavin Stone pulled out of plans for future movies together. But because of that, I got to a point where I was truly willing to not make another film if that's what God wanted, and I stopped caring about the results or the success or failure. I just focused on a day by day passion to be in God's will.
You shot another short film for the church, mostly at a friend's farm in Marengo, called The Shepherd that paved the way for The Chosen. Did you always envision doing a series of shows like The Chosen or did the success of The Shepherd raise the bar for what you thought you could do?
DJ: I made The Shepherd for Harvest's Christmas Eve service, and I had no expectations for it outside of that. While I was making it, I thought of the idea for a multi-season show about Christ that could go deeper into the stories like The Shepherd did, but I had no delusions about it. But when it got in the hands of a streaming service, and they heard my idea and said the short film could act as the pilot for the show, I figured, "What have I got to lose?"
To produce The Chosen, you partnered with VidAngel, a video content producer, but they wanted you to crowdfund the financing of the shows. What was your reaction and what were the results?
DJ: I figured crowdfunding was a ridiculous idea that would never work, but my job wasn't to worry about that. Then when The Shepherd went viral and ended up getting 15 million online views worldwide, that led to over $10 million being raised from 19,000 people around the world, which shattered the all-time crowdfunding record.
You write, produce and direct the series. What role do you like doing best and which is the most challenging?
DJ: All of it is immensely challenging; every day is exhausting. But I'm obviously very blessed to get to do it, and the impact the show is having on people makes every second worth it.
In The Chosen, you give Matthew a form of autism and also make him a dog owner. How and why did you decide to do that? And how do you determine both in personal characteristics and dialogue of the Bible characters being portrayed what is appropriate Biblically and what would be acceptable to viewers?
DJ: When we chose Matthew to be one of our main characters, we did the same thing with him as we did with our other characters. We took what we know from the Bible and made assertions about what their personalities and backstories could have been. Matthew's choice of profession and many of his traits sounded like similar traits to Asperger's and the spectrum, and I'm very familiar with that world. We thought making Matthew autistic would be a really interesting way to humanize the character and the show.
We don't change anything that's from Scripture, and our first question for everything we portray that isn't from scripture is, "Is this plausible?" If it is, we're comfortable with it and don't worry too much about the reaction, because we know we're always going to offend someone regardless of what we do.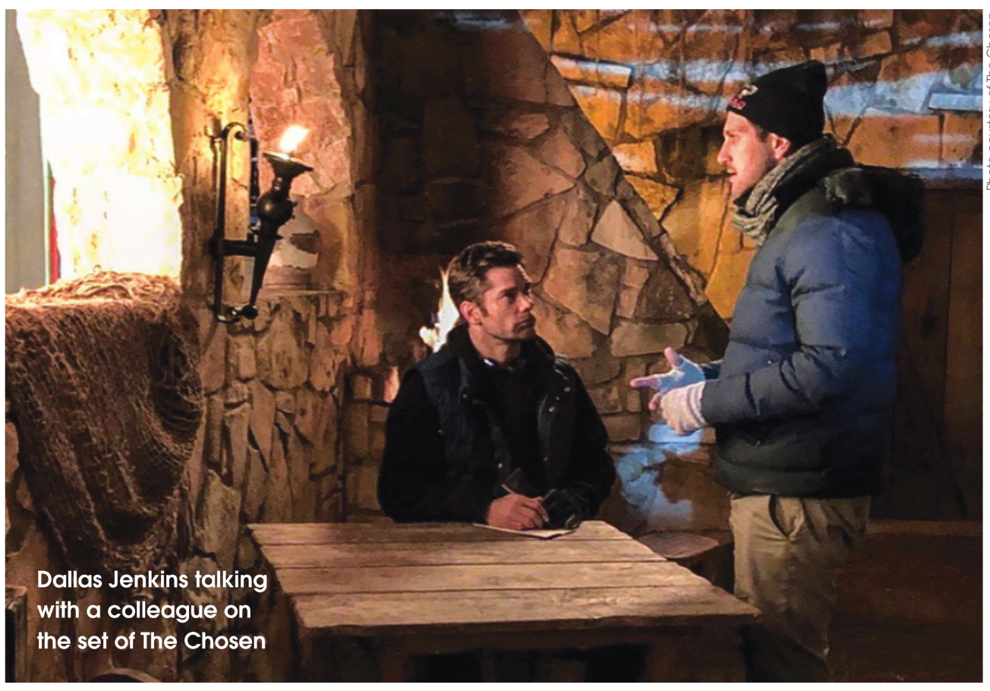 You are now in the midst of your second season of The Chosen and are in the process of crowd-funding for the third, in what you ultimately hope will be seven seasons. It's been quite a ride the last few years. Can you reflect on all that has happened, what you have learned and how it has affected you?
DJ: It's been an incredible ride, and every day I'm reminded of how much bigger and better this project is than I am. We call it God's "impossible math." Shattering the all time crowdfunding record for a short film for my Elgin church was the beginning; increasing our income exponentially after we made the show free was the bigger example. Not a lot of this makes sense, and I'm OK with that.
What are your plans once The Chosen is over? Do you have other faith-based film ideas in mind or would you like to try to crossover and also do non-religious studio-type movies?
DJ: My only plans are to finish Season Two so I can get going on Season Three. As another local, Phil Vischer (Wheaton resident and creator of the VeggieTales animated childrens video series) taught me — where I'm at in five years is none of my business.
To view The Chosen for free, go to www.thechosen.tv/app or search "The Chosen" in your Apple or Android app store