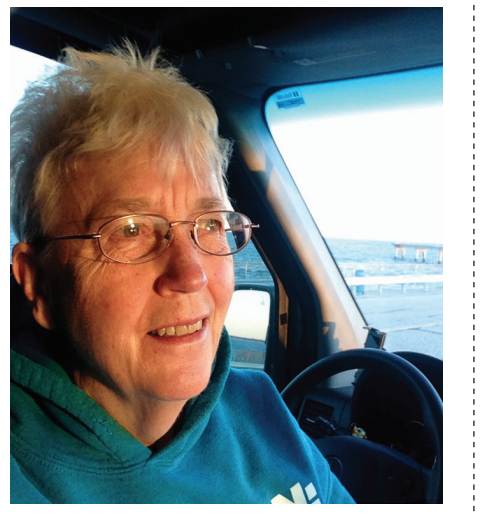 SHE DEVELOPED HER PASSION for social justice while training to be a nun with the Joliet Franciscan Sisters. She focused her efforts on homelessness after working at Joliet Catholic Charities and later at Hesed House in Aurora. But as foundational as those experiences were, Diane Nilan didn't fully understand the realities of homelessness until setting out by herself in a motorhome with the mission of "giving voice and visibility to homeless children and youth" across the country. Fifteen years and more than 400,000 miles later, the one-time Aurora resident continues to advocate for change by sharing the often heartbreaking stories of the homeless through lectures, films and books, including her most recent work, Dismazed and Driven — My Look at Family Homelessness in America.
You moved to Joliet after high school with the intent of being a Joliet Franciscan sister. What changed your mind and how did your faith background influence your decision to ultimately pursue a career in social justice and combating homelessness?
DN: At some point I realized that I could find another path to satisfying my desire to contribute to the world. I had to reckon with my years-long desire to be a Sister, unsettling at first. I remember telling the Mother Superior something to the effect that the forest had many different kinds of trees. I knew I'd be OK, but it was a hard split. The influence of the Joliet Franciscans, who taught me from grade school through college, remains strong today. My spiritual journey has been as fluid as my careers. Central is my commitment to justice for those suffering oppression.
How did your experiences at the Daybreak shelter you helped start in Joliet and later at Hesed House in Aurora shape your views and involvement on homelessness? What were the key things you learned, things that surprised you, experiences that touched you?
DN: I knew nothing about homelessness when I started working at Joliet Catholic Charities in the mid-80s. All I knew was people in desperate straits were pouring through our bedraggled office doors. We lacked a way to help those with nowhere to sleep. Joliet had no shelter so we were just like other agencies in town — no help at all if you had nowhere to sleep
Prior to starting Will County PADS (now called Daybreak), I surveyed the area motels to find out how many people were using the motels in lieu of a home of their own. I don't remember the number, but it was a lot. As I spoke with folks in the motel, I realized that they had no options. That fueled our efforts to get at least an emergency overnight winter shelter started.
I can still recall the first family that came in needing a place to stay — mom, dad, with their son and daughter. I don't remember what I did to help. Ironically, I'm still in contact with the daughter who, in addition to her own children, cares for her mother. Homeless families were not a common occurrence in the mid 80s.
A major impact early on happened when I met Mitch Snyder, the Washington DC activist who pushed President Reagan to give him a building for homeless people in DC, among many other accomplishments. Snyder's compassion for those with nothing inspired me to see people in a different light, to be less judgmental. His relentless activism influenced me greatly, helping me realize that "just" providing shelter wasn't enough. I needed to become involved in changing the system of injustice at the root of poverty and homelessness. I committed to balance my direct service with working for systemic change. That proved to be quite a challenge — dealing with folks in our shelters was often times easier than navigating the political landscape in Springfield or Washington.
When I moved to Aurora to run the PADS shelter at Hesed House, we recognized that the thousands of PADS shelter volunteers represented a political force that could bring about systemic change. While I was there, I was deeply involved with passage of the Illinois homeless voters' rights bill, the Illinois Housing Trust Fund, and the highlight of my life, the Illinois Education for Homeless Children Act, also known as "Charlie's Act." Removing barriers to education for kids lacking a place to live by far ranks as my most challenging and worthwhile accomplishment.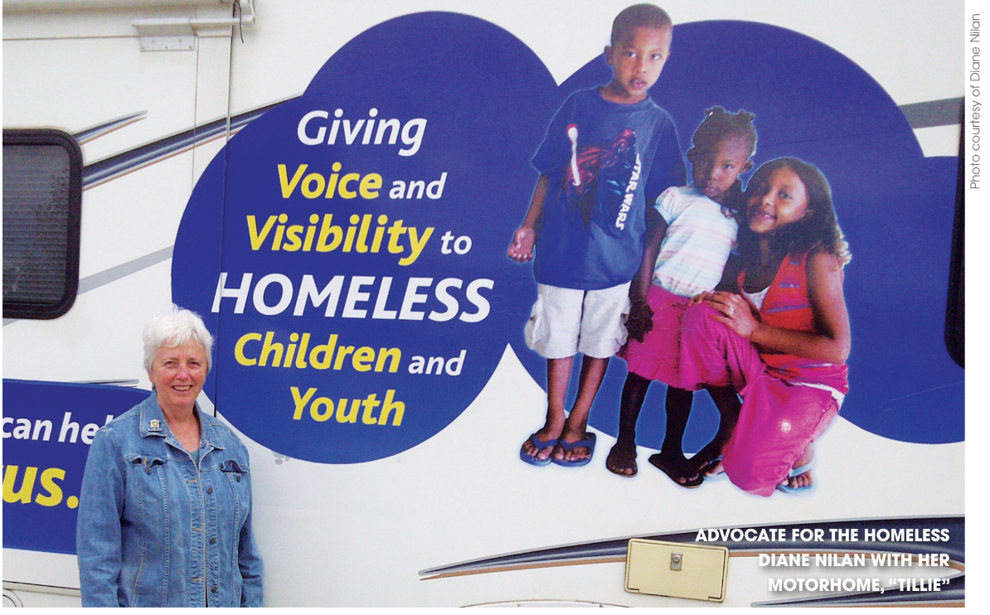 What prompted you to hit the road in your motorhome, did you have an itinerary, any specific destinations in mind, goals you hoped to achieve? And did you ever imagine when you set out that you'd still be traveling the country in your motorhome 15+ years and 400,000 miles later?
DN: I left Hesed House after 13 years in 2003, soon after Charlie's Act became the core of the federal McKinney-Vento Education for Homeless Children Act. In early 2005, a colleague from DC, deeply involved in homeless education issues, and I had secured a grant to create a short film of kids talking about what it was like to be homeless and unable to attend school. A week before the film crew was to start, I was flabbergasted to be told that the project had been canceled.
Knowing that the film would have a powerful impact on audiences — educators and the general public — I decided that I could create it. No matter that I knew nothing about videography. I had an inexplicable sense that I could, and must, do it.
I decided I'd venture to places people didn't think homeless families existed — rural areas, small towns, resort communities. My DC colleague assured me she could connect me with homeless liaisons who would help me find students to interview.
Hitting the road for this ambitious route would require either staying in motels — by that point, I had become motel-adverse having seen so many dreadful ones — or I surmised that I could live in a motorhome and travel around the country. I had never been in a motorhome before, but that didn't stop me. Of course, I also realized that I'd have to sell my treasured townhome. And all my stuff. And I'd have to buy an RV, yet another challenge to meet.
Fortunately, my home sold at a modest profit which I used to buy the RV. I gave away some stuff and held a garage sale to get rid of the rest. In the meantime, I started my nonprofit, HEAR US Inc. in July 2005. I recruited a group of supportive friends to serve on the board, and we began to raise money for this unlikely venture. I headed out of Naperville in November 2005, right before Thanksgiving, trying not to be overwhelmed by such an uncharted venture.
Once on the road, I contacted the homeless liaisons that had been suggested. They welcomed me and the kids they lined up for me to interview were incredibly open and articulate. My "goal" was to let these compelling kids be seen and heard via my film project. I aimed to create a potent tool to help educators identify and be compassionate with these invisible students.
I just asked my interview subjects to tell me about what it was like to be without a place to call home. I can't describe the incredible answers they articulately gave me. You have to see the award-winning film, "My Own Four Walls," a 20-minute documentary, and my first attempt to share the extraordinary power of these kids' stories.
I didn't know what to do next until Dr. Laura Vazquez, a film professor at Northern Illinois University who had helped me produce the first film, suggested collaborating on a feature-length documentary about family homelessness. I didn't know what I said yes to, but I spent the next four years finding out.
The result was "On the Edge: Family Homelessness in America," which was aired by PBS on Mother's Day. It has since been viewed over 400,000 times worldwide.
You also recently wrote a book, Dismazed and Driven — My Look at Family Homelessness in America, part memoir, part social narrative reflecting on your 15 years on the road. What are the biggest takeaways that you hope people have after reading it?
DN: Over the years, friends had encouraged me to write about my adventures on the road. I wasn't comfortable with writing a book about "me" but I came up with the idea of intertwining my stories and observations with stories of some of the families I've met in my travels.
My greatest hope in writing and in my filmmaking is to open eyes, minds, and hearts to those in our midst without a place to call home. Knowing that families (and individuals) get a "bum's rap" for being homeless, I want to dispel myths and misperceptions. I also hope that by pointing to the devastating impact of myriad systemic issues, perhaps those can be addressed. If barriers keeping kids out of school come down, and opportunities to succeed in school are available and encouraged, my efforts have been worthwhile.
What are the biggest misperceptions regarding homelessness?
DN: Few outside the homelessness advocacy circle realize the implications when a person stumbles into the homelessness vortex. Bad credit, evictions, incarceration, irregular job history, and inadequate income keep people from even qualifying for housing assistance.
Government assistance, sadly, is more of a myth than reality. Public housing has gone unfunded for decades. Rental assistance, aka Section 8, barely touches those who need it. Nutrition programs, such as SNAP, school lunches and breakfasts, are merely band aids, not reaching all who need help. Medical issues, major contributors to homelessness, go unaddressed, and COVID made everything worse, especially for families living on the edge.
If you could snap your fingers and make a few changes in national policy that could have the most impact on addressing homelessness, what would they be?
DN: First, I'd expand the definition of homeless used by HUD (US Department of Housing and Urban Development) to reflect the definition we use in the McKinney-Vento Homeless Education Act. HUD doesn't include families, youth and individuals who have lost housing due to crisis and find themselves bouncing between being doubled up with others, and/or paying for their own motel rooms. Just because someone is not living on the streets or in shelters shouldn't exclude them from housing assistance, as it does now.
Second, I'd free up federal funds for housing assistance. Renovation of public housing units, sorely neglected for decades, would improve living conditions which in many cases are worse than deplorable.
Third, I'd empower the ineffective US Interagency Council on Homelessness to carve out policies for each federal department to address root causes of homelessness. Folks smarter than me have honed in on key issues and devised solutions, but they lack a seat at the table. USICH must give serious weight to those with lived experience and those respected advocates who think outside the box with a lens of compassion. I would charge USICH to pursue this task as if they and their loved ones depended on it.
What has it been like being on the road for the better part of 15 years — what have you enjoyed most and what are the unique challenges of that lifestyle?
DN: Little did I know what life on the road would bring me! First and foremost, seeing the beauty of America from the backroads has been a constant delight. I had no idea what life was like off the interstates. Even my relative fleeting exposure to the cultural and geographic differences has enriched me.
I wrestled with technology early on, especially my GPS. Weather can be an issue. And supply issues are a challenge. But I'm lucky enough to have resources to get what I need, unlike millions of kids and adults throughout the country. Certainly, the good in my life far outweighs the challenging stuff.
I'm 71 now so I'm not sure how long I'll keep doing this. But I really enjoy what I do, and the need for it continues, so I'll keep on rolling as long as it makes sense.