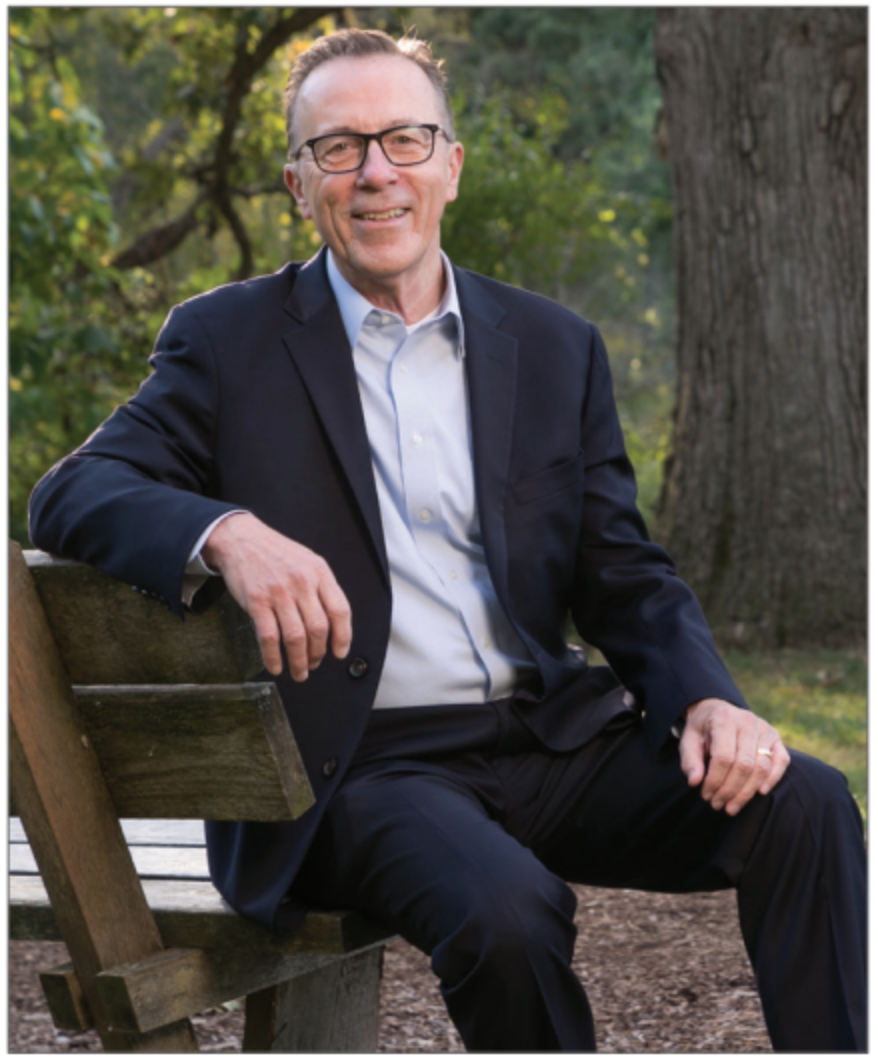 THOUGH HE ENJOYED CLIMBING TREES as a young boy in Michigan, it wasn't until his college years that the career path was launched that would have Gerard Donnelly leading The Morton Arboretum into the 21st century. The young botanist gained hands-on experience by overseeing the campus arboretum at Michigan State University before becoming only the third director in the history of the Morton Arboretum. In the 31 years since, he has helped turn the institution into one of the most popular visitor attractions in the Chicago area and arguably the most influential arboretum in the world. At the end of September, Donnelly will be retiring, but not before overseeing the opening of the "Grand Garden" as part of the Arboretum's 2022 centennial celebration.
Where did you grow up and when and how did you first get interested in plants and trees? Any particularly strong experiences from your youth and/or early mentors that shaped you as a person and/or cultivated your interests in biology, botany or forestry?
GD: I was born and raised in Michigan and lived on a lake when I was a boy. I had a favorite tree that I would climb upon that leaned over the water. From there, I had a commanding and inspiring view of my little world. It wasn't until my college days that a clever botany professor piqued my interest in plants, trees and the environment. It was a new world for me to explore, and I haven't stopped exploring it since.
You majored in Biology at Oakland University in Michigan, got a PhD in Botany and Forest Ecology from Michigan State and then taught a year at Coe College in Iowa. Was your career plan to pursue a career in higher education?
GD: Perhaps. It may have been because of that botany professor who I admired so much. I wouldn't have been disappointed to turn out just like him. The university environment was very satisfying and maybe I just kept going with my education because I enjoyed it so much. I don't know that I have ever had a definite career plan, per se. I've just immersed myself in whatever it was I was doing and opportunities arose that aligned with my interests.
You then returned to Michigan State to become an assistant professor of Botany and also serve as the Curator of W. J. Beal Botanical Garden and Campus Woody Plants. How did it lay the groundwork and prepare you for your role at The Morton Arboretum?
GD: It was in the botanical garden that I saw how interested people were in the beauty and diversity of plants, and how eager they were to learn all about them. It was an eye opener for me to discover a different and very effective way of engaging people's interest in plants and the environment beyond a college classroom.
My responsibilities at Michigan State also included being the steward of the thousands of trees on its campus, planted as an arboretum in the 1800s with trees from around the world. The arboretum provided a living resource for study and added interest and beauty to that lovely campus. These were the experiences that led to my interests in botanical gardens and arboreta and in encouraging people's awareness of plants, and beautiful horticultural places.
You came to the Morton Arboretum in 1990. After familiarizing yourself with the organization, what were your top goals for moving the organization forward?
GD: Arboretum trustees of the time gave me just one charge upon my arrival. They noted that world-class resources had been invested in creating and nurturing Mr. Morton's arboretum, and they were interested in having The Morton Arboretum achieve world-class standing among the great arboreta and botanical gardens of the world. I thought that was a bold and inspiring goal, and was glad to take that on.
It was my view that the Arboretum had an inspired mission, outstanding tree collections, an impressive commitment to education, and a budding research program. What it needed to do was to build on these foundations, commit to outcomes and impact, engage and collaborate with allied organizations, serve the public interest, and earn the support of the community to sustain and grow its capabilities.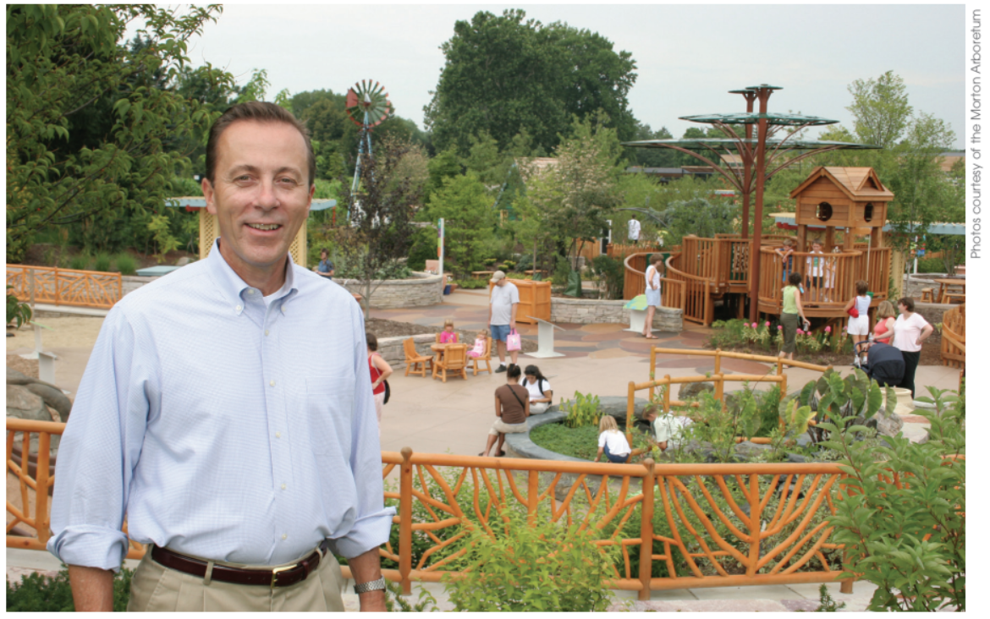 One of your major accomplishments has been turning the Arboretum into a more visible and welcoming destination, including the addition of the landmark 4-acre Children's Garden. The Arboretum's many public outreach programs seem so natural now, but at the time many of them were first suggested, the Arboretum was a much more staid entity. Initiating change can be challenging, so what was the gradual transformative process like — what were the key challenges?
GD: Well, it took time for a young botanist, who hadn't had any training in matters of business strategy, finance, marketing, etc., to figure out how best to get going. This was good, because it provided the time needed for everyone at the Arboretum to get used to the idea of a bold, new direction and to prepare for the ambitious pursuits to come.
In order to build the Arboretum's core capacities in tree science and conservation, the organization first had to focus on building and engaging a public audience that over time could support its growth in these areas. This was a challenge for some to understand early on. I think some were surprised that the new scientist-leader of the Arboretum invested first in public programs and marketing, and capital improvements like the Children's Garden, a new visitor center, and a more welcoming public entrance. They didn't yet see the long game plan that would take decades to play out.
The Arboretum has always been among the premier tree research institutions. But you have helped move the Arboretum to a leadership position by your involvement in the Chicago Region Trees Initiative; ArbNet; The Center for Tree Science; and the The Global Tree Conservation Program. Explain the importance of tree research and what is the Arboretum's role both regionally and internationally?
GD: Science is the underpinning for all the Arboretum is endeavoring to do in planning and planting for a healthier and climate-resilient urban forest across the Chicago area. Tree performance evaluations over decades of time, together with tree breeding and experimental studies, fortify planting recommendations and approaches here in our home region communities.
On a different front, the globally significant oak collection at the Arboretum provides an outstanding resource for its scientific studies of oak evolution, adaptation, growing requirements, and conservation programs. The Arboretum led the global assessment of conservation threats of oaks that occur across the globe and coordinates an international coalition of arboreta and research institutions focusing on protecting oak species threatened with extinction. Many people don't know that 30% of all known tree species on Earth face extinction because of habitat loss, over-harvesting, pests and diseases, and now climate change.
You recently guided the development of the Arboretum's Strategic Plan 2020+ focused on trees, climate, sustainability and inclusion. Those are some pretty challenging topics: What are some of the Arboretum's specific objectives and goals in each of those areas?
GD: These are the key priorities for The Morton Arboretum's second century, and we have robust action plans and metrics for each of these pursuits. In addition to the urban forest and tree conservation initiatives mentioned previously, the Arboretum is addressing its own vulnerability to the changing climate and growing conditions as an organization that collects and grows trees. A climate adaptation plan is being developed to assess and manage risks, including possible relocation of susceptible tree species to other arboreta.
Planting trees locally and globally is now recognized as an important part of the strategy to blunt the impacts of climate change. Sustainability is another means of addressing the cause of the climate threat. The Arboretum has committed to transformational sustainability initiatives that will ensure a net positive environmental footprint and provide a model that can inspire others.
To more fully address its commitment to public service, The Morton Arboretum is taking steps to welcome a broader visiting audience that more fully reflects the community it serves and engage communities of greatest need in its tree planting initiatives across the region.
As someone with an extensive background in botany and the workings of nature, share your perspective on global warming. How concerned are you regarding the future of the planet and its amazing biodiversity?
GD: The warming of the planet and the changes in climate it is creating is a menacing threat to life on Earth. Especially disconcerting is the decline and death of many old oak trees in the region and at the Arboretum. These trees have survived centuries of varied seasonal weather but are now succumbing to what we believe has been a pattern of excessively wet springs that weaken their root systems, followed by summer heat and drought that challenge those roots to keep up with the water demand. Weakened trees are less able to defend against diseases and pests that may ultimately kill them.
There is then a combination of inexorable changes in the seasons, combined with unusual weather patterns, that are changing and threatening trees and all of nature that is dependent on them. Deeply dry weather conditions and intense storms are also part of the changing climate that are having catastrophic impacts on forests, trees in nearby communities, and people's lives.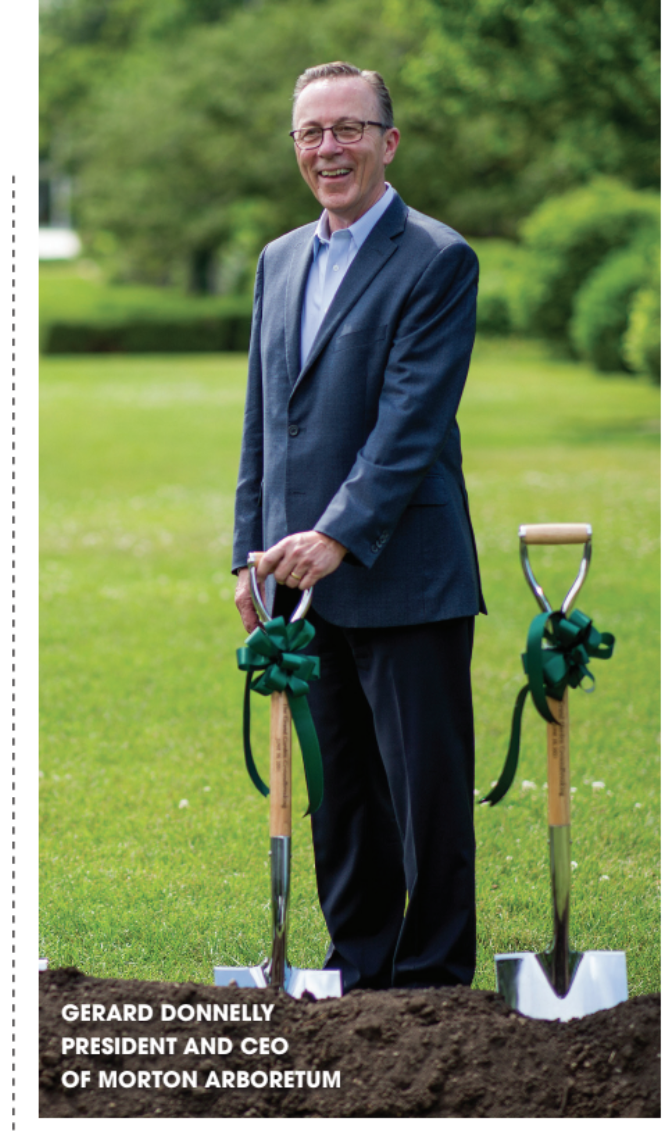 In the coming year, the Arboretum will be celebrating its centennial, a centerpiece of which will be the opening of "The Grand Garden" next September. Can you give us a sneak preview of what it will entail?
GD: I like to describe The Grand Garden as a garden of celebration and joy. It will feature colorful blooming trees and other plants, delightful falling-water features, fully accessible pathways and inspiring views, and pleasant places to stroll, sit and savor the charming garden spaces.
The Grand Garden will include the Centennial Plaza, which will be a central arrival and gathering space, two main garden areas and a large terrace for events, wedding ceremonies and other celebrations. It will provide the opportunity to display the best plants from the Arboretum's collections in a beautiful garden setting and for Arboretum staff to demonstrate their horticultural and design expertise. I can't wait to enjoy it myself!
Can you share a fun story or memory from your 30+ years at the Arboretum?
GD: One particular occasion comes to mind. Following the visitor-focused improvements made in the early 2000s as part of the Branching Out! initiative, as I was leaving the new Visitor Center, I was walking behind a couple heading out to their car and one person said to the other, "I don't know who is running this place, but with all these changes, they are going to run it into the ground!" They didn't know who was right behind them. I was rushing to my next meeting but I wanted so much to catch up to them and say with a smile, "I'm the one you are talking about. Perhaps I could tell you about all we're trying to do here." I hope those folks have seen the benefits of those early changes, and how the Arboretum is engaging so many more people now.