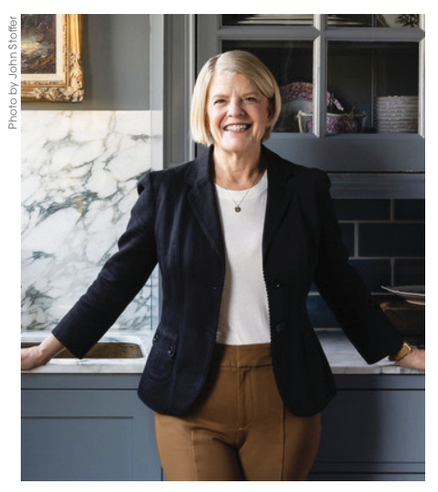 Spend 30-plus years developing a successful local kitchen design business from scratch and then move out of state where no one knows you. Not your typical business-building move. But it made sense to former River Forest resident Jean Stoffer because she wanted to be closer to her grown-up kids. And thanks in part to those adult children — in particular daughter Grace who now partners with her — the business has expanded well beyond expectations. Stoffer now has a national client base, a growing custom cabinetry business, and a TV show, "The Established Home," that just completed its second season on the Magnolia Network. She also recently wrote a book, Establishing Home: Creating Space for a Beautiful Life with Family, Faith & Friends. As Stoffer is quick to admit, it has been a whirlwind but also an unexpected and exciting blessing.
You were born and raised in River Forest — what was it like growing up there and what were your interests?
It was wonderful growing up in River Forest in the 60s and 70s. My siblings and I walked to and from school each day and even went home for lunch. School, church and neighbors were the center of our lives and I loved it. Interests as a kid? There were far fewer options, especially for girls at that time. But I took ice skating lessons, learned how to play the piano, and played tennis, which I really enjoyed. I babysat quite a bit and when I was 12 my mom had my only brother, which was about the best thing I could think of at the time. I loved having a baby sibling and enjoyed taking care of him.
What did you study in college and did you have an interest in home or kitchen design at that time?
After getting a business degree, I went to work as the business manager of a small interior design firm. This is where I learned that there was such a thing as interior design and I loved it. I went to night class at Triton Junior College to learn to draft, read everything I could get my hands on, and started decorating my own home. Soon after, people started asking for help and I started my own business at 24 years old. I quickly realized the things I enjoyed most in design were the more analytical things like cabinetry design and space planning. So I narrowed my focus to custom kitchen design and that's what I focused on for over 20 years.
So walk us through those early years of running your own business, the challenges/obstacles, the key mini-victories along the way, and when you realized you had really found your niche?
The early years were spent learning how to run a profitable business serving people's very personal needs, their home design. I was able to work with the security of knowing my income was supplemental, as my husband Dale's job was the one we primarily relied on as a family. That gave me the opportunity to devote myself to motherhood with an added bonus of growing professionally. I kept my work part time and steadily gained experience and eventually expertise in the specific design field of custom kitchen design. I plodded away, was responsible for every aspect of the designs as well as setting up systems and processes to run the business. Looking back after all these years, I feel such gratitude to the people who entrusted me with their projects. The opportunities given me by so many people in Oak Park and River Forest is remarkable to think about. I just tried to always come up with something uniquely special for each project. I started to settle into a style that we are now known for, the British inspired kitchen. Its hallmarks are flush inset cabinetry and the use of freestanding pieces, more than one cabinetry finish, and more than one countertop material.
After establishing Stoffer Designs for the Kitchen as a go to source for kitchen projects throughout the Chicago area, you decided to move to Grand Rapids, Michigan to be closer to your kids. Did you plan to continue the business there and what did you do to re-establish your business in your new home town?
When our four children became adults and were getting married and starting their own families, three of the four settled in Grand Rapids. Several of them attended Calvin College so Dale and I had become familiar with the area. We felt it was time to downsize from our family home of 25 years, and as we considered our options, we thought we would have an adventure and move to West Michigan. My kitchen design business was going well, but I wasn't sure there would be a way to continue the business from Michigan, and I had no idea how to get the word out about my design work in our new city. Our first several months in Michigan were spent living in a rental home while the house we would live in was undergoing a full gut remodel that I designed. My daughter Grace, who was now a school teacher and young mom, became my sounding board for all the design decisions and selections required. That project turned out to get some attention on our new block, which led to a neighbor asking if I could help them with their kitchen design. And so it began in Grand Rapids.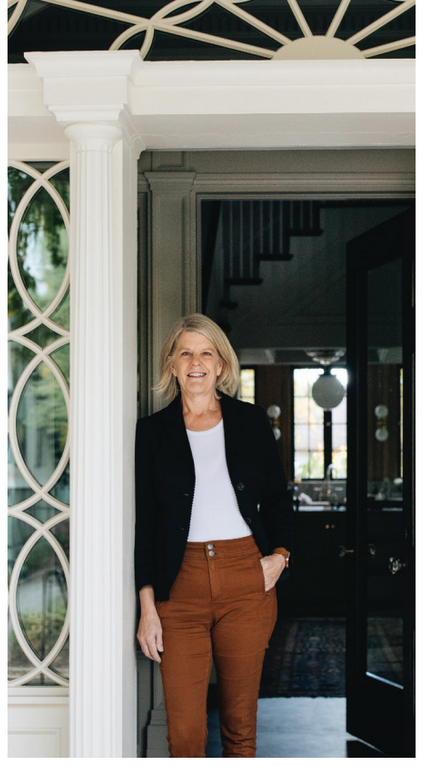 Your daughter, Grace, soon got involved in the business on a more official basis. How did that change the vision for the business?
The timing was fortuitous because soon after that couple approached me to help with their kitchen, they went further to ask if I would consider taking on the interior design of the entire home, top to bottom. This also was a full gut remodel. I had always said no to these requests in the past because I knew branching out beyond custom kitchen design was beyond my bandwidth, and I still worked alone. However, Grace had said that she would be very interested in joining me if an opportunity like this should ever come up. And when it did, Jean Stoffer Design 2.0 was launched. Now Grace and I would design whole homes and be a kitchen centric, full service interior design firm. This was 2017, which was about the time Instagram became a place to see interior design. I chronicled this project on Instagram and when my son, John, photographed the completed project, and I started posting those images, that's kind of when everything really took off. We began getting a lot of inquiries for design work from all over the country.
While expanding your focus from kitchens to design throughout the home seems like a natural step, how is it different, and what do you like best and find most challenging about having a broader whole-home focus?
From the outside looking in, it may appear to be a logical step to enlarge the business from custom kitchens to whole-home, full service design, but for me it was never my plan. I enjoyed my niche, and was able to keep it a manageable and profitable small business that I could work on from home with only an occasional employee from time to time. But with Grace's offer, it became an exciting opportunity. And it was a great time in life for me. All of my kids were out of the house, I still felt the desire to work, and the prospect of pursuing something together with Grace was just fun and exciting. I felt very confident in the most complicated aspects of home building and remodeilng, having spent decades working in the most complicated rooms of the home — kitchens, bathrooms, laundry rooms, and other spaces that require knowledge of mechanicals, appliance integration, technical drawing, material selection, etc. Grace was enthusiastic about furnishings, paint colors, rugs and other "soft" aspects of interior design, so it was a great combination of interests. We spent about two years giving ourselves a crash course on this other area of interior design that I had always previously said no to. But Grace is talented and has a great eye so we ploughed ahead!
You also opened a retail store — what prompted that? How has the store evolved — eg: getting through COVID, expanding online, adding a coffee bar?
Grace and I quickly realized we needed to gather additional sources for home décor to finish out whole projects. We also were growing as a firm and were now up to five employees, still working out of my home. There was increased interest in our kitchen design and specifically our unique cabinetry style. We added up all those factors and decided to open a home décor store/kitchen showroom/design office. We opened our doors in December, 2018. Stoffer Home started out very slowly, as we were relying solely on local, walk-in business. We soon discovered we had to add e-commerce to justify the costs, so in June, 2019 we launched the Stoffer Home online store. When COVID laws shut down the store, we had to get very creative to stay afloat. Thankfully we had a number of custom interior projects that were in full swing and those provided what we needed to continue to pay our bills. Once the worst of COVID was over and we could open our doors again, we were stronger and eager. It was during the shut down time that my son, Daniel, conceived the idea of opening a café inside the store. It took six months to put together and we opened in January of 2020. It also took a while to get off the ground, but now it is a humming, vibrant part of the store in Grand Rapids. It just makes me smile to hear the coffee grinder, see the billow of steam come up from frothing milk, and smell the amazing aroma of great espresso. Our customers make an event out of it. Shop at Stoffer Home and get a coffee at The Bradbury.
Describe your design style. What are the key elements that make it distinctive?
I describe our style as classic with a modern twist. I think this is due to Grace and I working together — my influence in classic architecture derived from growing up in River Forest and working for decades in the Chicago area amidst beautiful architecture, and Grace's younger outlook. It's a nice mix and feels fresh yet grounded.
My understanding is that Magnolia Network "discovered" you on Instagram. What was receiving that call like? What has it been like working with the Magnolia folks and what has been the effect of that affiliation on your business?
It's a very interesting time. With social media, streaming services and other newer media, the gate-keeping aspect of interior design is not as strong. So it has allowed for ordinary people like me to be "discovered." Chip and Joanna Gaines' Magnolia Network is specifically meant to chronicle the work of real people who have been practicing a craft in the real world. They call us "story-tellers" instead of personalities because their mission is to inspire and uplift. I admire their vision and love being part of it.
Your TV show, "The Established Home," just completed its second season. What makes it different then other TV remodeling shows? What has been your biggest surprise about the whole TV process? And what do you like best?
I think what makes The Established Home different is that it follows actual projects and also follows our family interactions and other personal and business things. We deal with realistic time schedules which are not favorable to most TV productions. As anyone who has remodeled their home knows, it takes a while to accomplish a full scale remodel. It doesn't happen in days or weeks. Its months and even years. Our designs are detailed and require time to execute. We deliver a really quality product and you can't fast track things like that. But its very hard to film and produce several projects simultaneously. It requires so much coordination and communication with all the people involved. I think that part surprised me. Eight hour-long productions following eight full scale remodeling or build projects takes so much. It has been very interesting learning about the whole process. The part I like the best is that there is now a chronicle of these great projects and my interactions with Grace and other family members throughout them. That's very special.
You recently wrote a book, Establishing Home: Creating Space for a Beautiful Life with Family, Faith and Friends. Described as part memoir and part designer how-to, what was your goal in writing the book?
The memoir part of the book tells my story, which is predominantly about the joys, challenges, and decisions that I had to make about child-rearing, integrating my faith in Jesus with parenting. I especially spent time talking about the challenges of desiring to be a very engaged mom while working professionally, and my need to learn to trust the Lord with my children's lives and futures as they grew and became adults. I loved the act of remembering all the things the Lord has allowed me to experience, what he opened doors to, and how he has led me through key decisions. When I look back at it, it really feels like a story of God's faithfulness and how I experienced it. My hope is that it will encourage and inspire others.
While you have been in business a long time, the last few years things have really taken off. What has that whirlwind been like for you personally and did you ever dream it could grow to what it has become?
That is very true — things have really taken off! I never imagined any of this would be going on right now, and sometimes I just shake my head and wonder how it all happened! All of the newness and learning so many things at my stage of life is both invigorating and tiring! I am learning the secret is finding great people, teaching, then trusting them to do great work. It's very rewarding to watch that process. Not the least of which are watching my own children take on significant roles in the company and do great work beyond anything I would have dreamed of. I know that working with them has so greatly added to my enjoyment and enthusiasm for the whole operation. Its exciting to hear their ideas and a joy to walk this road with them.
Is there anything you'd like to add?
Our kitchen design and Stoffer Home Cabinetry line has really taken off. It is what we are most known for and as our Instagram following grew, interest in our kitchen design and cabinetry grew far beyond what we could handle. So we dug into our process and honed it to make it understandable, while keeping as many personal touches as possible, albeit all remote. Then I designed a line of cabinetry that has all the aesthetics and features of the British inspired kitchens we have become known for, and now we are designing kitchens and shipping high quality made-to-order cabinetry all over the country. Its very exciting.