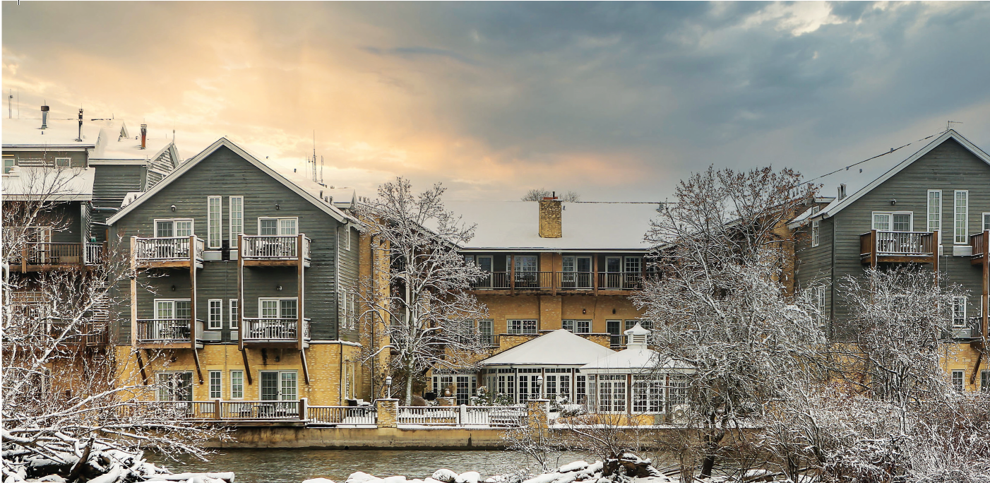 Feeling a tad cooped up? Ready for some serious pampering? Several first-rate romantic getaways in our area are open for business and operating with extensive safety measures.
Hunkering down at home gets old fast (or maybe it's finally gotten old after nearly a year!) The kids can drive you batty. You can watch only so much Netflix. Zooming is exhausting.
Yes, love is action, such as washing the dishes without being asked. Or cleaning up the clutter in the bedroom without being nagged. Or bringing home a box of chocolates just because. But love needs romance, too. It needs luxury. It needs pampering.
Why settle for the same dull routines weekend after weekend? "Take care of the luxuries, and the necessities will take care of themselves," the writer Dorothy Parker cracked. Live large, at least for a weekend. Go big and don't go home. "I'm a person of simple taste. I'm always satisfied with the best," Oscar Wilde asserted. A splurge can be absolutely necessary for even the most selfless. "Self-care is not selfish. You cannot serve from an empty vessel," wrote bestselling novelist Eleanor Brown.
Make a staycation a memorable one. Here are five superb places to recharge your relationship with your partner and give yourself a nice break as well.
THE HERRINGTON INN, GENEVA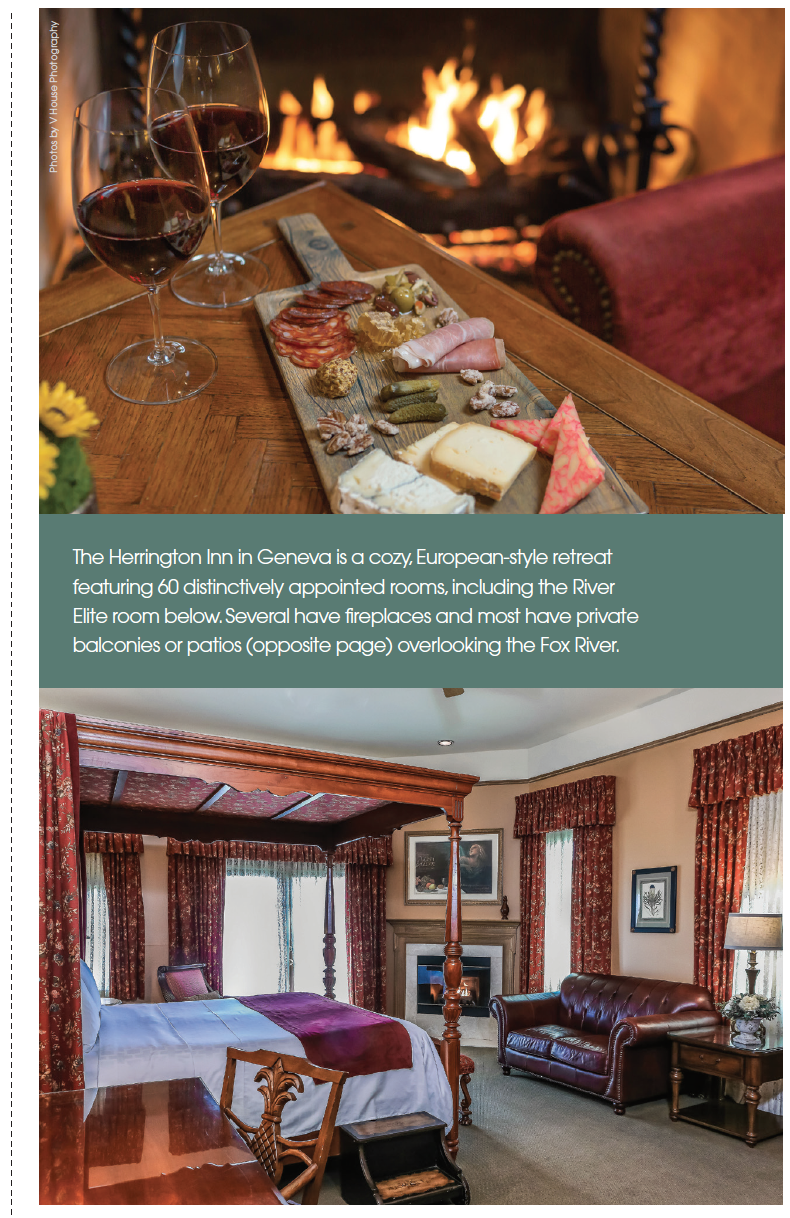 Located in a historic town celebrated for its shops and restaurants, this gabled-roof inn overlooks the Fox River. A former creamery, the inn is charming and quaint — the type of place instantly associated with a romantic getaway. Maybe a weekend in New England, the prototypical escape, is not realistic for the time being. But the Herrington Inn offers a Midwest version of that.
The inn makes a good first impression with its European-style architecture. The interior is a winner, too, with limestone floors, warm colors and tapestry-covered walls. Ready immediately to take a load off your feet? Nestle into a stuffed armchair next to a fireplace.
We like our homes because we can improve them and make them better. We love boutique hotels because they seem to have attained a state of perfection. "The inn is the most romantic, magical place," says Lisa Landers, a staffer at the Inn. "There's European-style elegance, beautiful stone, ivy, warm hues and stone floors."
The 60 rooms and suites come in a dozen different styles, no cookie-cutter design here. Each room manages to convey a certain precious timelessness while offering contemporary comfort. Gas fireplaces, four-poster beds and a deep-soaking whirlpool tub, a favorite among guests, are part of every room, as are luxurious bathrobes and slippers. All but three rooms have private patios or balconies for enjoying morning coffee or an evening cocktail.
The staff provide little touches that taste or look good while making you feel good inside--glasses of wine, chocolate-covered strawberries, truffles or maybe a heart of rose petals on the bed upon arrival.
Each morning begins with a European continental breakfast in the lobby. At the close of each day, homemade cookies and ice-cold milk await guests in their rooms. The snack is a nod to the inn's past as a creamery.
Six of the larger rooms are the River Elite option. These have canopy beds, luxury baths, oversized whirlpool tubs, a heated marble floor, wet bar and terrific views of the Fox River.
The on-site spa offers relaxing massages, facials and body treatments. Bath baskets are offered for an in-room, do-it-yourself luxury bath.
The on-site restaurant is Atwater's, offering farm-to-table American cuisine in an intimate dining room. It's the kind of top-notch restaurant where even the Brussel sprouts, especially the Brussel sprouts, are excellent. If the elements cooperate, you can enjoy cocktails on the al fresco patio or in private at the riverfront gazebo.
Outside the doors of the inn are the scenic Fox River Trail and the charms of downtown Geneva. It's an easy walk. Or if you really want to take it easy (and why not), the inn will drop you off or pick you up at a nearby destination.
HOTEL INDIGO, NAPERVILLE
Opened in 2016, Hotel Indigo is a boutique hotel with its own distinctive vibe and charm. It's part of a worldwide set of properties, located in vibrant towns and cities, that offer locally influenced design and decor. What's just outside the doors is part of the experience. New Hotel Indigos have opened in Krakow, Singapore and Los Angeles.
Surprised Naperville made the cut? Well, the bustling city is probably not fully appreciated by most suburbanites. The Hotel Indigo is in the Water Street District, a busy commercial area that's not exactly urban and not exactly suburban.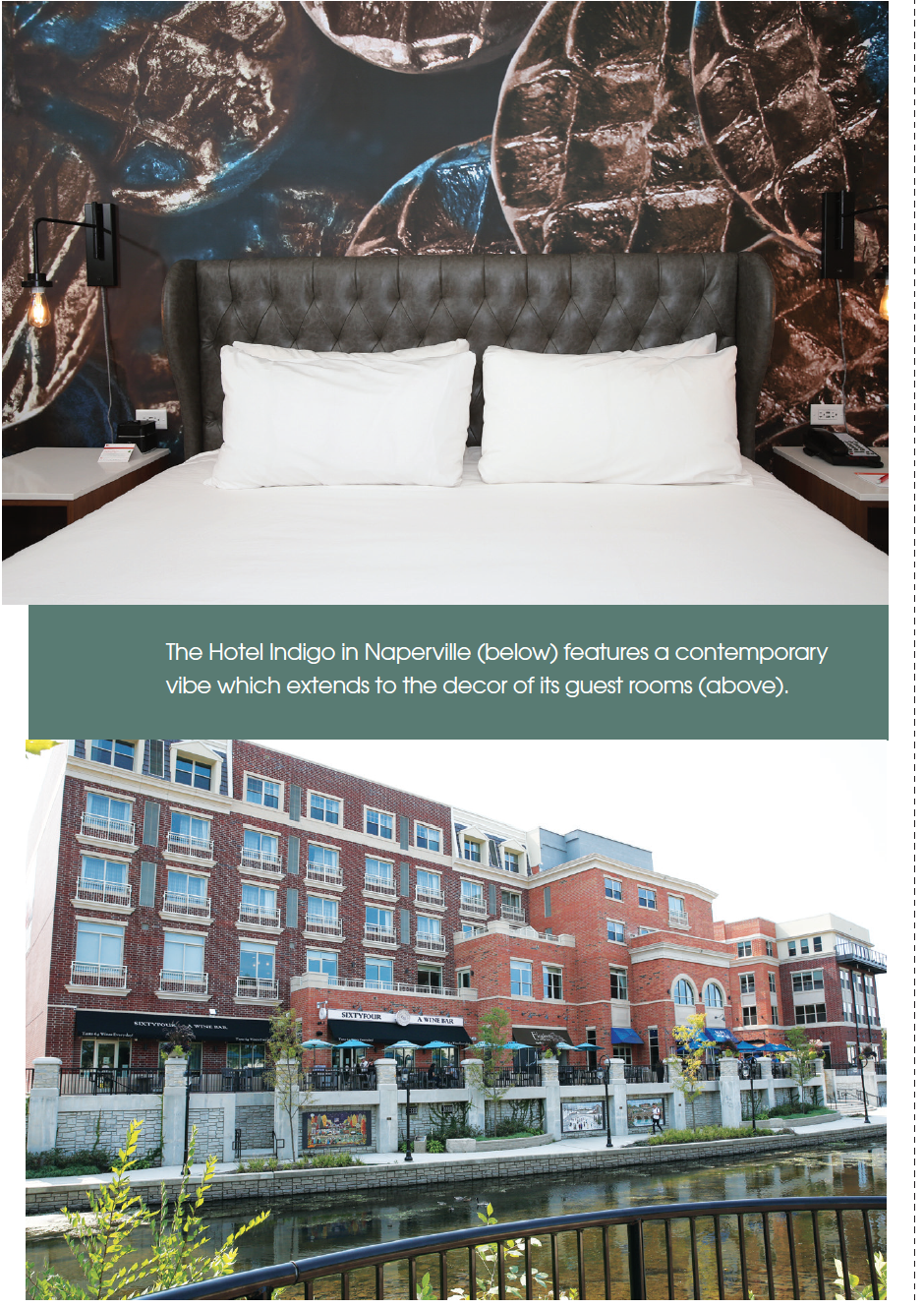 "We're the only hotel in the heart of downtown Naperville," says James Pontrelli of the hotel. "We have many amenities within walking distance including world-class restaurants and shops."
Directly below the hotel is Solaia Luxury Salon and Spa, known for successfully pushing the boundaries of what a spa can be with a "full immersion" experience including video technology, music and refreshments. Close by are popular shops such as London Skye clothing boutique, Trails & Tide clothing store and Naperville Jewelers along with top-notch restaurants such as Blue Sushi Sake Grill, Quiubo Mexican restaurant, Santo Cielo restaurant-lounge and the new Vasili's Mediterranean restaurant.
The Riverwalk is right outside the hotel and a short stroll away are Naper Settlement, the paddleboat quarry and North Central College.
The hotel itself is a breath of fresh air in a world of same-old, same-old design. The rooms feature plush bedding, hard surface flooring with area rugs, attractive murals and artwork that reflects the area. The "spa-inspired bathrooms" have glass-enclosed walk-in showers with showerheads that emit a pleasant rainfall-like stream.
At Hotel Indigo, at the end of a long, easy day, sit on your balcony, clink a glass or two with a loved one, gander at Naperville below you and enjoy the mystery and romance of the stars above you.
LYNFRED WINERY, ROSELLE
Come for the wine. Stay in the stylized, luxurious rooms.
Begun in 1979, Lynfred Winery is the oldest and largest, continuously operating family winery in Illinois. It produces over 70 varieties and 30,000 cases of fine wine per year. It built suites for overnight guests in 1997. So this is a slice of paradise for wine aficionados. Kids have Disney World. Wine lovers have Lynfred Winery (but without the bickering!).
The immersion in the delights of wine starts upon arrival. Guests are greeted with a lovely charcuterie board and choice of two bottles of wine. A semi-private tour of the winery also is available. "Have a grape day," staff like to say.
The winery itself began in a home built in 1912 on property first settled by Colonel Roselle Hough, for whom the town is named. Fred and Lynn Koehler (hence Lynfred) bought and restored the home in the mid-1970s. The 18-inch-thick cellar walls were ideal for temperature control for aging wine.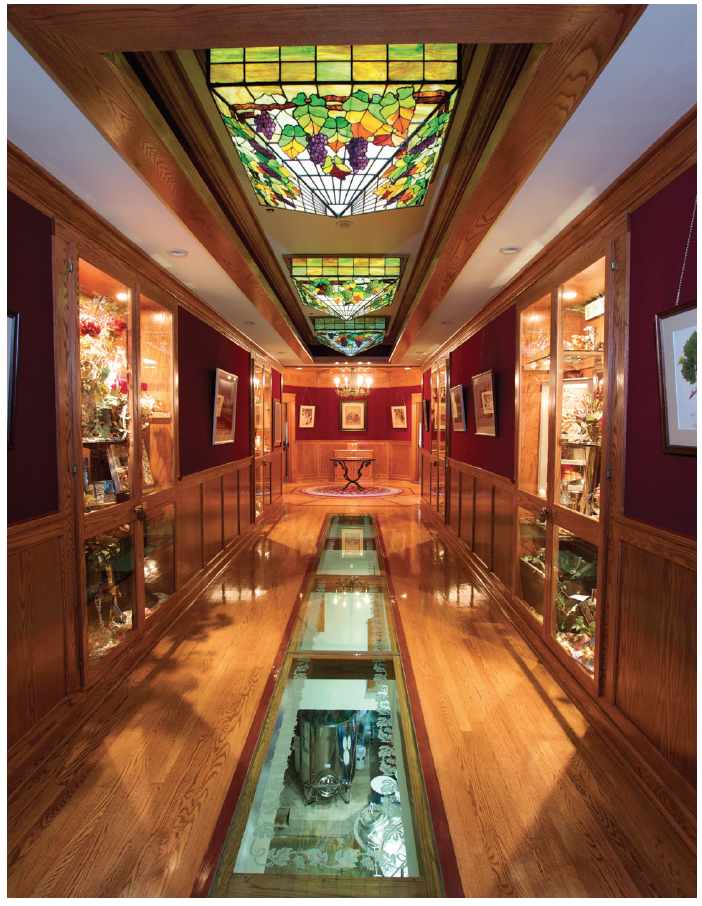 The Koehlers officially opened the winery in 1979. The 24,000-sq-ft addition was styled after the work of Frank Lloyd Wright. It eventually became a 100,000-gallon wine production facility. The married couple liked to joke that they had overseen "a hobby that got out of hand."
The pandemic forced the closure of the suites. Re-opening Feb. 13, the four plush bed-and-breakfast suites come with balconies, fireplaces, heated bathroom floors, heated towel racks, body-spray showers, terry-cloth bathrobes and slippers. They are decorated in the style of different wine countries: American, French, German and Italian. Each is rich with a multitude of details. These suites are about as far from the bland sameness of a Holiday Inn room as you can get.
The American suite is a homage to Frank Lloyd Wright. It features authentic Stickley furniture, bronze and mica glass light fixtures and a wine-colored whirlpool. The deep warm tones of the room are typical of the Arts & Crafts movement. The grapes and vines motif adds to the approachable and relaxing vibe of the American Midwest.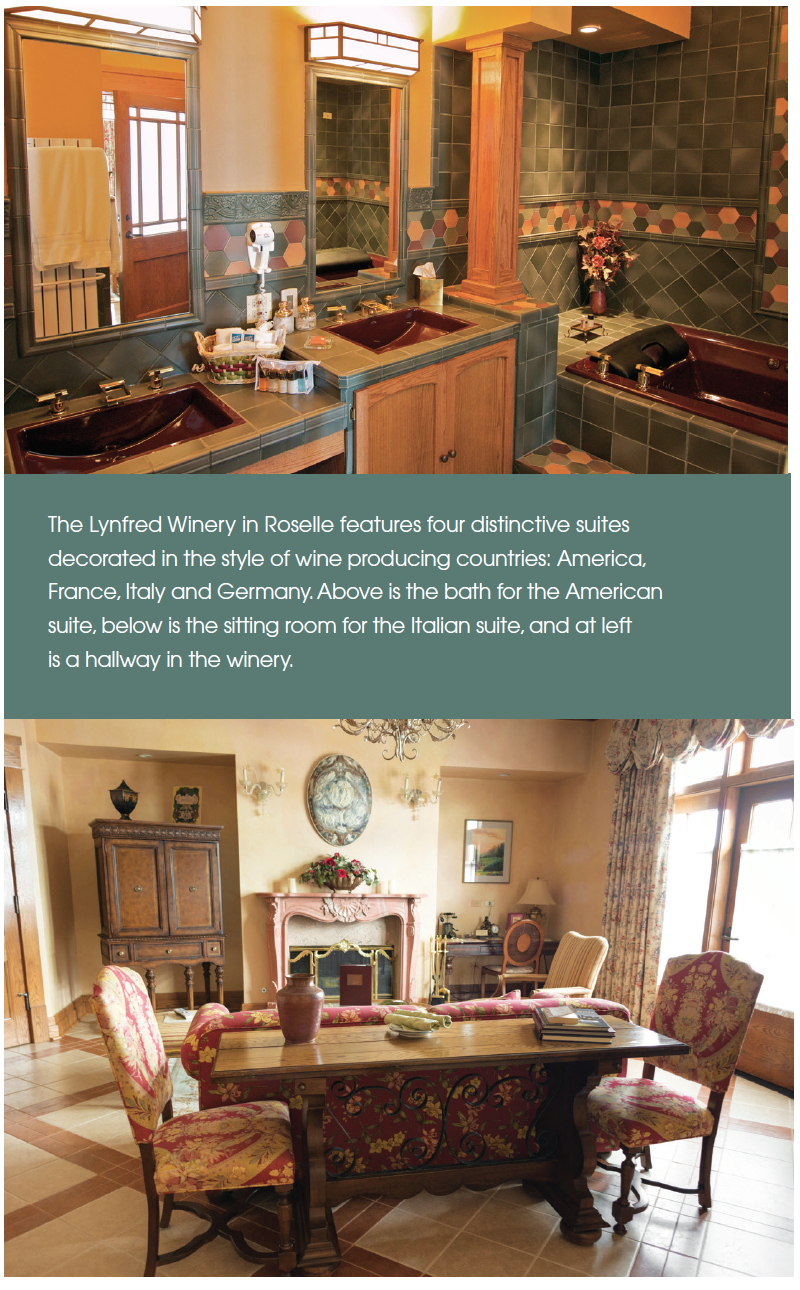 The cozy German suite represents the Gemütlichkeit, or good feelings, of the cute wooden homes of Bavaria. The oak-paneled suite, furnished in Biedermeier furniture, uses auras of green (common to the green bottles of Riesling wine). Deep-green marble adorns the wine bar and fireplace. A highlight of the room is a pair of hand-forged sconces featuring acorns and the famous Black Forest bears. The bath, which has Villeroy and Boch tiles, includes a trompe l'oeil window by artist Charles Nitti. In a niche near the spa tub is another surprise, a Black Forest mother-bear with her cubs.
The Italian suite is reminiscent of a walk in the Italian countryside. Soft colors are embedded in the heated stone tile floors and the country-Italian furnishings. The grand living area features a carved rose marble fireplace and antique Murano glass sconces. The bedroom features Venetian-style furniture and a romantic print of cupids, taken from the Medici archives in Florence. The magnificent spa bathroom has an antique stone mosaic floor, Italian marble walls and, the architectural capstone, a columned Roman bath. A niche in the bath features a marble reproduction of Botticelli's Venus.
The French suite is, well, French-like, aspiring to be "a rhapsody of whimsical romance and enchantment." The French countryside is evoked by hand-carved garlands of roses and the blue limestone on the hearth. The patterned fabrics and needlepoint carpets showcase the period-style French furniture. Blue marbleized tile, enhanced with gold leaf, accent a tromp l'oeil painting of a Provence vineyard. Crystal and bronze chandeliers hang above.
The overnight stays can be enhanced with a number of packages. The Alfresco Picnic Package includes artisan sandwiches, fresh fruits, side dishes and a bottle of wine. Or order a fresh fruit basket, a dozen roses or a custom gift basket.
In previous years, there have been cute holiday-themed options such as the Easter Package in which guests had to search in their suite for eggs full of candy which were paired with different wines. Swedish massages also are available.
The winery is an escape that guests wish they didn't have to leave. "Our guests are looking to unwind, experience luxurious surroundings and just be together," says Christina Anderson-Heller of Lynfred Winery. "Hundreds of our guests are young parents looking for a little escape. Almost everyone we serve breakfast to says, 'We don't want to go back to reality.'"
HOTEL ARISTA, NAPERVILLE
Modern decor meets old-fashioned luxury at Hotel Arista. Guests say this place does it right where it counts. Spacious, clean, first-class room? Check. Upscale dining? Check. A spa that is special? Check. A fully loaded gym? Check.
The rooms come with elegant, simple furnishings with artwork that favors bright and bold colors. The rooms ooze with the luxury you don't get at home. The plush beds are draped with top-of-line linens. The deepsoaking tubs are a gift to tired bodies. The marble bathrooms have TVs built into the mirrors. Some might say, "Why?" Well, when it's a getaway day or two, the proper attitude is "Why not?"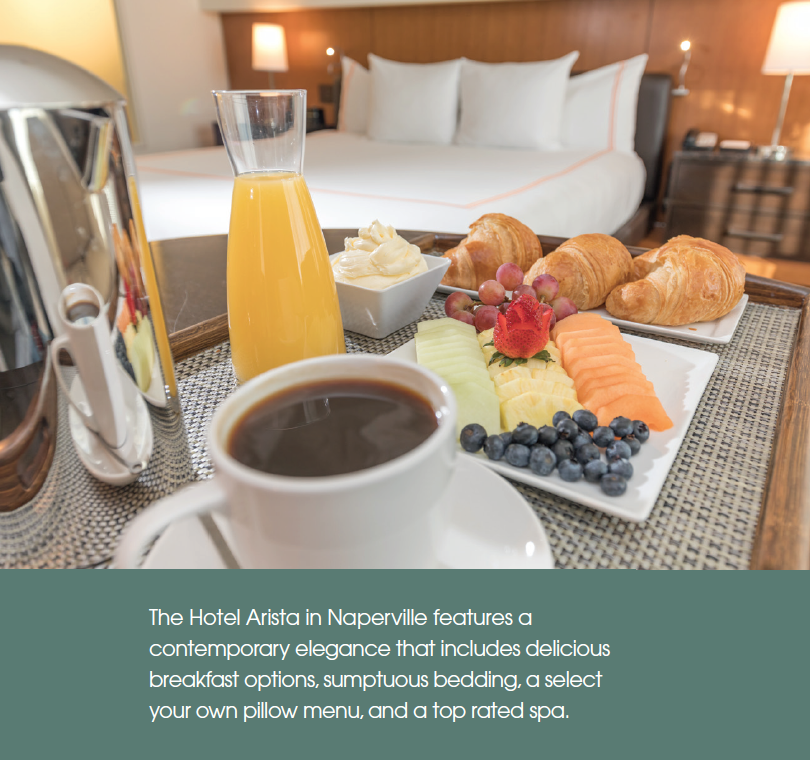 The rooms also are conducive to pillow talk. There is no way around it. Guests browse the Pillow Menu and choose. There is an anti-snore pillow, a body pillow (for snuggling), a buckwheat pillow to ease tension and back pain, a cherry stone pillow that is soothing, a cervical pillow good for the neck and spine, a lavender aromatherapy pillow and more. By the end of a stay, guests may have discovered a pillow perfect for them and a good night's sleep henceforth.
The setting for the hotel is the CityGate campus, a pod of commerce, dining and entertainment, as well as a bucolic pond and walking trail. Options abound for eating. Che Figata (Italian for "that's cool") is an Italy-to-table experience. The wine cellar holds 100 Italian labels for dining in or carryout.
The CityGate Grille offers USDA-prime steak and seafood with live jazz on weekends. The Zorba Cocktail Bar has an outdoor patio with fire pits to gather with your favorite specialty coffee or cocktail. Get another kind of buzz at Lavazza with its robust European coffee.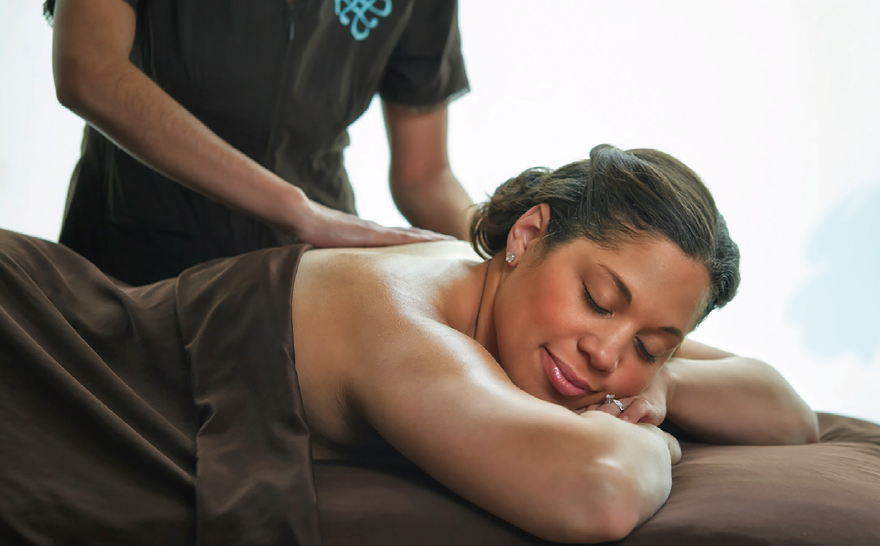 The Arista Spa & Salon combines ancient Mediterranean healing with modern innovations and science to pamper the skin, hair and body. A couples room offers a more private experience.
Various packages, each with tempting features, are offered. The Romance & Indulge Couple's Package includes a $100 "indulgence credit" toward dinner, spa or breakfast, plus rose petals and a bottle of bubbly. The Write Your Love Story
Romance Package offers a bottle of bubbly and rose petals.
For those who love their pooch too much to be away from him or her, the Dog Gone Good Time Package includes a comfy dog bed, a food and water bowl, a toy and even waste disposal bags for use in the designated dog-walking area.
HOTEL BAKER, ST. CHARLES

First opened in 1928, the grand Hotel Baker has two advantages over an ordinary venue. It's steeped in history; its look and feel has an ambience that can't be manufactured. Also, it's perched gracefully on the Fox River. The elegant rooms offer beautiful river views.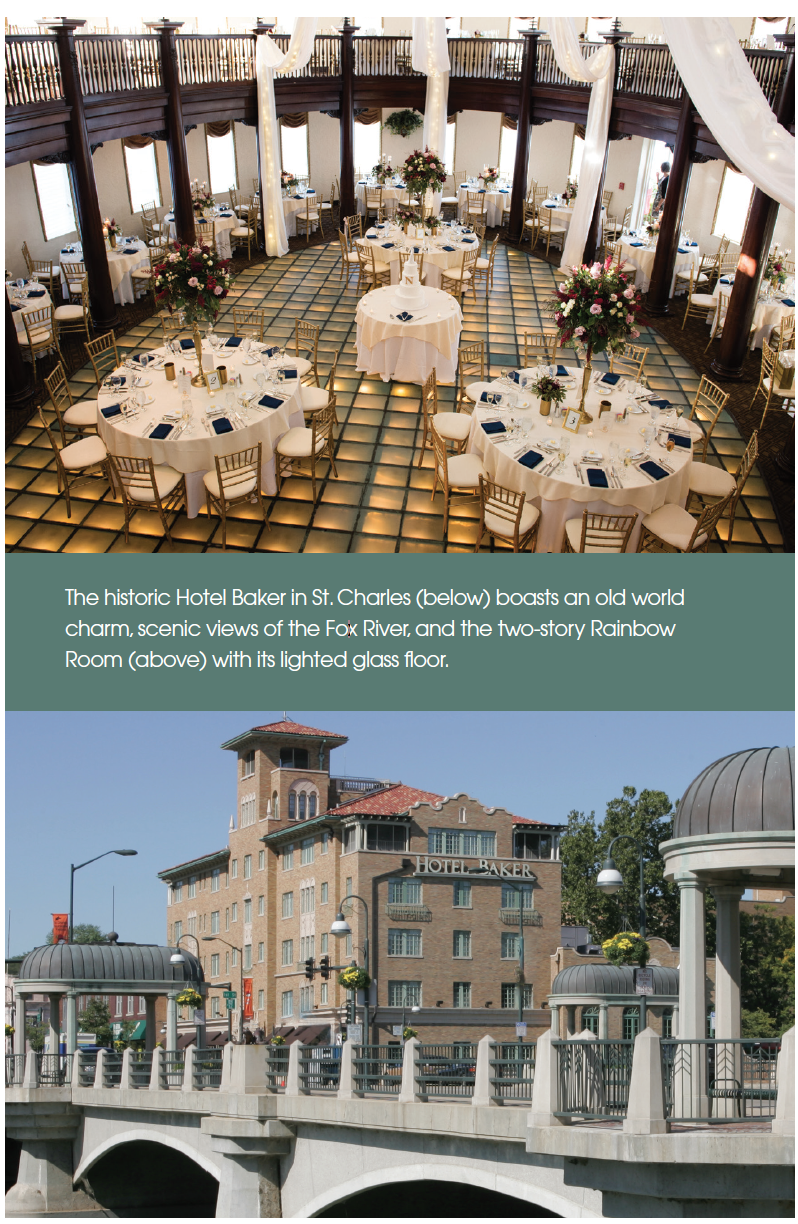 The 53 guest rooms feature marble-accented baths, custom draperies and plush carpeting. Many of the furnishings date to the 1920s.
Since the 1930s, the opulent hotel was fondly known as the "Honeymoon Hotel." For decades it hosted overnight stays for such luminaries as John F. Kennedy, Gerald Ford and Billy Graham.
The two-story, oval Rainbow Room is the most famous and dramatic part of the hotel. Its lighted glass floor was one of only three of its kind worldwide when constructed in 1928. More than 1,200 red, blue, green and amber lights twinkled beneath 600 glass square blocks. Entertainers who played here included Guy Lombardo, Lawrence Welk and Louis Armstrong.
Equally mesmerizing is the lush Rose Garden, full of colorful plants. Patio heaters allow guests to enjoy the garden when temperatures dip.
The colorful "Colonel" Edward Baker, who had inherited $19 million from a relative who helped found Texaco Oil Company, built the $1 million hotel with the most modern conveniences of the day. Using two 50-kilowatt generators, the hotel supplied its own electricity as it harnessed the waters of the Fox River. The kitchen's modern gadgetry included such wonders as electric meat slicers, a pastry oven, an electric dishwasher and automatic toasters.
No two guest rooms were alike in layout or decor. The rooms featured costly walnut and mahogany furniture. The Trophy Room, fashioned after a Spanish courtyard, displayed the Colonel's awards from the racehorses he owned.
After serving as a retirement center after the colonel's death, the hotel underwent a massive renovation in the 1990s and then was purchased by the current owners, Joe and Rowena Salas, in the early 2000s. Staying here is a step back in time to the elegance of yesterday--along with modern amenities and expectations. Guests receive chocolate-covered strawberries and can book a room with a hot tub on a balcony.