THE HEADWATERS: DOWNTOWN ST. CHARLES
A wide section of the Fox River cuts through and defines downtown St. Charles, a city that celebrates both past and progress with historic buildings like the iconic Art Deco-style municipal building at the Main Street Bridge and new riverfront mixed-use buildings across the way.
An eclectic assortment of restaurants, retail stores, services and entertainment and cultural attractions means that there's no shortage of things to see and do in downtown St. Charles.
Take it all in with a stroll . . . (or perhaps a run or bike ride) along the River Walk, a brick-paved path along the Fox River that connects to miles of riverfront pathways that snake through the Tri-City area of St. Charles, Batavia and Geneva.
Savor every bit and bite . . . of a return to restaurant dining at a number of spots in the downtown area.
Channel the Mediterranean . . . with fare at Eden on the River or get your fill of Italian favorites at Gia Mia, Francesca's by the River, La Za' Za' Trattoria or
Salerno's on the Fox, among others. Savor sushi and Asian specialties at Shakou, which just returned to St. Charles from Naperville where it had moved a year and a half ago.
Celebrate Margarita Monday . . . Taco Tuesday or any other day of the week when you have a hankering for authentic Mexican food at El Puente or Jalapeno Grill. Or, if you like your south of the border fare with a little contemporary fusion flare, check out Puebla Modern Mexican and La Mesa Modern Mexican.
Batter up . . . for a plate of pancakes or other breakfast and lunch fare at Brunch Café or grab a cup of coffee and a food item or two at Kava Diem Organic River Cafe or Arcedium Coffee House.
Get your Irish on . . . at McNally's Pub. Toast to a new season and explore the menus at pubs, bar and grills and beer halls including Alley 64, Filling Station Pub and Grill, Main Street Pub, Crazy Fox Bar and Grill, The Office, and Alter House Brewing, where you can also check out the beer-making action at the brew house.
Tap into . . . some wine and cider varieties in the tasting and tap room at Broken Brix Winery and Cidery, which also has a home brew shop for craft beers.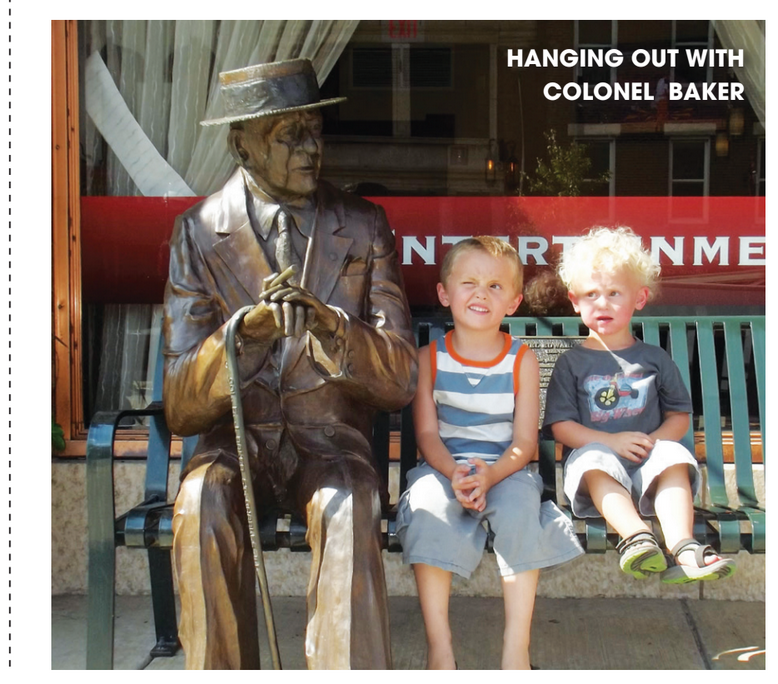 Soothe that sweet tooth . . . with a cone from Kimmer's, the homegrown, homemade ice cream shop, which features an array of distinctive flavors like Caramel Sea Salt and Aztec Hot Chocolate. Or grab a Pineapple Passion Sorbetto or Limoncello Gelato at Forever Yogurt, a caramel apple or some hand-crafted chocolates or fudge from Kilwins, or a cupcake at Smallcakes Cupcakery.
Pick up groceries and sundries . . . for a DIY meal or grab prepared foods at Blue Goose Market, a local staple with a loyal following.
Check in – or just check out . . . Hotel Baker in downtown St. Charles. It is a mainstay that has graced the downtown area since 1928. In addition to more than 50 guest rooms and suites, the hotel is a popular venue for weddings and other events. Enjoy the best of both worlds during your visit with a stroll in the English-style gardens along the riverfront followed by a round of martinis and live music in the lounge at the hotel's Rox City Grill.
Take off with some flavor . . . and sweets at Rocket Fizz, specializing in specialty sodas and confections.
Put your pandemic sweatpants on hold . . . and shop for new threads at Jeans & a Cute Top Shop.
Browse for something shiny . . . at the Diamondaire, Golden Valley Jewelers or Mr. Marco Jewelers.
Scour antique stores . . . for pieces of the past, including Circa Vintage Gallery Antique Market 1, and SG Too, among others.
Get lost for a while . . . at Town House Books, where you can roam rooms of books and stop for a bite to eat or a cup of tea at the in-house café. The bookstore also offers online and curbside services.
Come for hair, nails facials . . . or other service at Mixology Salon and stay for a walk through its in-house art studio, 116 Gallery.
Get together in the "new normal" . . . at community events held in downtown St. Charles. This year's St. Patrick's Day festivities looked a little different than the usual jam-packed parade, but roaming bagpipers and treasure hunts kept the popular spring tradition alive.
Other annual events may be adjusted in some way, including the Fine Arts Show, the Memorial Day weekend and Independence Day celebrations, as well as "STC Live" summer performances, the Heart of the Fox run and tug-o-war, the Scarecrow Stroll and Holiday Homecoming, among other happenings.
Load up on goodies . . . at the St. Charles Farmers Market at Baker Methodist Church, running indoors on Fridays through May and starting outdoors on Fridays in June.
Haggle, browse, buy or sell . . . during an outing at the Kane County Flea Market, a St. Charles tradition for more than 50 years, held on the first Sunday and preceding Saturday of each month from March through December.
TRIBUTARIES: THE SCENE BEYOND DOWNTOWN
Of course, suburbs are more than their downtown business districts. There is a lot to seek and find throughout St. Charles including a wide range of additional culinary options.
Choose from a variety . . . of breakfast and lunch options including omelettes, skillets, crepes and sandwiches at Alexanders Café or Syrup, two popular breakfast/lunch spots.
Bite into a burger . . . and see what the fuss over Wahl Sauce is about at Wahlburgers, owned by the sibling trio of chef Paul Wahlberg, actor Mark Wahlberg and, yes, actor and St. Charles resident Donnie Wahlberg.
Throw it back, supper-club style . . . at St. Charles Place Steakhouse, which also hosts wedding and banquets.
Sample from a variety of cuisines . . . at Chef Abdul Mediterranean, Just Kabobs or Vino Thai.
Grab a good meal . . . and your libation of choice at Spotted Fox Ale House or Cooper's Hawk Winery & Restaurant, or sample a wide range of beers and bourbons at Global Brew Tap House.
Expand your palate . . . with a potato volcano or watermelon margarita at Lupita's Cocina.
Get a taste of Scotland . . . at Balmoral Restaurant on the west side of town, where you can try authentic Scottish fare with a backdrop of bagpipers.
Check out the new . . . Bella European Bistro from the owners of DRM European Cafe & Deli, which is closing. Opening this month, the new eatery will include many DRM favorites as well as a variety of new menu items in a larger space with an outdoor patio.
Pick up a spring bouquet . . . at the 95-year-old Swaby Flower Shop.
Discover an array of handmade items . . . from artists, refinishers and builders at the new Trend + Relic store, which also offers painting classes and make-and-take workshops.
SIGHTS AND SOUNDS: THE ARTS IN ST. CHARLES
Think of St. Charles as an outdoor museum of sorts, with public art displays that dot the landscape. Yes, that is a Humpty Dumpty you see on a wall at the Mount St. Mary Park. It's part of an ongoing Sculpture in the Park experience in town that will include up to 15 sculptures fashioned by artists from all over the country as well as from within the community.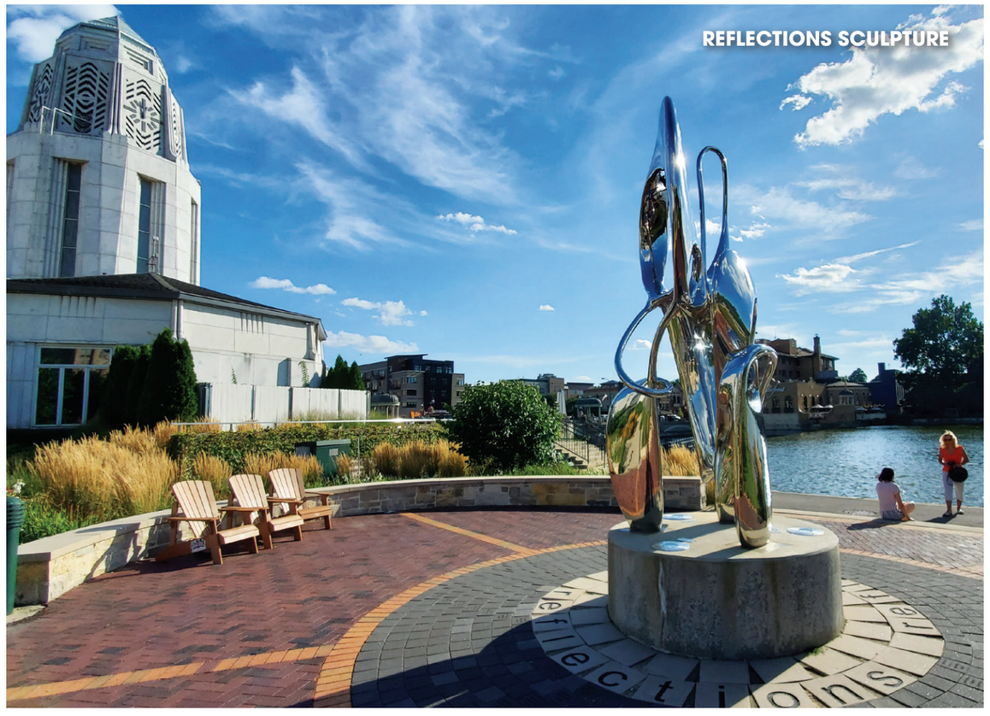 Continue your arts tour . . . with a view of other pieces along the Fox River shoreline, courtesy of the Sculptures on the Fox Program created by the River Corridor Foundation of St. Charles. A highlight of that program is a sculpture called "Wind Emotions" that lights up at night.
Don't forget to stop by . . . the new "Be You" sculpture in the 1st Street Plaza to snag a selfie.
Look forward to seeing a show . . . when performances are scheduled to resume at the Arcada Theatre, a venue that has long been a fixture of the cultural and entertainment scene in St. Charles (check the website for up-to-date information). The historic theatre, built in 1926 by philanthropist Lester Norris, was bought by new local owners a couple of years ago and continues to showcases a wealth of acts brought in by Onesti Entertainment. When it reopens, the newly renovated theatre will be the center of an expanded entertainment complex that will include two new restaurants and nine hotel suites.
Take in a concert . . . by the Irish pub band, The Ragged Rascals, a socially distanced concert on March 20 at the Baker Community Center. The event is sponsored by the venerable Dellora A. Norris Cultural Arts Center, which boasts a 1,000-seat performing arts theater and spacious, two-level art gallery.
Check the website . . . for Steel Beam Theatre — which remains on hiatus due to the pandemic — for updates on a return to its regular performances.
Experience art in its many forms . . . at Fine Line Art Studio, a regional arts center where you can take an art appreciation or instruction class and browse the studio's gallery and artisan gift shop. Whether you want to learn how to paint with pastels, make earrings, or even dabble in blacksmith forging, this studio is a resource to let your inner creativity shine.
Learn lots of local lore . . . at the St. Charles History Museum, home to rotating and permanent exhibits, photo archives and the Curious Fox Gift Shop.
Tour the Durant House Museum . . . a brick farmstead restored as a living history museum, and Pioneer Sholes School, a restored one-room country schoolhouse, at the LeRoy Oaks Forest Preserve to get a feel for 19th century life in this area.
CURRENT EVENTS: LIFE ON THE RIVER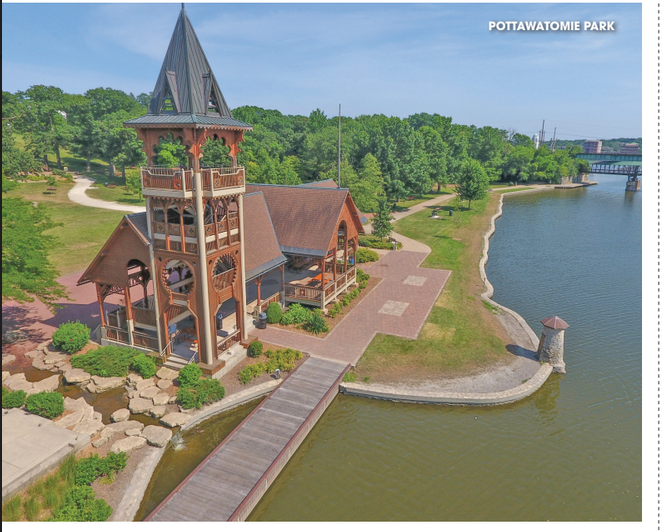 Navigate the Fox River by kayak, canoe or fishing boat at one of the many boat launches along the St. Charles shoreline. Don't have one of your own? Rent a watercraft at Kayak Myak or other rental businesses in the Tri-City area. If you have a motorboat or jet ski, you can use the boat launch at Boy Scout Island in Pottawatomie Park to access the Fox River.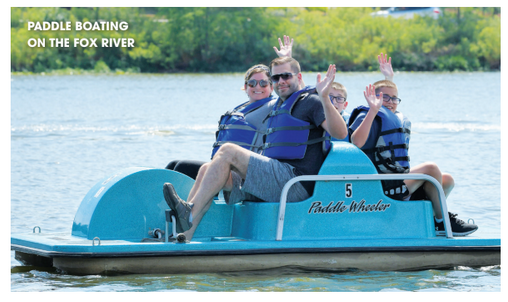 Sit back and enjoy . . . a ride on the Fox River on an old-fashioned paddle wheel riverboat, run by the St. Charles Park District. This year's schedule may depend on current COVID-19 restrictions, but past years have included daytime, sunset and happy hour cruises, as well as Eco Cruises and Birding by Boat rides. Or you can book a private charter for your own special event.
Make it a riverside day . . . at the expansive 38-acre Pottawatomie Park, a hub in St. Charles throughout the year. Bike or walk along the riverfront or cast a line and see what fish you can reel in.
Sink a putt . . . at River View Miniature Golf or the 9-hole public Pottawatomie Golf Course.
Bump, set and spike . . . at the sand volleyball area, climb around the playground or swing away at the softball field or tennis court.
THE ECOSYSTEM: NATURE, AGRICULTURE AND WILDLIFE
As a farther-out suburb, St. Charles offers lots of open land and green space to explore.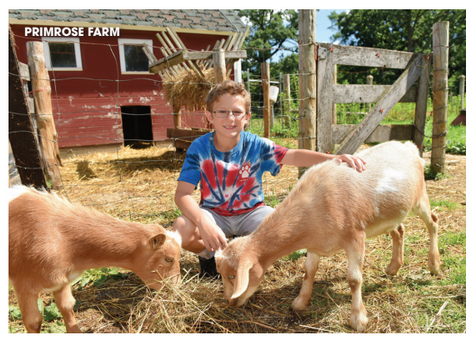 Check out the mini waterfall . . . at Delnor Woods Park or head over to Primrose Farm where you can milk a cow, feed the goats, gather fresh chicken eggs straight from the nest, or mingle with the horses, among other activities.
Learn more about the area's natural resources . . . through the exhibits and displays at the Hickory Knolls Discovery Center, which is also a venue for weddings and special events, as is the Creek Bend Nature Center at the LeRoy Oakes Forest Preserve, and the Barbara Belding Lodge at Brewster Creek Forest Preserve.