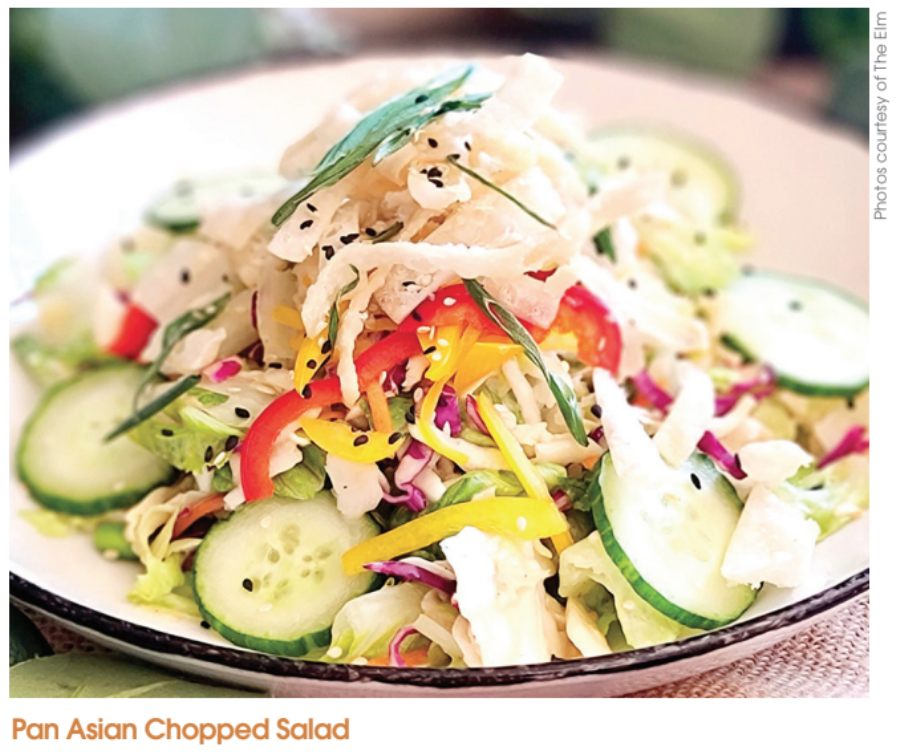 The Elm in La Grange, according to the local married couple who own it, aspires to be "a neighborhood gem with a big city vibe." So does the reality equal the promise?
"Definitely," says my dining partner, my 20-something son, a devotee of trendy Chicago restaurants. "It's new-wave industrial," he adds, referencing the striking decor.
Owners Dan and Caitlin Spain both attended Lyons Township High School and live with their children in La Grange. Dan runs a company that does high-end construction, and Caitlin, using her art degree, takes a leading role in designing the new spaces.
In 2020, they dramatically renovated the space that formerly housed the Magic Wok, and the end result is an edgy, attractive but not pretentious space with two spacious, comfortable dining rooms, an elegant bar area, and — setting it apart from many competitors — a deluxe, way-cool rooftop patio.
The menu, which changes periodically, is upscale American — food with flair, plates with panache. It's seafood, pasta and steak, but seasoned creatively, sometimes unconventionally yet reliably tasty. In charge of the kitchen, visible to diners, is chef Eddie Jobin, who has a background in farm-to-table fare and formerly helmed Parker's Restaurant in Downers Grove as well as other venues.
Especially when the rooftop is open, start with an inventive cocktail, sure to entice patrons who might normally eschew a mixed drink. A standout is the Nutty Manhattan, a pecan-infused High West Double Rye flavored with maple, black walnut bitters and bacon. It's an experience as much as a drink. Or thrill your drinking palate with a Sugar Plum, plum-infused Bacardi accented with Luxardo, lime, white cranberry and plum bitters.
The undisputed star among the eclectic appetizers are the robust Crab Cakes, rendered delicious thanks to lemon, scallions, creole remoulade sauce, roasted bell peppers and corn salad. Also leaving you pining for more are the Lobster Fritters, a successful concoction of corn, scallions, andouille sausage and creole honey mustard, and the Sesame Salmon Wontons, a tribute to the gustatory harmony of sriracha aioli, pickled onions, hoisin ginger slaw and cilantro.
The current menu offers a dozen entrées. Try the Kalbi Style Boneless Short Ribs, served on kimchi fried rice with Korean barbecue sauce and scallions. The meat is wonderfully rich in flavor, tangy but still retaining its essential beefiness.
Another winner is the Parmesan Crusted Baja Striped Bass, complemented nicely by garlic sauteed spinach, mashed potatoes and a bacon shallot vinaigrette. A decidedly non-fishy seafood option, the flaky white fish is mild and sweet.
Traditional entrees here come graced with flavors typically not found at more traditional restaurants. Both the center-cut filet mignon and the prime New York strip are seasoned with a French-inspired guajillo chili demi-glace.
For less expensive options, choose the Grilled Chicken Sandwich or the The Elm Cheddar Burger. These are not menu afterthoughts overshadowed by grander dishes but rather truly delicious meal options.
The desserts are creative and flavorful. A sinfully rich caramel brownie is exalted by french vanilla gelato, pretzel crust and a caramel sauce. Not too shabby either is the Chocolate Chip Toffee Cookie, enhanced by butter pecan gelato.