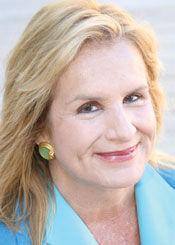 The year 2022 still feels fresh on the calendar, even in February. Each new year and month, I privately set goals for myself, large and small. From swearing off those delectable avocado oil potato chips to finishing my next book.
It seems for the first few months there is a bombarding constellation of aspirations pronounced by friends, family, colleagues, strangers in line at the grocery store, and celebrity spokespeople for weight loss programs or financial advising teams. Everyone will exercise more, volunteer more, save more, eat fewer chips, swear less?
Thank you for sharing.
And why not? Even a relatively new calendar offers the possibility of a clean start and a redo of ill-advised proclivities. I am all for living a better life for self and others, but I am also rather weary of the public proclamations. They ring hollow to me, particularly now.
If the past, present and forever pandemic is teaching us anything it is that you can't predict even what is spreading in the air. Work, school, friendships, family, everything is remodeled in response to COVID, and nothing feels familiar — everything feels disrupted.
Still, I have close — and not so close — friends who swear they can and do manifest for themselves magnificent outcomes, from dream jobs to ideal partners and the perfect new home. "Just by saying it aloud in the mirror?" I ask with deep-seeded incredulity.
The answer is usually defensive and complicated. Well, yes, and also signing with a top recruiter, or agreeing to a fix-up from a trusted cousin, or having a resourceful real estate agent. It's never just about the wish that made it so — that only happens in Disney movies and remakes. It's about the work that made the wish real and the millions of other tiny coincidences and measurable efforts that happened along the way.
For nearly 10 years I have been a strident apostle of Dr. Atul Gawande's The Checklist Manifesto: How To Get Things Right. In it he makes a powerful case for specificity and precision in your work and life, making lists and checking them much more than twice.
Of course, his theory arose as a surgeon needing to make sure every protocol was followed in the operating room and every instrument accounted for — to save lives. My no-potato chip goal is not nearly as worthwhile or dramatic.
But I do hold myself privately accountable to what I say I will do to advance myself and others. I also know each checklist is beholden to a universe of interferences from illness and power outages to emotion, weather, accidents and even death. None of these are planned. All of these can stop us in our tracks.
I do not berate myself for failing at a goal when barriers and roadblocks arise. I have always thought that the mindsets of "Just Do It," and "You can make your dream happen" need a corresponding appendix of resources that include steps to take when doors close, tragedies happen, and family and life crises take priority. Systems are in place to uphold inequities, biases and blockades. You can't just declare your victory and voila.
Of course our experiences and relationships shape us, from the way we were raised to the way we raise our own families and how we walk through the world. That is not to say we are trapped in these histories, identities or even now in these real present times. It is a nod to ease the grip on the notion of control and acknowledge that we control what we do, how we do it, and how we react to what others do and what happens around us. And that's about it.
My late mother would say, "You cannot control the weather." But what the global climate scientists have taught us is that actually we can. What she meant was it will rain on your parade, but you can walk with an umbrella. What science taught us is moving together, we can change the weather back to an acceptable state because we have already changed it drastically to a worse one.
For me, I aim to be good at what I do professionally and make this next book I am finishing my best yet. I also want to save more money because I know all about rainy days. I want to be a good friend, sister, partner, parent, neighbor, colleague, citizen and human being.
But I will keep my deep resolutions private (beyond the potato chips) because I am revising them every day, knowing that life happens, and the world interrupts on its own accord. Resolving to maintain resilience, agility and good intentions are some of the best resolutions yet.