Diana Martinez was among the two billion people worldwide who viewed the British royal wedding of Prince Harry and Meghan Markle last year at Windsor Castle. Director of the McAninch Art Center ­— also known as The MAC — at College of DuPage, Martinez books talent to perform in the popular Glen Ellyn venue. Like nearly everyone else who saw the wedding, Martinez was bowled over by the London-based Kingdom Choir, an energetic, spirited 15-member gospel group. "I have to get them!" she told herself. And she did. The choir performs Oct. 6 at The MAC.
The September issue of West Suburban Living explored the state of live theatre and the visual arts. This month, we offer a look at the many and varied opportunities to attend live music performances, from pop acts in giant arenas, to blues or jazz in more intimate venues, to local orchestras playing the classics — and everything in between.  And while the growth in dance and comedy has been less explosive, our overview will show you where to find top caliber, often nationally famed performers in those artistic disciplines as well. 
McAninch Arts Center, College of DuPage, Glen Ellyn 
The world-class gospel choir that Martinez was able to attract to perform in Glen Ellyn is just one part of an eclectic, highly renowned season at the MAC. Also on tap are Grammy-winning jazz great Branford Marsalis (Oct. 12), rock legends The BoDeans (Oct. 5) and John Hiatt (Oct. 25),  improv genius Colin Mochrie (Jan. 12), and the wildly inventive Cirque Eloize HOTEL (March 7).
The MAC is a cultural powerhouse with more than 100,000 patrons taking in about 230 performances each year. The largest of its four performance spaces is the 780-seat Belushi Performance Hall, named after COD alumni John and Jim Belushi, who both went on to noted careers in comedy and acting. 
In summer, the music moves outdoors to the Lakeside Pavilion. With such varied facilities, the MAC is able to offer a wide range of programming. "It's like putting a puzzle together. What has market value? What has cultural value? We're a diverse community, so it's about being diverse, too," says Martinez. The ability to cast a wide net also means holding events hard to find anywhere else.
North Central College, Naperville
The college turned a momentous corner when it opened the $30 million Wentz Concert Hall and Fine Arts Center 11 years ago, and today the venue continues to draw top-rate performers. Upcoming headliners include jazz musician Herb Alpert and his wife and stage partner, vocalist Loni Hall (Oct. 19); comedy masterminds Colin Mochrie and Brad Sherwood (Nov. 23); and American rocker and Burr Ridge resident Jim Peterik, founder of the band Survivor (Jan. 25). 
One challenge is the growing habit of patrons to buy tickets close to the show. "Two weeks before the show we're thinking, 'What will we do with all these tickets?'" says Brian Lynch, fine arts director since 1998. "Then it turns out to be a sellout."
Performing Arts Center, Dominican University, River Forest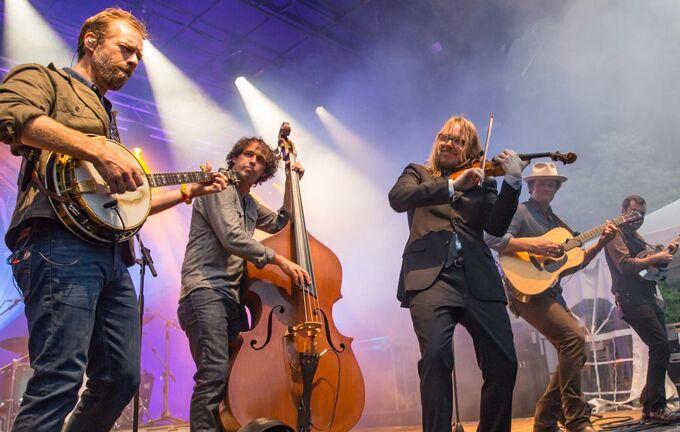 Photo: Steep Canyon Rangers at Dominican University
Dominican has nestled itself nicely in the sweet spot between costly entertainment and low-budget or even free streaming options such as Spotify and Pandora. "People pay high amounts for Broadway tickets and giant spectacle concerts," says Leslie Rodriguez, executive director of external engagement at Dominican. "It makes the mid-sized venues work a little harder to create a value proposition for the mid-range tickets or simpler arts experience."
Dominican evaluates talent at the Association of Performing Arts Presenters (APAP) conference held each year in New York. It's at this showcase, as well as at a similar event in September, the Arts Midwest Conference, that performers and their agents meet with arts directors from around the country to schedule appearances and special events.
Among Dominican's performers this season are Mariachi Herencia de Mexico, a Grammy-nominated group from the Chicago barrios (Oct. 11); the popular bluegrass band Steep Canyon Rangers (Jan. 11); jazz-gospel whiz Damien Sneed, as part of a tribute to Dr. King (Feb. 15); and Ranky Tanky, celebrating the mesmerizing low-country sounds of slave descendants (April 25). A benefit gala to be held in March will feature Emmy Award-winning actress and Broadway star Audra McDonald. Events are held at the 1,200-seat Lund Auditorium and the charming, 180-seat Martin Recital Hall.
Wheaton College Artist Series
Entering its 70th season, the Wheaton College Artist Series tends to have this effect on patrons: "That was interesting. And really good." 
Traditional and classical music and dance is shaken up and stirred, and the new concoction reveals both the timeless quality of the art and fresh insights into the human condition. To wit: the Langston Hughes Project on March 21 presents 12 jazz pieces performed alongside the reading of the poem "Ask Your Mama — 12 Moods for Jazz." The Hughes' poem is a powerful take on the struggles of African Americans. The pieces will draw from blues and Dixieland, gospel songs, boogie woogie, bebop and progressive jazz, Latin "cha cha" and Afro-Cuban mambo music, West Indian calypso, African drumming, German lieder and even Jewish liturgy. In other words, be prepared to enjoy a riveting amalgam of music and social commentary.
Among this season's other half dozen performances is Ballet 5:8, in which dancers bring C.S. Lewis' classic novel, The Great Divorce, to life on stage. Also not to be missed is the celebrated Irish Chamber Orchestra (Nov. 16). Artists are carefully chosen, says Tony Payne, director of special programs at Wheaton. "What does their music say to us today? What does it all say about us who gather to bear witness to their genius?" 
The college is building a new concert hall for the 2020-21 season. The 648-seat facility is part of the $32 million expansion of the Amerding Center for Music and the Arts.
Elgin Community College Arts Center
Newly renovated in the summer of 2019, Elgin's Blizzard Theatre is home to student and community performers as well as to visiting artists. Guitar virtuosos Stanley Jordan and Diego Figueiredo take the stage on Oct. 7 and  master songwriter and musician John Hiatt performs in concert on Oct. 26. 
Arcada Theatre , St. Charles
With an explosion in the range of options for live music in the west suburbs, popular venues have tended to change with the times, each developing its own niche. The Arcada in St. Charles is no exception. With its roots as a vaudeville movie theatre that stretch back to 1926, Arcada today is the place to see rock legends from the 1950s through the 80s. In October alone, Arcada will host Rick Wakeman of YES (Oct. 4), Blue Oyster Cult (Oct. 12), George Thorogood & The Destroyers (Oct. 14), saxophonist Kenny G (Oct. 19), Jefferson Starship (Oct. 20) and Paul Anka (Oct. 30).  
Later in the season, an impressive slate includes Patty Smyth (Nov. 21), Tony Orlando (Nov. 10, John Lodge of Moody Blues fame (Nov. 14). The Arcada also attracts more contemporary  artists like Daughtry (Nov 7) and Jonny Lang (Jan. 10), as well as a host of popular tribute bands. 
Founder and owner Ron Onesti attributes Arcada's success in part to the desire of countless suburbanites to stay local and has become more aggressive in reaching out to a greater number of acts. "I am personally a classic rocker," says Onesti, "so many of our shows are along those lines. We have formulated a culture of lovers of music from the 60s, 70s and 80s, in particular."
Onesti describes a vibrant suburban music scene with so many venues and festivals that there is hardly a weekend where music lovers can't find live music of their liking within 10 miles of home — often at little or no cost. Moving forward, he predicts that it's going to be those entertainment options that are the most experiential, interactive, and physically comfortable that will flourish.  "The customer experience is more important than ever," he adds. 
Rialto Square Theatre, Joliet
Contemporaneous with the Arcada, the Rialto also opened in 1926, when it was designed as a vaudeville movie palace. Today, it hosts music events as part of a broader mix that includes live theatre and dance. The current season includes concerts from Lyle Lovett (Oct. 13), Rickie Lee Jones (Oct. 22) and Little River Band (Nov. 16). 
Paramount Theatre, Aurora
While best know for its Broadway musical theatre productions, the Paramount also hosts a variety of other types of entertainment including periodic live concerts. Ruben Studdard of American Idol fame will perform Oct. 25  followed by Fastlove - A Tribute to George Michael on Oct. 26.
Fitzgerald's, Berwyn
A fixture in on Roosevelt Road in Berwyn for the last 40 years, Fitzgerald's is the Chicago home of American roots music. Owner Bill Fitzgerald directed his early passion for rock and roll into a pub that today hosts everything from rock and rhythm & blues to Louisiana jazz and Cajun zydeco. Each summer, the American Jazz Festival takes over the venue, attracting up to 1,500 music lovers to the indoor and outdoor stages.  
AllState Arena and Rosemont Theatre
West suburban Rosemont is home to not one but two major music venues, capturing audiences from the city as well as from the suburbs and beyond. Allstate Arena, with 18,500 capacity, is on the circuit for national and global stars, including upcoming concerts from Marc Anthony (Oct. 27) and The Jonas Brothers (Nov. 3). Rosemont Theatre, built in 1995, seats 4,400 and has an upcoming slate of shows that includes Deep Purple (Oct. 18) and Mannheim Steamroller (Dec. 20) as well as spectacular tributes to Michael Jackson (Feb. 1) and Queen (Mar. 28).
Other Music Venues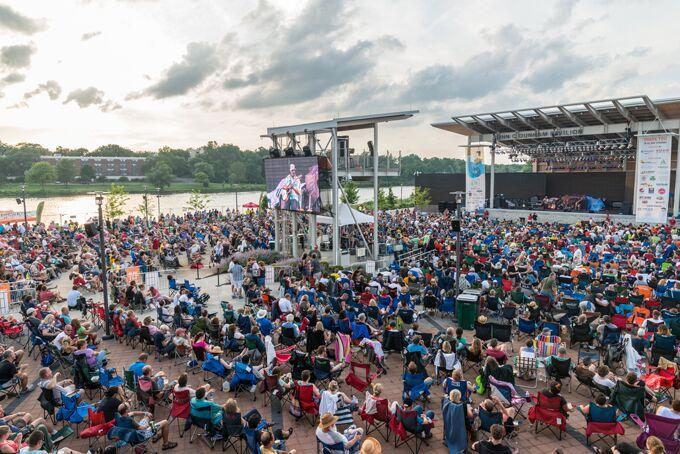 Photo courtesy of RiverEdge Park
From sports arenas and science centers to historic landmarks and chapels, the west suburbs are dotted with venues that periodically offer live music experiences. Fermilab in Batavia, for instance, brings in artists that, one way or another, reflect the science lab's educational mission. Children of Metropolis, for instance, is a virtuosic group of innovative drummers who turn "scrap" material into instruments (Nov. 9). Also in Batavia is Batavia Fine Arts Center, which welcomes actress and comedian Jane Lynch for A Swingin' Little Christmas Time concert on Dec. 12.
Maple Street Concerts in Lombard brings folk and country artists to perform in an acoustically superb Gothic revival church. Coming soon are Briar Road on Oct. 20 and  Special Consensus on Jan. 6. Similarly Mayslake Peabody Mansion is a beautiful setting for small classical ensembles and chamber groups as part of its Music at Mayslake series. Acappellago plays a winter concert on Dec. 7 and WCDB Jazz Salon is on Dec. 12.
A newcomer in Summer 2019 to the west suburban music scene is The Venue, in downtown Aurora. Seating 200, the new location plans to serve as a performance space for local musicians as well as for visiting bands. 
Summers in the western suburbs are particularly alive with music — be it at local festivals or outdoor pavilions. Attracting some of the biggest names is RiverEdge Park in Aurora, which earlier this year hosted rocker Rick Springfield, alternative rock group Poi Dog Pondering, and legendary singer Dionne Warwick. The outdoor Lakeside Pavilion at College of DuPage, which debuted its summer concert series in 2014, has also continued to grow in popularity, while broadening the range of concert it offers.
Orchestras
The only professional orchestra based in DuPage County, the New Philharmonic, is the orchestra in residence at The MAC. Its 60 or so professional musicians perform more than a dozen concerts annually. The holidays will feature "The Nutcracker" with the Salt Creek Ballet (Dec. 14 – 15). Also notable are "The Merry Widow" (Jan. 24 – 26) and, in conjunction with the celebration of Frida Kahlo, "A Salute to Frida" (April 18 – 19), a delightful exploration of the rhythms and sounds of Mexico.
The 57-years-and-going-strong Elmhurst Symphony Orchestra, comprised of professional musicians and accomplished amateurs, has played under the baton of Dr. Stephen Alltop since 1995. The upcoming five-concert series begins with "Celestial Visions" on Oct. 12. 
Formed in 1957 and directed by Maestra Barbara Schubert, the DuPage Symphony Orchestra has grown to 100 talented volunteer musicians. The season's main concert is "European Explorations" on Oct. 12, followed by "Arabian Nights," a family concert, on Oct. 27.  
The Symphony of Oak Park & River Forest will play Rachmaninoff on Oct. 6 while a concert by the Elgin Symphony will feature Bach and Dvorak on Nov. 23 & 24.  
Dance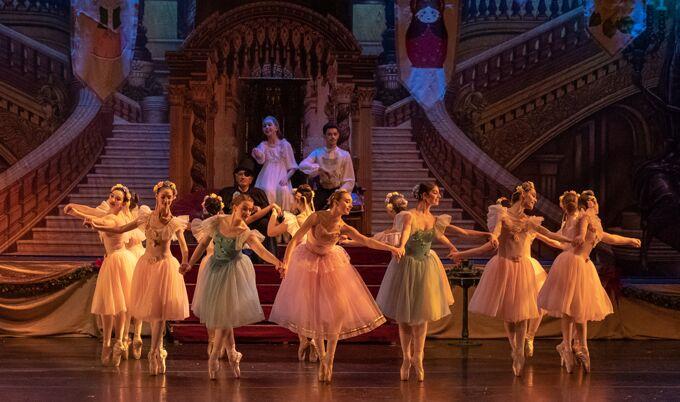 Photo: Chicago Ballet Conservatory at Hemmens Cultural Center
Chicago's celebrated contemporary dance company Ailey II will take the stage at The MAC in Glen Ellyn on Nov. 9, just one sign that west suburbanites like to be on the cutting edge when it comes to dance arts. The Mac hosts numerous world-class dance performances, including shows like Ballet Folclórico Nacional de México Silvia Lozano (Feb. 16). 
STOMP, an international percussion-dance sensation will come to Paramount Theatre in Aurora next April, back by popular demand for a three-night, five show smack-down. 
In December, of course, stages across the suburbs make way for holiday performances of Tchaikovsky's glorious holiday ballet, The Nutcracker. Of particular note is the Chicago Ballet Conservatory performance at Hemmens Cultural Centre in Elgin. Dancers from the Bolshoi Brazil join professional Chicago dancers and talented local students in the Christmas extravaganza. Fox Valley Ballet, Salt Creek Ballet and Schaumburg Dance Ensemble are among the numerous other wonderful youth dance companies that stage The Nutcracker, as well as student recitals throughout the year.
Comedy, Tonight!
Jay Leno and Jim Belushi are among the many top-name comedians who play the western suburbs. Leno will be at Paramount Theatre in Aurora on April 17 and Belushi comes to Chicago Improv in Schaumburg, one of the area's  top comedy clubs, on Oct. 25. Another key venue, attracting nationally known stand-up comedians every weekend, is Zanies, with locations in Rosemont and at Pheasant Run Resort in St. Charles. Comedy Shrine in Aurora is a venue for regional comics and local talent, especially on open mic night
ArtsDuPage: Where the Arts Connect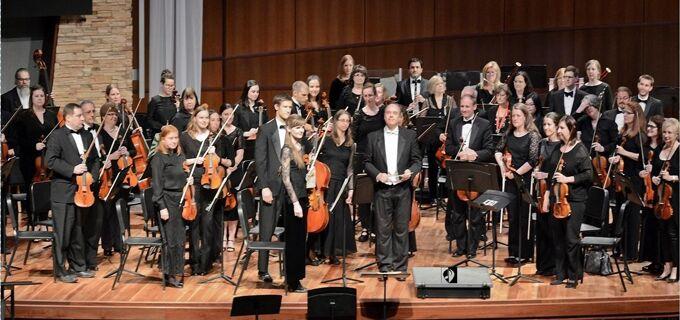 Photo courtesy of Elmhurst Symphony Orchestra
Approaching its fourth year, Arts DuPage is an offshoot of the county's philanthropic leader, the DuPage Foundation. As described by Director Deborah Venezia, Arts DuPage serves as a conduit between arts organizations and audiences. With so many music, dance and other arts organizations scattered around the area — most working independently from each other —even committed arts enthusiasts can find it difficult to know what's going on, even just a few miles away, explains Venezia.
Arts DuPage aims to remedy that problem by facilitating greater outreach to audiences — and artists — beyond each venue's immediate locale by sharing information and drawing in new audiences. "There are so many places that offer quality arts experiences," says Venezia, "and it's amazing to see the engagement when audiences discover something new." 
The organization also serves as a resource that can help match groups looking for performance spaces with venues appropriate for particular events. As well as its information-packed website, Arts DuPage puts out an e-newsletter and offers classes on marketing,  social media and arts management. 
Looking to the future, Arts DuPage is working with an advisory committee made up of leaders in the arts community to make new connections, including encouraging corporations to engage in the arts. "The arts have so many benefits, on so many different levels," says Venezia, "including, for instance, in terms of building morale for employees." 
Bringing performing arts or visual arts into institutions like hospitals can be a form of therapy, adds Venezia. For example, Central DuPage Hospital now has a center in its pediatric ward called the Imagination Lab, which acts as a respite for patients who get to engage in music and visual arts. 
October is Arts DuPage Month, "designed to encourage the public to discover the local art scene and engage in its offerings," says Venezia. As an enticement, Arts DuPage is offering special incentives for a number of the events. For more information visit www.artsdupage.org.