Diana Martinez sat just a few feet away from the magician in the New York hotel banquet room when the woman on stage next to him suddenly disappeared. Tricks are what magicians do, but even the hotel worker in the room, who had seen the act multiple times, was stupefied. "This guy is phenomenal. I can't figure it out myself. The guy is that good," the hotel worker told Martinez, who books talent for the College of DuPage as director of the McAninch Arts Center, also known as The MAC.
So Reza, hailed by the Denver Post as "the world's top-touring illusionist," will appear at the College of DuPage in Glen Ellyn on Oct. 11. Along with many other arts programmers, Martinez evaluated Reza in January at the annual Association of Performing Arts Presenters conference.
The APAP conference is the premier showcase for artists. For five days, from 8 a.m. to midnight, on stages and in banquet rooms throughout the city, a thousand performers and their agents come together with arts leaders nationwide, including many from the western suburbs. The old adage "if you can make it in New York you can make it anywhere" is turned on its head here, at least as far as that phrase is commonly understood. Doing well at quasi-auditions in the Big Apple leads to gigs in DuPage and Kane counties and elsewhere. That in-reverse dynamic also captures the transformation of the cultural scene in the suburbs. Years ago, it was relatively barren. It's still not Chicago in depth and breadth but it has closed
the gap considerably.               
"When I graduated from college in the mid-'70s and came home to the western suburbs, the county really did feel 'separate and apart,'" recalls David Rice, executive artistic director of First Folio Theatre in Oak Brook. "But anyone thinking that all the shows in the suburbs now are 'safe' and 'mainstream' should look a bit closer at the shows."
Suburban venues present a wide variety of drama, music, dance and other live entertainment. Arts DuPage, which promotes the arts scene, counts 226 organizations that sponsor or host arts events. For culture vultures, it's possible to be a satiated every weekend and even many weekdays without ever braving downtown traffic and prices.
This year one of the most diverse and talented lineups is set — from top stars, world debuts and up-and-coming performers to outside-the-box presentations and surprisingly edgy shows.
So we lift the curtain on what's appearing in the coming months. But we also take you behind the curtain: the how and why behind the performances at colleges, theaters and cultural centers. It's more art than science in putting together a cultural lineup. Local arts leaders compete for the services of performers who may prefer city venues or can pick and choose their destinations. They also are circumscribed by budgets and audience sizes and expectations. Yet, year after year, they still succeed in both entertaining and challenging their suburban audiences."
This issue of West Suburban Living focuses on theatre and visual arts, while the October issue will take a deep dive into live acts in music, dance and comedy. Nationally and internationally famed artists are performing at increasingly sophisticated indoor and outdoor venues around the western suburbs, from the largest of concert halls and outdoor festivals to the most intimate of bar or cabaret spaces.
Paramount Theatre, Aurora
Paramount is in the midst of creating a mini-theater empire, part and parcel of the renaissance of downtown Aurora. Its rousing Broadway series at the 1930s Art Deco landmark has 41,000 subscribers, the second largest theatre subscription base in the United States. It's refurbishing the 165-seat Copley Theatre, located across the street. Even more impressively, Paramount is planning to convert a building on Stolp Island into an immersive theater/pub. The first scheduled show next fall, "Once," will allow patrons to enjoy a cold one while singers and dancers tell the story.
The Paramount stages mainstream, marquee shows that need no introduction. The smaller theaters are ideal for "edgier theater," says Tim Rater, president and CEO. "The city has Steppenwolf and Goodman. There is nothing like that
in the suburbs."
The rags-to-riches tale is a stage cliché, but in the case of the Paramount Theater in Aurora, it's a true story. The theater was languishing a decade ago with touring companies staying for one or two nights performing "Footloose" and other mid-level shows. Then Rater hired Jim Corti as artistic director and they decided to produce their own more popular Broadway shows. Audiences came out in droves for the first season of "A Chorus Line," "Joseph," Hair" and "My Fair Lady."
In hindsight, the Broadway series in the suburbs made perfect sense. "People were tired of driving downtown for a show, the parking, meals," says Rater. "Our most expensive ticket is $37—front row, weekend."
 This season features "Newsies" (Sept. 4 – Oct. 20), "Beauty and the Beast" (Nov. 13 – Jan. 19), "The Secret of My Success" (Feb. 12 – March 29), and "Kinky Boots" (April 29 – June 14).
Notwithstanding its burgeoning status, Paramount faces the same hurdles as smaller theaters in obtaining rights to certain gold-plated shows. It's been unable so far to secure "The Sound of Music," likely because the holder of the rights is exercising a long-term strategy about its exposure. That's not all. "Every regional theater would love to do 'Phantom of the Opera.' It's just not available," says Rater.
Not to worry. The Broadway canon is deep. "If you do great theater, people will come," says Rater with a smile. "I grew up in Iowa. It's a 'Field of Dreams' thing."
Drury Lane Theatre,  Oakbrook Terrace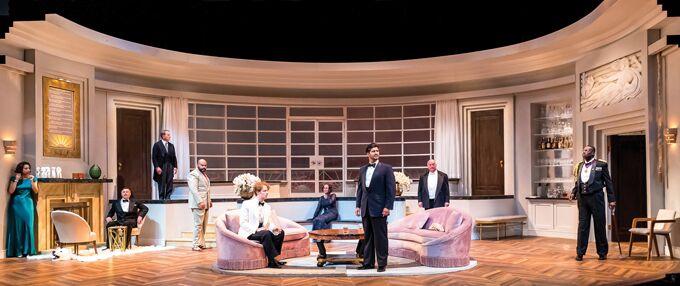 Why mess with success? Drury Lane continues to stage blockbusters with lavish production values, draws satisfied audiences and even still treats nuns to an annual holiday show, a tradition started by the late owner, a devout Catholic. Its new season debuts with "The Color Purple" (Sept. 13 – Nov. 3), followed by "Mary Poppins" (Nov. 15 – Jan. 19). Last year's lineup was stocked with popular favorites as well: "South Pacific," "Cat on a Hot Tin Roof," Little Shop of Horrors," "Beauty and the Beast" and "Mamma Mia!"
Including its other two venues, now closed, Drury Lane has received more than 350 Jeff Award nominations since the honors began in 1968. But the theatre is not resting on its laurels. Typical of reviews is this one from the Daily Herald: "When it comes to musical comedy camp, "Little Shop of Horrors" is a masterpiece. Drury Lane Theatre allows the brilliance of this 1982 off-Broadway hit to be savored once again in a solid and traditional revival."
Buffalo Theater Ensemble,

Glen Ellyn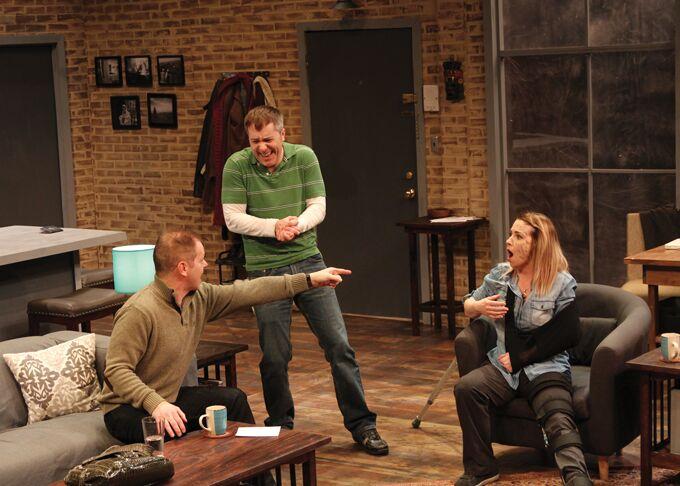 Taking its name from the edgy David Mamet play "American Buffalo," the resident theatre company at the MAC at College of DuPage is known for its provocative productions. The lead-off show for its 33rd season is "Holmes and Watson" (Sept. 5 – Oct. 6), a tale full of mystery, humor and Sherlockian suspense and twists and turns. Last year the nonprofit equity theater staged three lively shows, "The Ding Dong, Or How to French Kiss," Defiance" and "Miracle on South Division Street."
Deciding what to stage is not an exact science but is driven by a certain logic. The company dissects a long list of quality scripts while considering its performance space and budget, says Connie Canaday Howard, artistic director. "The plays help us understand our communities and ourselves," says Howard. "Art is powerful and transformative. Theater explores what it means to be human."
First Folio Theatre, Oak Brook
Begun in 1997, First Folio stages its shows on the beautiful grounds of Mayslake Estate at Mayslake Forest Preserve as well as inside historic Mayslake Hall. The season opens with the emotional "The Guys" (Sept. 9 – 11), based on a true story about a fire chief who lost most of his crew members on Sept. 11.
The highlight of the season promises to be "Louisa May Alcott's Little Women" (March 25 – April 26). The script unspools the relationship between the four sisters and how they changed and grew. "It has so much heart and love but also a wonderful amount of humor," says Rice.
Like other companies, First Folio grapples with the long-standing dilemma: stage familiar shows sure to draw a crowd or put on less well-known productions? "That's the million-dollar question," says Rice. "We always need to keep an eye on how many tickets we think we can sell so we can keep a balanced budget. We try to choose at least one show that we think will push our audiences to see things from a different perspective, to open minds to something new."
Overshadowed Theatrical Productions, Medinah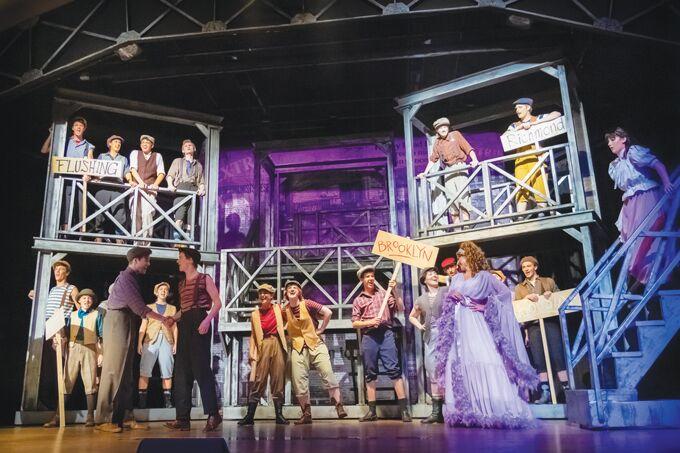 Set in a small theater and using non-paid actors, Overshadowed has presented broadly appealing family fare such as "Seussical the Musical" and "Seven Brides for Seven Brothers" and Christian dramas for 15 years. A former Baptist church, the cozy theater seats 198. A show is presented 14 times, and productions average 2,700 people, meaning there are few empty seats.
"Not a lot of places do what we do. We have a niche," says Reba Hervas, president and playwright. "There are lots of good theaters. We have our own mission."
The theater works hard at providing a pleasant experience. "We heard, 'It's freezing in here.' Our air ducts blow at 55. It's 55 or nothing," says Hervas. So that problem was solved by installing custom-made deflectors.
A small fish in the Chicago-area pond, Overshadowed has had mixed results in living up to its name when it comes to securing the rights to shows. The cost of rights is not necessarily the issue for a small theater like Overshadowed. It paid $6,300 for the rights to "Newsies," which ran this summer. The company that holds the rights considers the number of performances, ticket prices and usual number of tickets sold in calculating cost.
A sticking point is exclusivity. Companies don't want theaters near each other to stage the same show. Or perhaps the rights are not available because of a current Broadway show or a touring company doing the show. For Hervas, securing or not securing rights sometimes leaves her scratching her head. She has tried unsuccessfully five times to get "Beauty and the Beast." Yet she was able to secure "Newsies," even though Paramount in Aurora will stage it a month later.
Live theater remains relevant, says Hervas, despite the lure of home entertainment systems and the ubiquitous distractions of smartphones. "We get people out of the house. The social aspect is very important," she says. "We live in such a visual society. Art is social and educational. You don't have that experience sitting at home."
 Written by Hervas, "I Remember Pop," running Sept. 13 – Oct. 5, is the "true story of a man who was willing to lose everything to follow Jesus." She believes storytelling can make a difference. It did for her.
"Drama changed my life," says Hervas, who grew up in North Carolina. "I was a shy girl. My drama teacher told me the greatest gift God ever gave was the gift of communication. If you're not communicating, you're not living your life the right way. You're not living your life to the fullest."
Theatre of Western Springs and Community Theatre
Founded in 1929, the Theatre of Western Springs keeps chugging along. It founded its Children's Theatre in 1946, built its own theater in 1961, and, thanks to its robust base of "actives" — volunteers who serve as crew and cast and auxiliary theater roles — and 1,500 subscribers, puts on seven adult and four children productions and a holiday show each year.
Last season the theatre staged "The Graduate," which evokes the anxieties of the 1960s and contains racy material. It drew some angry letters, and a few patrons even walked out of the show. But it was a hit with an audience of 3,000. "It was our biggest seller of the year, by far," says Eddie Sugarman, executive artistic director.
The Graduate" straddled the line between community expectations and artistic daring. "We want to challenge the community but don't want to break them," explains Sugarman. "We try to keep track of what's being done to death and steer away from that. There isn't a magic formula. We have a mixture of crowd-pleasing mainstream fare, edgier work and classics."
This season's most anticipated show is "The Great Gatsby" (Feb. 27 – March 8). "It's such a grand, sweeping story," says Sugarman. "Everyone has read the book. The script is every bit as good. The story is just as relevant today as it was in high school."
The demise of theater has been predicted for ages, and the popularity of streaming and quality cable TV shows are contemporary threats. "I do all those things. My kids do, too. I love my Netflix," says Sugarman. "It's getting more challenging. We're so crowded for time. But if we do good work, we'll get people back in. Sure we have to beat the bushes. But there is nothing like live theater. It's a uniquely powerful experience."
A second thriving community theater also fortunate to have its own building, Wheaton Drama began in 1931, close on the heels of the Western Springs theater. It does have a magic formula it resorts to periodically — "big name shows with casts for kids," says Jay Pauer, a member of the theater's board of governors. "Shrek," "The Sound of Music" and "Oliver" all drew large audiences.
"Intimate space, infinite possibilities" is the byline of Glen Ellyn's community theatre, Village Theatre Guild. Local amateur dramatists can try out their acting chops during the 2019-20 season starting with "Becky's New Car" (Oct. 18 – Nov. 9).
Other Notable Players
Formed in 2007, when Berwyn Park District was putting the finishing touches on the new Berwyn Cultural Center, 16th Street Theatre took up residence in the center's intimate theater with a mission to give voice to the diverse community of Berwyn. The company hires professional actors of mixed ethnicities for each show, with casts that include one or two equity performers. Coming up are "His Shadow," running Sept. 5 – Oct. 12 and "A Xmas Cuento Remix" (Nov. 29 – Dec. 29), a modern Latina version of "A Christmas Carol."
Another community gem that performs in its own dedicated space is Steel Beam Theatre in downtown St. Charles. The upcoming season includes a cabaret-style show, "Broadway Gender Benders" (Sept. 5 – 22), "The Odd Couple,"
(Oct. 11 – Nov. 3), and "The Ballad of CC Scrooge" (Nov. 29 – Dec. 29).       
New to St. Charles is Kane Repertory Theatre, a professional company that will stage its debut show, Thornton Wilder's classic "Our Town" at Marquee Youth Stage Oct. 4 – 19).
Naperville's professional theatre company, BrightSide Theatre, stages shows in the theater at Meiley-Swallow Hall at North Central College. Among shows scheduled for the upcoming 2019-20 season are "Nine the Musical" (Feb. 7– 9) and "Steel Magnolias" (March 6 – 22).
Oak Park boasts several theatre options including popular outdoor summer productions by the Oak Park Festival Theatre. There's also the Madison Street Theatre, featuring a 180-seat main stage, and the smaller Open Door Theater, which hosts a variety of types of shows.
Mainstage Theatre at Pheasant Run Resort in St. Charles, a popular music venue, also offers occasional live theatre productions. Chicago Kids Company, for instance, will stage the family friendly "Goldilocks & The Three Bears" for
young audiences this fall (Oct. 10 – 25).
The theatre departments of universities and colleges around the western suburbs also offer quality stage productions inside professionally equipped auditoriums and smaller theatre spaces.   
And on the horizon? A sign of the enduring popularity of live theatre in the western suburbs, a not-for-profit group in Elmhurst is in the early stages of planning a new performing arts center and has recently contracted for space
to build in the heart of downtown. Elmhurst Centre for Performing Arts envisages a 500-seat theatre with a black-box space for smaller productions.
The Visual Arts Continue to Gain Visability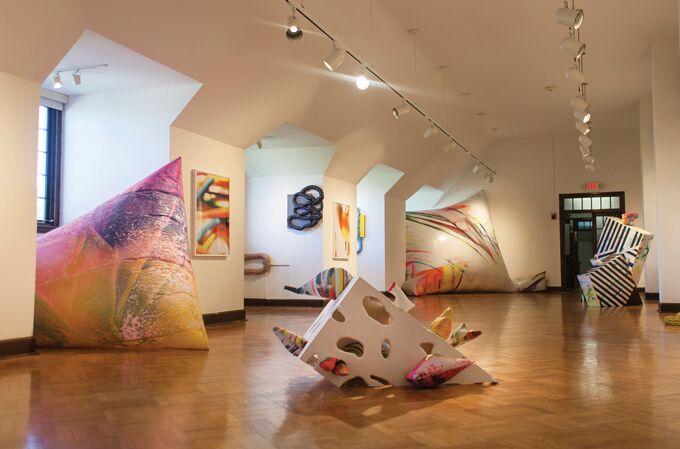 Renowned German-American architect Mies van der Rohe (1886-1969) designed a one-of-a-kind home for Robert McCormick III (of the McCormick reaper family/International Harvester) and his poet-wife, Isabella Gardner in 1952. The house, part of the Elmhurst Art Museum since 1994, will be on exhibit this fall in all its 1950s glory, with weekly tours on Sunday afternoons (starting Sept. 15) as well as lectures and panel discussions.   
Also scheduled at the museum is "What Came After: Figurative Painting in Chicago 1978-98" (Sept. 14 – Jan. 12).     Last season the museum drew big crowds with the "The Whole World a Bauhaus," the only U.S. stop of a global exhibition on the influential school of design.
While the aforementioned exhibits help raise the overall profile of the arts, the Elmhurst Art Museum also seeks to promote local talent, says John McKinnon, executive director of the museum. "There has definitely been an evolution in the arts in the western suburbs, as well as increased visibility in the last few years," he says. "These traveling exhibitions are great highlights, but I think it's important to note there are excellent artists and organizations in the area still flying under the radar. One of the museum's goals is to shine a light on our local talents and strengths. "
Cleve Carney Art Gallery at College of DuPage 
Housed at the McAninch Arts Center at College of DuPage in Glen Ellyn, the Cleve Carney Art Gallery will soon welcome a noteworthy show that ran in London, Milan and Budapest. It highlights the life and art of one of Mexico's greatest artists, Frida Kahlo. "She is such an inspiration for women, for the disabled, for the Mexican community. She's also a fashion icon," says Diana Martinez, director at the MAC.
"Frida Kahlo 2020" will feature 26 original artworks, as well as a photo display, a video, reproductions of the artist's clothing and music, theater, dance, films and lectures illuminating her artistic achievements. The yearlong event kicks off with "Frida Fest" on Sept. 8 and the exhibit will be installed in the summer of 2020.
Schoenherr Gallery at North Central College
Located inside the Fine Arts Center at Naperville's North Central College, the gallery showcases student works as well as welcoming the community for exhibits of works by local artists. Currently showing are works by members of the Illinois
Watercolor Society, to be replaced on Sept. 20 by a  display by Diana Castellanos, whose art reinvents cast-off books, dictionaries and encyclopedias.
O'Connor Art Gallery at Dominican University
Located in River Forest, this light open gallery presents timely, focused contemporary art exhibitions that aim to foster dialogue across disciplines. For instance, an upcoming exhibit,"Prison + Neighborhood Arts Project: The Long Term" centers around criminal justice topics  (Sept. 4 – Dec. 20)
Also of Note
The Gallery at Fermilab in Batavia hosts exhibits that explore connections between technology and art . . . . Herb Aigner Gallery at Prairie Centre of the Arts in Schaumburg has a gallery featuring the work of local, regional and international artists. . . .  Schingoethe Center of Aurora University specializes in celebrating American Indian art . . . . Norris Galleries at the Norris Cultural Arts Center in St. Charles provides 5,000 square feet of well-lit, high-ceilinged space for hundreds of artists each year . . . . Fine Line Creative Arts Center, also in St. Charles, and Water Street Studios in Batavia, both offer gallery space, workshops and classes for working artists in multiple media . . . . Re-opening soon after a move from Elmhurst to Oak Brook, the Lizzadro Museum of Lapidary Art has a permanent exhibit of world-class jewels and gemstones, plus visiting exhibitions, workshops and classes.​
Community Art Leagues
Supporting the visual arts at the grass roots level are numerous community art leagues and artists' guilds, which typically offer classes for adults and children, workshops, demonstrations and regular exhibits. Most, like the Elmhurst Artists' Guild, the Naperville Art League, the DuPage Art League in Wheaton, and the Oak Park Art League — which dates back to 1921 — also feature galleries for artists to exhibit their work and share their talents with the community.
Many also host or sponsor regular events. The Naperville Art League, for example, will be holding its 34th annual Riverwalk Fine Art Show on Sept. 21 and 22.