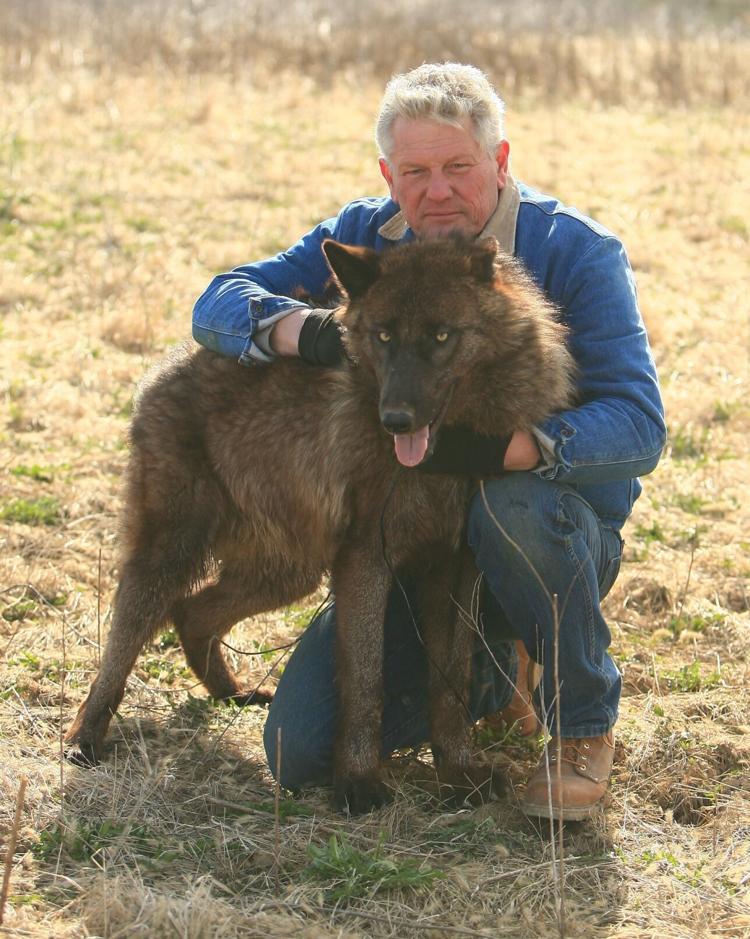 LIKE LOTS OF KIDS, John Basile grew up loving animals. But he had a particular fondness for one kind of animal — wolves. That interest turned into a lifelong passion which eventually led him to found the Big Run Wolf Ranch in Lockport. Now more than 30 years later, the ranch has evolved into a federally licensed, non-profit educational facility specializing in North American wildlife. It is home to more than 20 animals including nine wolves, a black bear, tiger, cougar, and lynx as well as a coyote, skunk, porcupine and a miniature Sicilian donkey.
Where did you grow up and when did you move to the western suburbs? 
JB: I grew up in the Gresham district of Chicago until I was 8 years old. Then I lived in Oak Lawn until I graduated from Richards High School. For three years I lived in northern California.I moved to Lockport in 1986. 
Have you always had a special love for animals and, if so, what prompted that — did you have pets, eg: cats, dogs or whatever, growing up?
JB: As a kid, I was an animal nut! I was allowed to have a certain number of pets, but I also had those that I was hiding.
What did you do job-wise before starting Big Run Wolf Ranch?
JB: I worked at Gallo Wine in Modesto, CA. Here, I was a diesel mechanic for United Parcel Service for 33 years. I worked the midnight shift so I could build the ranch during the day.
What prompted you to start a wolf ranch? Had it always been something you dreamed of doing, or did it just kind of happen? 
JB: I started the ranch with wolf hybrids, due to my interest in wolves. Later I applied and received my USDA license in order to obtain pure wolves. The ranch evolved over time by itself. 
What were the early years of the ranch like — how many animals did you start with and how did you know how to safely house and handle the various animals, etc.? 
JB: In the early years, I had wolf hybrids and farm animals. Everything was self-taught through trial and error. I currently have the top wolf bloodlines in the nation. Our wolves are used for educational purposes and the film industry.

Based on the name of the ranch, you specialize in wolves. Is that indeed the focus and if so, why? We hear the baby wolves are always visitor favorites — is that true? 
JB: Wolves are our main focus, but as we added more North American animals, our other animals became popular also. Wolf puppies are the visitor favorites. Kids get a once in a lifetime opportunity, and we get a very tame, safe, and socialized animal.
Tell us a few interesting things about wolves that the average person would not know? 
JB: A pure wolf's tail hangs straight down and does not curl to the left, right or up like a dog's tail. The wolves' paws regulate temperature so that snow does not stick to the bottom when they travel. A large male wolf can eat more than 20 lbs of meat in one sitting —more than any dog on the planet — but can also go a week or two without food. Due to their oversized circulatory system, wolves can travel non-stop for great distances.
You also have an eclectic mix of other animals including a Black bear, a Siberian tiger, a cougar and a miniature Sicilian donkey. Where do most of the animals at the Ranch come from and how do you decide what animals you can take in? 
JB: Many of our animals are rescues who had nowhere to go. Their only alternative was euthanasia. We only take in animals if we have room to keep them. Once they are here, they die of old age. Some of our animals were born at our facility, and others came from other facilities.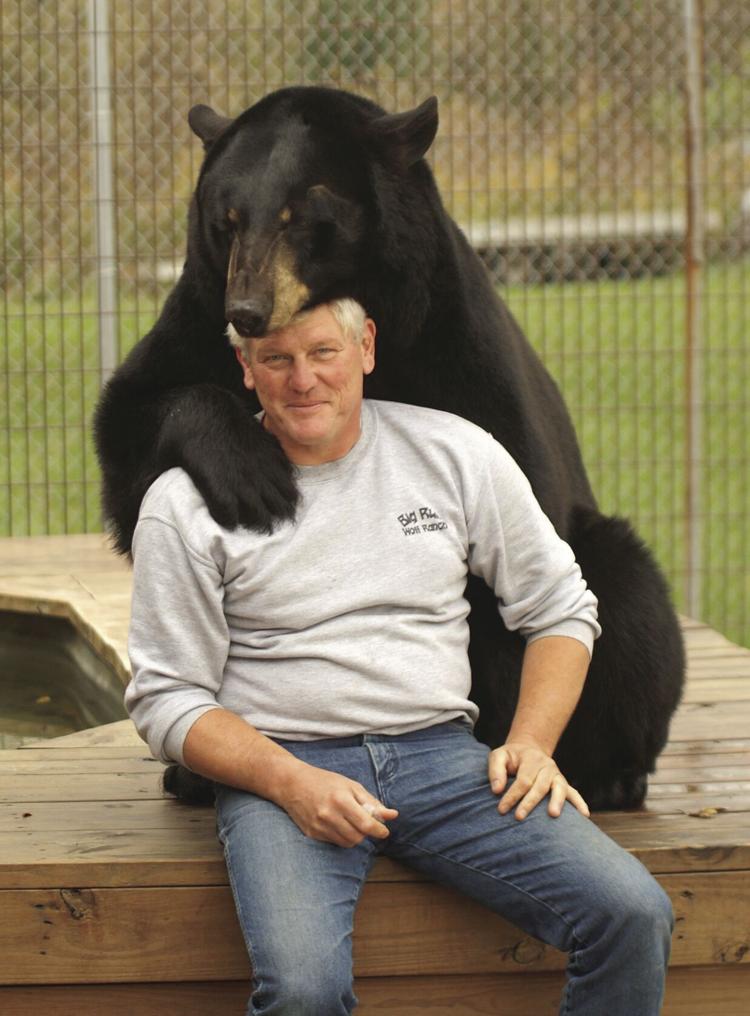 You interact with Kuma, your 450-lb Black bear as if it is a pet. How did you train it to be so gentle or did that relationship just naturally evolve since you raised him from a cub? 
JB: Kuma was a rescue from Will County Animal Control who was going to be euthanized. We got him when he was only 25 lbs and I spent a great deal of time socializing with him and giving him treats. As a result, he became very tame and safe. He is a very powerful animal but he looks forward to me visiting him. Kuma's favorite treat is Girl Scout thin mint cookies.
Any funny, unusual or memorable stories about working with the various animals over the years? 
JB: One time I was trying to catch a weasel that was killing my chickens using the Have-a-Heart trap. I accidentally caught a skunk! I couldn't figure out how to get the skunk out without getting sprayed. Needless to say, both my dog and I got sprayed. I think the skunk was laughing as he ran off. 
Caring for all the animals every day must be a challenge. Are you still pretty hands-on in feeding and other daily activities or do you have staff or volunteers that takes care of most of that?
JB: For 20 years I did most of the ranch work myself, while holding down a full time job at night. It eventually became very overwhelming. Now after 33 years, staff and volunteers do all of the caretaking, although I am still very much involved. I am lucky to have long time, loyal volunteers: Jim and Terri McNerney. Jim is a Vietnam Veteran who was awarded a purple heart; Theresa Konrath, our office manager and volunteer coordinator, who is a retired teacher of the deaf; and my daughter, Rainah Basile Runty, ranch manager and program presenter who is taking over the ranch. We have dedicated staff and volunteers who work at our Family Days and weekly caretaking. We couldn't survive without them. We also work with local high school students who need community service hours for graduation, and with Will and Cook County courts for people who need community service hours for traffic violations. All of these people are a great help to us.
Your house is on the ranch property — have you and your neighbors had to get used to wolf howls at nights? 
JB: I did not want to live in a subdivision. When I bought the property, it was an old farmhouse on a one-car gravel road in the middle of nowhere. Other houses gradually grew up around us, but fortunately, we have never had complaints from neighbors about the howling. Many people love it because, honestly, where can you hear wolves howling? In fact, we've been told some people buy townhomes near us because they want to hear the howling.
The ranch hosts lots of school field trips, family day open houses, and other special events. How many visitors does the Ranch usually have each year? 
We are a 501c3, non-profit, wildlife educationfacility. Depending on weather, we see approximately 40,000 to 50,000 people per year. That includes both on-site and off-site presentations at libraries, schools, parks, and special events. All of our money is from visitors and donations. I do not take a paycheck. I simply love what I do. Money is used for food, medical, and ranch maintenance. Any extra money is used toward projects that will improve the quality of the ranch.
You also offer overnight tent camping at the ranch which includes a wildlife educational program. 
JB: Camping is for singles, couples, families, or large groups. This is primitive tent campinglike you would do in your own backyard. Each group has the campground to themselves. The biggest draw for campers is hearing the long, mournful, beautiful howls of the wolves at night.
How has COVID-19 affected this year's operations? 
JB: The coronavirus has impacted us substantially. We are just barely getting by. If we are short on ranch funds, I use my own pension money to make sure the animals are cared for. Care of the animals is our #1 priority. We also do fundraisers here for other organizations. 
Speaking of the impact of COVID, we heard it caused a bit of a problem with the food supply at the ranch.
JB: In a typical month, our animals eat 2,500 to 3,000 lbs of meat. A lot of it comes from grocery stores — meat that is past its expiration date and can no longer be sold but is still OK for animals to eat. We also get some from roadkill provided by the Illinois Department of Transportation. But when meat-packing plants closed due to the coronavirus outbreak, the stores no longer had anything to give. So we had to get creative and I thought, "Everybody's got stuff in their freezer they don't want." So we put out a call for help on our Facebook page and the response was incredible — within 15 hours we had filled all five of our industrial size freezers with meat and actually stored some in a friend's freezer as well.
Has the ranch surpassed all your hopes from when you first started it?
JB: The ranch has gone far beyond my expectations, and now my daughter, Rainah, will carry on my legacy. 
On your website, it says the ranch's "primary objective is conservation through education." What one or two messages do you hope visitors come away with after visiting the Ranch?
JB: We need to make places for wild animals because of the rapidly encroaching human population. There is not much land left for wild animals that require large hunting territories. Animals in the wild do not live long due to lack of food, illness, poaching, and rivalry.
For more information, or to volunteer or donate, go to www.bigrunwolfranch.org