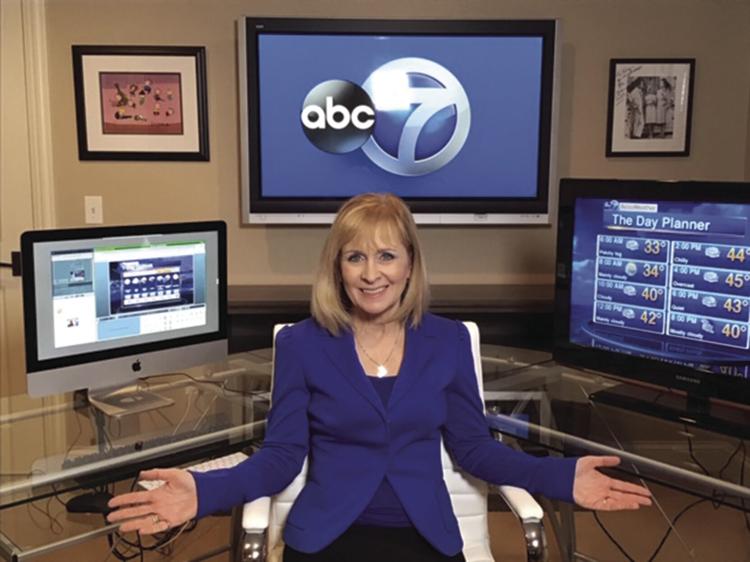 FOR EARLY RISERS wanting to know the weather so they can dress accordingly, Tracy Butler has been a go-to source for 27 years and counting. The longtime meteorologist at ABC 7 News This Morning says forecasting the weather is like solving a puzzle — a challenge that she relishes, especially since it changes every day. The downside is she has to get up at 1:30 each morning. But despite her unconventional schedule, Butler has many outside interests — she's a soap opera fan, an avid golfer, and an involved mom, always making time for her daughters' tennis matches and other family activities.
You grew up out East, tell us about your early interests and activities during high school and college? 
TB: I loved listening to AM Radio. That is what fueled my interest in broadcasting to begin with. I loved high school and was very involved with numerous activities and clubs — I wrote for the newspaper and yearbook and also played tennis, though I was a terrible player . . . ha ha. In college, I was actively involved with our TV and radio stations. It was a fantastic experience and gave me such a huge springboard to my broadcasting career. 
You graduated with a broadcast degree, when and how did you initially get interested in meteorology?
TB: One of my first jobs was doing public relations for KDKA-TV in Pittsburgh. I used to go out with the "talent" to various appearances. I loved hanging out with the meteorologists because it was fascinating to me. They would do experiments and read weather books to the kids and I saw the interest that children had in weather. One of the meteorologists at the station, was "teaching me the ropes." I learned about analysis and presentation, never, thinking this would eventually be my career path. After seeing an advertisement in the paper for a weekend weather person in Wheeling, WV, I applied and got the job. 
Walk us through a typical day. 
TB: My day starts at 1:30 a.m. (Currently, however, I am working from home in what I call the Butler Weather Cabin). My day starts early because "I have homework to do." We meteorologists are our own producers. Therefore, I produce all the graphics you see on the air and I do all my own analysis. Of course, there is "hair and makeup" too. This is NOT my area of expertise. We have an incredible hair and make up staff at ABC 7 and they have taught me a great deal. But, even though I'm working from home due to COVID, I still get up at that same time, because it takes forever to do my own hair and make up! I miss them! Our morning broadcast is on from 4:30 to 7 a.m. At 3:30 a.m. I love to do a live "visit" with my facebook friends! I'm shocked how many are awake!!! I do cut-ins during Good Morning America, (the show which I credit for getting me to Chicago) and then I get ready for our 11 a.m. newscast. 

You have been the meteorologist for ABC 7 News This Morning for almost 25 years. How has the job changed over the years and to what do you attribute your amazing longevity on the job?
TB: I will have been at ABC 7 for 27 years in January. Wow, has this job ever changed. When I first started (at WTRF-TV in Wheeling, WV), we would pull maps from the network and I would just talk over those. I would still do the analysis, but we didn't have the capability of "making our own graphics." Through the years, technology has advanced so very much. The development of more computer models, the advances in Doppler Radar, the graphics systems, have given us better tools to bring more accurate forecasts to our viewers. 
As for longevity, could you ask the viewers? They have been so supportive and I'm honored that they rely on me for their information. It's a great responsibility and I just try to do the best I can to help prepare them for their day and alert them to any severe weather that may impact their safety.
What are the biggest variables and challenges in predicting the weather, especially in a place like Chicago where it can change so quickly?
TB: I always tell students who are interested in meteorology to "learn the quirks" of any area. When I was in Youngstown, Ohio, the impact from Lake Erie could be enormous for the northern suburbs. When I was in Richmond, Virginia, we were right in between the mountains and the Atlantic. At times, systems would get "stuck," so that was a quirk. Here in Chicago, Lake Michigan certainly can add a huge variable in forecasts. If, for example, the lake breeze travels just a little farther, it can really impact temperatures, precipitation, etc. 
What do you like best about your job and what would the average person find most surprising about your job?
TB: I love puzzles. Weather forecasting to me is like solving a puzzle. You're looking at different pieces of the atmosphere to come up with a forecast. I love that! I love that it changes every day. That's good for those of us with short attention spans. 
I love my Weather Sketchers Club. Children ages 13 and younger are welcome to draw weather-related pictures and I air them on TV. This was a program I started when so many schools were not puttingemphasis on art and music classes. I knowthere are many children who excel in creativity and it is important for me to nurture that. I'm always so impressed when children can depict a "windy" day on paper! 
Hmmmm . . . surprising? Maybe that I'm in bed by 5:30 to 6 p.m. and I have no problem falling asleep.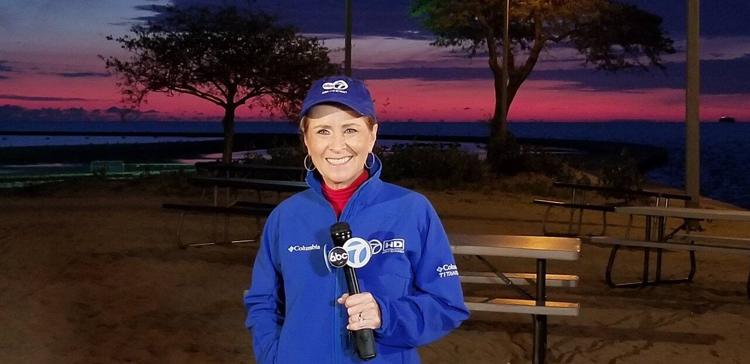 What impact do you think climate change is having on weather patterns? 
TB: Whew . . . I need an entire magazine to cite sources and information on this subject. Climatologists certainly have much more expertise on this than I do. What I do know is that I continue to be concerned about our impact on our environment. We need to take better care of our home! The amount of garbage piling up in our oceans and just in our own communities is despicable. Sea life is subject to our improper disposal of plastics. We have to do better. We need to do better. 
You were diagnosed with breast cancer in December of 2018. How has it affected you both personally and professionally and what has been your biggest take-away from the experience?
TB: The support I had from my family and friends and viewers has been overwhelming. I'm lucky. My husband, or one of my girlfriends,always went on appointments with me. I was really nervous about making the experience public, and Eddie Olczyk (the former Blackhawk hockey player and current NHL analyst) pretty much helped me to become more comfortable with that idea. He had just gone through treatment for colon cancer and promised me that someone would be helped by me sharing my story. Well, I did hear from people who made mammogram appointments that day! 
My biggest take-away was, I have to take better care of myself. Seriously, I was lazy. I was always "too busy" to get myself screened. I never thought it would happen to me. Guess what . . . it did, and I was lucky. I caught it early. TAKE CARE OF YOU!!!
You are an avid golfer. When did you first start playing, what's your handicap, and how often do you play a year?
TB: I started playing because I didn't want to be a "golf widow." I wanted to findsomething to do with my husband. I started playing in 1995 and I had a hole in one my first year. The first person I called was Jerry Taft. He was so excited for me. Of course, I knew he had many of those. My husband and I used to play a lot more before children!Now we may play on the weekends, if we are not going to tennis tournaments to watch our daughters play. I haven't kept a handicap in a while, but my biggest handicap on the course is landing in a sand trap! 
With your many responsibilities, I would not think you have much time for daytime TV, but you are a big fan of General Hospital. How did that come about?
TB: My grandmother, Nora, watched All My Children. She came to live with us. She was such a sweet woman and all she asked was if she could watch "her story," each day. I started watching it with her and I was hooked. Then I started watching General Hospital and I was hooked, especially during the "Luke & Laura" heyday. Of course I got hooked on One Life To Live after that. I have always been an ABC daytime fan. 
According to your Twitter page, you also like Corvettes. Where was that interest cultivated and do you have your own Vette? 
TB: When I was growing up, a kid named Dave in our neighborhood had a '78 Stingray. From that time on, I just knew I wanted a Corvette. So, when I graduated from meteorology school and received my certification, that was my gift to myself — a Black, C5 Coupe. I only have about 19,000 miles on it and to this day, it's a real treat when I get to drive it. It only seats two people, but as long as we can fit the golf clubs, we're on our way! 
Anything else you'd like to ad that was not touched on in the other questions?
TB: My husband, Michael, is a rock. Seriously, he has been such a big cheerleader and supporter of my career. I have been so blessed that he put my career before his own. He's an amazing father, with a crazy intuition for what works and what is right in the world. And, he makes me laugh. 
I have two daughters, Cassandra and Crystina. Truly, they are such bright lights in my life. I am so proud and lucky to be their mom. They are smart, beautiful and athletic. The support they gave me with my breast cancer diagnosis was everything. Both of my girls are strong tennis players, in fact my oldest daughter just broke the record for wins at her school. 
I am extremely close to my family which lives back in Pittsburgh. I haven't seen them since Christmas (because of COVID) and I miss them terribly. My parents are amazing people and I am where I am because of their guidance, support and work ethic. I have two brothers, Mark and David. I miss them and their families so much. Mark, is a talented musician. He wrote a song for me that I treasure, called "Weather-Rising Girl."