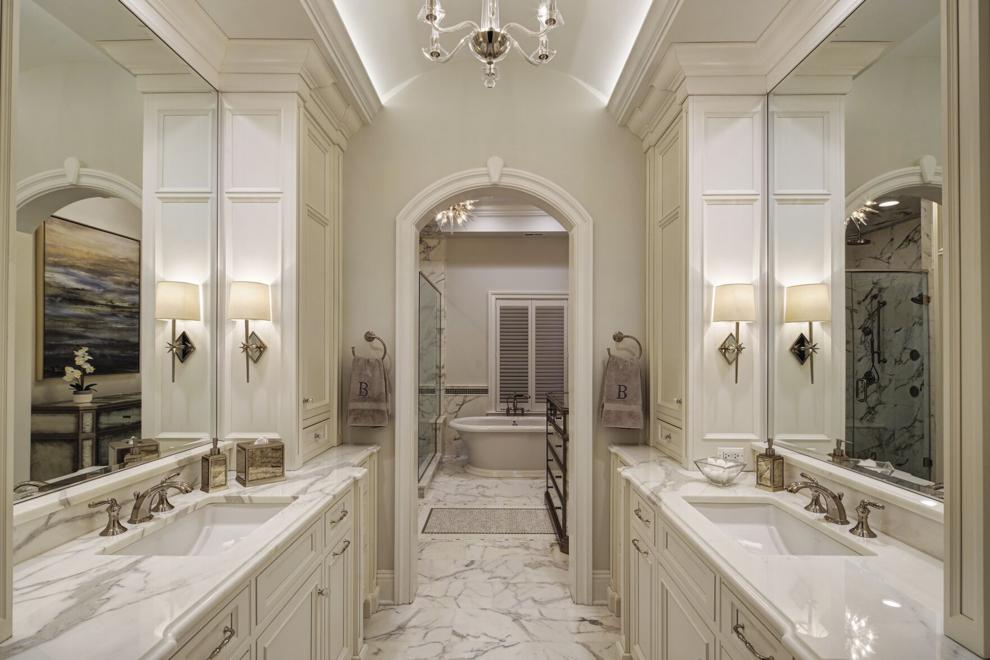 Whether you're remodeling a bathroom or building a new home or addition, it can be helpful to keep an eye out for the latest bathroom design trends to make sure whatever you include is in step with the times. 
Today's bathrooms are much more than functional places — they are becoming a retreat from the stresses of day-to-day life. Modern technology, creative layouts and a focus on practicality as well as luxury all combine to make this room a fun but challenging space to design. 
Although there have been few dramatic changes to the overall bath design aesthetic in the last year or two, there are definitely some strong factors that warrant consideration in any new bathroom space if you are considering an update or will be adding a new bathroom n the near future. We asked a number of local designers to share what they are seeing in this room for the coming year and they offered some terrific insights. 
A SPA-LIKE SETTING 
With all the hustle and bustle involved in modern-day life, homeowners are seeking a tranquil, spa-like bathroom where they can enjoy getting ready for the day and unwind in the evening. This translates — in homes that can accommodate it — to a larger area that features plenty of amenities, as well as a calming appeal. Colors generally remain in a neutral palate. Bruce George, president and CEO of Charles Vincent George Architects in Naperville, describes a continuing tendency toward "coloration in grey muted tones and whites reflecting cooler transitional notes." However, George adds that designers are beginning to incorporate more pops of color, often through the use of painted cabinetry, within the neutral setting. 
Another continuing trend, according to George, is for bathrooms to be places for relaxation and pampering. "Designing baths as a spa-like destination in the home is becoming more prevalent," he says, adding that larger bathroom spaces allow for the use of furniture such as sitting chairs, extending the use of the rooms. 
Dina Kosiba, selections coordinator for Reliable Home Improvement in Naperville agrees, "We're so overstimulated everywhere in our lives that we're gravitating toward a more calm, simple space in the home environment."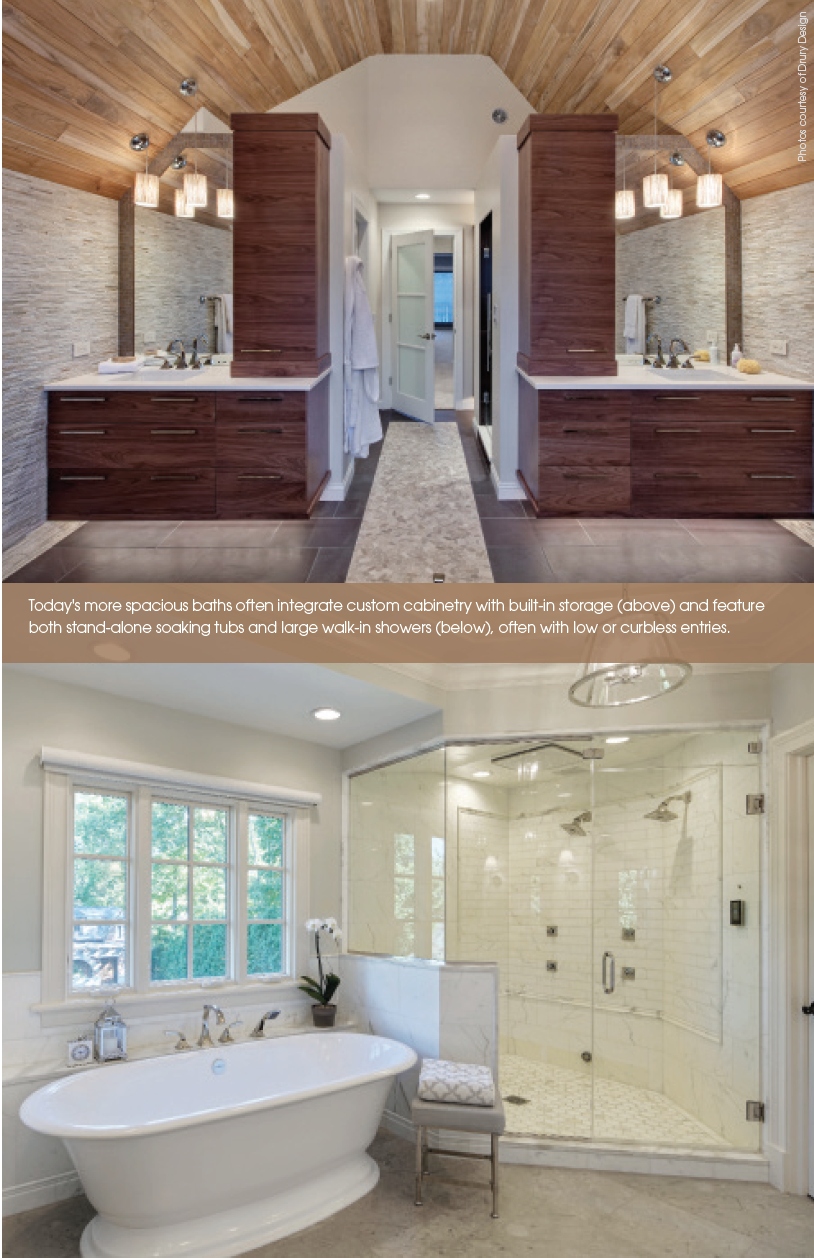 LARGE WALK-IN SHOWERS 
The shower experience has continued its shift away from the usual single-head shower/tub combination of the past. 
"Showers seem to have seen the most major changes," says Janice Teague, a senior designer at Drury Design in Glen Ellyn. She mentions that both low-curb and curb-free showers not only provide a streamlined look, but also deliver on safety concerns people may have if their plan is to age in place in their homes. Walk-in showers serve as both an attractive and a practical choice. 
Stephanie Bullwinkel of Imperial Kitchens and Baths in Brookfield points out that a bathtub in the master is no longer a necessity, and that walk-in showers are taking over. "Showers are quick and efficient," she explains, adding, "Even in one-bathroom homes, homeowners desire a room that reflects their needs and lifestyle and the thought of potentially lowering the value of their home by not having a tub just isn't significant to them." 
FRESH FIXTURES 
Mixing metal finishes for more of an eclectic look is still popular. Gary Lichlyter, owner of Lemont Kitchen & Bath, says he is still installing a lot of chrome and brushed nickel fixtures overall, but there are other finishes popping up as well. 
"Gold has made a resurgence in a brushed or satin finish," says Teague at Drury Design. 
Although rain-head showers remain popular, body sprays appear to be falling out of favor among today's homeowners, with many opting instead for the hand-held showerhead in addition to the main fixture. Linda Larisch of DesignFirst Builders in Itasca mentions that concerns regarding aging in place are getting design attention as well, as efforts are being madeto make this room functional while still favoring attractive fixtures. As an example, she says, "I'm seeing things such as prettier grab bars."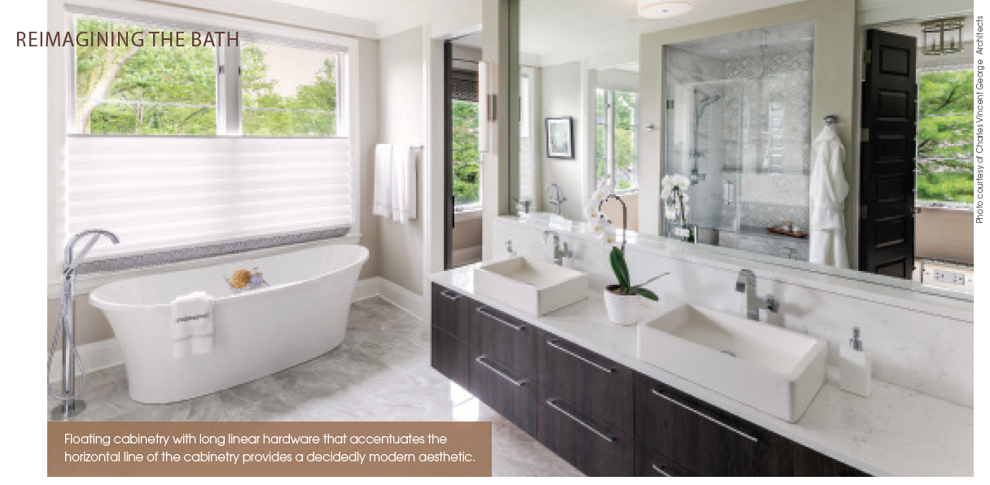 SHOWPIECE TUBS AND WET ROOMS 
Most designers agree that one shift in overall design that continues to dominate is the large, freestanding soaker tubs that have become so popular. These stunning showpiece baths not only look amazing, but also provide respite, inviting homeowners to unwind and take a long and leisurely reprieve from the stresses of the day. 
Even though more people are opting out of traditional built-in tubs, higher-end, luxury models continue to make the cut and feature prominently in bathroom designs where there is enough floor space to include them in the mix. George notes the nostalgic appeal of a beautifully designed free-standing tub, complete with an exposed decorative faucet, in a modern setting. Wet rooms — floorplans that accommodate both the shower and the tub in an enclosed space — are also in vogue for larger bathroom areas. George points to the creative blending of showers, tubs and other spa-like amenities in the same space, where homeowners may walk through the shower to the sauna, or where the freestanding tub is positioned within the shower setting.
PRETTY PORCELAIN AND PATTERNED TILE
Porcelain is the tile material of choice these days in the bathroom space. Patty Rosignal, owner and design specialist at River Oak Cabinetry & Design in Plainfield, says, "Porcelain tiles that mimic natural stone are being used more than natural stone due to cost, durability and maintenance." Larger tile is still in favor, although many designers are using accent tiles to dress up the layout and look. "There are many accents that can be pulled in," says Kosiba of Reliable Home Improvement, citing examples such as glass mosaics, metals and even mirrored tiles. Teague at Drury Design mentions another new shower trend — "Thin, oversized porcelain slabs are fabricated for shower walls, offering a completely grout-free surface." 
Bullwinkel at Imperial says that she is seeing patterned tile on bathroom floors as a trend that is gaining momentum in the Midwest — and these tiles are often made of cement. "Think of four 6-inch by 6-inch tiles, each with a different piece of a 12-inch × 12-inch pattern," she says in an effort to describe he overall look and layout. Bullwinkel sees this fresh type of creative expression as driving a new eclectic style, where Mid-Century Modern goes with anything, even in unexpected places like the bathroom.
CUSTOM STORAGE FEATURES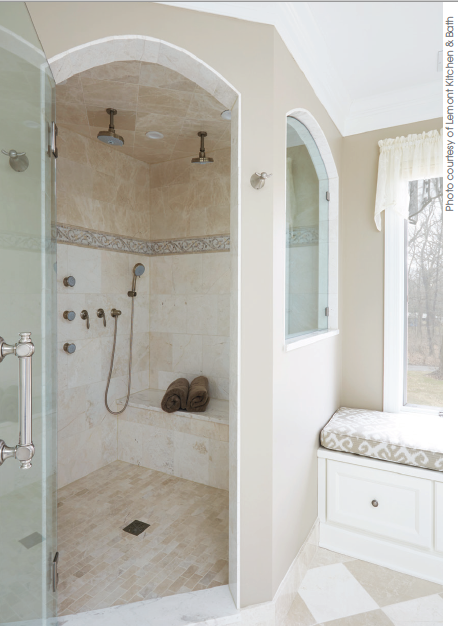 "Homeowners are requesting more storage options in their vanity cabinets —more drawers, rollouts, outlets in drawers, hidden trash receptacles, laundry baskets," says Rosignal of River Oak Cabinetry & Design. She believes that the days of the simple sink base are gone, as people are increasingly seeking smart storage choices to make their day-to-day lives easier. 
"Roll-outs in the sink base or even three-drawer sink bases with the drawers notched around the plumbing are considered a more effective option for storage," explains Rosignal. 
In contrast, George of Charles Vincent George, has noticed an uptick in the popularity for "floating" cabinets, saying, "Floating cabinetry is decidedly modern, with long linear hardware that accentuates the horizontal line of the cabinetry. He also notes that master bath and closet suites are beginning to blend into larger, more integrated spaces. 
Lichlyter of Lemont Kitchen & Bath is also seeing an increase in requests for built-in, specialty features, and he has even done a magnification mirror on an articulated arm that recesses into the cabinet when not in use. 
Specific requests like this are becoming more frequent as homeowners think through how they use their spaces. People want to be able to customize their bathroom areas for their unique needs and routines — but they don't necessarily want to see everything out on display