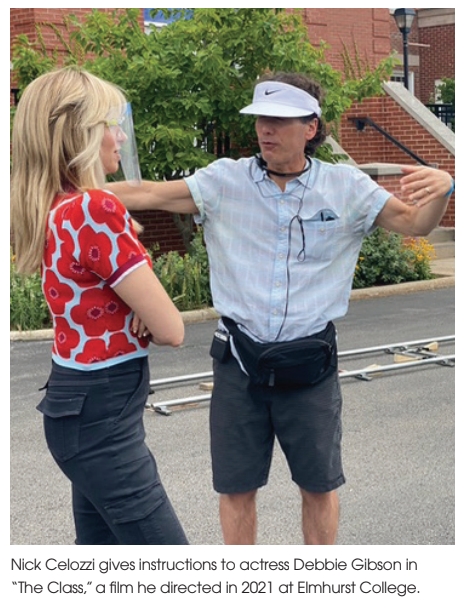 EVEN THOUGH NICK CELOZZI has carved out a successful career as a Hollywood director and producer, he is well aware that most longtime west suburban residents more readily associate his last name with his father — the former co-owner of the Celozzi-Ettleson auto dealership famous for its TV commercials and well-known tag line, "Where you always save more money!" But it was actually another "family" connection — with noted mobster Tony Spilotro — that initially helped Celozzi get his footing in Hollywood. The former Elmhurst resident was back in town for several months last year shooting his most recent movie, "The Class," at Elmhurst University and has several other film projects in the works.
You grew up in Elmhurst. What was it like growing up there, what kind of kid were you, things you liked to do?
NC: Those were great times, things moved a lot slower and friends were friends for life. I was an outgoing kid, played sports, and had a lot of friends. We went out like everyone else, a lot of high school fun. We had a wonderful youth. People back then, their word was who they were, you always knew where you stood with people.
What schools did you go to and what activities were you involved in?
NC: I went to Visitation grade school, then Montini High School for a year and a half, then transferred to Fenwick High School and spent the remaining two-and-a-half-years there and graduated. Played football at Montini but actually all during high school my main sport was karate.
Your dad was co-owner of Celozzi-Ettleson Chevrolet, an auto dealership in Elmhurst, widely known in the 1980s for its commercials with the tagline, "Where you always save more money." Did you work in the car business growing up and did you ever see yourself staying involved in the family business? What was it like as a kid to see your Dad in commercials on TV and be so well known and do you think that had any influence on you career-wise?
NC: I hear this all the time, lol. I washed cars there for money when I was young, mostly during high school, as did most of my friends, so it was a lot of fun but a lot of work. No one cut me any slack just because I was his son. I washed cars like everyone else. Seeing my dad on TV was an abnormal normality. You just got used to it. My friends paid no attention to it and frankly never really brought it up, nor did they treat me any differently. I really liked that. I did dabble in the car business, in the office division, accounting, and such, but I had no aspirations of being in the business. And seeing my dad on TV had no influence with regard to my career. I was always a fan of cinema ever since I could remember. I went to the movies all of the time and it was a passion of mine from day one. Moving an audience, expressionism, writing. I loved it all my life and frankly, my father wanted more for me — not just the car business — so there was no pressure in that sense.
You went to Marquette for college, what did you study there and at that time did you have any vision for getting involved in the entertainment industry?
NC: I studied theatre at Marquette but I had my sights set on Hollywood long before I arrived at Marquette. I was active in Chicago doing commercials and going on auditions throughout high school. But I knew I needed training and to learn about the craft, and Marquette's theatre program was a perfect fit for me to begin that journey. I wanted to show my parents I was serious about what I wanted to do with my life and the entertainment business.
You were helped in your transition to Hollywood by a family friend, Tony Spilotro, who also happened to be a notorious mobster. What help did he provide in getting your career off the ground and how did you steer clear of any nefarious activity and eventually get established on your own?
NC: Tony was a friend of my father. I was not naive to who he was but my relationship with Tony was more of a father/son relationship. He knew Robert Conrad, a famous actor of the 70s and 80s, and he called Conrad and asked him to watch over me and give me a hand when he could, and Conrad did.
As far as steering clear of trouble, I wrote a screenplay titled "The Legitimate Wiseguy" which tackles my relationship with Tony and the price I paid. In a nutshell, it was difficult to steer around it because I did not see what was coming until it was already there, if you can understand that. My relationship with Tony was not without drama, let's put it that way.
"The Legitimate Wiseguy" is currently in pre-production and is set to feature Harvey Keitel as your Dad. What is the movie about, how closely will it follow your real-life relationship with Spilotro, and when do you expect to start filming?
NC: I wrote an autobiographical screenplay and it is very much what took place. I did not pull punches. It is the true story of my relationship with Tony and Michael Spilotro and their attempts to help me in Hollywood. That assistance did come with a price and the film is about an impressionable kid and his dreams of making it in Hollywood and how far he would go to achieve it. The bottom line I would say to all, forget about the shortcuts, put in the time and effort and if you do, no one can ever take that away. There is no substitute for talent and effort, which I learned the hard way. Yes, Harvey Keitel is playing my father — he loved the script and we expect to be shooting the first quarter of 2023 here in Chicago and Vegas.
What were your first years in Hollywood like — did you have to work other jobs? Any particularly memorable experiences or fun stories you can share?
NC: My early years were the best. I was like the prince of the city and all the doors were open to me because of Spilotro. No, I did not have to work other jobs — the money, movie roles and opportunities were all there. I have loads of memories. I went to all the big parties and met all the movie stars including my favorites like Jimmy Stewart, Liz Taylor, and Tony Curtis. You name it, I was there. It was a wild time but all of that came with a price. When Tony was killed, all that went away because it was not real. I didn't earn it and the people all turned their backs. I was left worse off than actually before I started.
You have done a little acting but most of your work has been as a writer or producer. What are the specific challenges in writing for TV or movies?
NC: In writing, one must be willing to "bleed out in front of the computer." Bare your soul, as they say. You can't hide or be afraid to go places, or edit yourself because you are worried about what people will think. In the end, a good script is a good script, and a good story is a good story. Put it on the page and sell it.
You just finished directing "The Class," which is somewhat of a contemporary version of the "The Breakfast Club" — it even stars Anthony Michael Hall of the original movie, this time as an assistant principal. You have said it is not a remake, so how is it different and what makes the general story still relevant?
NC: The film is not a remake but a "reimagining" of that theme. It is a coming-of-age film about high school and a group of diverse kids dealing with the problems of today. The kids have a lot more at stake in my film because a lot has changed since the 80s. Social media, all the bullying, what's going on in our society, government and the expectations put on these kids. "The Class" deals with a lot more than parent-kid problems. It deals with suicide, abortion, alcoholism, even family death. It is quite a journey and was a real labor of love for me.
You shot most or all of the school scenes at Elmhurst University. Why there and did you use any local actors?
NC: We shot the entire film at Elmhurst University. I wanted to use a real location and have my actors working in a real school, a real classroom, lockers, hallways. I wanted them to feel and engage in their surroundings. That was crucial. It was a great place to shoot and yes, we used locals as extras in
the film. The people of that town were great. We could not have done it without them.
You have recently connected with famed playwright and filmmaker David Mamet to direct "2 Days/1963," a drama you wrote about how your great uncle, the notorious Chicago mobster Sam Giancana, allegedly arranged the assassination of President John F. Kennedy as revenge for trying to bring down organized crime. The script is based on first-hand knowledge from discussions you had with Giancana family members. How accurate do you believe that information is?
NC: Working with Mamet is wonderful — what a talent and someone I have admired for awhile. Once I got my script to Mamet and he connected with the material, away we went. The script is based on information Sam's brother, Joe, "Pepe" my other uncle, gave me. I was close to Pepe and he was with Sam during those "2 Days." I just put pen to paper and wrote it as he gave it to me. It is extremely accurate. And now, as information is gradually being released by the government, you can see my people floating all around and placing them where I am writing. Let's put it this way, what I have is what happened, period, and the government knows it. No one bought the Oswald, one gunman nonsense. Neither did the government nor Robert Kennedy, the Attorney General at the time. Fortunately for the government, there was no social media or phone cameras, or cameras on street corners. And news moved like a turtle and people printed what they were told. That is the only way this nonsense — this hiding of the truth — has continued for as long as it has.
For young people wanting to get involved in the entertainment industry, any advice on how to make that happen?
NC: There is no magic, follow your dreams, put the effort in, and don't let anyone tell you that you can't do it. Hollywood will be what you make of it and yes, it is full of B.S. But know who you are. It's a business where progress is often measured in small increments. You have a shot to make it. Always remember that and keep your eyes open for opportunities. It's never how you start but how you finish.