Fall Fete: Glen Elyn Parks Foundation
Hosting an evening of Fun anD Whimsy, Friends of Glen Ellyn Parks Foundation held it's annual Fall Fête at the Lake Ellyn Boathouse. The event, held in late fall, included gourmet food from Maize + Mash, a local restaurant, as well as whiskey and wine tastings, a live auction, and a Falling Leaves Raffle. 
Attended by 175 guests, the Fête raised $61,000 which will go towards the Foundation's scholarship program, which allows residents experiencing financial hardship to attain reduced and/or no-fee recreation and athletic programs through the Glen Ellyn Park District. Each year, the program supports almost 200 Glen Ellyn families.
FLIGHT 2019: An Evening in Park City by Camp One Step
An Evening in Park City brough brought together 350 guests who raised $366,504  for the non-profit group Camp One Step by Children's Oncology Services, Inc. Held in late fall at The Ritz-Carlton Chicago, the decor was styled after a ski lodge in Utah, the home of Camp Step. The evening featured music by the Becca Kaufman Orchestra, gourmet dining, dancing and a live auction. 
Funds will support the efforts of Camp One Step to provide experiences that allow children diagnosed with cancer to realize the joys of childhood.  The goal is to alleviate sadness and fear and to inspire new hope and belief in a brighter future. Programs serve more than 200 children each year through camps designed to meet the emotional, educational and support needs of pediatric cancer patients and their families.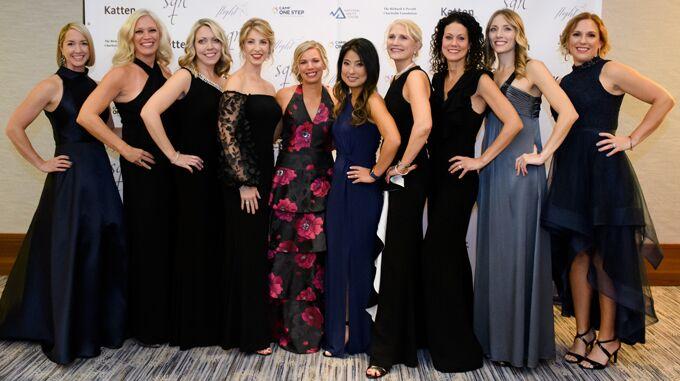 Above, from left: Jennifer Hall, Jenni Jasani, Ginger Malcolm, Amy Wilson, Kerry Leiman, Sandy Azzinaro, Laura White, Holly Day, Nicole Pfleeger, Meghan Hood, all of Elmhurst. Photo by Studio This Is.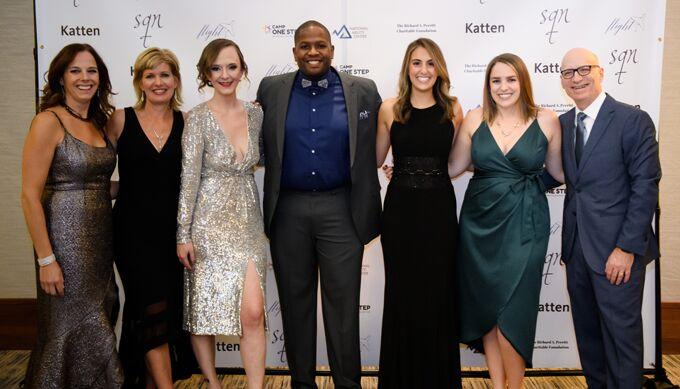 Above, from left: Jill Kulbok Carlson of Downers Grove, Katie Weil of Skokie, Colleen McGrath of Chicago, Darryl Perkins of Aurora, Paige Galassini of Chicago, Devin Ryan of Arlington Heights and Jeff Infusino of Schaumburg.Photo by Studio This Is.
An Evening of Oz by Friends of Prentice
An Evening of Oz, a gala by Friends of Prentice, recently welcomed 450 members of the Chicago area's business and philanthropic communities to Radisson Blu Aqua Hotel in Chicago. The black-tie event featured a Oz-themed decor and table settings, movie characters from "The Wizard of Oz, "live music by the Dr. Bombay band, dancing and a live auction. This 34th annual event raised more than $750,000 to fund leading-edge research to benefit the lives of women and infants in the Chicago metropolitan area and across the globe.
Since 1983, Friends of Prentice has raised over $20M and awarded grants to more than 80 researchers and clinical programs, including funding for projects in gynecologic oncology, mental health, heart disease, diabetes and genetic biomarker research.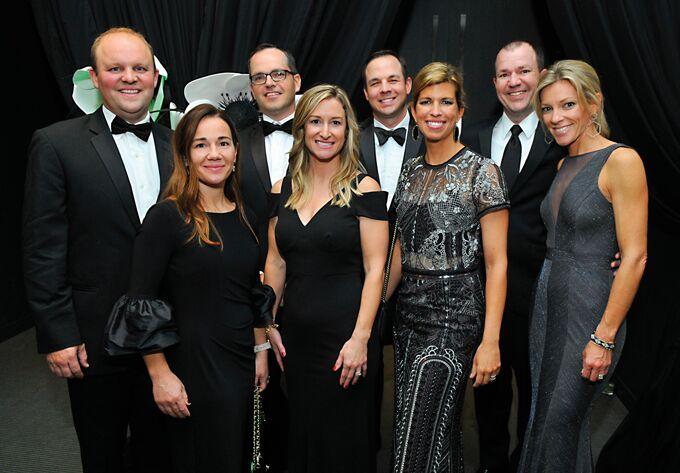 Above from left:Tim and Jen Kinney, Matt and Melanie Andrews, Jim and Doreen Corrigan, and Brad and Jackie Adams, all of Glen Ellyn
Wake Up Your Spirits Breakfast by DuPage Pads
Glen Ellyn-based DuPagePads held ITS 17th Annual Wake Up Your Spirit Breakfast recently at Abbington Banquets in Glen Ellyn.  The event raised over $100,000 to help end homelessness in the region. The keynote was speaker Chris Norton, who suffered a spinal cord injury playing college football but continues to champion those who refuse to let hardship define them.  In attendance was DuPagePads client, Kim, who shared her inspirational story of her journey from "a pad on the floor, to a key in the door."
All funds raised go directly to assist families and individuals in obtaining stable housing, accessing support services, and securing employment.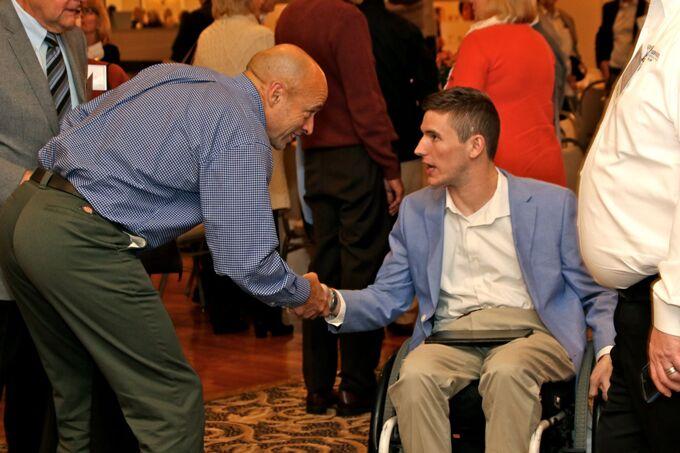 Above: An attendee greets keynote speaker Chris Norton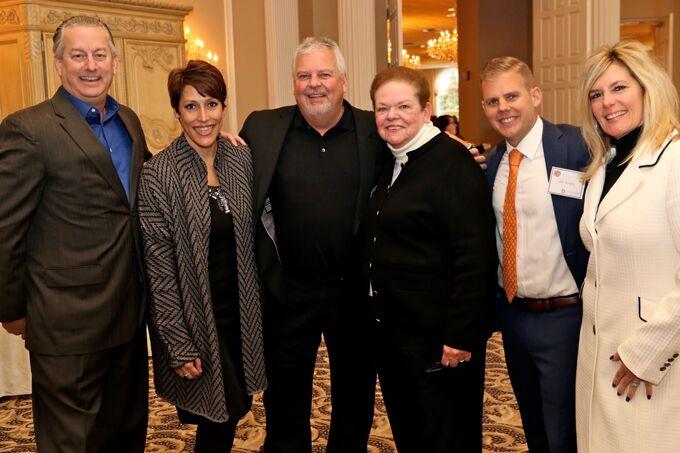 Above, from left: Ray Kinney, Karyn Charvat, Marc Hausmann, Carol Simler, Bill Murphy and Kathleen Hausmann, all of Glen Ellyn
It's All About the Paws
It's All About the Paws recently held its 5th Annual Adoption Event at Baker Memorial Park in St. Charles' historic downtown. The proceeds — over $2,400 — were donated to partner organizations that work within the St. Charles community on animal advocacy, community education, animal welfare or anti-cruelty. The family-oriented day included a raffle sponsored by local businesses and activities for children. There was also plenty of opportunity to watch dogs at play.  Visitors could interact with pups and  kittens who were brought to the event by partner organizations.  Families could also begin the process of adopting an animal of their own.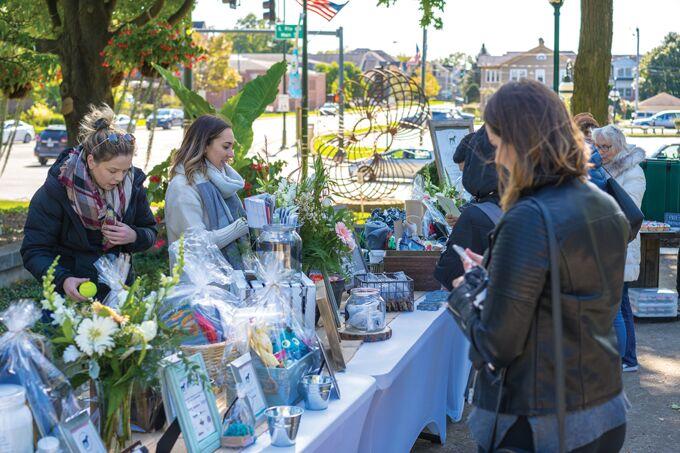 Above: Potential adoptors check out the raffle at It's All About the Paws