The Big Gig: 1001 Nights
The Big Gig: 1001 Nights welcomed 700 guests who raised $940,000 at this 29th annual gala for The Edward Foundation, recently held at the Westin Lombard. A portion of the funds raised this year will be used to purchase a new $2.7 million PET CT scanner, used to find cancer and determine its stage.
The Edward Foundation was established in 1990 and has raised more than $52.5 million to support Edward Hospital's community healthcare initiatives, invest in the most advanced diagnostic and treatment technology, recruit world-class medical professionals and deliver the highest quality care to almost 1.7 million patients in its service area.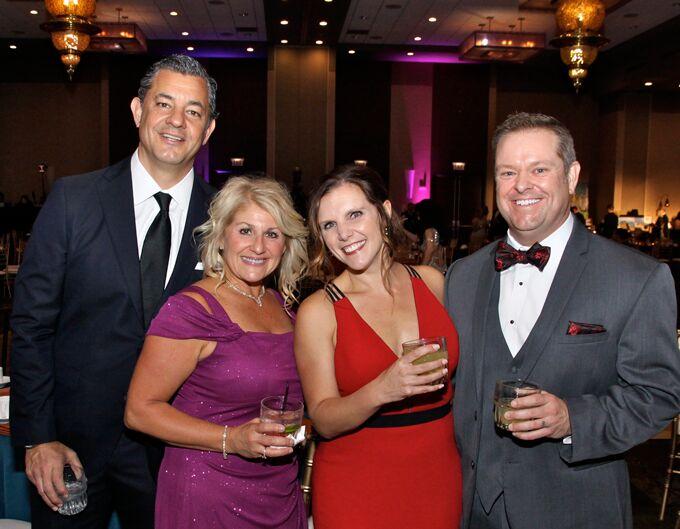 Above: (From left) Jeff & Terese Surges and Melissa & Steve Peterson, all of Naperville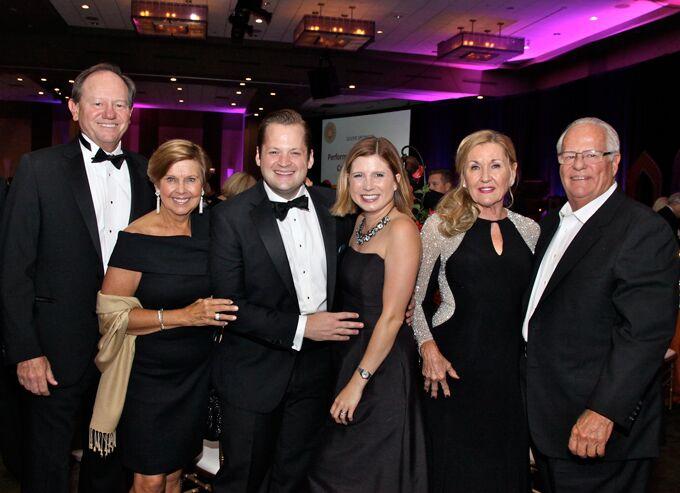 Above: (From left) Ron & Nancy Nyberg, John & Kaylin Risvold, and Brenda & Tom Harter, all of Naperville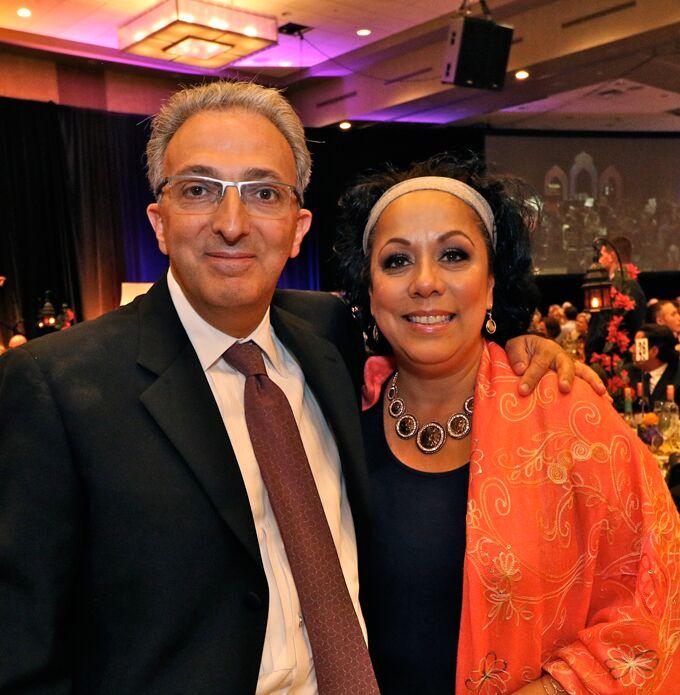 Above:Dr. George Salti of Hinsdale, co-medical director of the Edward Cancer Center and medical director of the Edward Hospital Surgical Oncology program, with one of his patients, Corina Lopez of Chicago Heights
Wellness House Joie De Vivre Ball
At the recent Joie de Vivre Ball, Wellness House of Hinsdale raised over $1.1 million to help people with cancer.  At the sold-out event recently held  at the Ritz-Carlton in Chicago and attended by 576 people, guests dined under crystal chandeliers. A highlight of the event was a moving video presentation featuring three families that benefitted from Wellness House Child and Family Programs after experiencing a loss in the family.  The funds raised included a  $300,000 matching gift, made by a collective group of donors to the newly established Jeannie Cella Child & Family Fund.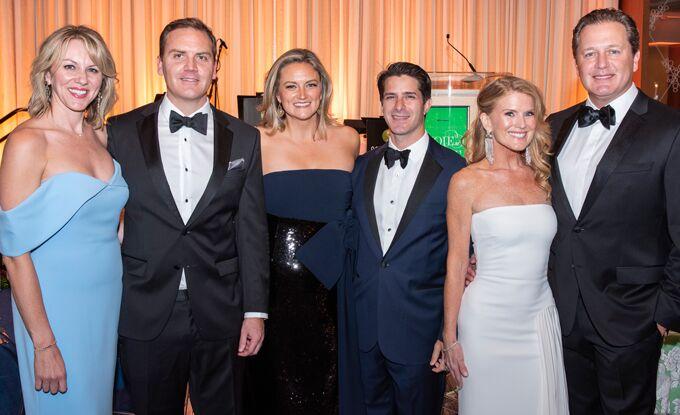 Above: From left, Ball Chairs Sarah & Sam Richardson, Anna & Nick Fiascone, and Christine & John Trainer, all of Hinsdale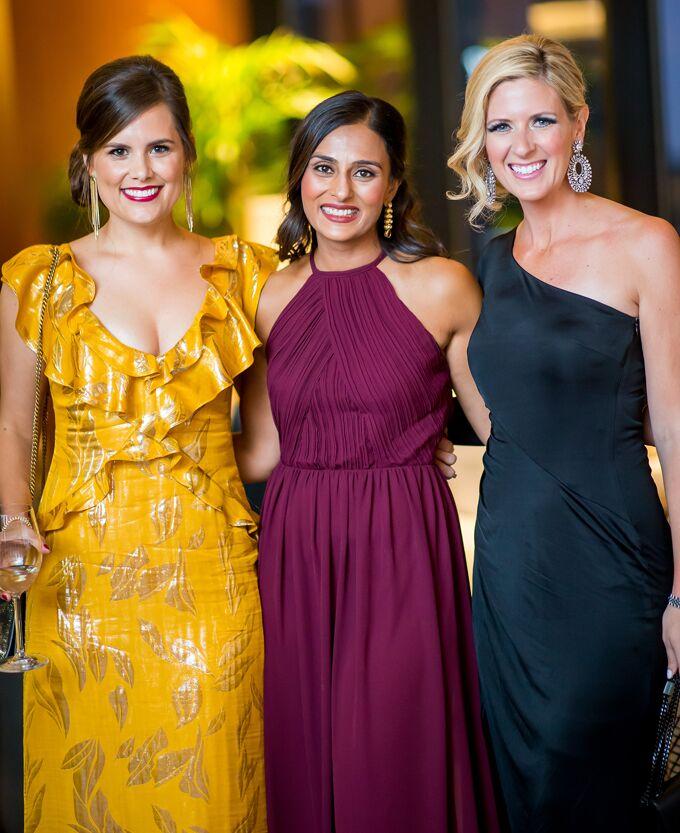 Above:From left, Monica Sodikoff of Hinsdale with Arpi Thukral and Melissa Schaefer, both of Clarendon Hills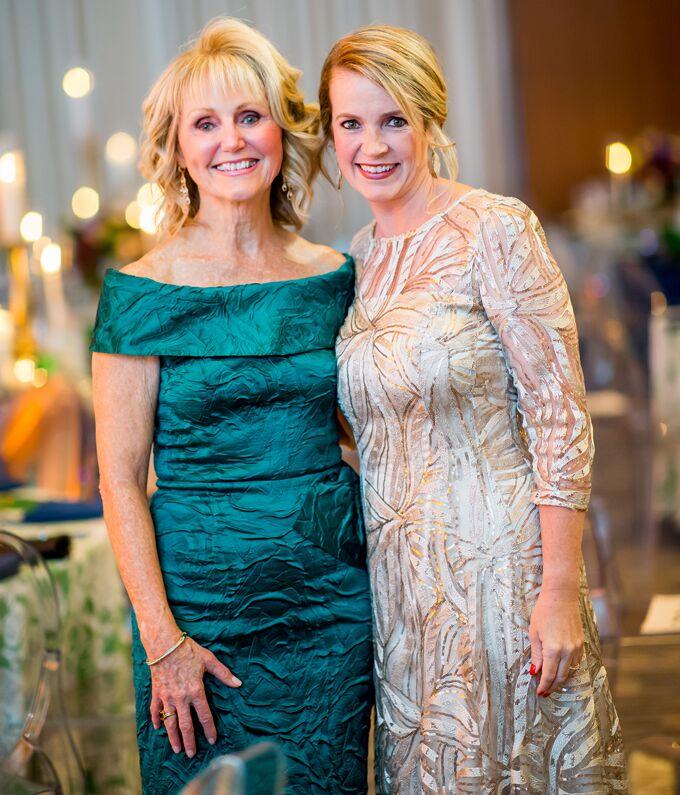 Above: Jeannie Cella, Wellness House president and CEO, of Burr Ridge; and Lisa Kolavennu, Wellness House executive director, of Downers Grove
Conservation Leadership Awards at Brookfield Zoo
The Chicago Zoological Society's Board of Trustees and Women's Board recently hosted its 16th annual Conservation Leadership Awards Dinner, where several recipients were honored for their commitment to conservation and animal welfare. Event proceeds of more than $410,000 will benefit the Society's conservation, education and animal programs at Brookfield Zoo. The event, attended by nearly 300 guests,  was held at the Four Seasons Hotel in Chicago.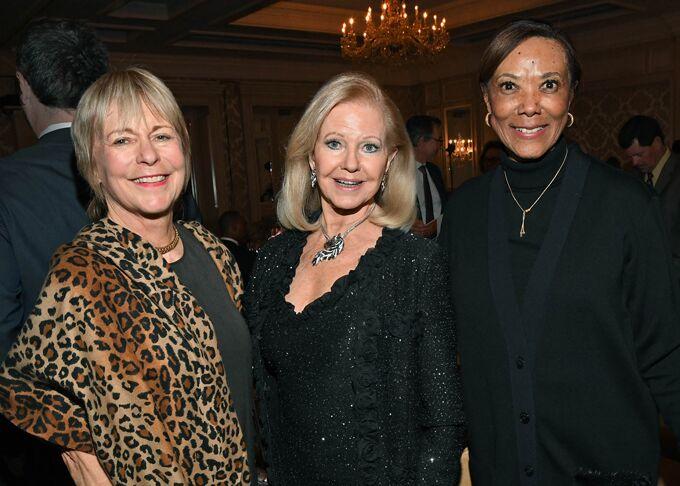 Above: Chicago Zoological Society Trustee Heidi Huizenga of Oak Brook, Women's Board Member Cookie Cohen of Wayne, and Vice Chair Cherryl Thomas of Chicago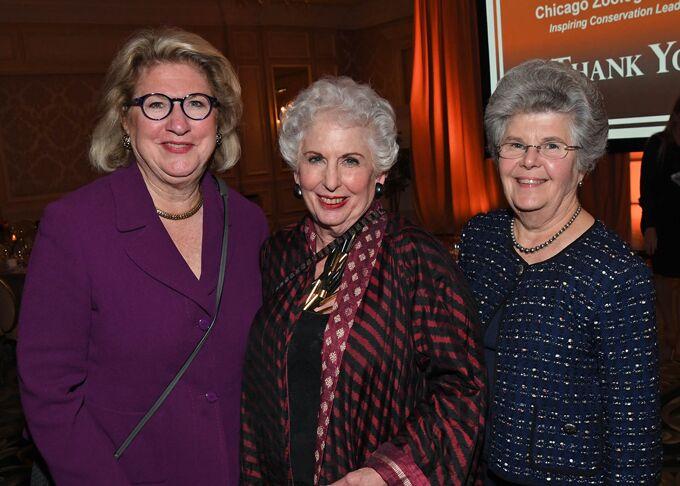 Above: (From left) Women's Board Member Ann Grube of Hinsdale, Trustee and recipient of the Corwith Hamill Lifetime Conservation  Achievement Award Barbara Levy Kipper of Chicago, and Women's Board Member Pamela Andrews of Hinsdale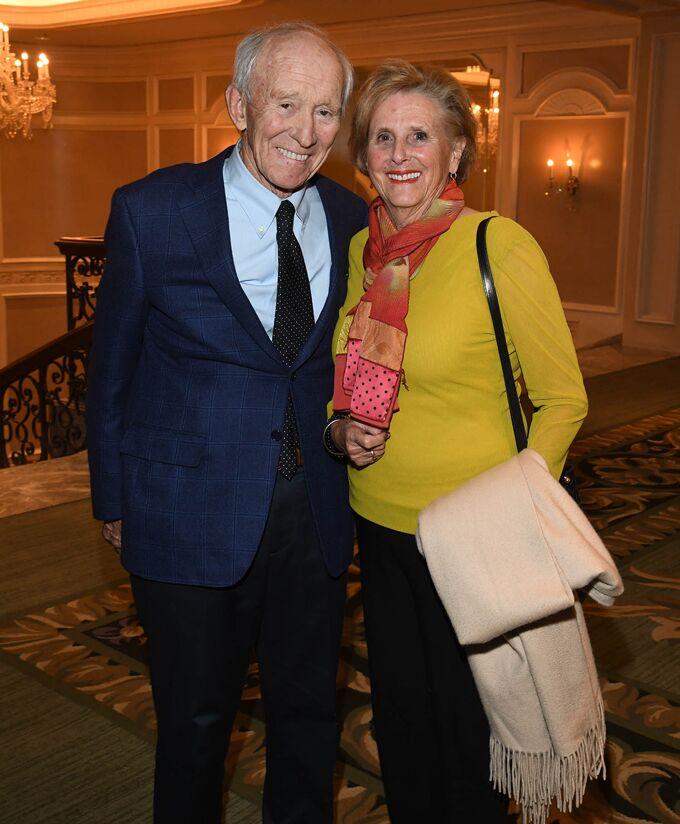 Above: Robert and Emily King of Burr Ridge
Edward-Elmhurst Health's Healthy Driven Naperville Half Marathon & 5K
A bright autumnal morning greeted runners in the 7th Annual Healthy Driven Naperville Half Marathon & 5K, held in late October and sponsored by Edward-Elmhurst Health. Nearly 3,300 people completed the races, including about 1,200 who ran for area charitable organizations.  
Brian Martin, 40, of Wheaton, was the overall winner of the Half Marathon with a time of 1:15:48. Marisa Hird, 33, Naperville, won the women's division with a time of 1:19:05.
Tarik Brahmi, 43, of Palatine, was the overall winner of the 5K with a time of 17:56, and Lindsay Riess, 34, of Flagstaff, Ariz. was the women's 5K winner with a time of 20:42.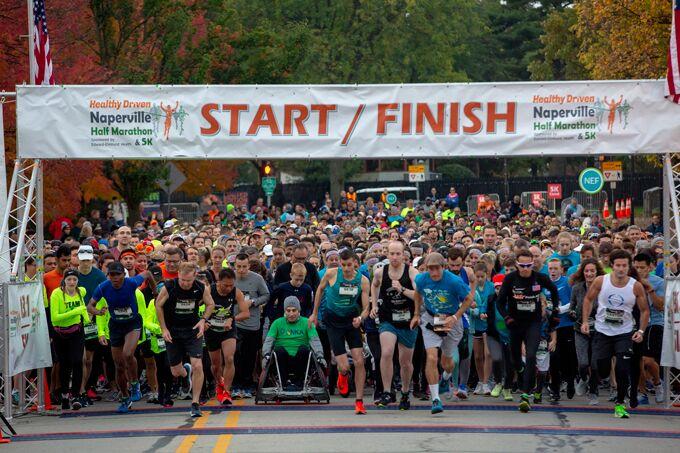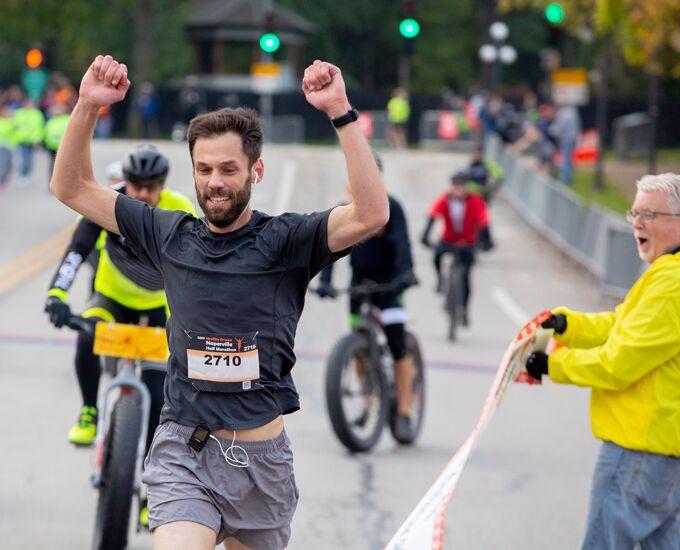 Above: Brian Martin of Wheaton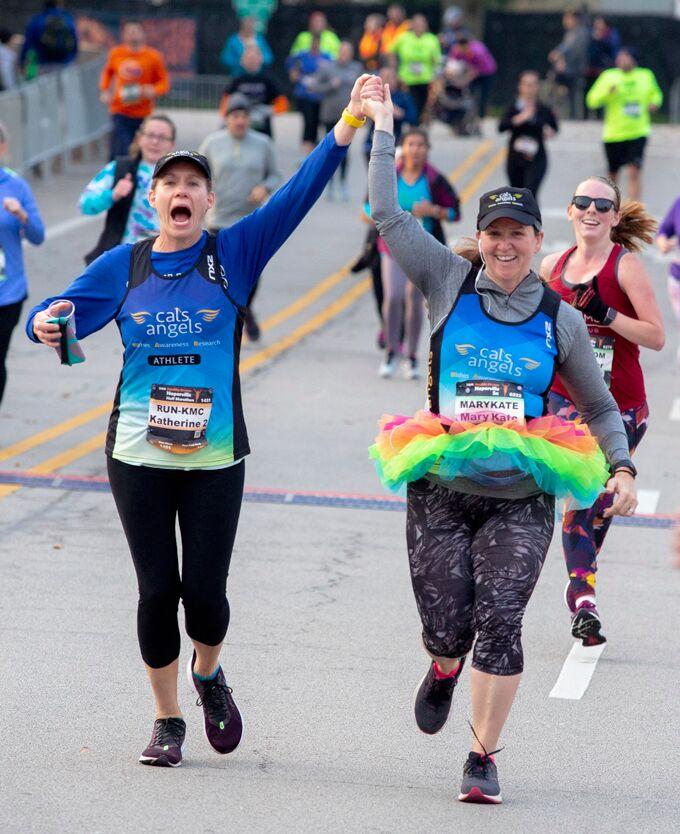 Above: From left: Katherine McCleary of South Elgin and Mary Kate Ternberg of Elgin